Looking for a signature green Halloween cocktail for your Halloween Party this year? Don't worry, I've got you covered. This super fun Frankenstein Halloween Cocktail will WOW your guests!
When I was a kid, the one thing I looked forward to more than Halloween was the halloween party they held on my block every year. The president of the block association would decorate her basement and invite all of the kids on the block. There were a LOT of us. We all grew up attending each others birthday parties because we were such a tight knit community.
Every year we would gather in her basement at around 7:30pm when it started to get dark outside. We had ample time to get all of our trick or treating done which was done (YOU GUESSED IT) on our block. Every house opened their doors and provided us with candy. It was so fun especially because we knew everyone that we trick or treated from.
I have some really awesome memories of that party but I've also been to some amazing ADULT Halloween parties too! It's so fun to get dressed up–i'm not into anything scary personally because I can't handle it, but I DO love a fun and playful Halloween.
If you are planning a fun Halloween Party this year I've got the perfect green Halloween cocktail for you! It's a deep green color with a black sugar rim. I like to call it Frankenstein! This could be your signature drink of the night or a simple and fun Halloween drink for after the kids have gone to bed on October 31st!
Frankenstein Halloween Cocktail Recipe
Embrace the chilling thrill of Halloween with this Frankenstein-inspired cocktail! A wickedly vibrant blend of Kinky Apple and melon liquor, electrified with sparkling lemon water and darkened ever so slightly with a drop of black dye. This concoction is as tantalizing to the taste buds as it is a feast for the eyes. Beware: it's monstrously delicious!
What ingredients do you need for this frankenstein cocktail?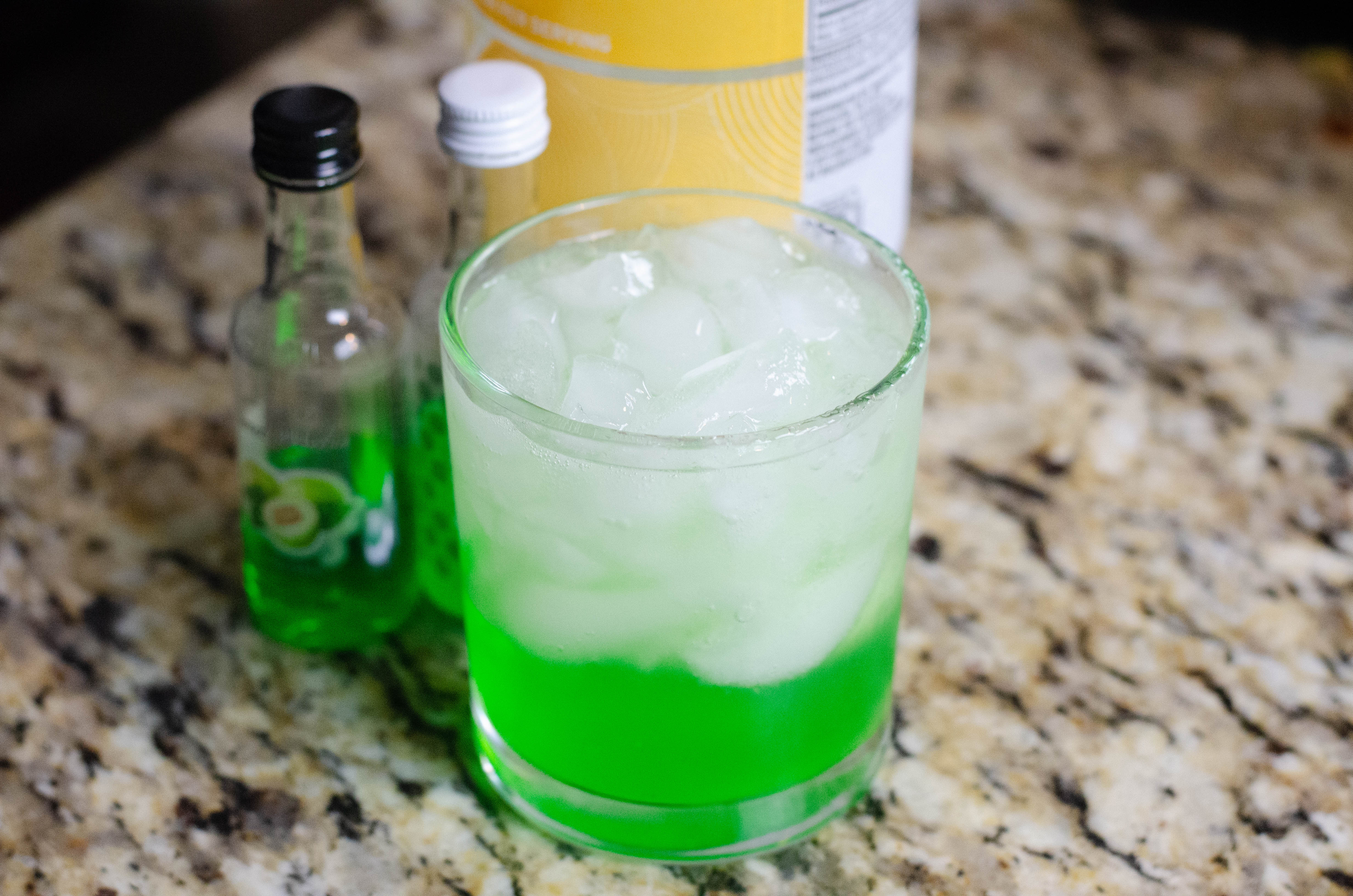 1. Kinky Apple Liquor:
Flavor Base: This liquor brings a distinct apple flavor which is a hallmark of fall and Halloween festivities.
Smoothness: Being a liquor, Kinky Apple provides a velvety texture which balances out the effervescence of the sparkling water.
2. Melon Liquor:
Vibrant Color: Melon liquor often has a bright green hue, perfect for the Frankenstein theme.
Sweetness: It offers a unique fruity sweetness, giving depth to the cocktail's flavor profile.
3. Sugar:
Balanced Taste: Sugar helps to enhance and harmonize the different flavor notes, ensuring the cocktail isn't too tart from the lemon sparkling water.
Consistency: A bit of sugar can provide a slightly syrupy texture, ensuring that the drink feels rich and indulgent.
4. Black Dye:
Visual Appeal: This is purely for aesthetics. The drop of black dye creates a murky and mysterious look, enhancing the spooky vibe perfect for a Halloween-themed drink.
Thematic Consistency: Frankenstein, often depicted with dark stitches and a gloomy demeanor, is well-represented with this touch of darkness in the drink.
5. Lemon Sparkling Water:
Effervescence: The bubbles bring a lively, refreshing feel to the drink, contrasting with the smoothness of the liquors.
Tartness: The lemon flavor introduces a tangy note, balancing out the sweetness from the liquors and sugar, making the drink more palatable and complex.
Dilution: Sparkling water helps in diluting the strong flavors of the liquors, ensuring the cocktail isn't overwhelmingly potent.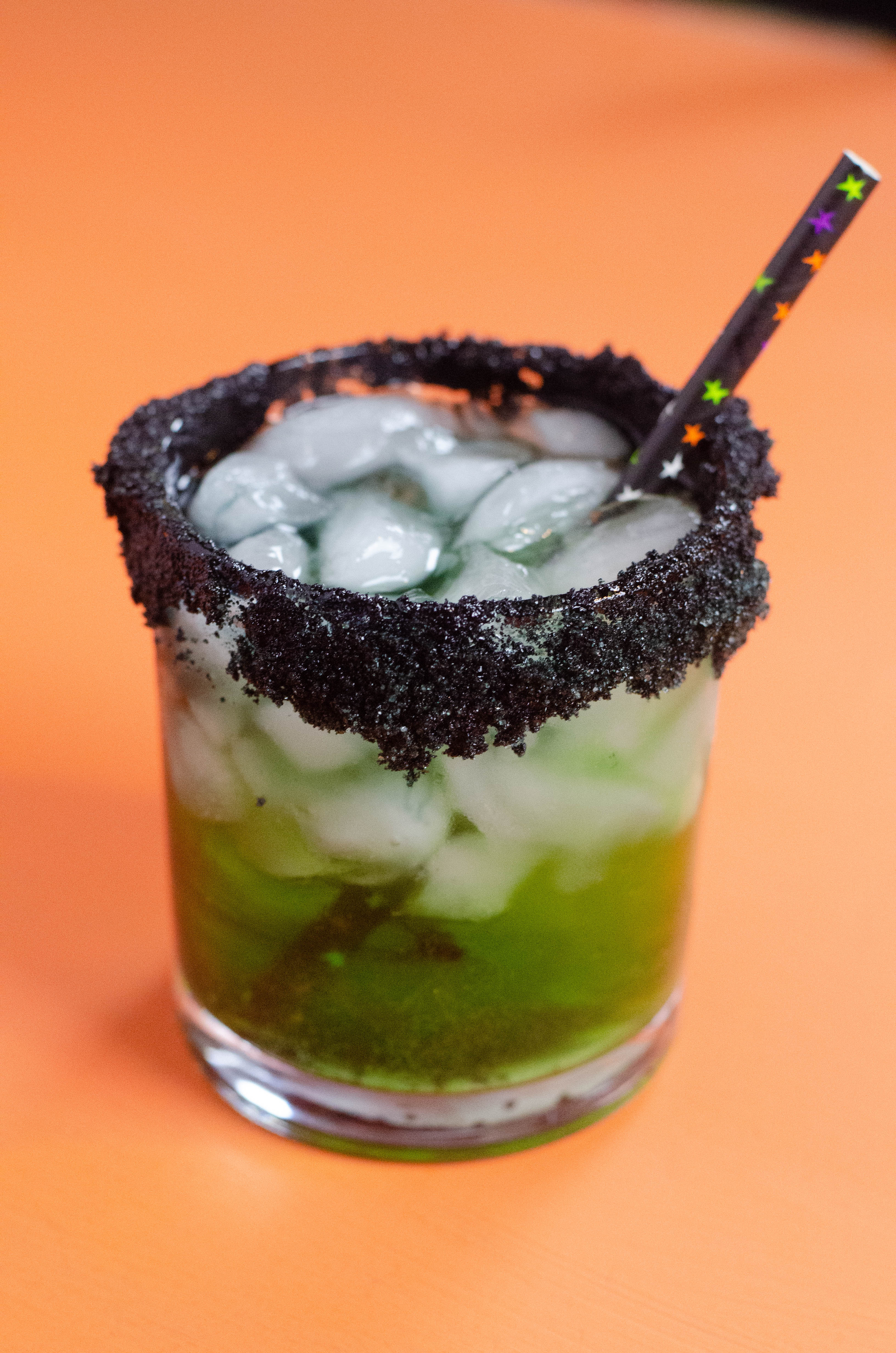 FAQs:
Is the black dye necessary? No, it's primarily for aesthetic appeal, giving the cocktail a murky hue. If you're concerned about artificial dyes, you can skip it.
Can I substitute another liquor for Kinky Apple? Yes, you can use any apple-flavored liquor, but the taste might slightly differ.
Is there a non-alcoholic version? Certainly! Swap the liquors for apple and melon juices or flavored syrups.
Tips and Tricks:
Chill your ingredients beforehand for a refreshing cocktail experience.
If serving at a party, consider rimming the glasses with sugar for an added touch.
For a spookier effect, use dry ice. Remember never to touch dry ice with bare hands and ensure it has fully sublimated before drinking.
Variations:
Bloody Frankenstein: Add a splash of grenadine for a blood-red swirl.
Minty Monster: Add a few fresh mint leaves for a refreshing twist.
Tropical Terror: Swap lemon sparkling water for a tropical flavored seltzer.
Where to Serve:
Halloween parties as a signature drink.
Spooky movie nights with friends.
Fall gatherings for a touch of the macabre.
Storage:
While best enjoyed immediately, if you must store it:
Keep in the refrigerator for up to 1 day.
Stir or shake well before serving as ingredients might settle.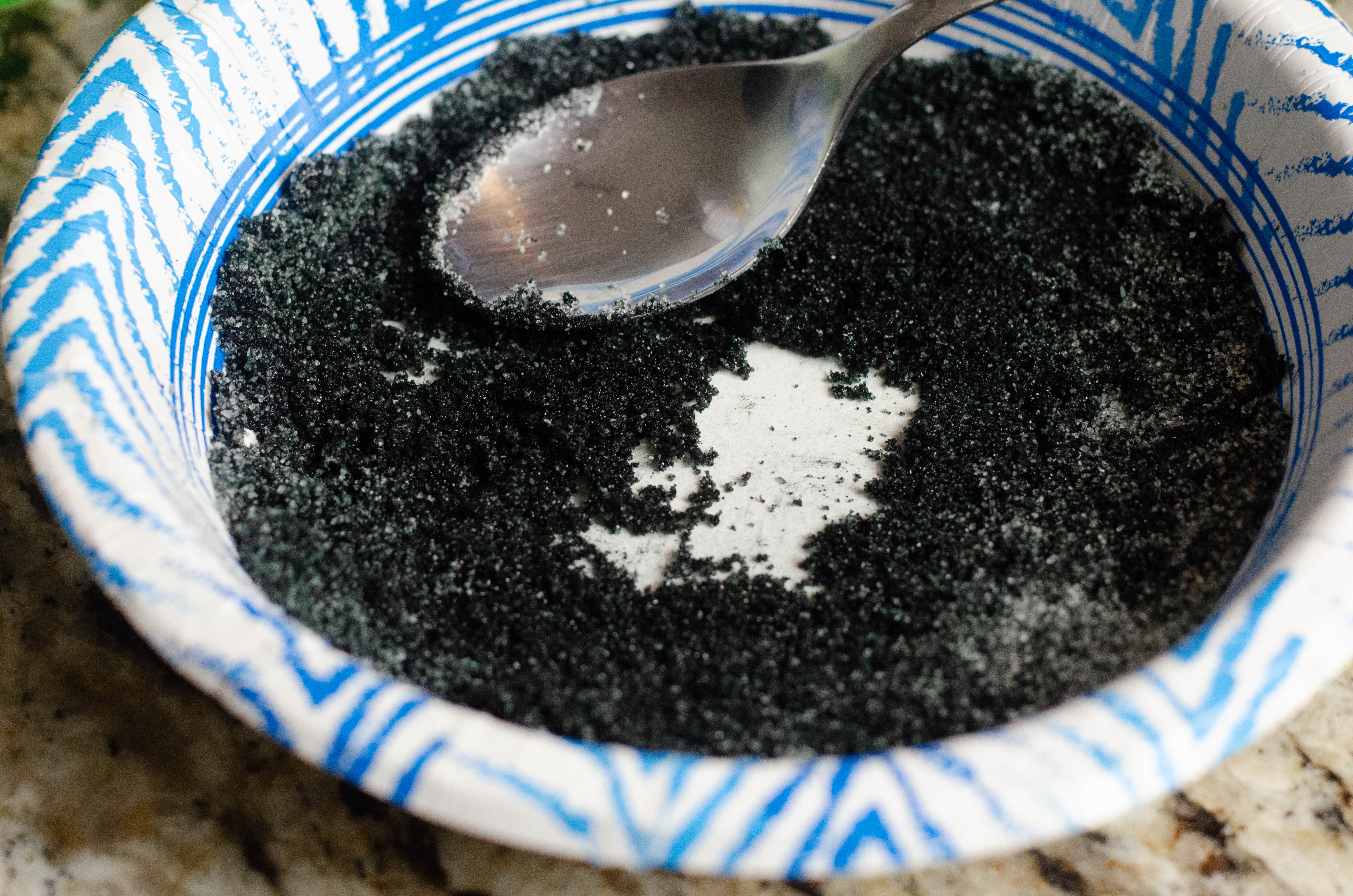 Common Problems and How to Avoid Them:
Lack of Fizz: Use freshly opened sparkling water and serve immediately.
Too Sweet: Adjust the sugar as per taste or choose a less sweet sparkling water.
Settled Dye: Ensure to stir well before serving if the dye settles at the bottom.
Why This Recipe Works:
Simple Ingredients: Accessible ingredients that are easy to find.
Versatile: Easy to modify based on personal preferences.
Festive Appeal: The vibrant colors and spooky theme make it perfect for Halloween.
So, this Halloween, why not electrify your party with this Frankenstein cocktail? It's the kind of monster you'd want to encounter on a dark, chilly night! Cheers to spooky sips!
What are some other fun halloween cocktails?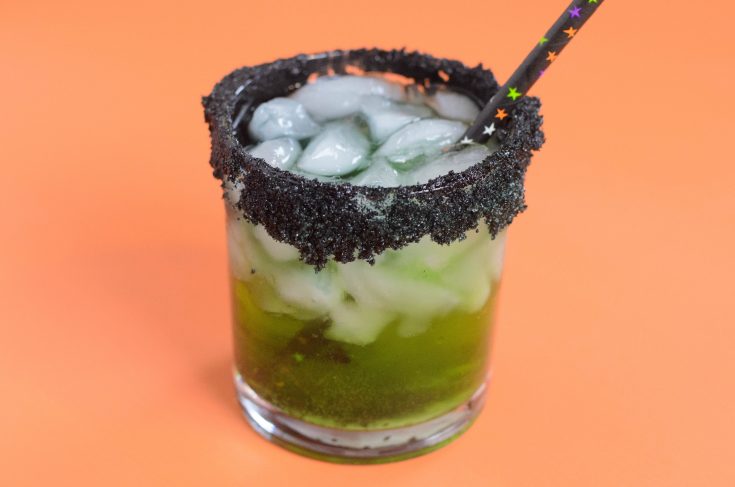 Yield: 1 Serving
Frankenstein Green Halloween Cocktail Recipe - Perfect For Halloween Parties
A super fun, instagram worthy green cocktail recipe perfect for Halloween Parties!
Ingredients
1 oz Kinky Apple liquor
1 oz melon liquor
2 tablespoons sugar
1 drop black dye
3 oz lemon sparkling water
Instructions
Place sugar in a bowl and mix in black dye. Wet rim of glass. Roll glass in sugar. Set aside.


In another glass pour in melon liquor, apple liquor, and ice. Add in lemon sparkling water to the top. Stir.

Pour into glass with black sugar. This allows the liquors to mix without knocking the black sugar into the glass. Serve!
If you are looking for some more amazing Fall cocktails check out these 12 Fall cocktail recipes from The Cubicle Chick!
Hi! I'm Nellie. I am a busy mama of three, wife to my high school sweetheart who loves to cook, workout and stay organized! I love to share helpful printables, the best recipes and fitness tips for the modern mom. I strongly believe that every mom can feed their family well, take proper care of themselves and have fun along the way! Read my story.
Get comfortable and be sure to come hang out with me on social. Don't grab your free fitness journal before you go!