Homemade Thin Crust Pizza & Marinara Sauce
Pizza and Netflix anyone? Pizza has to be one of the most convenient variable and cheapest meals available. Whether you want to make it yourself, buy one to 'shove' in the oven, order one for home delivery or even go out to a restaurant and have your meal there. I've got a awesome homemade thin crust pizza recipe you can make from scratch and add whatever toppings you like!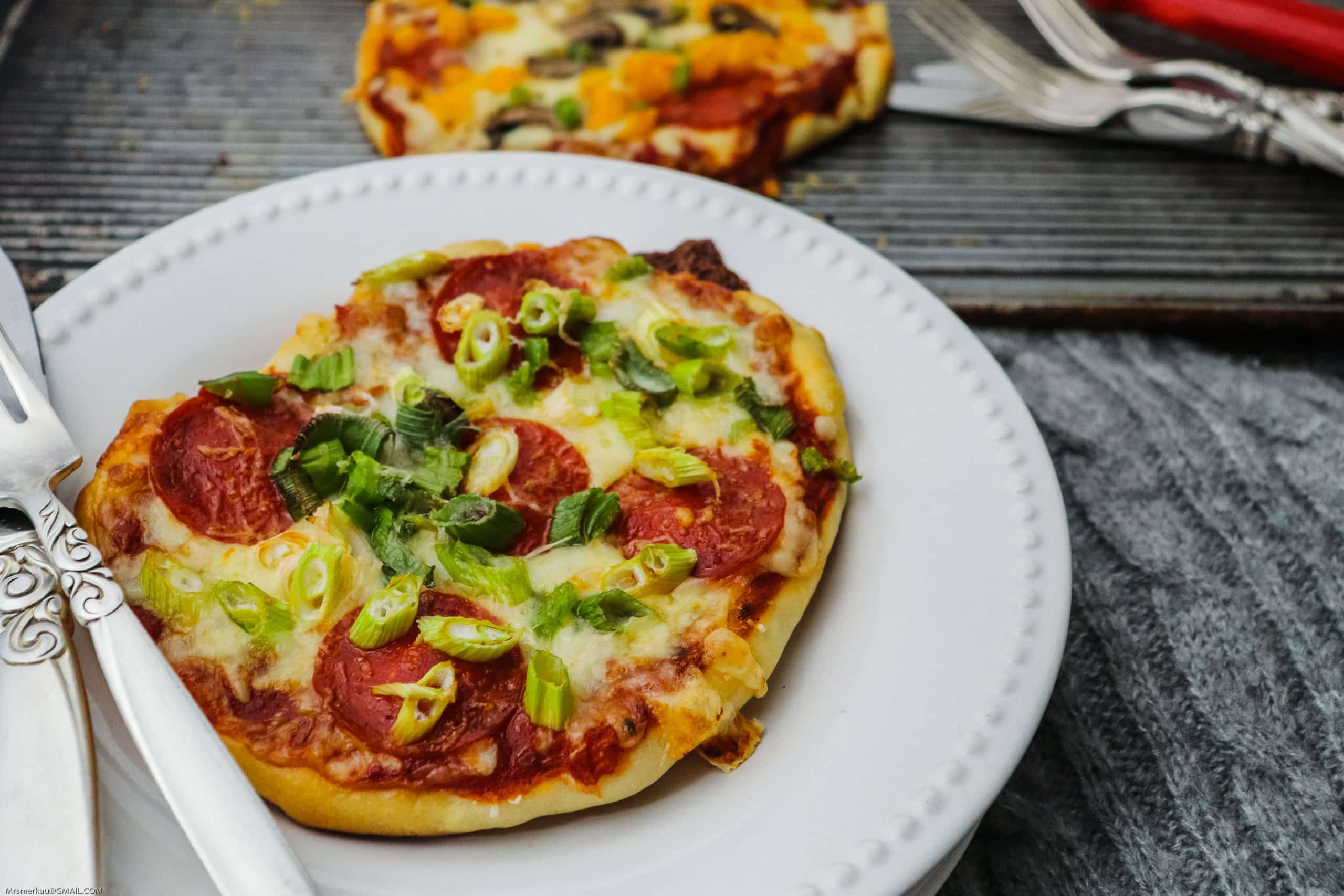 Which ever you decide on, it is likely to be one of the cheapest options and probably will satisfy everyone at the table!
Your Go-To Guide for Homemade Thin-Crust Pizza
Ah, pizza—a universally beloved dish that's perfect for any occasion. But have you ever tried making your own Thin-Crust Pizza at home? Trust me, once you make this incredibly flavorful, crispy-yet-chewy pizza, you won't look back. With a homemade tomato sauce packed with herbs and your choice of delectable toppings, this pizza recipe promises a delicious experience that can be tailored to anyone's taste.
FAQs
Can I use store-bought sauce?
While homemade sauce offers a unique depth of flavor, store-bought options work in a pinch. Just pick one with minimal additives for a cleaner taste.
Can I substitute the dry yeast?
Active dry yeast can be swapped for instant yeast in equal proportions. Remember to adjust the proofing time accordingly.
Is the olive oil crucial?
Olive oil adds a rich flavor to the dough, but if you're out, you can use canola or vegetable oil.
How do we make pizza healthy?
Lets face it, it is pretty difficult to find a 'fast-food' that we could call 'healthy' isn't it? Ok, so here are a few things to think about, from a health perspective, when deciding on a pizza: If you want to make your own pizza at home you could find an easy recipe for the base, or else most grocery stores sell the bases separately, so that you can put the toppings etc on yourself.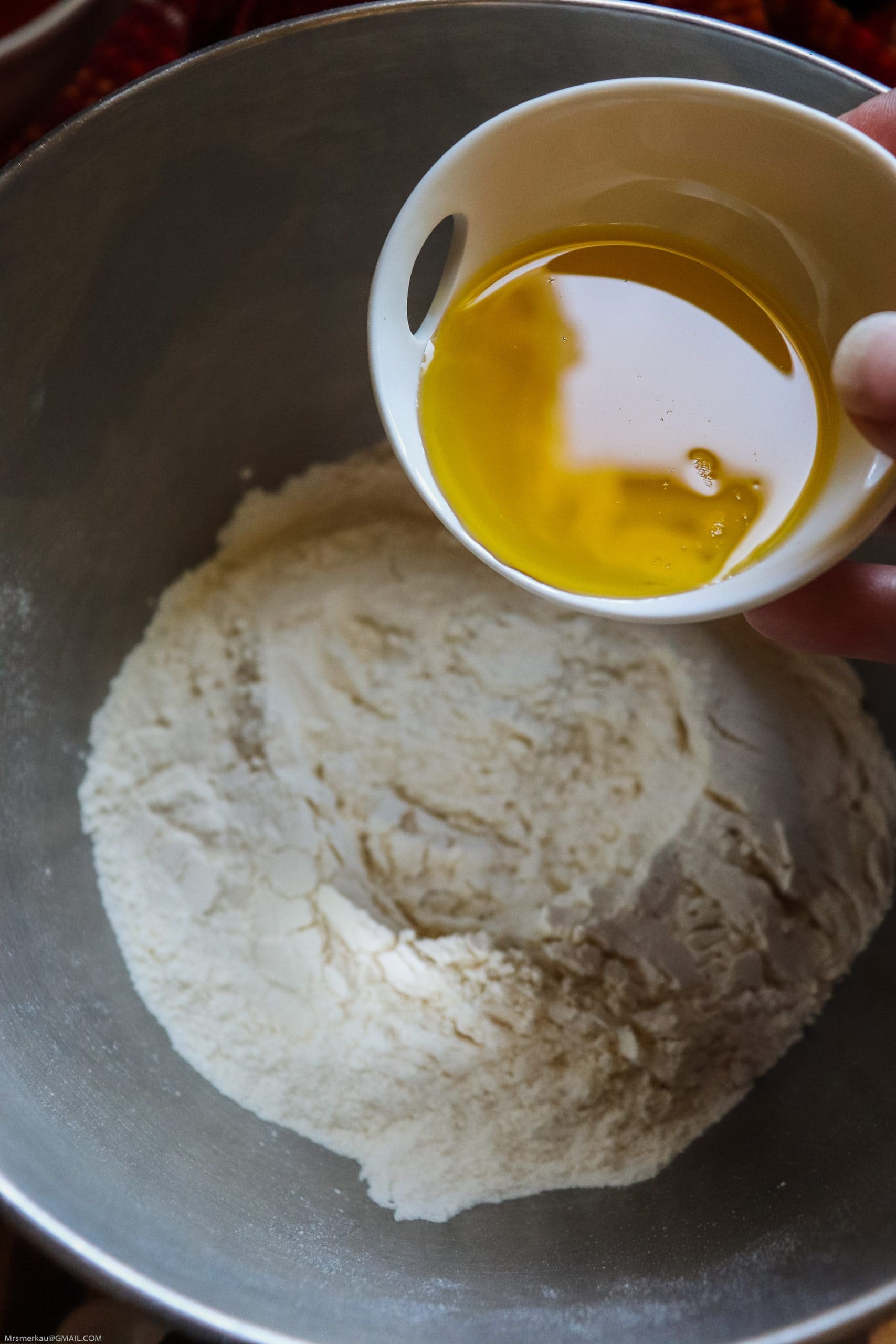 By making the pizza yourself, it also means that you can cater for everyone in the house – or at least having a meal that is. You already have a base, so you add the tomato base, as much or as little as you want, then, the cheese.
Now making your pizza healthy is really easy, use a low fat cheese or a light cheese which reduces the number of calories. Then, toppings: different meat, veg etc.
Tips and Tricks
Use a pizza stone for a crispier crust. Preheat it in the oven before placing your pizza on it.
For a well-risen crust, proof your dough in a warm, draft-free area.
Roll your dough evenly to prevent air bubbles and to ensure it cooks uniformly.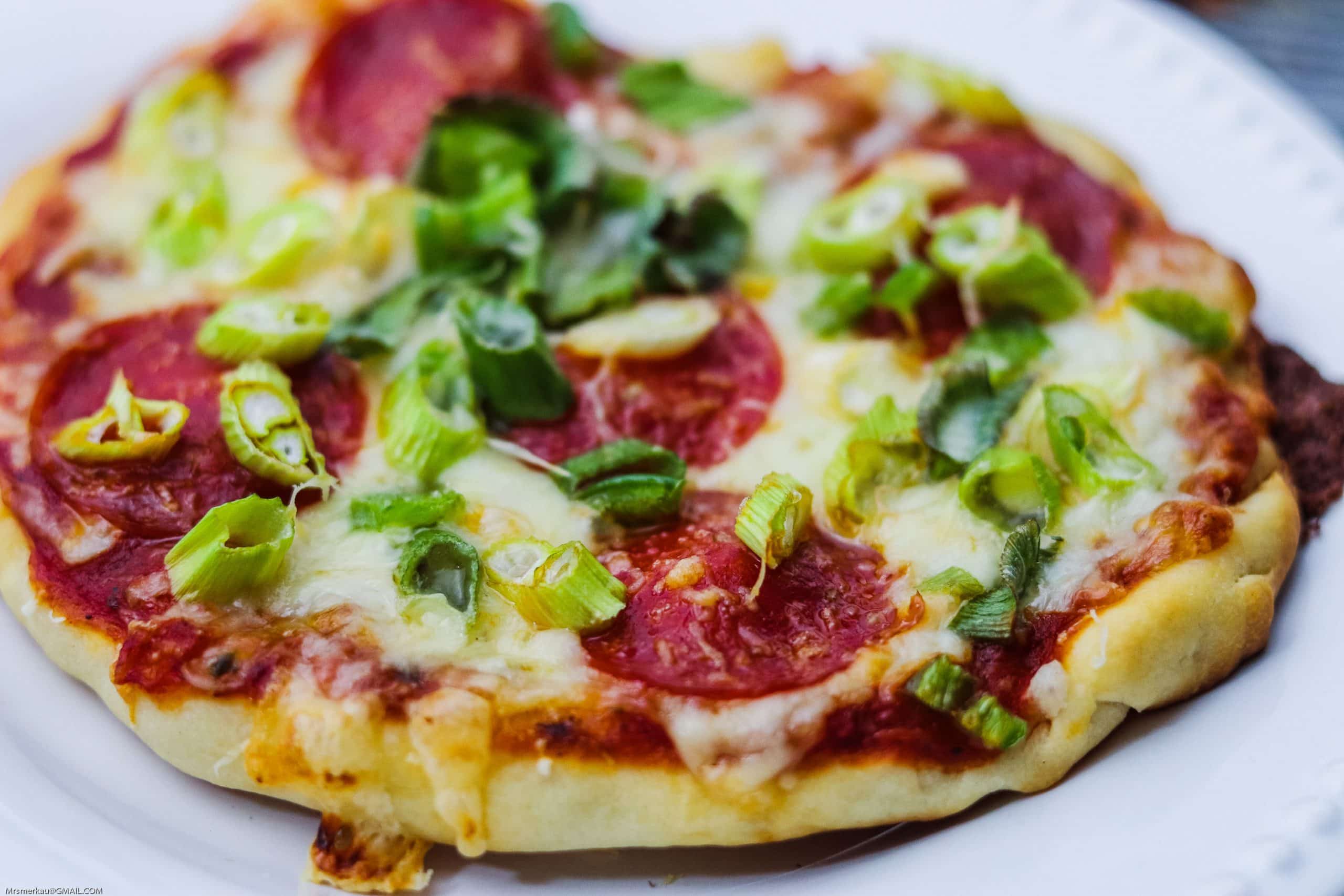 Variations
Gluten-Free
Use gluten-free flour for a coeliac-friendly version. Ensure to adjust the water quantity as different flours have varying absorption rates.
Vegan
Opt for vegan cheeses and vegetable-based toppings.
Where to Serve
Weekend family dinners
Game nights
Casual gatherings
Birthdays
When it comes to having extra sauces and cheese for taste, that is up to you. If you find your pizza to be a little bland, add some herbs and spices to the crust and bast even a little salt if needed, this adds great flavor without unhealthy ingredients.
Instead of fully loading the pizza, by just adding fewer toppings, you can greatly reduce the amount of fats, oils and general calories in your meal while still enjoying your favorite meal.
Storage
Store any leftovers in an airtight container in the fridge for up to 3 days. To reheat, pop it in the oven at 350°F for 5–7 minutes.
Common Problems and How to Avoid Them
Soggy Crust
Use a perforated pizza pan or a pizza stone to allow moisture to escape, giving you a crispier crust.
Unevenly Cooked Toppings
Precook vegetables like mushrooms to remove excess moisture, ensuring they cook evenly with the rest of the toppings.
Tips for Making This Recipe with Kids
This is a fabulous recipe to engage kids in the kitchen:
Let them choose their own toppings.
Allow them to knead the dough, under supervision.
Have them spread the sauce and toppings on their individual pizza portions.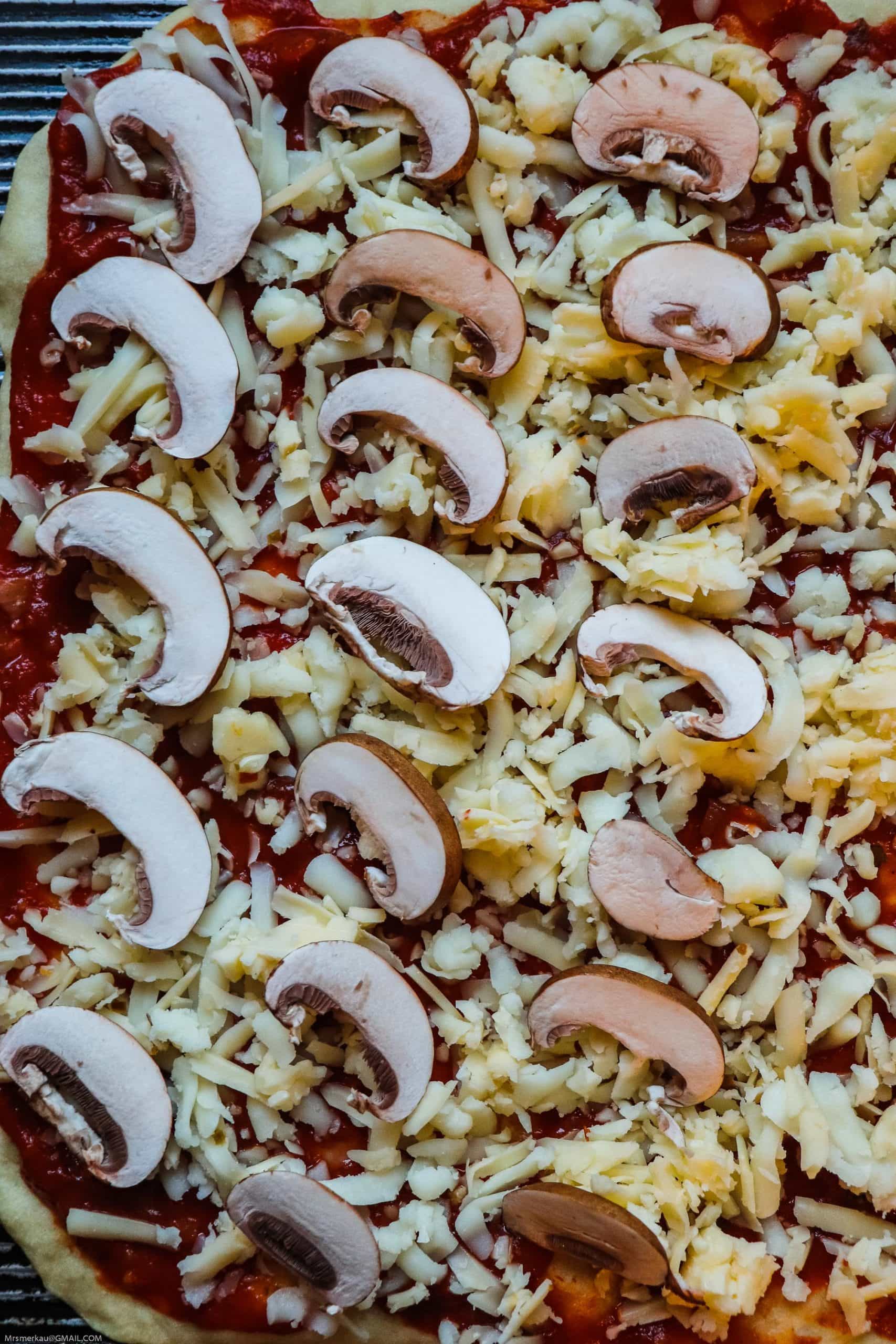 When it comes to buying a pizza to cook in your oven, having a pizza delivered, or going to eat at a restaurant you can still have a healthier meal even though you can not choose the exact ingredients used.
Topping Options
Consider unique cheeses like Gorgonzola or feta for a different flavor profile.
Experiment with herbs like rosemary or chives for added depth.
Why This Recipe Works
The dough, with its blend of yeast, olive oil, and sugar, achieves the perfect combination of crispiness and chewiness.
The homemade sauce, infused with herbs and spices, offers a depth of flavor you won't find in store-bought varieties.
The versatility in toppings ensures that there's something for everyone.
In short, this Homemade Thin-Crust Pizza recipe offers a foolproof way to bring a classic, customizable dish right to your dining table. So roll up those sleeves and get baking!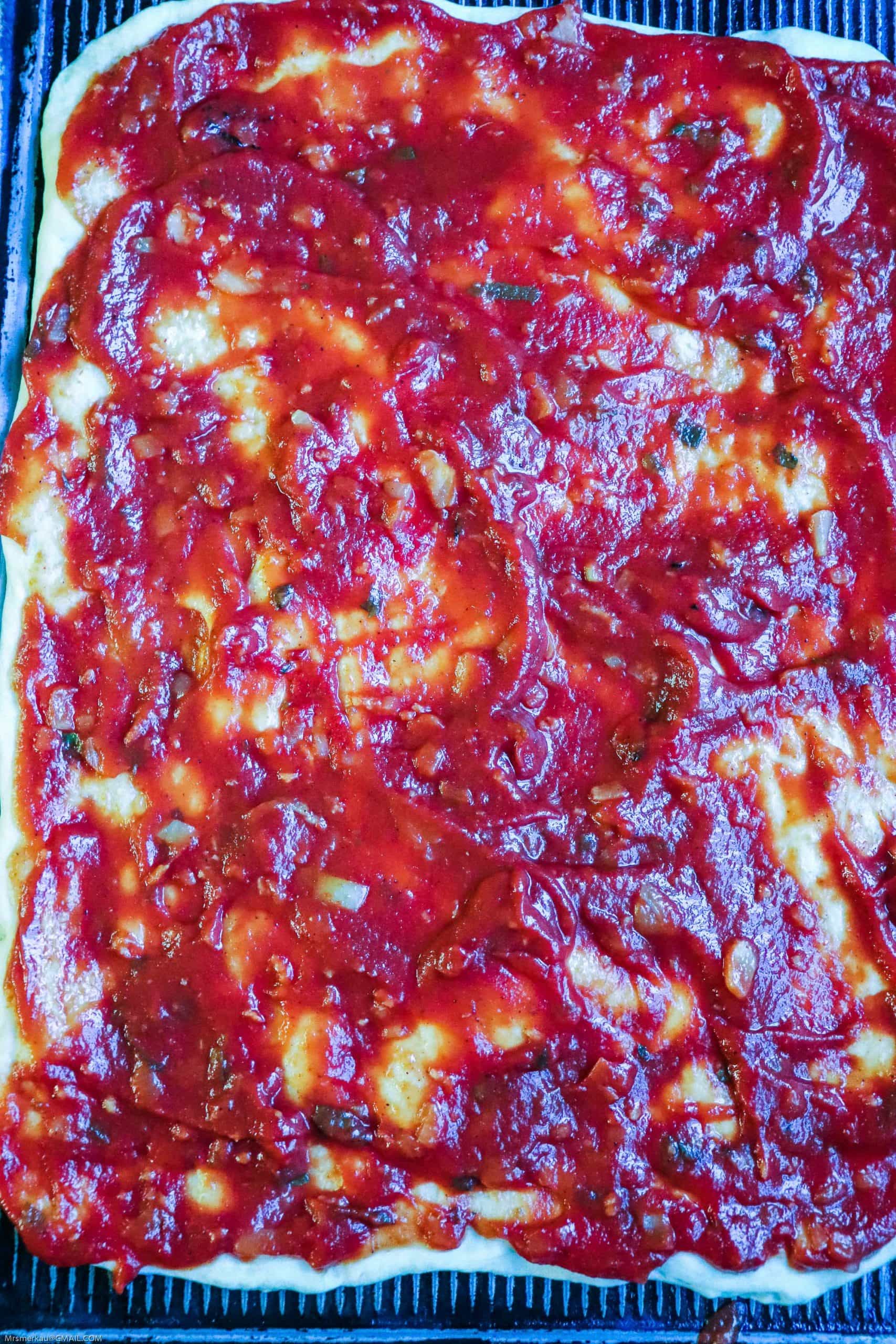 You will see, on most menus, there are options for different bases; thick, thin, pan, Italian etc. Now by choosing the base which is thinest, there will be less bread, thus you can eat the same sized pizza with fewer calories in total, less food.
Add an extra topping if you need to, or as mentioned above, if available add some herbs and spices to the crust/base.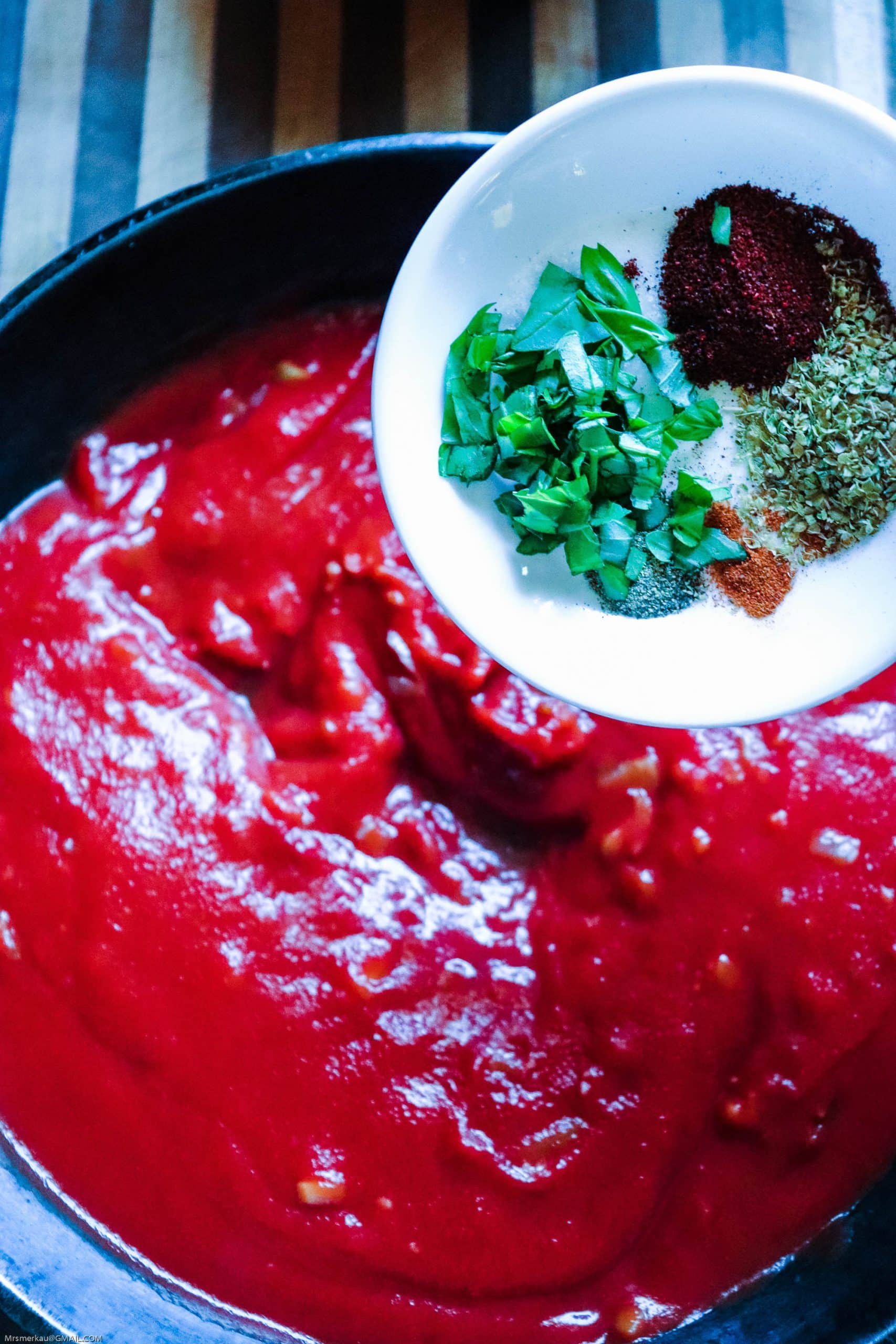 If you think about it, pizza is nothing aside from, bread(base), tomato and cheese(topping). In total, providing cheese is not added in excess you can have a pretty healthy meal! However, things can get pretty crazy easily when we start adding toppings sauces etc. So really it's up to you.
What ingredients do you need for this homemade thin crust pizza?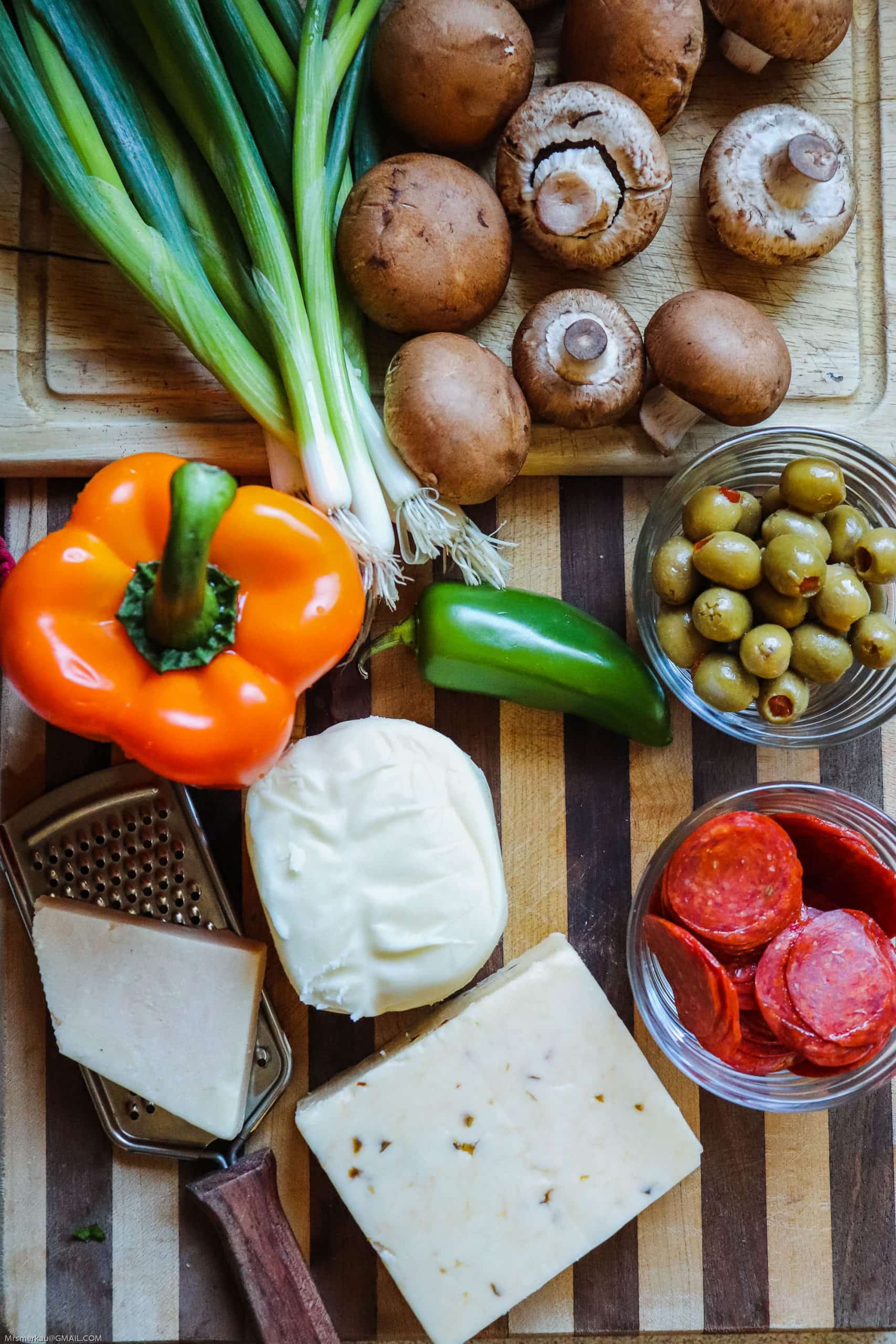 Crust Ingredients:
flour
warm water 120° – 130°
olive oil
sugar
dry yeast
salt
Sauce Ingredients:
tomato pureetomato paste
small onion, chopped
garlic cloves, minced
oregano
salt
chili pepper
pepper
pinch cayenne to taste
fresh basil leaves or 1 tsp dried
Optional Toppings:
shredded cheese, mozzarella, pepper jack
Parmesan cheese
Mushrooms
Pepperoni
Yellow bell pepper
Green olives
Jalepeno, seeded and finely chopped
Enjoy this amazing homemade thin crust pizza recipe that can be made whole or in individual pizzas for the whole family!
If you are looking for more fun pizza recipes be sure to check out:
For more amazing pizza recipes be sure to check out this comprehensive list! 13 Of The Best Pizza Recipes To Try Immediately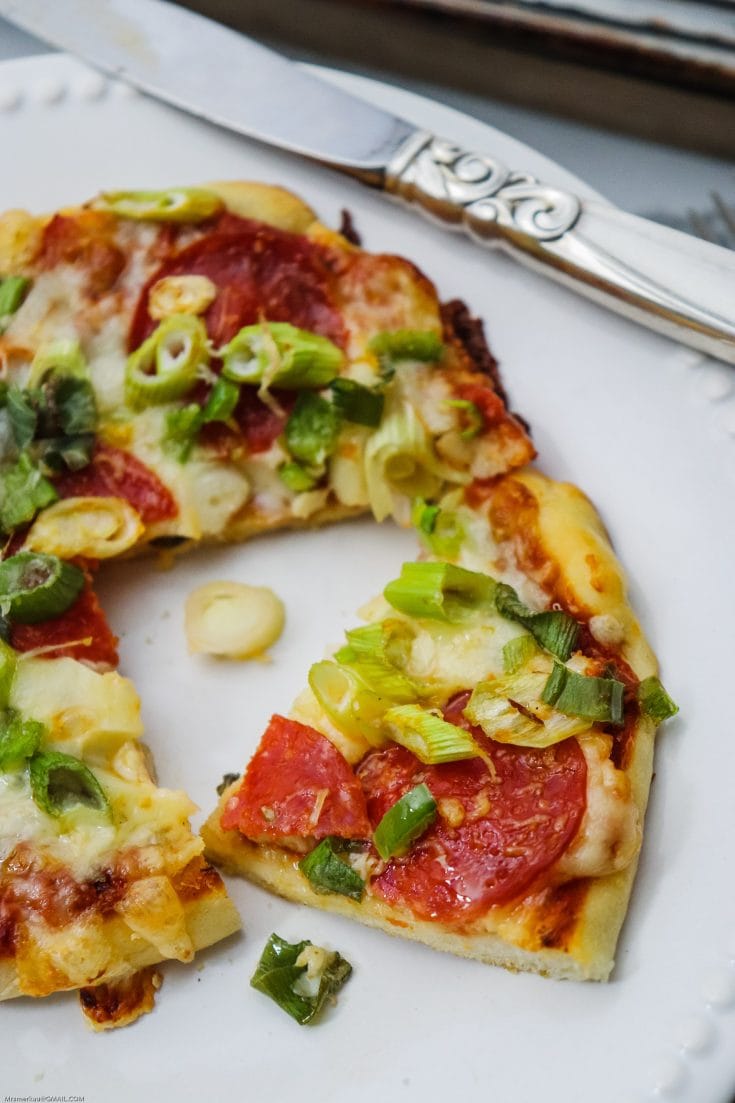 Yield:

8 Personal Pizzas
Homemade Thin Crust Pizza For The Entire Family
Prep Time:
1 hour
30 minutes
Total Time:
1 hour
45 minutes
A great recipe for Thin Crust Pizza for the whole family that you can add your favorite toppings to!
Ingredients
Crust Ingredients:
3 cups flour
1 cup warm water 120° - 130°
3 tbsp olive oil
1 tbsp sugar
2 1⁄4 tsp dry yeast
1 tsp salt
Sauce Ingredients:
29 oz can tomato puree
2 tbsp tomato paste
1 small onion, chopped
3 garlic cloves, minced
1 tsp oregano
1 tsp salt
1 tsp chili pepper
1⁄2 tsp pepper
pinch cayenne to taste
5-6 fresh basil leaves or 1 tsp dried
Optional Toppings:
16 oz shredded cheese, motzarella, pepper jack
Parmessan cheese
Mushrooms
Pepperoni
Yellow bell pepper
Green olives
Jalepeno, seeded and finely chopped
Instructions
Prep dough first because it needs to set and rise until doubled, approximately 1 hour.
Combine sugar and yeast to warm water, stir, and let proof.
Mix salt into flour in a mixer bowl. Add olive oil and proofed yeast mixture.
Knead with dough hook or by hand for 3-5 minutes.
Place in an oiled bowl and cover with a moist towel for 1 hour or until dough has doubled.
Prep sauce: saute onion in pan until translucent in color, add minced garlic and stir slightly before adding tomato pure and paste. Mix in spices and heat on a low simmer for 20 minutes.
Prep and chop desired toppings.
Prep pizza dough by dividing and forming into shapes with your hands and by placing on the baking sheet and pressing and moving the dough toward the edges. For family size divide the dough in half, for personal size pizzas, divide the dough into 8 portions.
Turn oven to 425° and bake pizza dough for 5 minutes.
Remove pizza dough from oven, add sauce, cheese, and toppings. Bake at 425° for 10 minutes or until cheese is golden brown.
Enjoy!
Nutrition Information
Yield
10
Serving Size
1
Amount Per Serving
Calories

438
Total Fat

22g
Saturated Fat

10g
Trans Fat

0g
Unsaturated Fat

9g
Cholesterol

51mg
Sodium

889mg
Carbohydrates

43g
Fiber

4g
Sugar

7g
Protein

18g
Hi! I'm Nellie. I am a busy mama of three, wife to my high school sweetheart who loves to cook, workout and stay organized! I love to share helpful printables, the best recipes and fitness tips for the modern mom. I strongly believe that every mom can feed their family well, take proper care of themselves and have fun along the way! Read my story.
Get comfortable and be sure to come hang out with me on social. Don't grab your free fitness journal before you go!