This easy baked frittata recipe is so good and easy to make for breakfast! This frittata features fresh vegetables, crispy bacon and shredded cheese!
This super simple baked egg frittata recipe is going to be your new favorite breakfast recipe! It's an easy way to make breakfast with leftover veggies for a hungry family! There are so many ways to make this baked vegetable frittata with all of your favorite ingredients for a hearty breakfast.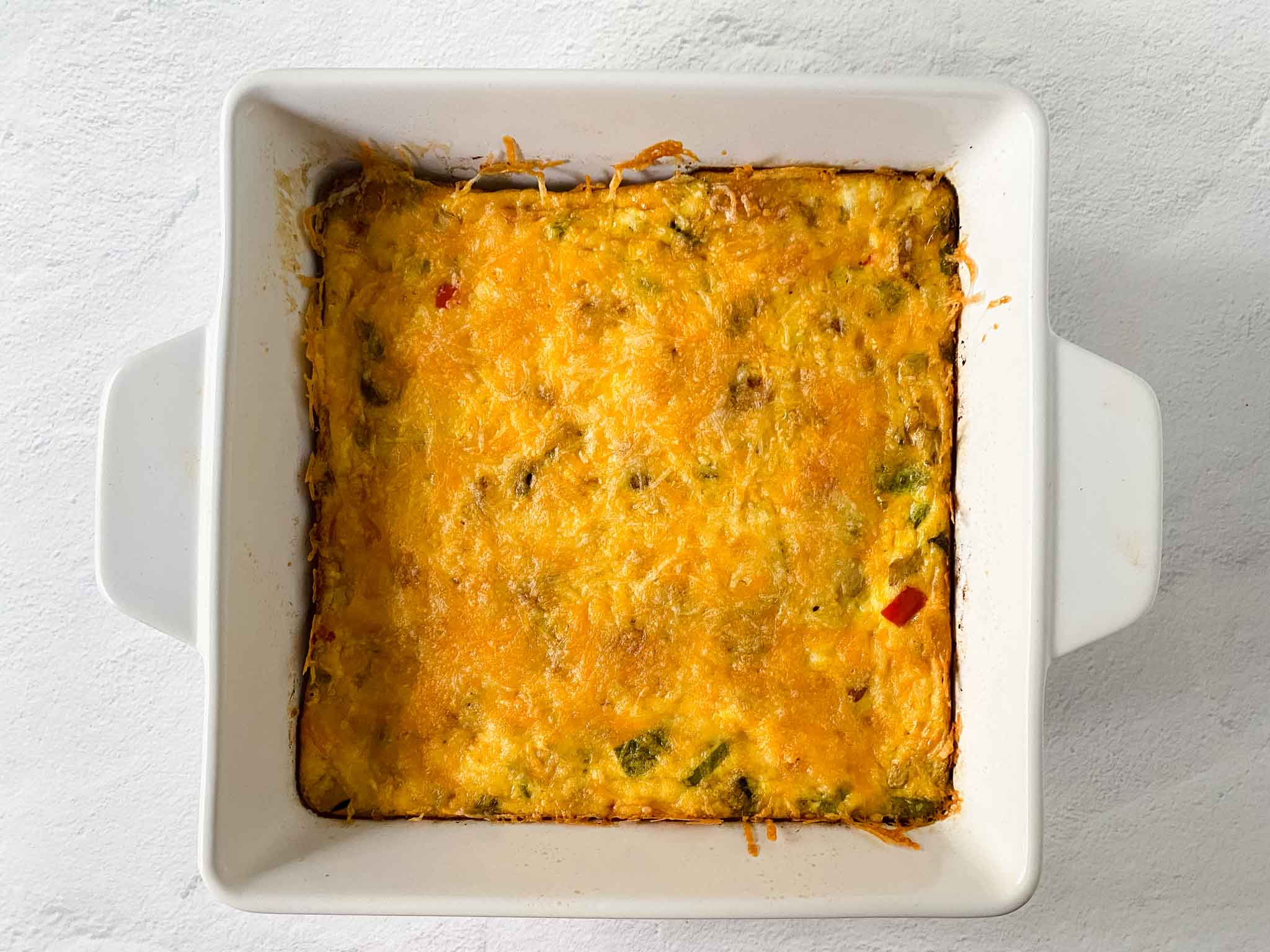 This recipe uses basic ingredients but it's the best frittata recipe! This tasty recipe is a great one to add to your brunch recipes.
What ingredients are in this basic frittata recipe?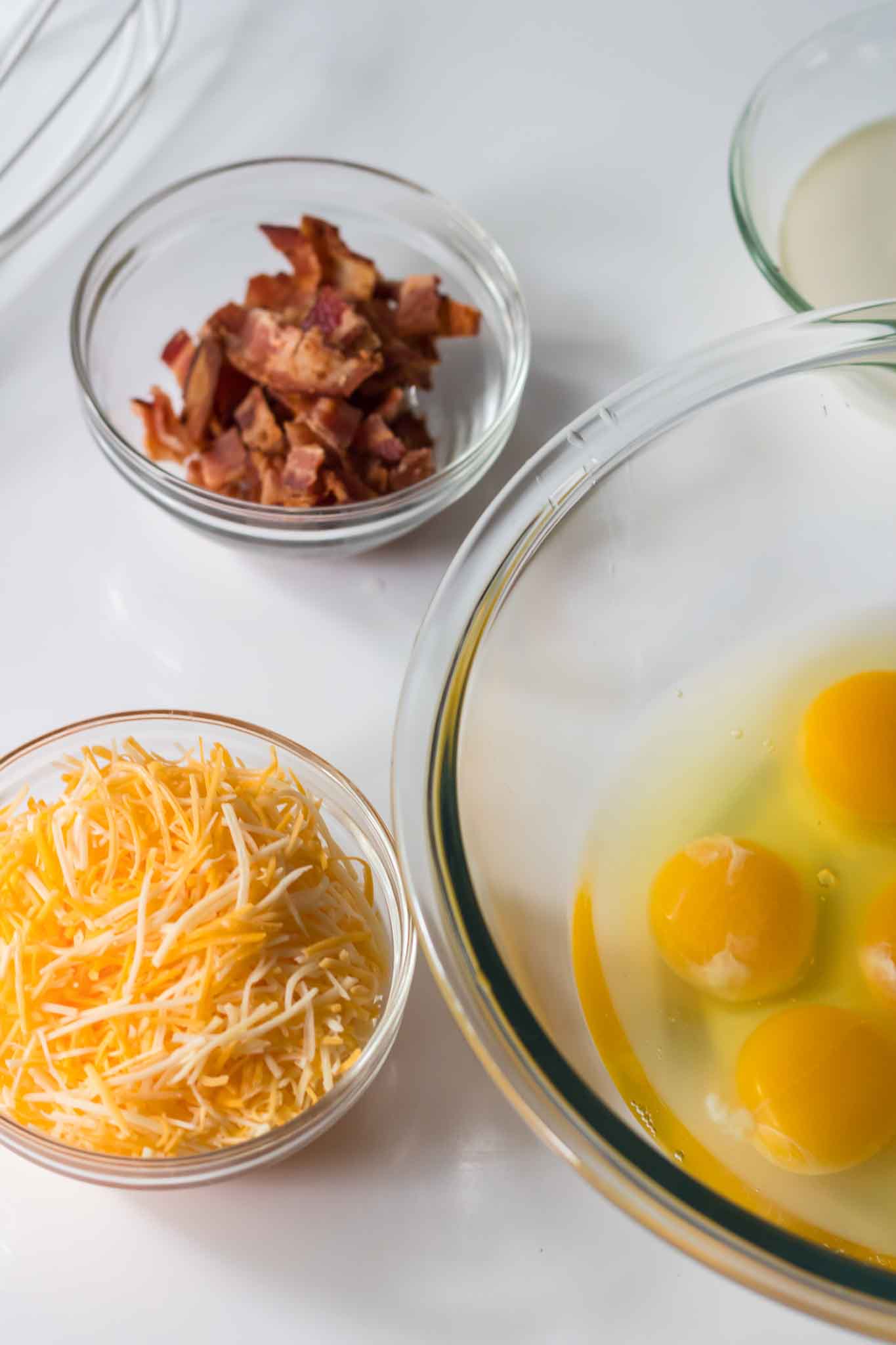 1/4 cup red onion, diced
1/4 cup red bell peppers, diced
1/4 cup green bell pepper, diced
1/4 cup mushrooms, diced
2 tbsp olive oil + 2 tbsp unsalted butter
6 large eggs
1/2 cup heavy cream
1 tsp kosher salt
1 tsp black pepper
1/2 tsp oregano
4 strips precooked bacon, diced
1 cup shredded cheese (Triple cheddar cheese blend)
I've seen many different crustless quiche recipes with fresh spinach, green onions, feta cheese, cherry tomatoes, parmesan cheeses or even goat cheese.
Whatever you want to use in your egg mixture is up to you! This is also a great recipe for meal prep as the cooking time is not long and this delicious frittata can be made anytime!
What are some helpful tips for creating the perfect breakfast frittata?
1. Choose Your Base: Start by choosing your base ingredients for the frittata, such as eggs, cream, cheese and vegetables. Mix them together until you have a consistent mixture.
2. Get Creative: Add in any additional flavorings to make it unique and tasty. You can add herbs like parsley or oregano, spices such as smoked paprika or cumin, and all sorts of vegetables like bell peppers, mushrooms, spinach and tomatoes.
3. Pre-Cook Vegetables: If you're adding in any hard vegetables like carrots or potatoes, pre-cook them before adding them into the mixture. This ensures that they cook evenly and don't end up too crunchy in the frittata.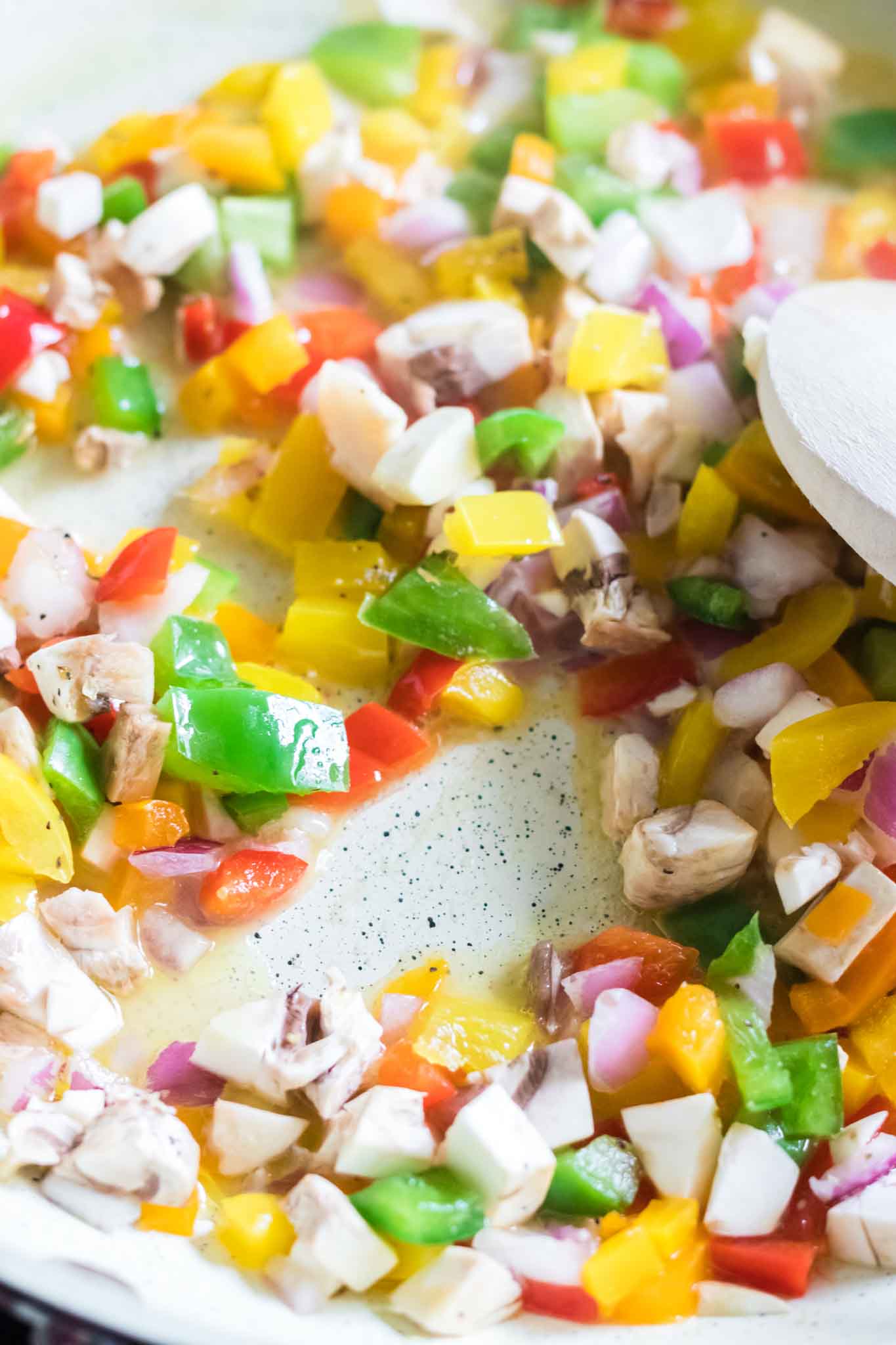 4. Grease Your Pan: Be sure to grease your pan before pouring in the mixture. This will help ensure that your frittata doesn't stick when it's time to flip it over.
5. Bake Low and Slow: Bake your frittata at a low temperature for a longer period of time. This ensures that the eggs are cooked through and the vegetables are tender.
6. Let It Rest: Allow your frittata to cool for a few minutes before cutting into it. This will help ensure that all the flavors have had time to mingle and that the frittata holds its shape when you cut into it.
You will need to pour the mixture into a baking dish (I used a glass dish) for this easy frittata recipe. The creamy texture of the frittata mixture is great.
If you are feeling ambitious you can have it with a side of french toast. A great way to spice things up a bit is if you add red pepper flakes or even some red onions to the mix. It's one of those easy recipes that you will make often.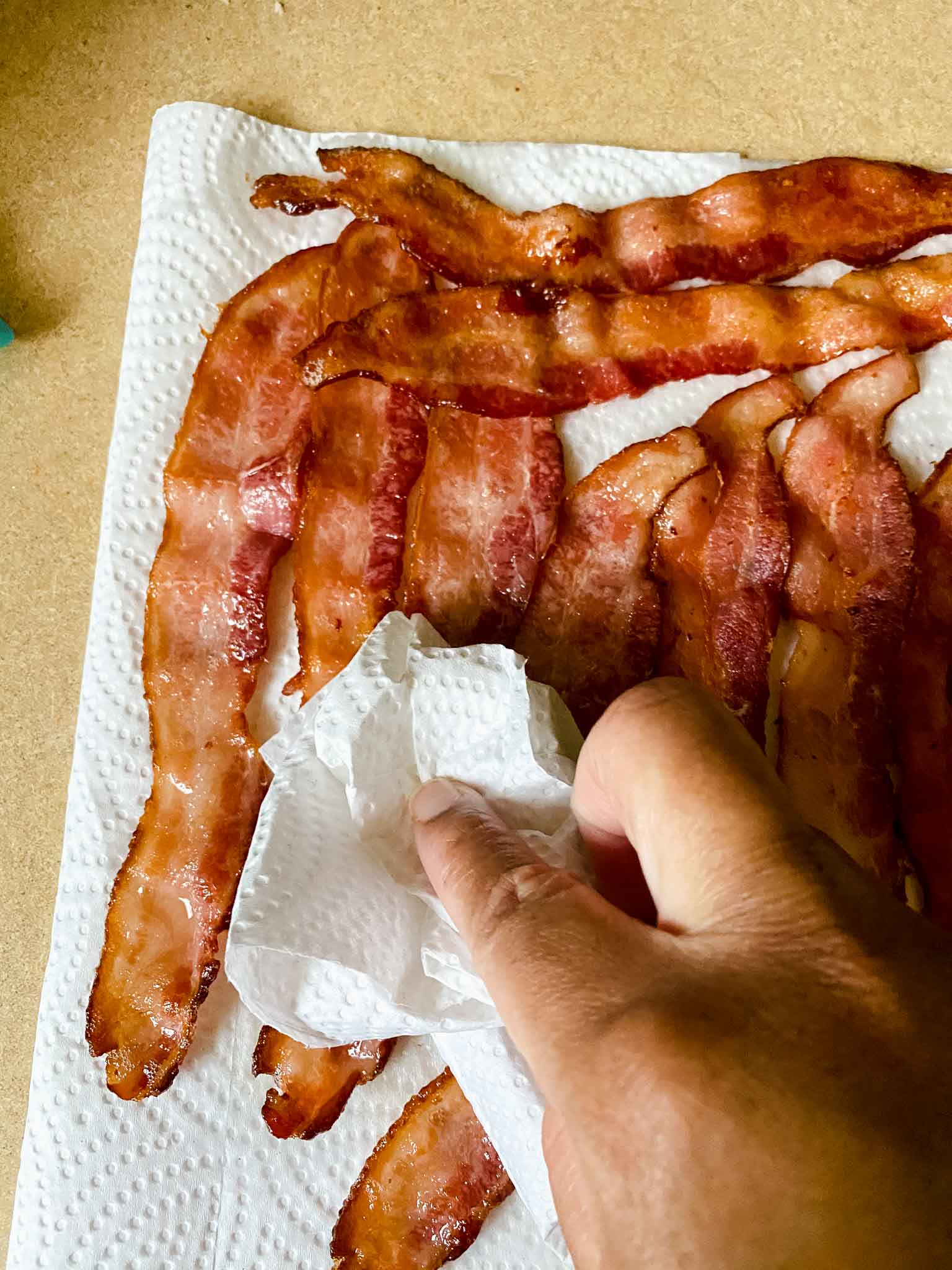 If you wants to make the perfect frittata, you simply just need to add the ingredients of your choice. It's a good way to experiment.
This amazing recipe is great for brunch and if you have any leftover you can store it in an airtight container in the fridge for the next day!
Where can you serve this breakfast frittata?
This breakfast frittata is delicious served any time of day! It makes a great breakfast, brunch, lunch or dinner. Serve it alongside some fresh fruit and a light salad for a complete meal. It's also great to take on picnics or serve as part of a potluck. Enjoy this tasty dish however you like!
What makes this amazing frittata recipe work so well?
This amazing frittata recipe works so well because of the combination of flavors and textures. It's super versatile too! It's great for brunch or even if you want to have a fun breakfast for dinner night!
What can you serve this frittata with?
This frittata can be served with a variety of accompaniments, depending on your preference. Try adding an array of colorful fruits such as banana slices, berries or pomegranate seeds for a delicious and healthy side.
For something savory, serve this with toast and some avocado slices, roasted potatoes or even a light salad. If you're feeling extra indulgent, some bacon or a dollop of sour cream would be delicious too! Lastly, don't forget the hot sauce! A few dashes of your favorite will take this from good to great.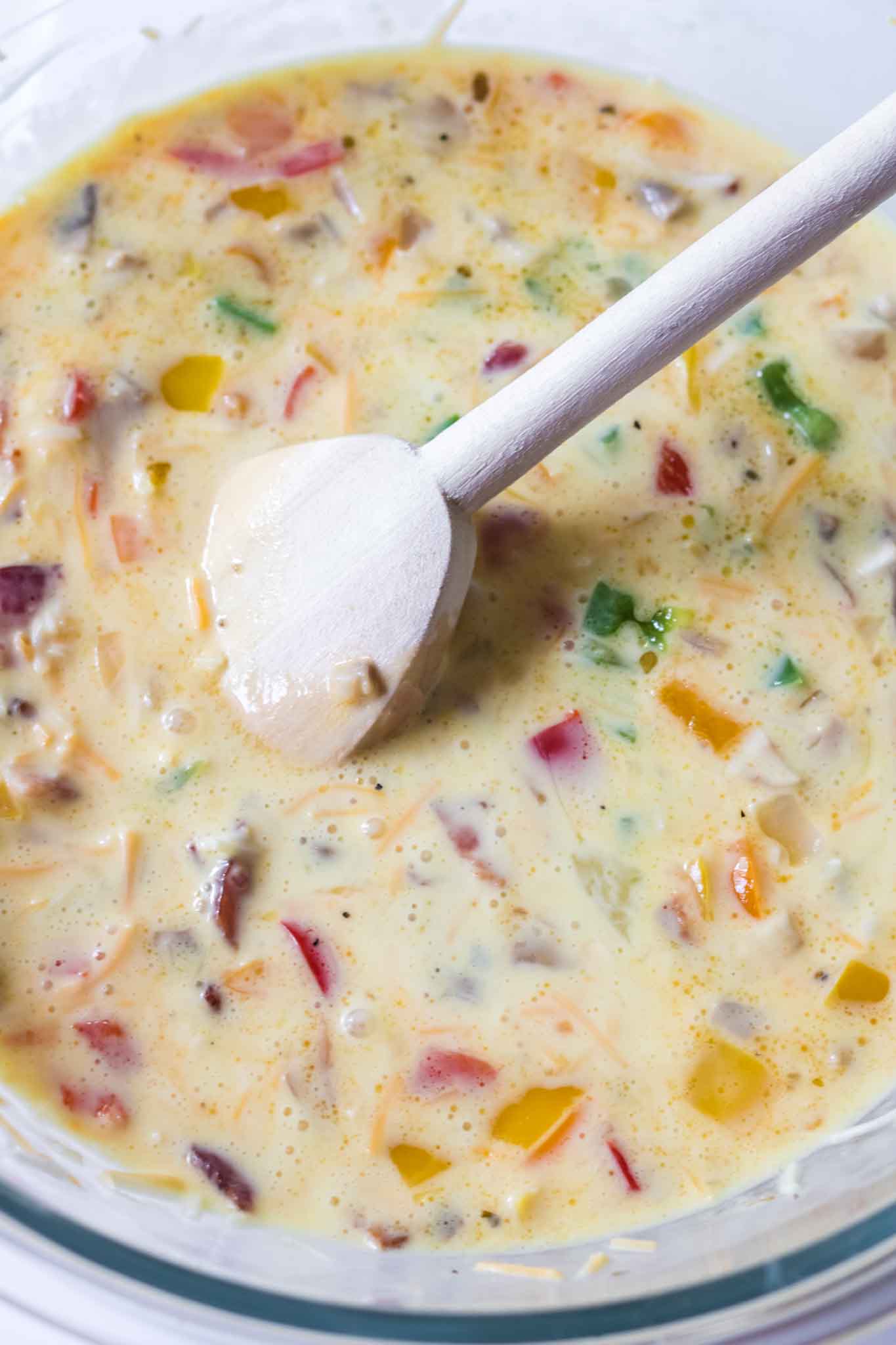 How do you store frittata leftovers?
Frittata leftovers can be stored in an airtight container for up to five days in the refrigerator. Alternatively, you can freeze frittata slices for up to three months. When ready to eat, defrost overnight in the fridge before reheating either in the oven or microwave.
To ensure that your frittata is still delicious, be sure to reheat it correctly. Preheat the oven to 350 degrees and cover the frittata with foil before baking for 10-15 minutes or until heated through.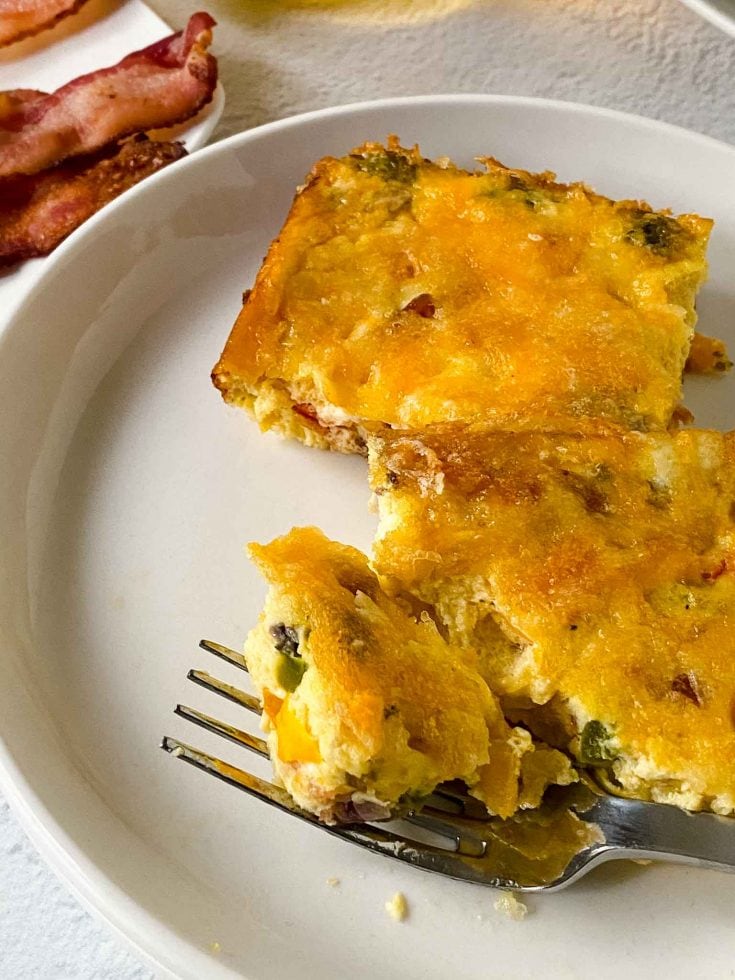 Yield:

8-10 servings
Easy Baked Frittata With Vegetables Cheese and Bacon
This easy baked frittata is so good! Filled with veggies, bacon and cheese, this will be one of you favorite breakfast recipes.
Ingredients
1/4 cup red onion, diced
1/4 cup red bell pepper, diced
1/4 cup green bell pepper, diced
1/4 cup mushrooms, diced
2 tbsp olive oil + 2 tbsp unsalted butter
6 eggs
1/2 cup heavy cream
1 tsp kosher salt
1 tsp black pepper
1/2 tsp oregano
4 strips precooked bacon, diced
1 cup shredded cheese (Triple cheese blend)
Instructions
Preheat oven to 350

Dice all veggies and heat olive oil and butter over medium heat.

Add veggies and sauté until soft.

Set aside

Add eggs, cream, salt, pepper, and oregano to a bowl. Whisk to combine. Add crumbled bacon, veggies and cheese.

Give it a good stir

Spray baking dish with non stick spray

Add egg mixture and bake uncovered for 30 mins or until the top is golden and bubbly. Add extra cheese at the 30 min mark if you'd like and bake for 5 more mins.
Nutrition Information
Yield
10
Serving Size
1
Amount Per Serving
Calories

201
Total Fat

18g
Saturated Fat

8g
Trans Fat

0g
Unsaturated Fat

8g
Cholesterol

147mg
Sodium

324mg
Carbohydrates

2g
Fiber

0g
Sugar

1g
Protein

9g
If you liked this recipe be sure to hang out with me on Instagram for the latest posts!
Pin it for later!
If you liked this recipe be sure to check out more breakfast recipes below!
Easy Sausage Egg and Cheese Biscuits – Breakfast To Go Recipes
Tik Tok Baked Oats For Breakfast – Simple Viral Recipe
Easy Homemade Loaded Breakfast Burritos Recipe
Funfetti Birthday Waffles – Celebrate With This Fun Waffle Recipe!
Strawberry Cheesecake Stuffed Waffles
Hi! I'm Nellie. I am a busy mama of three, wife to my high school sweetheart who loves to cook, workout and stay organized! I love to share helpful printables, the best recipes and fitness tips for the modern mom. I strongly believe that every mom can feed their family well, take proper care of themselves and have fun along the way! Read my story.
Get comfortable and be sure to come hang out with me on social. Don't grab your free fitness journal before you go!