If you are looking for a quick breakfast option check out these easy sausage egg and cheese biscuits. There are super easy to make and the whole family will love them!
Breakfast is my favorite meal of the day, I eat breakfast all day honestly. I love a good breakfast casserole, french toast, fluffy eggs, bacon, you name it!
Today I've got a real treat for you! This sausage egg and cheese biscuit is perfect for those days when you need to get out the house quick fast and in a hurry. This aren't quite like a breakfast sandwich but rather like breakfast poppers that you can grab and go.
Here are the ingredients you will need for these awesome biscuits:
1 (8 ct) can Grands biscuits
1 package Jimmy Dean ground sausage
4 eggs
1 tbsp butter
Salt & Pepper to taste
1/4 cup shredded cheese
Parsley
For this recipe you can use cheddar cheese or american cheese. You won't need to form a sausage patty with the ground sausage. You also won't need to form an egg patty with the whole eggs that you will be using.
If you have homemade biscuits that won't quite work for this recipe because everything needs to cook together. For the best experience I suggest using Grands biscuits from the can. (takes less time than a buttermilk biscuit too!)
For this recipe you will be scrambling the egg mixture, sauteing and cooking the ground sausage of medium heat then putting all of the remaining ingredients in the biscuit. Bake until everything is golden brown caramel color and you have got a great meal.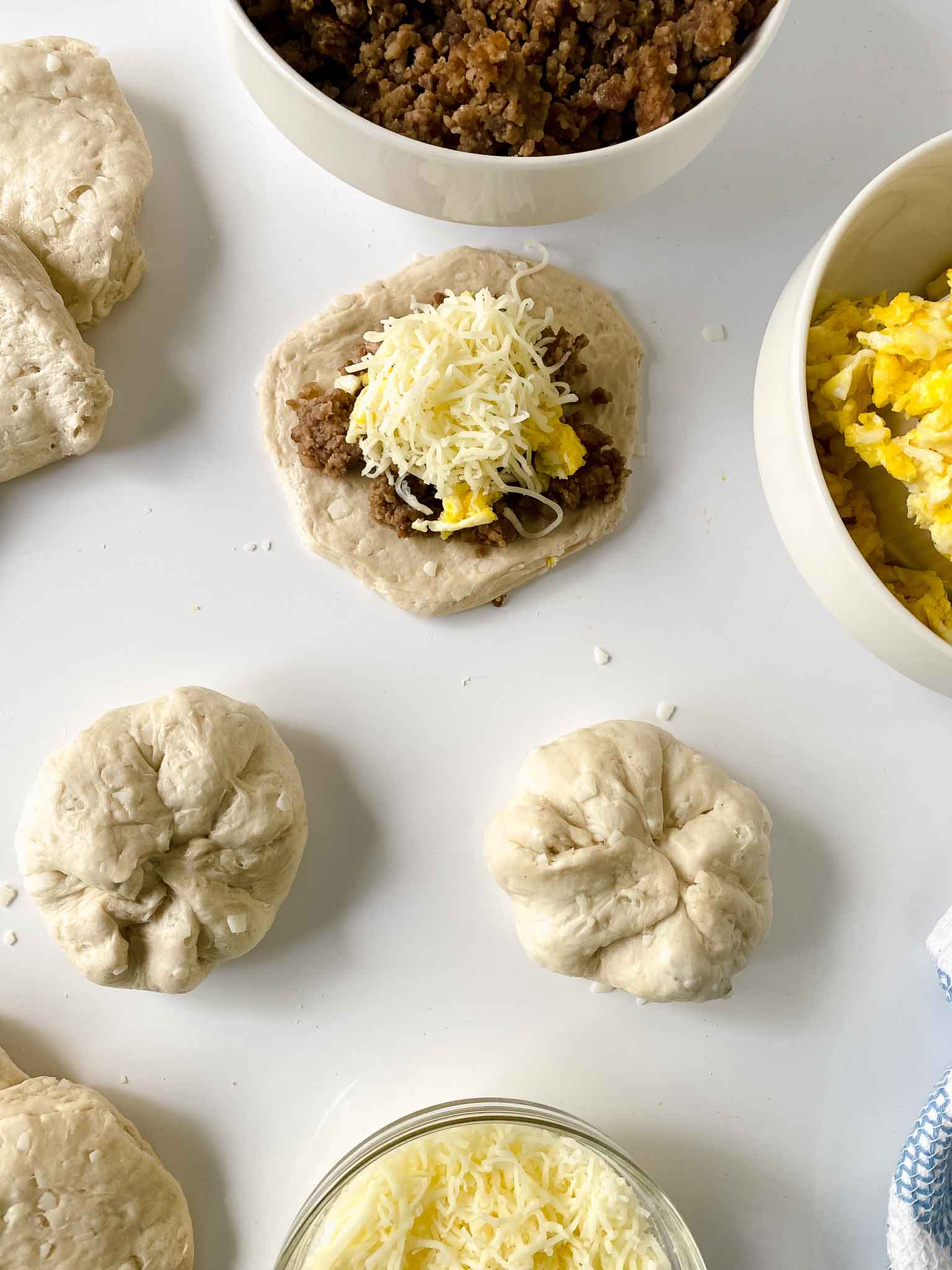 Unlike a frozen breakfast sandwich you won't have to thaw sandwich to make breakfast. You can put these in an ungreased baking sheet for cooking.
This are awesome for Christmas morning and honestly anytime. Weekends, Special occasions, or just because it's Tuesday. It's a great way to get the daily value of protein — I don't have any general nutrition advice on your daily diet but these are just so good!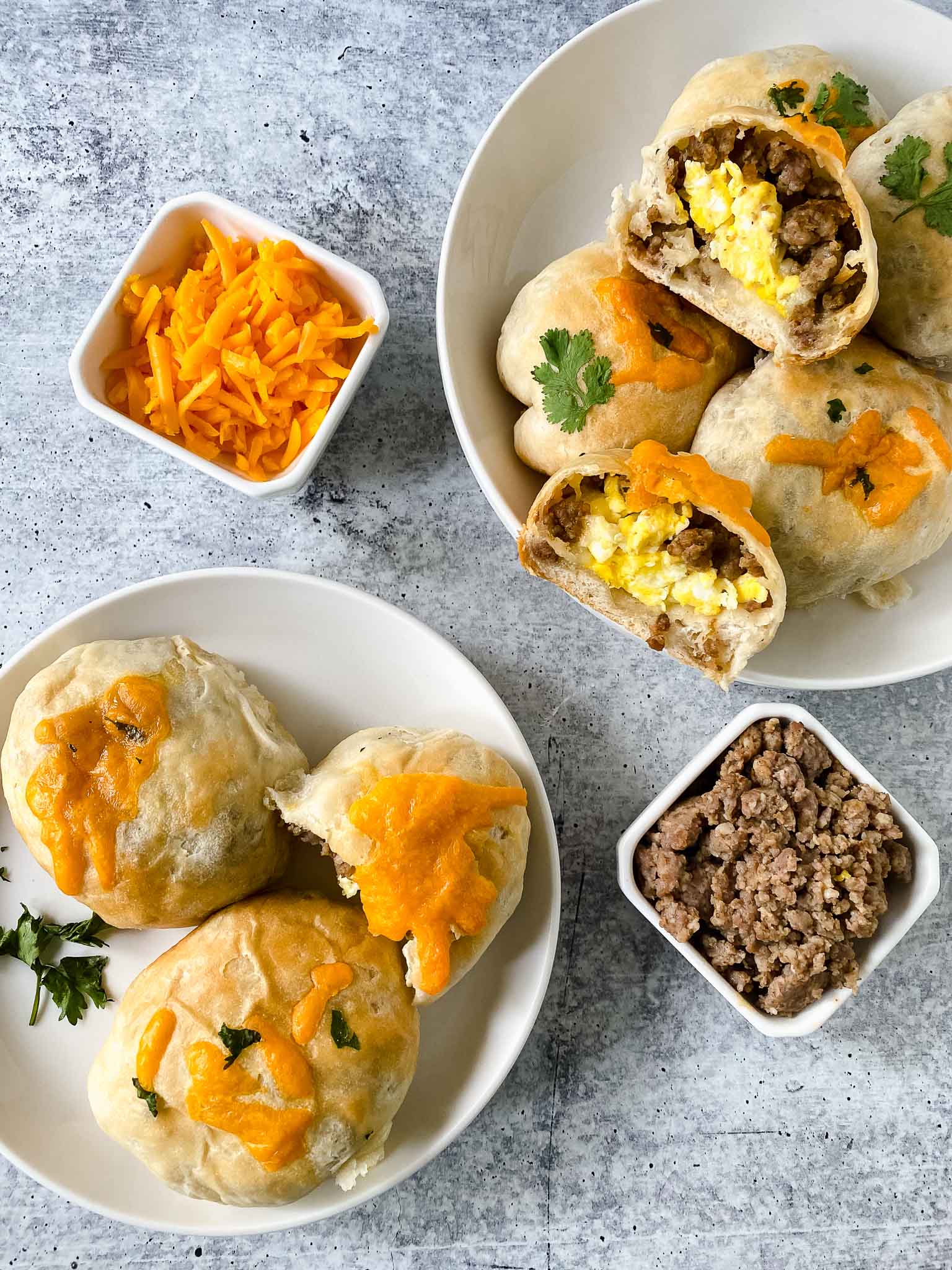 The best part about these is that you can literally grab them and go which is so clutch for those busy school mornings!
Tips and Tricks for Making Sausage Egg and Cheese Biscuit
1. Perfectly Cooked Sausage: When cooking the sausage, ensure it is thoroughly cooked, but avoid overcooking which can make it tough and dry.
2. Fluffy Eggs: Whisk the eggs well before cooking and consider adding a splash of milk for extra fluffy scrambled eggs.
3. Cheese Choices: Experiment with different kinds of cheese for varying flavor profiles. Cheddar, Swiss, or Pepper Jack all offer unique tastes.
4. Fresh Biscuits: Freshly baked biscuits are best, but store-bought can also work well if you're short on time. Warm them in the oven before assembly to ensure they're nice and soft.
FAQs for Sausage Egg and Cheese Biscuit
Can I use bacon or ham instead of sausage?
Yes, bacon or ham can be used as a substitute for sausage based on your preference or dietary needs.
Can I add vegetables to this recipe?
Certainly! Adding veggies like bell peppers, onions, spinach, or tomatoes can add extra flavor and nutrition.
Can I make this recipe gluten-free?
Yes, just replace the regular biscuit with a gluten-free version.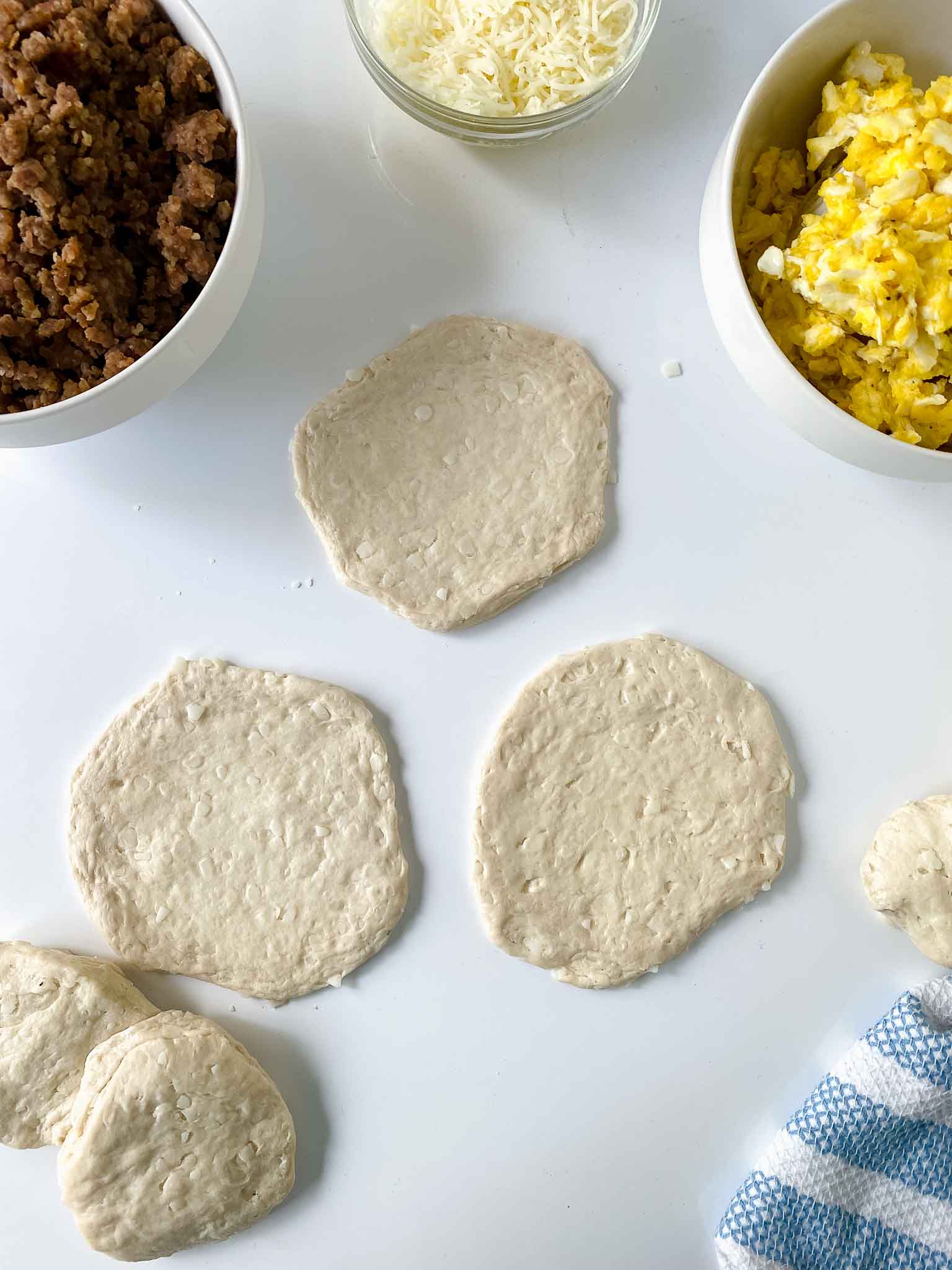 Variations for Sausage Egg and Cheese Biscuit
1. Spicy Twist: Add some spice with jalapenos or hot sauce.
2. Healthy Variation: Use whole grain biscuits, lean turkey sausage, and egg whites for a healthier version of this recipe.
3. Gourmet Touch: Try using gourmet cheeses like Gruyere or a smoky gouda for a touch of sophistication.
4. Vegetarian Option: Use plant-based sausage and cheese for a vegetarian version.
Where to Serve Sausage Egg and Cheese Biscuit
These hearty biscuits are perfect for breakfast or brunch gatherings, picnics, and even as a grab-and-go meal for busy weekday mornings. They're also a great option for kid's lunch boxes or for a convenient road trip snack.
Storage Options for Sausage Egg and Cheese Biscuit
1. Refrigerating: Assembled biscuits can be refrigerated in an airtight container for up to 3 days. Reheat in a microwave or a preheated oven before serving.
2. Freezing: For longer storage, wrap each biscuit individually in aluminum foil and place them in a freezer bag. They can be frozen for up to 2 months. Thaw overnight in the refrigerator and reheat in the oven or microwave.
Keep these tips and variations in mind to enjoy this classic comfort food in new and exciting ways. The Sausage Egg and Cheese Biscuit recipe is versatile and hearty, making it a perfect meal for any time of the day.
Yield: 4 biscuits
Easy Sausage Egg and Cheese Biscuits - Breakfast To Go Recipes
Prep Time: 20 minutes

Cook Time: 30 minutes

Additional Time: 5 minutes

Total Time: 55 minutes

These sausage egg and cheese biscuits are so good and great for a quick breakfast!
Ingredients
1 (8 ct) can Grands biscuits
1 package Jimmy Dean ground sausage 4 eggs
1 tbsp butter
Salt & Pepper to taste
1/4 cup shredded cheese
Parsley
Instructions
Preheat the oven to 325

Break up and cook the sausage over stop the top, drain, and set aside

Scramble eggs, season with salt and pepper

Roll out biscuits with a rolling pin to flatten them.

Add sausage, eggs, shredded cheese to the center leaving space to fold over biscuits Fold over the exposed biscuit dough and form into a ball.

Top with shredded cheese and parsley

Bake in a 325-degree oven for 30 mins

Remove from oven, let cool 5 mins then serve
Nutrition Information
Yield
4
Serving Size
1
Amount Per Serving Calories 223Total Fat 16gSaturated Fat 7gTrans Fat 1gUnsaturated Fat 8gCholesterol 211mgSodium 497mgCarbohydrates 8gFiber 0gSugar 1gProtein 11g

If you make these be sure to follow and tag us on instagram when you share them!
If you liked this breakfast recipe be sure to try these out too!
Easy Homemade Loaded Breakfast Burritos Recipe
Easy Tik Tok Baked Oats For Breakfast – Simple Viral Recipe
Healthy Breakfast: Acai Berry Smoothie Bowl
Tik Tok Tortilla Wrap Hack: Breakfast Wraps Made Easy
Strawberry Cheesecake Stuffed Waffles
Hi! I'm Nellie. I am a busy mama of three, wife to my high school sweetheart who loves to cook, workout and stay organized! I love to share helpful printables, the best recipes and fitness tips for the modern mom. I strongly believe that every mom can feed their family well, take proper care of themselves and have fun along the way! Read my story.
Get comfortable and be sure to come hang out with me on social. Don't grab your free fitness journal before you go!