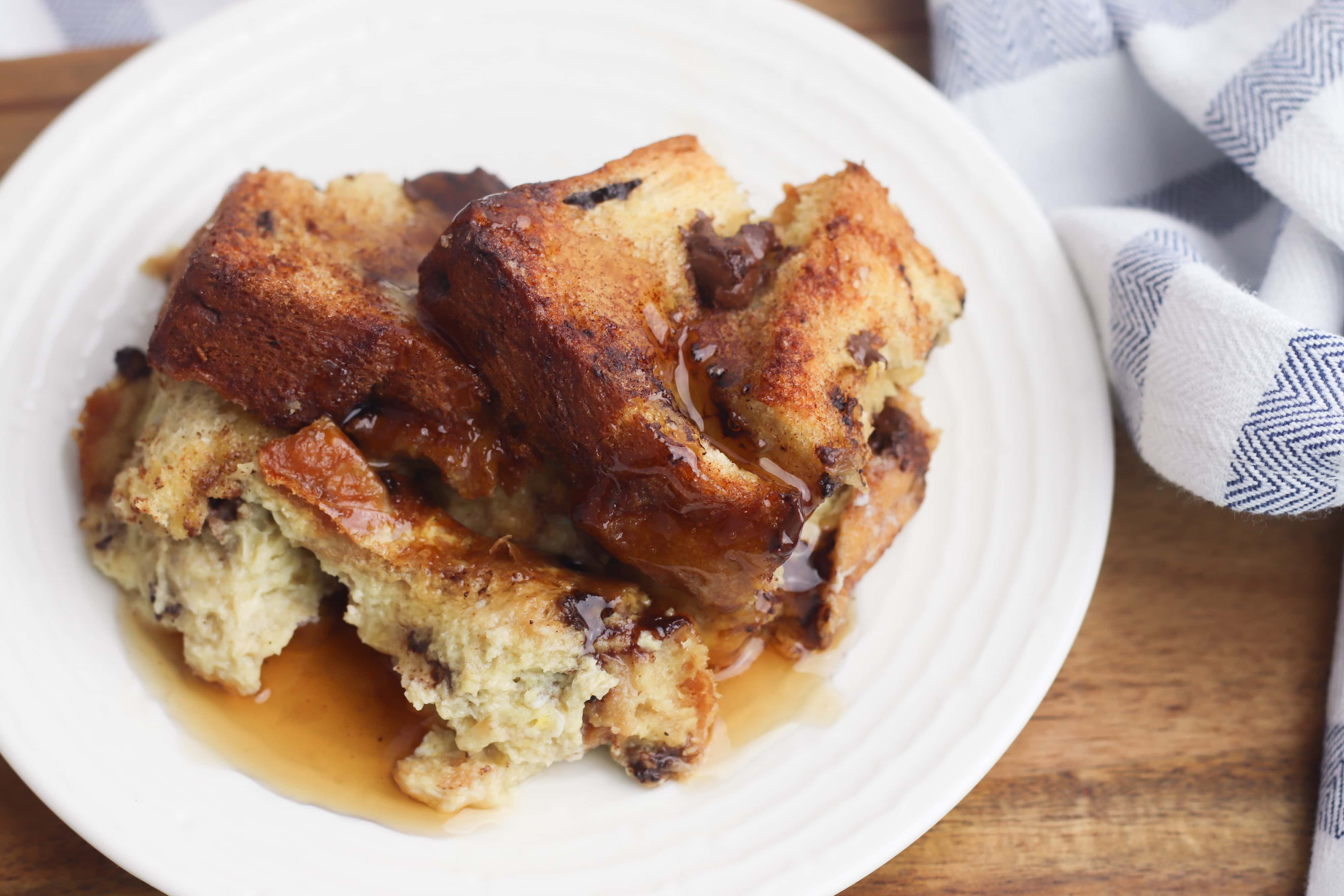 With busy schedules and blended families, it can be difficult to get everyone together for a holiday meal. A holiday breakfast or brunch can be a nice way to start the day with everyone gathering and then heading out in various directions. Today I'm sharing with you this amazing Chocolate Chip French Toast bake recipe that will be a crowd pleaser!
Family members may also be thankful not to have to worry about the morning meal along with all the other holiday traditions and commitments.
Making a List and Checking it Twice
Before setting your heart on a holiday breakfast or holiday brunch, check around. While some members of the family will be thrilled to have the morning covered, others may need that extra time.
Little kids may be too excited about a Santa visit to get pumped up about packing up and heading to a gathering. Teens in the family may want to sleep in. Grandpa may think that everything's at his house or else . . .
Ideally, everyone can and will be excited about a Christmas brunch (or any other holiday morning meal). If not, it's fine to host for those who can make it and want to get together. A smaller party is easier, and it's always better when participants are excited about the get-together.
Setting the Time for an Early Morning Family Holiday Gathering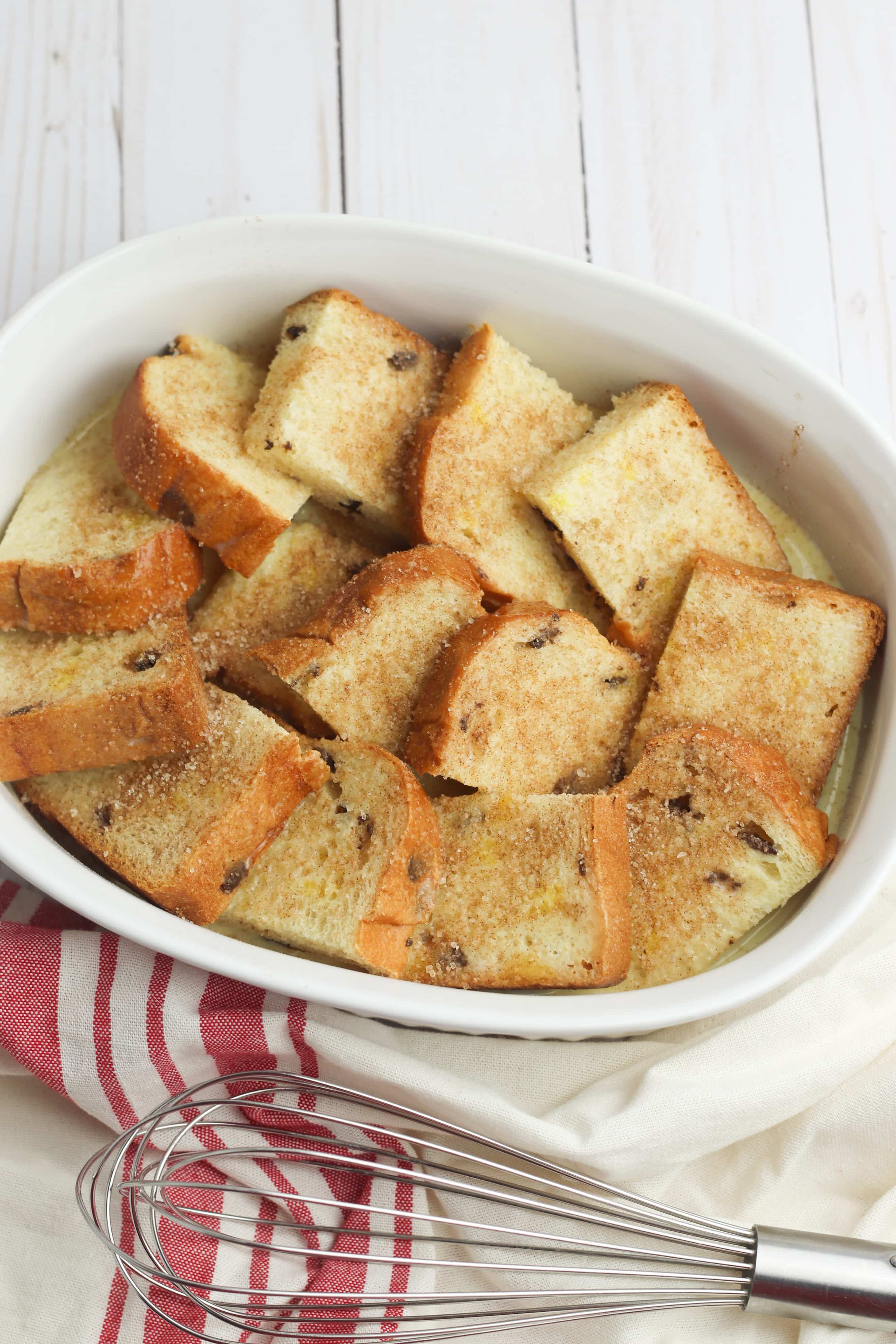 Timing a holiday brunch can be tricky. In most families, there are early and late risers. There's also a huge difference between a single family member jumping in the car and driving over and the sister with three kids packing up and making it if the time is set early.
If family members have lunch commitments, an early brunch may be the best bet. If you're not an early person, that may not be your best bet though. Make ahead dishes can help if you commit to an 8 a.m. holiday brunch, so the early bird breakfast can work out with some planning.
For many families, a mid-morning holiday gathering is ideal. The host has time to get up and get things together. Other family members can enjoy Santa time and then head over.
Another option is to have a drop in. This will impact on the menu, but it allows some flexibility for guests. Hopefully everyone overlaps during the morning, so guests get to visit. If not, it's still nice to see family and friends as they can make it over.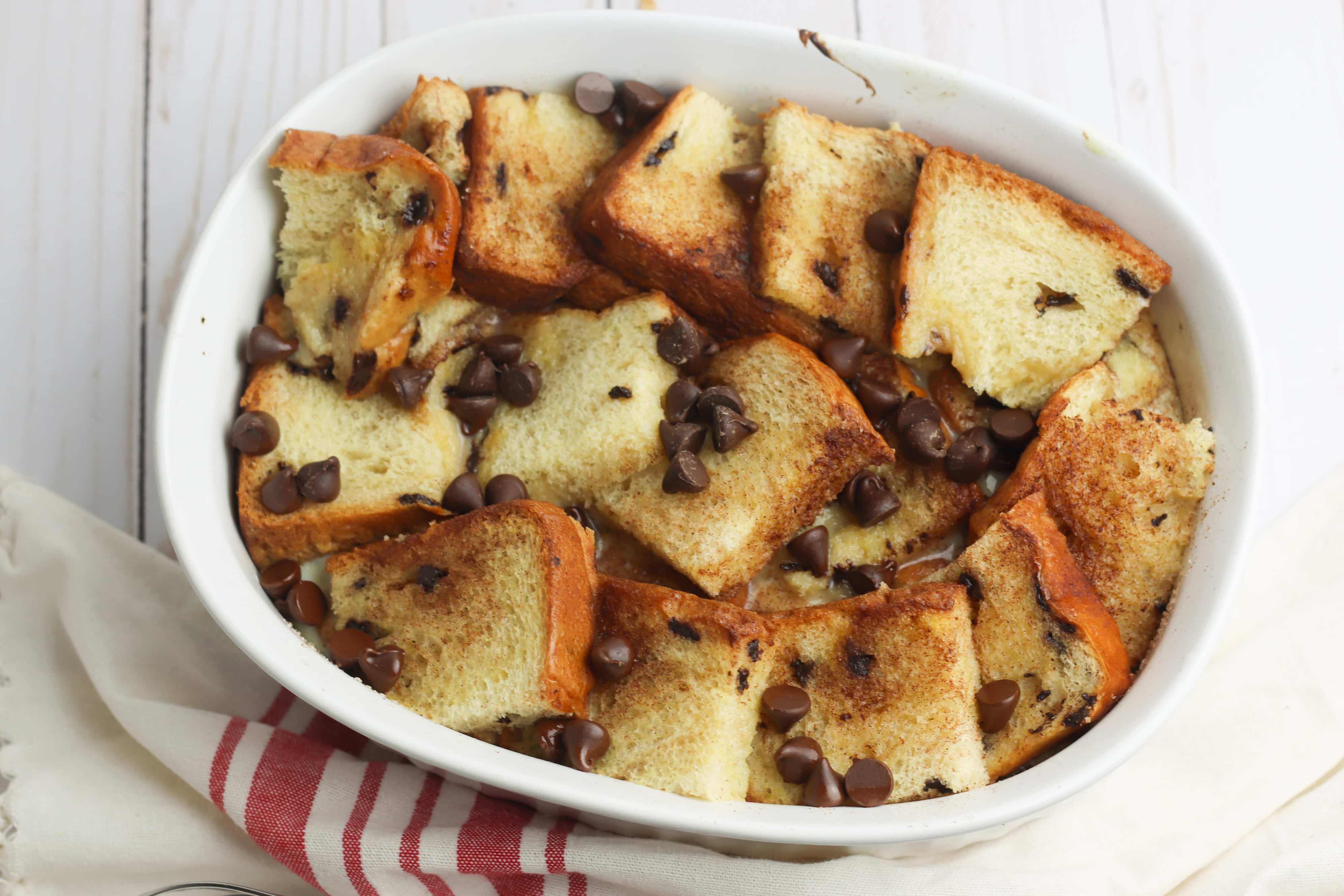 Holiday Brunch Menu
It's a good idea to keep a holiday brunch menu simple. The holidays include many eating opportunities, and most family members will probably be packing a few extra pounds during the season anyway.
Go with a holiday breakfast menu you feel comfortable with. For some, that may be french toast bacon, eggs, grits, and biscuits. For others, it may be a fruit salad (with a fabulous fruit dip made the night before), bagels and cream cheese with a variety of juices.
If you host a drop in family brunch, then consider foods like doughnuts, muffins, cereals, and other breakfast foods that don't require heating and maintenance.
Don't Hesitate to Make Your Brunch a Holiday Family Affair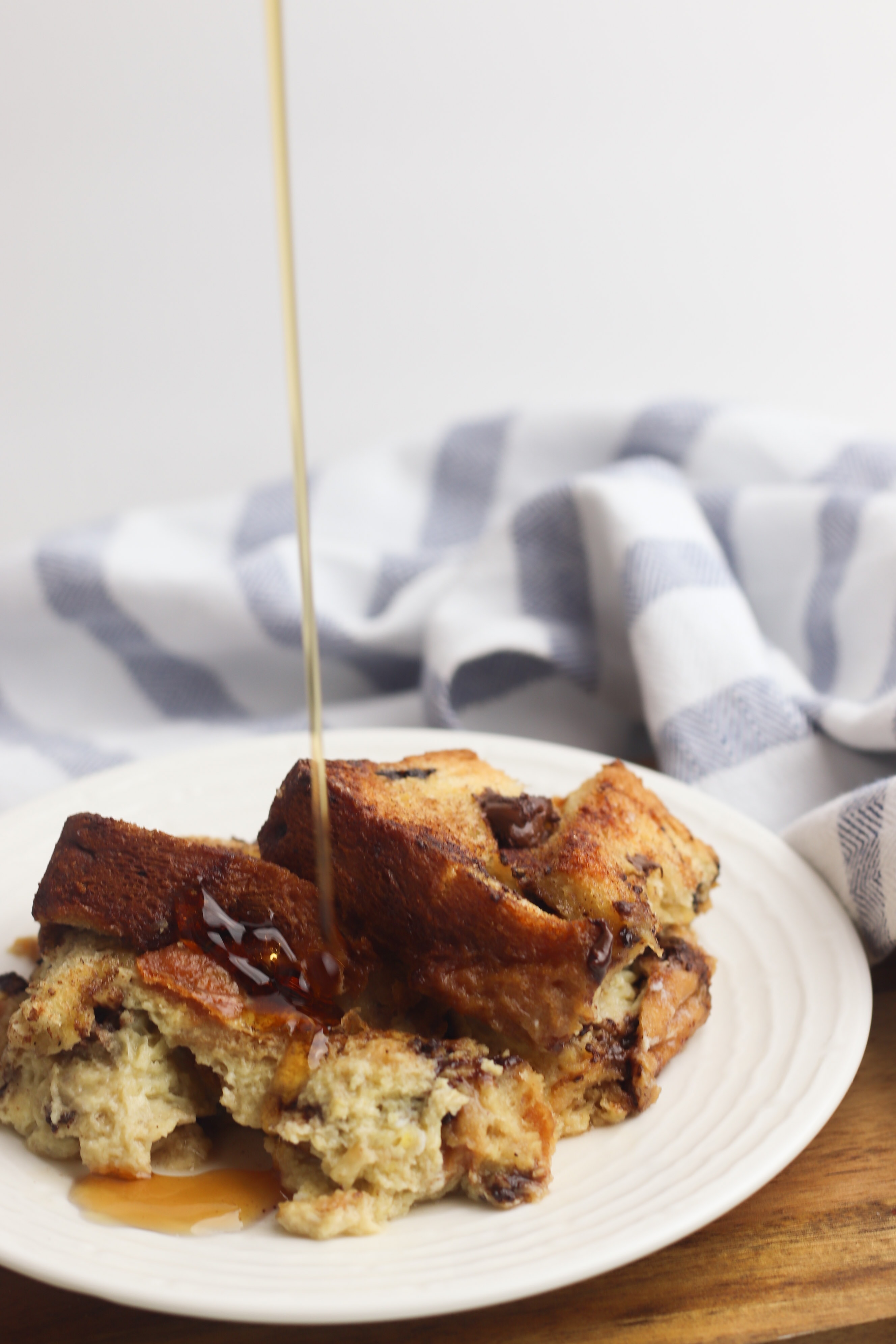 If family members offer to help with the holiday brunch, accept the offers (unless you really freak on having others in your kitchen). Maybe Uncle Harry loves to make buttermilk pancakes. Set him up a station in the kitchen and let him flip the flapjacks.
If Grandma wants to bring her signature yeast bread, tell her that would be terrific. If the teens in the family offer to wash dishes or pick up paper products and take them out to the trash can, don't be a martyr. That's a good thing when the family not only plays together but works together too.
Be sure to wow your family members with this amazing chocolate chip french toast recipe!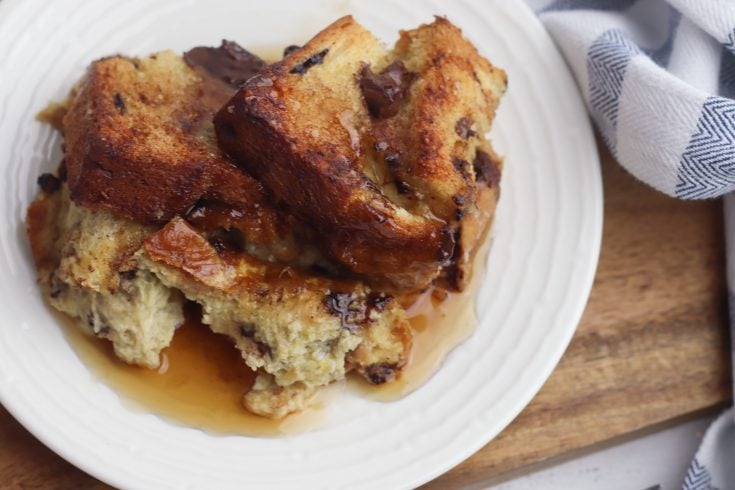 Yield:

6-8 Servings
Amazing Chocolate Chip French Toast Bake
Easy and stress free breakfast that is perfect for a holiday family breakfast or any breakfast really. Serve with some bacon and eggs and you have a yummy meal!
Ingredients
1 loaf chocolate chip brioche bread, cut into quarters
6 eggs
2 cups milk
1 ½ tablespoons vanilla extract
2 tablespoon sugar
2 teaspoons cinnamon
¼ cup chocolate chips
Instructions
1. Grease a 9x13 baking dish and place half the
bread in a single layer along the bottom of the dish. Set aside.
2. Place eggs, milk, and vanilla extract in a medium bowl. Whisk to combine.
3. In a small bowl, combine cinnamon and sugar.
4. Pour half the egg mixture over the top of the
bread and top with half the cinnamon sugar mixture.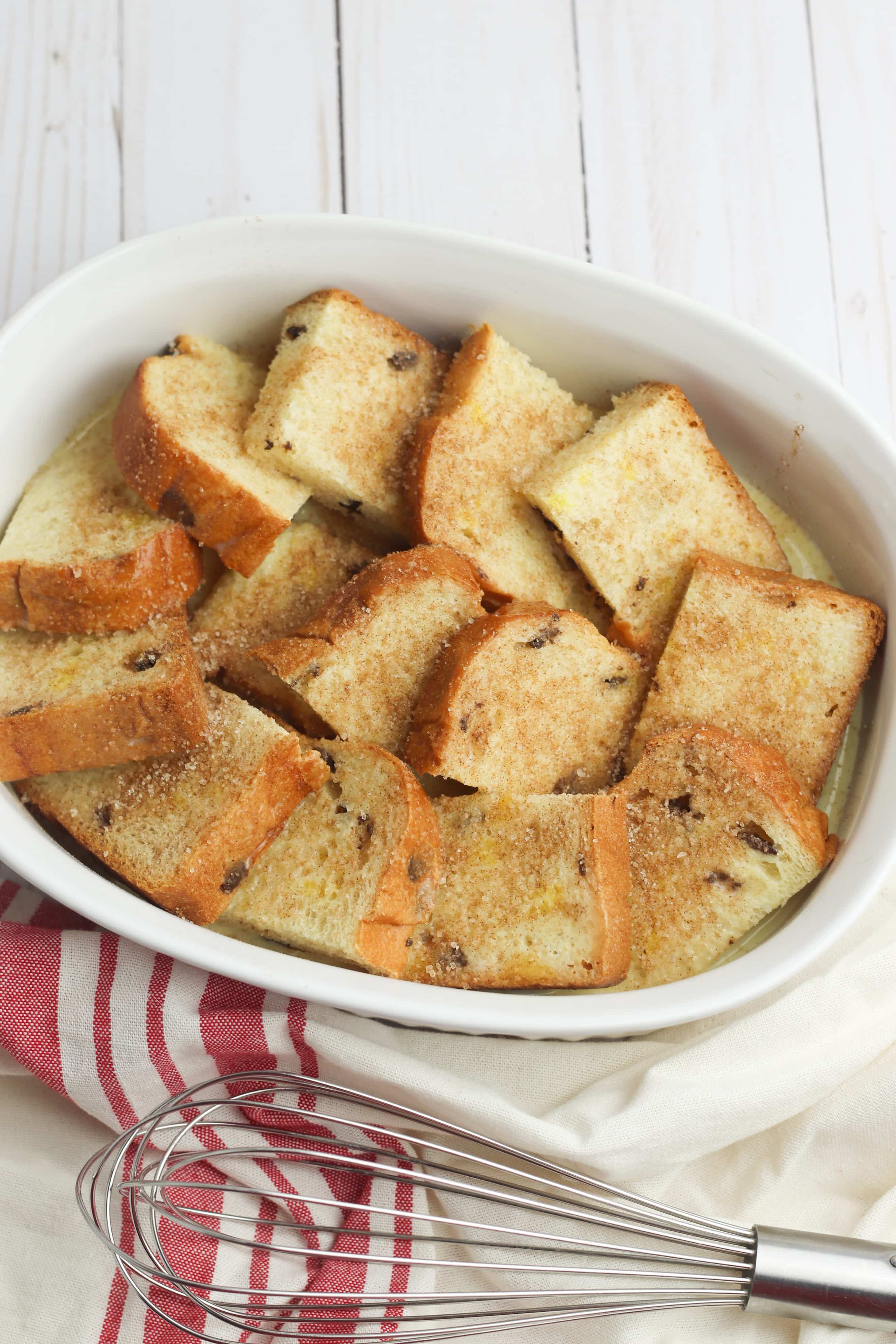 5. Place the remaining bread on top of the coated
bread layer and top with the remaining egg mixture and remaining cinnamon sugar.
6. Place the casserole in the refrigerator for at
least 30 minutes or overnight.
7. When ready to bake, preheat oven to 350 degrees.
Cover casserole dish with aluminum foil and bake for 30 minutes.
8. Remove foil cover and add chocolate chips to the
top of the casserole. Bake uncovered for 15 minutes.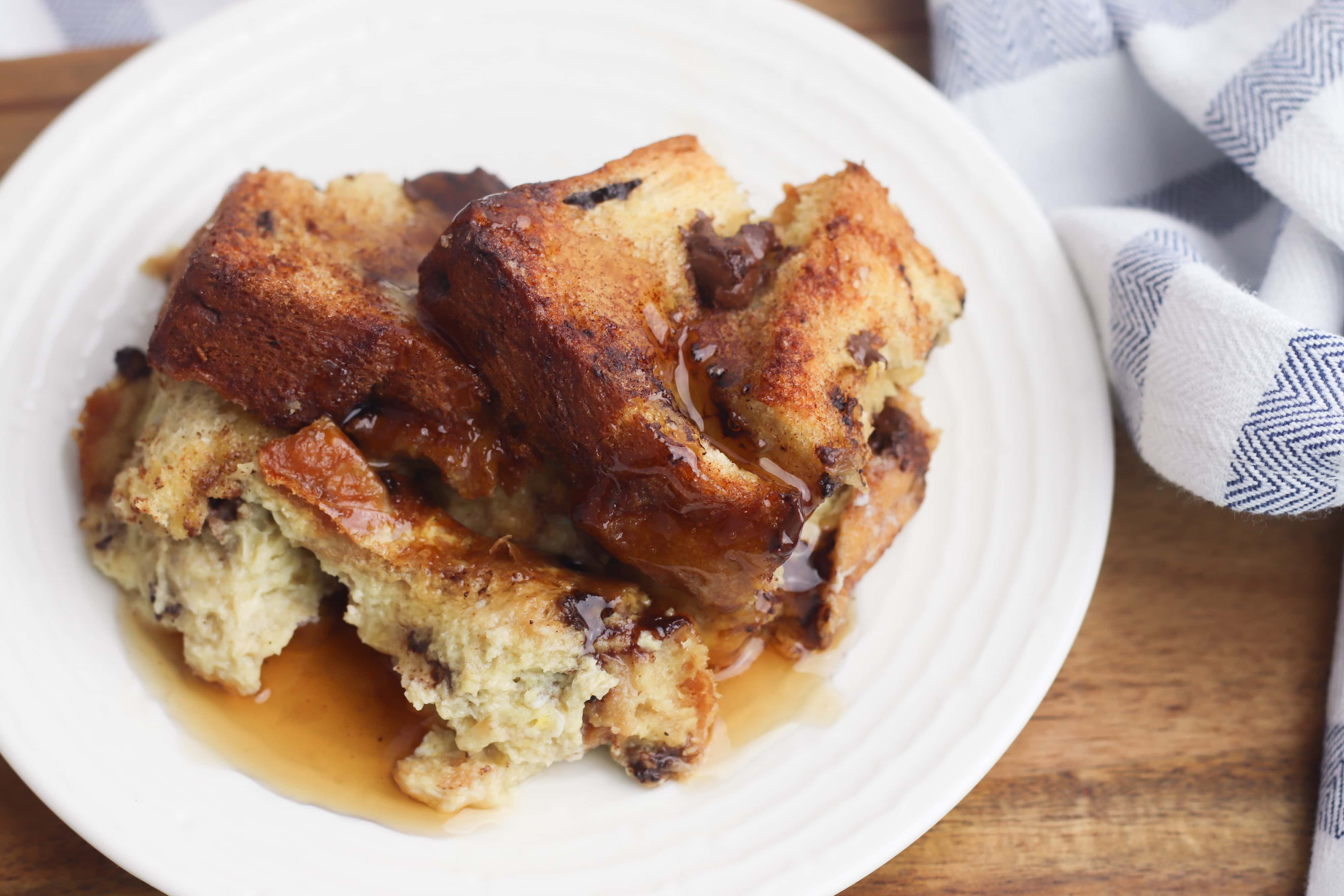 Do you like to have big family gatherings for breakfast?
Hi! I'm Nellie. I am a busy mama of three, wife to my high school sweetheart who loves to cook, workout and stay organized! I love to share helpful printables, the best recipes and fitness tips for the modern mom. I strongly believe that every mom can feed their family well, take proper care of themselves and have fun along the way! Read my story.
Get comfortable and be sure to come hang out with me on social. Don't grab your free fitness journal before you go!