There are endless possibilities when it comes to what to serve with pulled pork sandwiches. However, we have compiled 20 of our favorite sides that will take your meal from ordinary to extraordinary!
Whether you are looking for something light and refreshing or something hearty and filling, we have got you covered. So what are you waiting for? Start scrolling down and get inspired!
What is pulled pork sandwiches?
Pulled pork sandwiches are a type of sandwich that is typically made with barbecued pork that has been shredded or "pulled" and then served on a bun or roll. They can be topped with various sauces and condiments, but are often simply served with some coleslaw on the side.
While pulled pork sandwiches are often associated with Southern cuisine, they have actually become quite popular all over the United States in recent years. This is likely due to the fact that they are relatively easy to make at home and can be customized to suit any taste.
How to make pulled pork sandwiches?
Making pulled pork sandwiches at home is actually quite simple! Start by cooking the pork in a slow cooker or Instant Pot with some BBQ sauce, apple cider vinegar, and seasonings. Once the pork is cooked through, simply shred it with a fork or chop it into small pieces.
Then, to assemble the sandwiches, simply place some of the shredded pork on a bun or roll, and top with your favorite sauces and condiments like barbecue sauce, red onions or even sour cream!
There are so many pork sides you can choose from green beans, french fries, sweet potatoes or even collard greens.
What are some awesome pork recipes to try?
What to serve with pulled pork sandwiches?
As we mentioned before, there are endless possibilities when it comes to what to serve with pulled pork sandwiches. However, we have compiled 20 of our favorite great recipes that will take your meal from ordinary to extraordinary!
Take your pork shoulder to the next level with the best sides for your main dish. These pulled pork side dishes are the best bbq side dishes and the easiest way to serve an amazing rounded dish.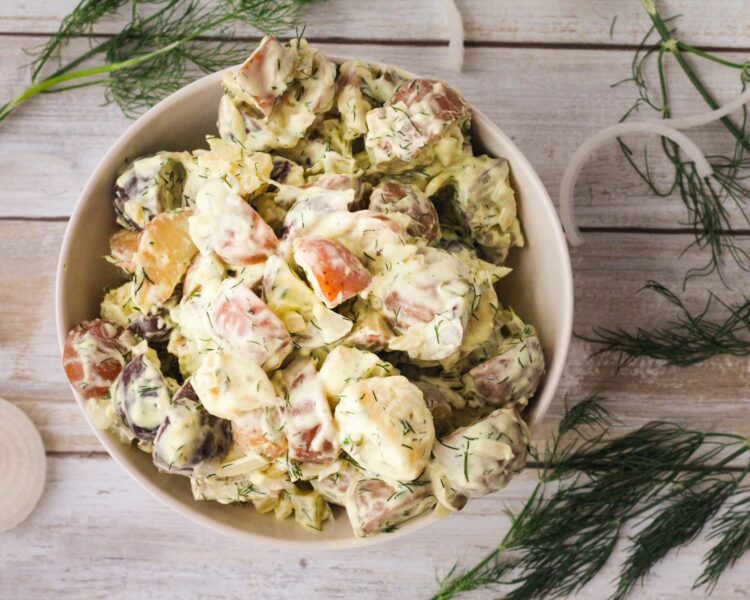 Egg Free Potato Salad is the perfect summer barbecue side dish. This allergen-friendly potato salad doesn't contain any eggs, dairy products or gluten but does have mustard for that delicious tangy taste.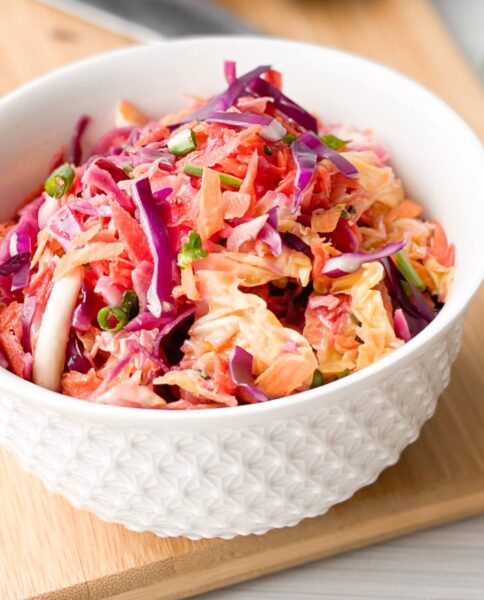 Coleslaw is one of those foods that can be subjective to personal preference, but this vegan version without mayo will make your taste buds sing.
Roasted broccoli is a delicious side dish that can be cooked in under 30 minutes and tastes amazing. It's best when eaten with garlic, olive oil salt pepper to give it an extra flavor.
You don't have time for a salad but you crave something healthy and tasty? This broccoli with bacon dish is the answer! It's quick and easy to make – naturally gluten-free of course- so it can be enjoyed by everyone in your family.
What's better than elote? This delicious bowl of esquites, or street Corn coated in mayonnaise and cheddar cheese! It is quick & easy to make without any messy ingredients.
This low-carb, keto salad is perfect for those looking to lose weight or just want something healthy. It's packed with flavor and can easily be gluten-free if needed.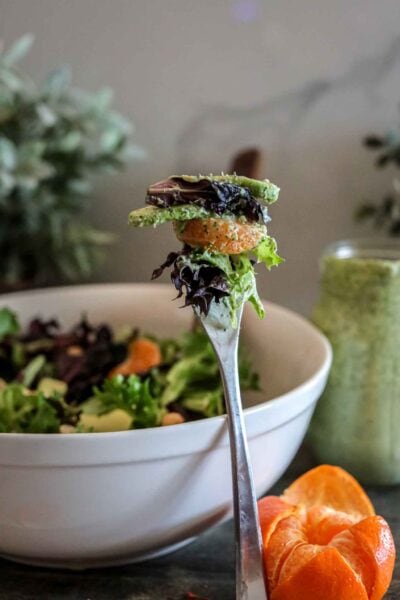 Vibrant and delicious! This easy spring mix salad recipe is made with avocados and a delicious green goddess dressing. It's ready in just a few minutes so you can enjoy it any day of the week.
The perfect salad for any occasion, this easy recipe features fresh baby spinach leaves topped with sliced strawberries and toasted pecans. Dressing? You got it – try our creamy balsamic poppyseed dressing.
This simple yet creative recipe will be your new favorite side dish! Tossed in light and refreshing lemon vinaigrette, this healthy salad is perfect for any meal or lunch you make ahead.
This Beetroot Salad is the perfect side dish for your summer menu. It's light and fresh, so you can enjoy it at any time of the year.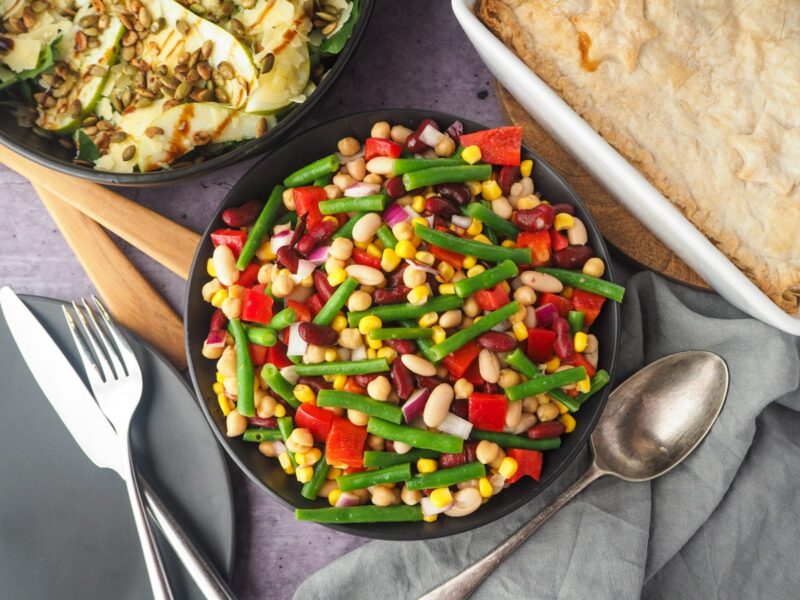 This delicious, simple four-bean salad is perfect for your next party. Pair it with some tangy vinaigrette and you'll have the best dish ever.
Fried Polenta Chips Crispy and Cheesy
You can't go wrong with polenta chips! These delicious, crunchy and cheesy delicacies will change your perspective on what it means to have a side dish.
Roasted Air Fryer Oyster Mushrooms
The delicious oyster mushrooms cooked in the air fryer will be ready within 20 minutes. You can season them with dried onions and garlic for an extra kick of flavor.
Fried Potato Salad with Bacon & Homemade Aioli
This is a dish fit for any occasion! A perfect side or appetizer, it features the most delicious potatoes ever – pan-fried in bacon fat with scallions red onion, and homemade Smoked Paprika Aioli on top.
Sweet Skillet Cornbread with Honey Butter
This sweet cornbread recipe with whipped honey butter is the perfect side dish at holiday celebrations, poolside bars, and family dinners.
With a simple marinade of olive oil, balsamic vinegar, and red wine; your favorite summer vegetables are transformed into the perfect side dish. You can serve this at any time all year long.
Air Fryer Garlic Parmesan Fries
Tired of cooking? Then you need Garlic Parmesan Fries. This tasty side dish is perfect for any night and pairs well with almost anything! You can save time by using frozen potatoes, so make life easier tonight – try these delicious fries made in under 30 minutes from start to finish.
These crispy and tender potato slices are always a hit at gatherings. The best part? You can make them in under 30 minutes! Serve these delicious cottage fries with your favorite dip for an appetizer or side dish.
This tangy and crunchy slaw is the perfect dish for all your summer parties, picnics, or BBQs. The sweet flavor profile will delight even those pickiest of eaters.
Jamaican Steamed Cabbage is a dish that's perfect for pairing with almost anything. It has flavor and texture in equal measure, so it goes exceptionally well paired up.
In addition to these ideas you might want to consider serving pulled pork with a classic side dish like sweet potato fries, potato chips, a simple pasta salad, macaroni salad, cucumber salad, fruit salad or even sweet corn!
These are the best recipes for summer barbecues and the best way to enjoy delicious pork sandwiches!
There you have it, 20 of the best side dishes to serve with pulled pork sandwiches. With so many delicious options, you'll be sure to find the perfect dish for your next party or family gathering. Serve up something special today! Which recipe will you try first? Let us know in the comments below.
Pin these ideas for later!
If you enjoyed this recipe be sure to check out my Instagram Page for the latest posts!
Before you go, check out these great posts!
The Best Quick and Easy Lunch Recipes
The Best Pasta Recipes For Weeknight Dinners
Easy and Tasty Dinner Ideas For The Whole Family
Hi! I'm Nellie. I am a busy mama of three, wife to my high school sweetheart who loves to cook, workout and stay organized! I love to share helpful printables, the best recipes and fitness tips for the modern mom. I strongly believe that every mom can feed their family well, take proper care of themselves and have fun along the way! Read my story.
Get comfortable and be sure to come hang out with me on social. Don't grab your free fitness journal before you go!