These super fun mermaid cookies are great for mermaid fans. Made with fun ingredients, everyone will love this colorful cookie!
What are mermaid cookies?
Mermaid cookies are a type of cookie made with fun, colorful ingredients. They're shaped like mermaids, seashells, or even starfish and make a great snack for any ocean-themed event. They come in all different colors and can be decorated with edible glitter and sprinkles to make them extra special. Mermaid cookies look almost too good to eat!
These delicious treats are easy to make at home and can also be bought pre-made. The ingredients used in mermaid cookies are usually simple and include butter, sugar, egg, flour, vanilla extract and food coloring.
Once these ingredients have been combined into a soft dough, the cookie dough is then shaped into the desired mermaid shapes.
Once the cookies have been shaped, they're then baked until golden brown and cooled before being decorated with icing sugar, food coloring, glitter and sprinkles.
The best part about these fun snacks is that you can make them to match any occasion or theme! Whether it's a beach-themed birthday party or a mermaid themed sleepover, these cookies are sure to be a hit.
So next time you're looking for a unique treat to wow your guests, give mermaid cookies a try! They're easy to make and can be customized to fit any occasion. Plus, they taste just as good as they look!
What do you do with mermaid cookies leftovers?
You can store any leftover mermaid cookies in an airtight container for up to 3 days. You can also freeze the cookies for up to a month, just make sure to wrap them tightly in plastic wrap before putting them in the freezer. When it's time to enjoy your frozen mermaid cookie again, thaw them out and enjoy!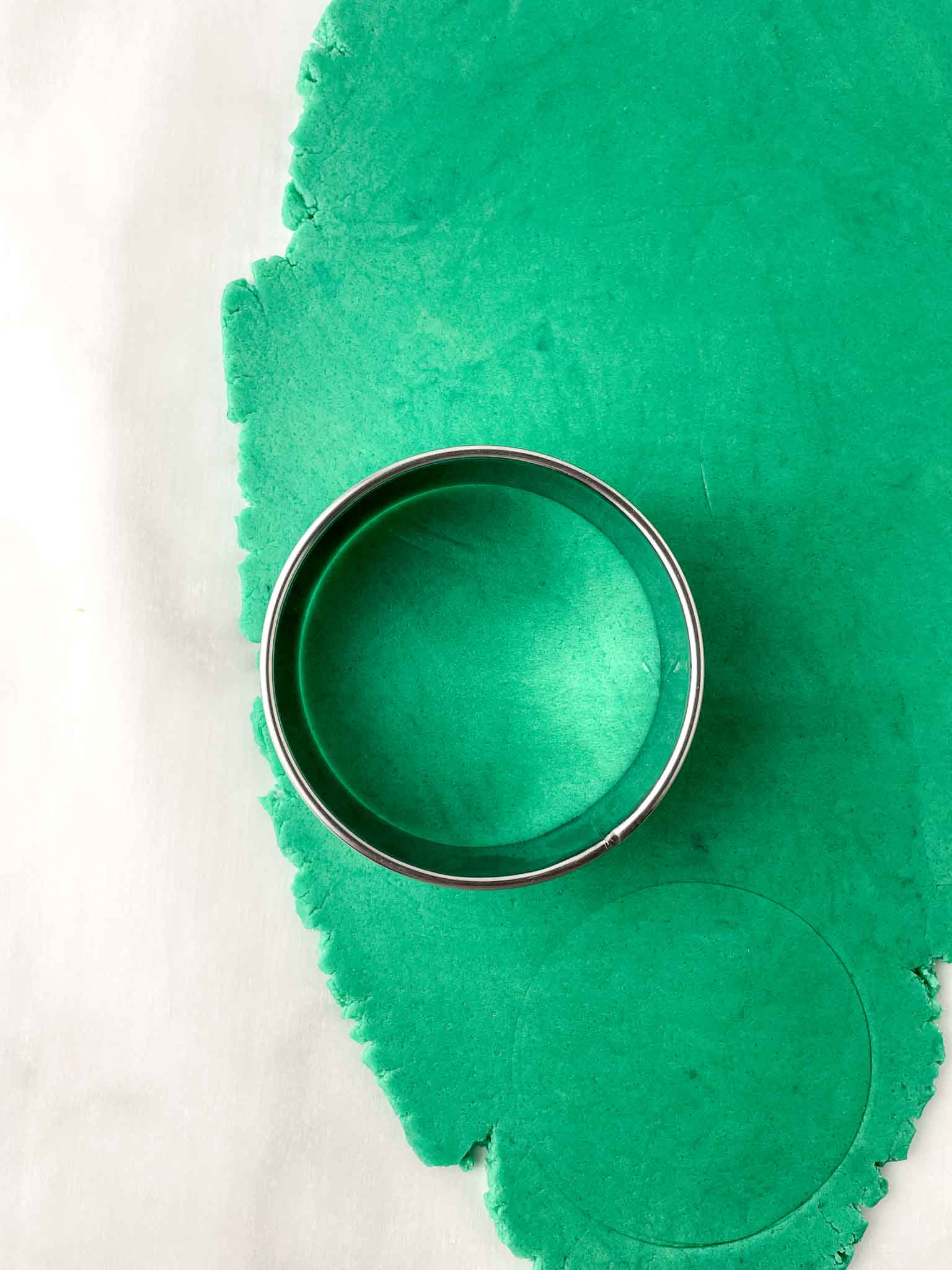 You can also use leftover mermaid cookie dough to make fun shapes like starfish and seashells. Just roll the dough out onto a floured surface, cut into shapes with a cookie cutter, then bake until golden brown. Serve these on their own or decorate them with icing sugar and sprinkles for an extra special treat!
No matter what you decide to do with your leftover mermaid cookies, they're sure to be a hit! The little mermaid reboot is on it's way and these under the sea themed cookies are great for baby showers or any other special occasion!
What are some other fun cookie recipes to try?
What are the ingredients you need for this Mermaid Cookies?
1 1/2 cups of All Purpose Flour
1/2 cup of Salted Room Temperature Butter
1/2 cup of White Sugar
2 tablespoons of Milk
1 teaspoon of Vanilla Extract
Turquoise Food Gel Color
4 ounces of Pink Chocolate Melts
4 ounces of Blue Chocolate Melts
4 ounces of Lavender Chocolate Melts
Sprinkle mix with Pink, White, and Lavender sprinkles
Edible Gold Glitter
What equipment do you need for these mermaid cookies?
Measuring Cups
Measuring Spoons
Large Bowl
Hand or Stand Mixer
Parchment Paper
Rolling Pin
Circle Cutter
Offset Spatula
Cookie Baking Sheet
Mermaid Molds
Piping Bags
Scissors
These are awesome sugar cookies decorated and cutout with cookie cutters. If you are feeling fancy you can get mermaid tail cookie cutters for this fun accent cookie too!
These are great for a mermaid party favourite cookie. And because these are made from scratch you won't have to worry about any glucose syrup, cellulose gum, sunflower lecithin or any other artificial flavor in your cookies.
If you are looking for more fun cookie recipes be sure to check out this comprehensive list! The Best Cookie Recipes For Year Round Baking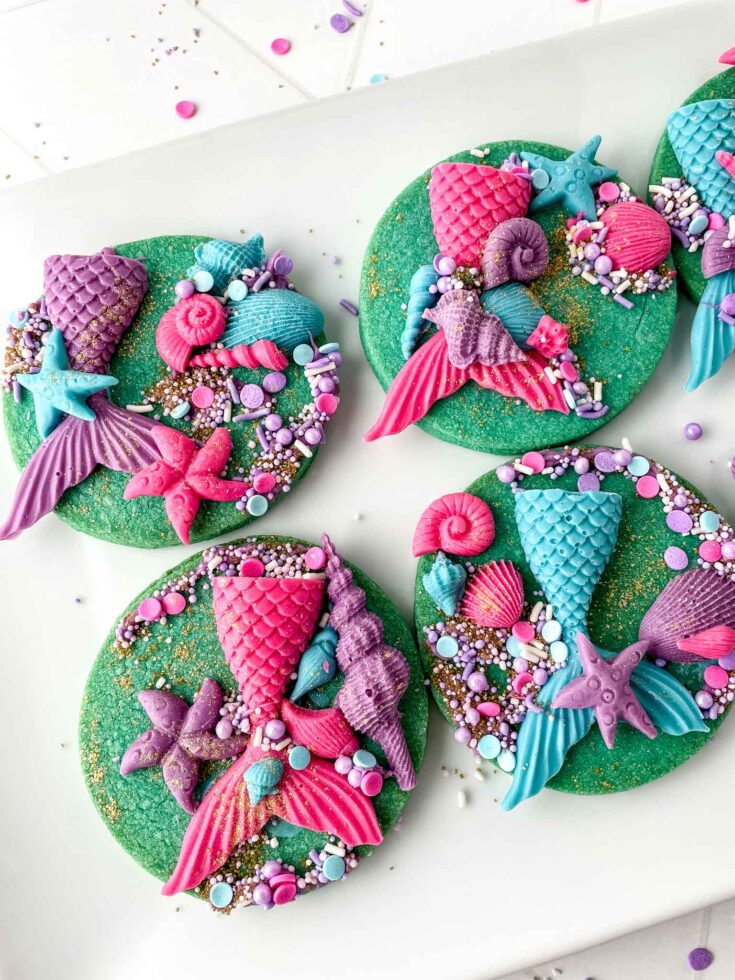 Yield:

10 cookies
The Most Adorable Mermaid Cookies
Cook Time:
1 hour
10 minutes
Total Time:
2 hours
30 minutes
These mermaid cookies are so cute and great for any mermaid party!
Ingredients
1 1/2 cups of All Purpose Flour
1/2 cup of Salted Room Temperature Butter
1/2 cup of White Sugar
2 tablespoons of Milk
1 teaspoon of Vanilla Extract
Turquoise Food Gel Color
4 ounces of Pink Chocolate Melts
4 ounces of Blue Chocolate Melts
4 ounces of Lavender Chocolate Melts
Sprinkle mix with Pink, White, and Lavender sprinkles
Edible Gold Glitter
Instructions
-Preheat oven at 350 degrees.
-Start by getting a mixing bowl & gather your ingredients to make your cookie dough.
-Place your butter and white sugar in the bowl and cream it for 5 mins using your electric hand or stand mixer.
-Add milk, vanilla, and mix it for about 1 min.
-Next, add your flour.
-Mix again until all the ingredients are combined and the dough is formed. About 1 min.
-Lastly, add 3-5 drops of Turquoise food gel color, mix again until the all of the dough is completely blue.
-Lay out a large sheet of parchment paper on a flat surface and place the cookie dough on it.
-Get a second large sheet of parchment paper, place it on top of the dough, and using a rolling pin, roll out the cookie dough until its about 1/4 inch thick.
-Take the top sheet of parchment paper off the dough.
-Get your circle cutter and use it to cut out circles in the cookie dough.
-Use an offset spatula to transfer the circle cookies to a baking sheet lined with parchment paper or a baking mat.
-Repeat rolling and cutting the dough until you have used all of it.
-Bake the cookies for 12-14 minutes.
-Remove the cookies from the oven and sit them somewhere flat to cool down.
-While the cookies are cooling down, make the chocolate mermaid pieces.
Chocolate Pieces
-Grab your clean and dry mermaid/sea shell molds and start with one color of melting chocolate at a time.
-Melt chocolate in the microwave for 30 seconds, stir it, and then warm the chocolate in 15 second intervals until it's smooth.
-Place the melting chocolate in a piping bag, tie the ends, and use a clean pair of scissors to cut off the front tip. Try to make it a small hole.
-Next fill the mold with chocolate and put them in the freezer for 5-8 minutes.
-Once out of the freezer, place the mold on a flat surface. Pull on each side of the mold so the chocolate will separate from the mold. Then turn the mold over and allow the chocolate to slowly fall out right over the flat surface.
-Repeat these steps for all 3 colors. Your chocolate will solidify in between each set so put it back in the microwave for 15-30 seconds so it can come back to liquid form.
-Once you have all of your chocolate Mermaid and sea shell pieces, save your left over chocolate for assembly.
Nutrition Information
Yield
10
Serving Size
1
Amount Per Serving
Calories

268
Total Fat

9g
Saturated Fat

5g
Trans Fat

0g
Unsaturated Fat

3g
Cholesterol

9mg
Sodium

44mg
Carbohydrates

42g
Fiber

3g
Sugar

23g
Protein

5g
Pin it for later!
If you enjoyed this recipe be sure to check out my Instagram Page for the latest posts!
Before you go, check out these great posts!
The Best Milkshake and Floats Recipes
50+ Fun and Easy Dessert Recipes For Kids
The Most Delicious Cake Recipes For Dessert
Hi! I'm Nellie. I am a busy mama of three, wife to my high school sweetheart who loves to cook, workout and stay organized! I love to share helpful printables, the best recipes and fitness tips for the modern mom. I strongly believe that every mom can feed their family well, take proper care of themselves and have fun along the way! Read my story.
Get comfortable and be sure to come hang out with me on social. Don't grab your free fitness journal before you go!