If you're looking for what to serve with lobster tail, you've come to the right place. Lobster is a luxurious seafood dish that can be served in a variety of ways. In this blog post, we will discuss 20 delicious best side dishes for what to serve with a lobster tail! Whether you're looking for an appetizer, main course, or dessert, we have you covered. So read on and get inspired!
What is lobster tail?
The lobster tail is the edible flesh that is located in the abdomen of the lobster. It is a popular seafood dish that can be served boiled, baked, grilled, or steamed. When cooked properly, the lobster tail should be tender and juicy with a slightly sweet taste. A lobster dinner is a great main dish for any special occasion.
There are so many side dishes that you can serve meaty lobster tails with including white rice, pasta salad, caesar salad, french baguettes or green vegetables. The most crowd-pleasing side dishes are the perfect accompaniment and bring the lobster meal center stage.
How to cook lobster tail?
There are a few different methods that you can use to cook lobster tail. The most popular methods include boiling, baking, grilling, and steaming.
Boiling is the quickest method but it can result in overcooked lobster.
Baking is a good option if you're looking for a tender and juicy lobster tail.
Grilling or steaming are both good options if you're looking to preserve the lobster's natural flavors.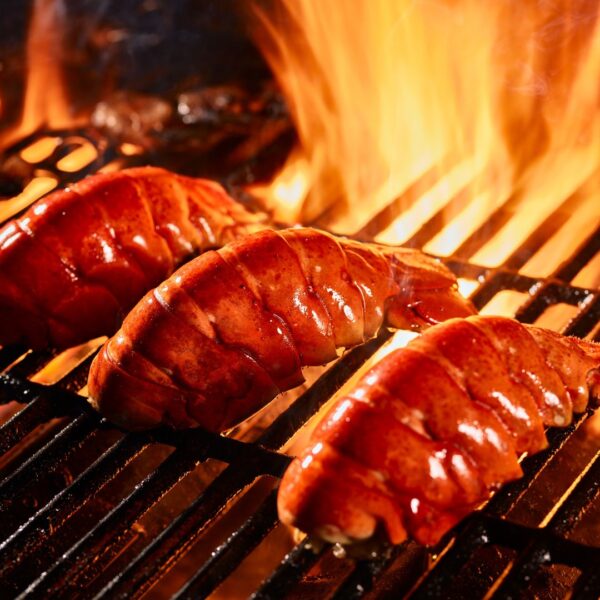 20 delicious options for what to serve with lobster tail
Now you know what lobster tail is, and how to prepare it. Now let's discuss what to serve with lobster tail. Here are some of the favorite side dishes to give a perfect balance to the best lobster recipes.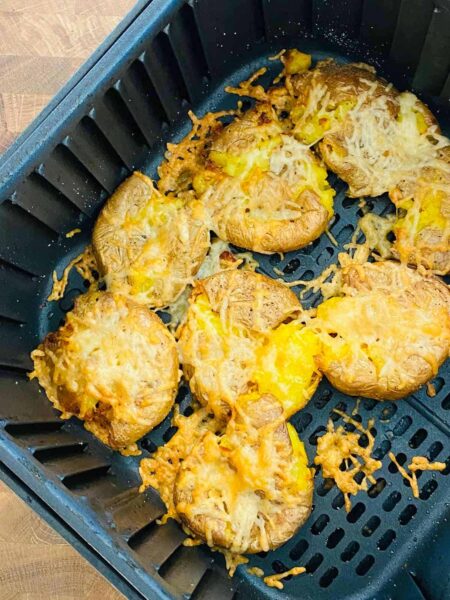 Air fryer smashed potatoes are a wonderful easy recipe side dish that you can make in less than 30 minutes. They're topped with garlic and parmesan, the flavor is incredible!
Roasted Asparagus and Brussel Sprouts
These vegetables are great for any meal, especially when you want something healthy and tasty. With only 30 minutes of cooking time, they're ready to go!
3 Ingredient Butternut Squash Soup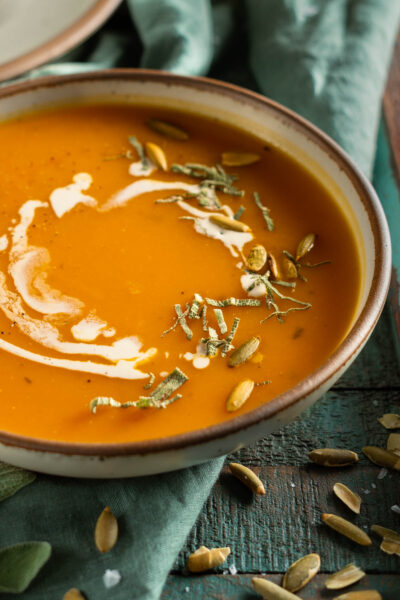 The perfect soup for a cold day, this butternut squash recipe is rich and filling with a smooth texture. You'll want to serve it immediately or save some leftovers!
Tender Roasted Mini Potatoes are a side dish that will make your taste buds thank you for weeks! These crispy roasted potatoes come Highly seasoned, garlicky, and topped with parmesan cheese.
The lobster corn chowder has it all – from juicy chunks of meat and broth filled with potatoes galore! This creamy soup will leave your taste buds asking for more without ever being overwhelmed by how much spice or creaminess they're getting hit by every bite.
There are many different ways to enjoy grilled corn on the cob, but my favorite is with husks. The steam from these helps make kernels tender and crisp while keeping them juicy inside!
The flavors of the ocean come together in this delicious soup. A brothy and creamy texture is created from onions, lobster meat stock sherry cream with just enough saltiness to keep it interesting!
With a quick boil, this gluten-free mac and cheese are ready to eat in just minutes. The instant pot makes this classic mac and cheese recipe so easy!
If you want to make your carrots taste better, then this is the way. Simmer them in brown sugar and butter until they turn into an amazing sweet snack that will bring back memories for everyone who has ever tasted one.
Lemon Pepper Pasta with Parmesan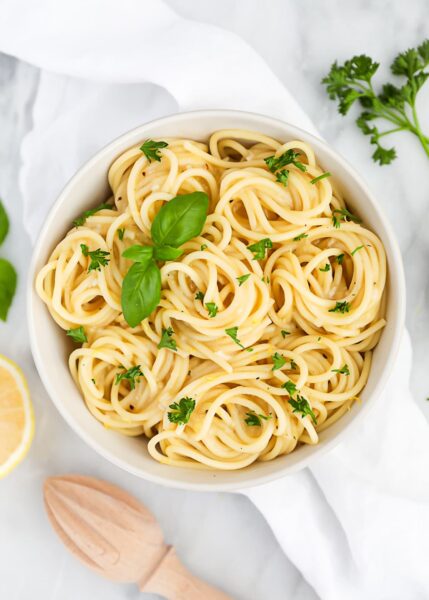 This 20-minute, one-pot meal is sure to become a family favorite. Made with just the right amount of ingredients that you likely already have on hand and only takes minutes in total cooking time – it's a hearty italian dish perfect for those busy weeknights when everyone needs something tasty but doesn't want hours from their day taken up preparing dinner.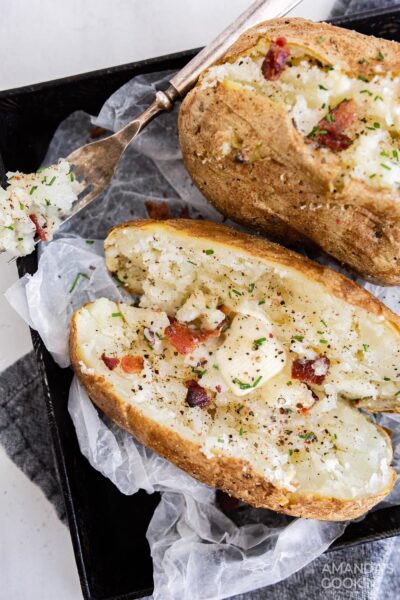 You won't believe how easy this air fryer baked potato recipe is! It's the perfect way to enjoy your favorite carbohydrate while saving time and energy. It's a simple baked potato delicious side dish.
Parmesan Peppercorn Mashed Potatoes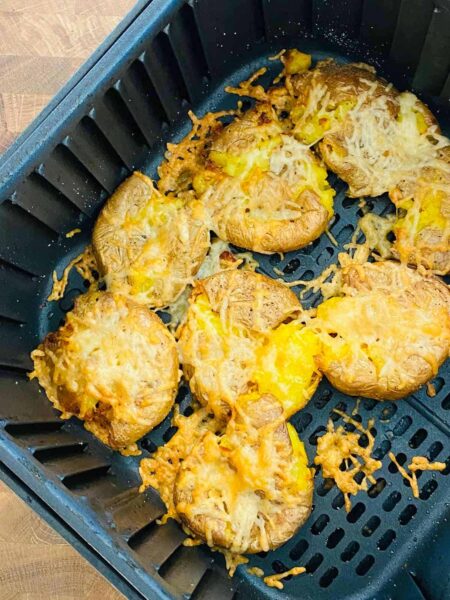 The Parmesan Peppercorn Mashed potatoes are so yummy! They have a luxurious texture and the perfect amount of flavor to make them an excellent side dish.
Cherry Tomato Garlic Basil Risotto
With a few simple ingredients, this risotto has delicious flavors that will have you coming back for more! We promise the fresh basil and tomatoes are worth giving it another go.
Try adding a twist to your favorite dish with this delicious Brussel sprouts recipe! You won't be disappointed in the ease or taste.
The refreshing summer salad will be loved by everyone! This Shrimp Cobb is loaded with juicy shrimp, and leafy greens and topped off with a tangy dressing. A healthy & tasty dish that is sure to delight your senses. It's one of those unforgettable seafood dishes.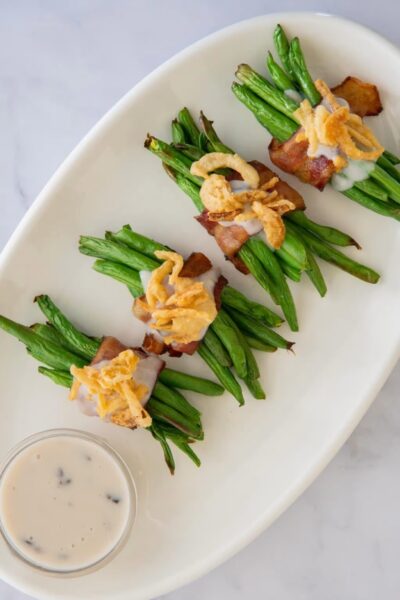 These delicious green bean casserole bundles are the perfect side dish for your next holiday meal! They're a fresh take on an old classic, with smoky bacon wrapped around fresh green beans. Then it's topped off in cream sauce made from mushroom soup and finally onion pieces to bring out their flavor even more perfectly than before–what could be better?
This No-Knead Rosemary Bread is the easiest way to make fresh, delicious artisan bread that will impress your friends and family. You can also use it as an amazing base for sandwiches or dipping in soup!
This 8-minute Air Fryer Asparagus tastes just like Roasted Asparagus in the Oven, but takes much less time! It's an easy side dish that you can prepare on busy weeknights.
One of my favorite recipes in the world are Parmesan Truffle fries! This recipe is so good and a great side dish or snack!
What's not to love about this pasta dish? It has a refreshing and tangy flavor that will have your mouth watering for more.
There you have it! 20 delicious lobster side dishes options for what to serve with lobster tail. We hope you find the perfect classic side dish to accompany your next seafood feast fancy dinner.
Pin it for later!
If you enjoyed this recipe be sure to check out my Instagram Page for the latest posts!
Before you go, check out these great posts!
What To Serve With Pulled Pork Sandwiches – 20 Amazing Side Dishes
What To Serve With Tea Sandwiches
What To Serve With Chili: 21 Perfect Side Dishes
What To Serve With Shrimp: Easy Side Dishes and More
Hi! I'm Nellie. I am a busy mama of three, wife to my high school sweetheart who loves to cook, workout and stay organized! I love to share helpful printables, the best recipes and fitness tips for the modern mom. I strongly believe that every mom can feed their family well, take proper care of themselves and have fun along the way! Read my story.
Get comfortable and be sure to come hang out with me on social. Don't grab your free fitness journal before you go!