Do you have movie nights at home with your family? Have you struggled with what healthy movie night snacks to serve your family? If so, here are some healthy snack ideas to get you started so you can munch on your own snacks and watch a few great movies at home with your family.
Popcorn
Popcorn is the best snack for watching a movie whether you are in an actual movie theater or at home. Popcorn makes a great crunchy sound and is one of the low-carb movie snacks for you. You can fix popcorn in a few different ways. It can be fixed on top of the stove in a pan with oil, in a dome popcorn maker with oil, in a hot air popper, or simply in the microwave.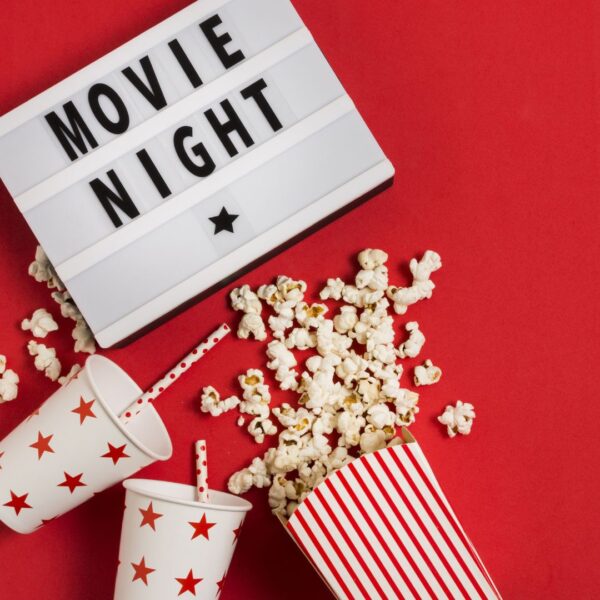 Of course, you can add a variety of flavorings and favorite spices to make these snack foods taste even better. Some flavorings include the obvious butter with or without salt, cinnamon sugar for a sweet taste, Parmesan cheese, or melted dark chocolate. You can always find other flavorings that you prefer or create a healthier option.
Popcorn is already a low-calorie, high-fiber, healthy delicious snack, but it can get boring. Adding flavor to the popcorn by adding other healthy snacks will prevent boredom, appeal to the whole family, and sneak in extra fruits and vegetables to the daily diet. Here are the best ways to flavor popcorn and turn it into a super healthy snack option or even a sweet treat.
Pop The Corn
Pop your favorite brand of popcorn, it can be microwavable or the stove-top popping variety. Place the popped corn in a large bowl when done so the healthy snack choices can be added.
Pile On The Flavor
Toss some wasabi peas or soybeans into the popcorn, both of which are high in protein and fiber plus offer many other nutrients. Then toss in a few nuts for their omega-3s, fiber, and anti-oxidant powers.
Dried mixed fruit is another great alternative to add to plain popcorn. Yogurt-covered raisins or dried cranberries or bananas or veggie chips also add another healthy dimension to popcorn.
Add A Taste Of Decadence
Dark chocolate is delicious and contains powerful antioxidants, so toss in a handful of rich, dark chocolate chips for a taste of decadence in the popcorn.
Crumble a few dark chocolate-covered graham crackers up in the popcorn mix or break up a few dark chocolate-covered pretzels into the popcorn for a decadent crunch that's good for you. This S'Mores Popcorn Recipe is so good and easy to make!
Add The Seasonings
After placing the healthy ingredients of choice into the popcorn, it's time to sprinkle on the seasoning of choice. Many dried herb seasonings offer their own health benefits, everything from reducing inflammation to lowering cholesterol.
Sprinkle the popcorn mixture with curry powder, chili powder, garlic, or onion powder. Fresh or dried herbs like thyme, rosemary, mint, or lemon grass will add healthy flavor to the mix.
Single Serving Bags
Mix the ingredients and serve the flavored healthy popcorn in individual bags to the family members so they can enjoy a healthy tasty snack while watching their favorite TV program or movie. And the best part is, that they will be eating healthy and getting an extra serving of vegetables and/or fruits without even being aware of it.
Save Some For Later
Healthy, flavored popcorn can be made ahead of time and stored in a Ziploc bag for eating later or to be packed in work or school lunches. Keeping a covered bowl of flavored popcorn on the kitchen counter will also help deter kids from reaching for less-than-healthy after-school snacks.
Start with healthy popcorn and build a flavorful healthy snack option by adding your favorite low-fat, high-nutrient vegetables, fruits, and seasonings.
Crunchy fruits
If you like crunchy snacks and don't want popcorn, then visit your local grocery or discount store. This is a great way to find a variety of snacks to appeal to your need to crunch during your next movie night at home. You can choose from such items as potato chips, corn chips, gummy bears, fruits, or pretzels. You can give each of these an extra boost of flavor by making dips like French onion.
Healthy Snack Ideas – Tortilla chips and dip
One more type of crunchy snack you can have during movie night at home with your family is tortilla chips. Just like the other crunchy snacks, you can buy them at your local grocery or discount store. They come in a variety of choices, such as white or yellow corn and multigrain.
Along with the tortilla chips, if you do not want to eat them plain, try some kind of dip. Salsa in a variety of ways is the healthiest dip you can have. Salsa con queso is another choice many people choose. You can even choose to make your own dip at home.
Candy
Of course, you can't have crunchy or salty snacks without having some sweets to go along with them. Again, at your local grocery or discount store, you choose any kind of candy you wish for your movie night at home with your family. Some of the most popular movie candies include M&Ms, Skittles, Sour Patch Kids, and Mike & Ike's. The choice of candy is all up to you.
Mixed Nuts
Nuts are a tasty, healthy snack full of healthy fats and nutritional value with or without salt, but try to avoid other toppings like caramel or corn syrup. Nuts are also easy to overeat, especially the sweeter varieties like almonds or the savory, rich ones like walnuts. Try to portion your nut servings in advance to keep from gorging. An ounce will suffice for a light snack for one person, so keep this in mind if you fill up a bowl for movie night.
Soy Crisps
Soybeans also make a nice snack. Similar to potato chips or sweet potato chips but without the excess salt, grease, and fat, soy crisps are yet another example of how versatile soy products can be. Fried and packaged in a way that makes them more like conventional snacks, soy crisps are high in protein and volume and much more substantial than an empty snack like pretzels. If you can't have a movie night without something salty and crispy, this is the snack for you.
Hummus
Chickpeas can also be roasted and salted. Add low-fat crackers or plain nachos to this mix and you'll have a delicious treat that can compete with other movie staples like chips and cheese.
A better way to serve hummus is with vegetables like sweet red peppers, carrot sticks, a little bit of olive oil, and slices of toast. Peanut butter, almond butter or garlic, and other spices can also be added to the chickpeas mix to season to taste. This snack is high in protein and vitamins, so feel free to indulge while glued to your big screen.
Families and friends enjoy bonding and socializing in a fun way while watching a good movie. Of course, with movies there must be snacks and refreshments, and if you're not careful your movie night will drown in a pile of salty chips, processed cheese, and sugary soda. Fortunately, there are many healthy alternatives that are also tasty, crunchy, and fizzy that won't leave an unpleasant memory of movie night on your waistline.
Movie night at home with your family isn't quite the same as going to a movie theater. However, with these traditional movie snacks, you can figure out plenty of favorite foods that each family member will like. With a variety of snacks to munch on, a good movie night at home with the family is the best thing to do.
If you are looking for more snack ideas be sure to check out 33 Really Good After School Snack Recipes!
Pin it for later!
If you enjoyed this recipe be sure to check out my Instagram Page for the latest posts!
Before you go, check out these great posts!
The Best Milkshake and Floats Recipes
Homemade Magic Chocolate Shell For Ice Cream
40 Easy Back To School Snacks You Can Make In No Time
Hi! I'm Nellie. I am a busy mama of three, wife to my high school sweetheart who loves to cook, workout and stay organized! I love to share helpful printables, the best recipes and fitness tips for the modern mom. I strongly believe that every mom can feed their family well, take proper care of themselves and have fun along the way! Read my story.
Get comfortable and be sure to come hang out with me on social. Don't grab your free fitness journal before you go!