If you are looking for a fun cookie to make, check out these super fun Ice Cream Cookies! This tutorial is easy and fun to follow!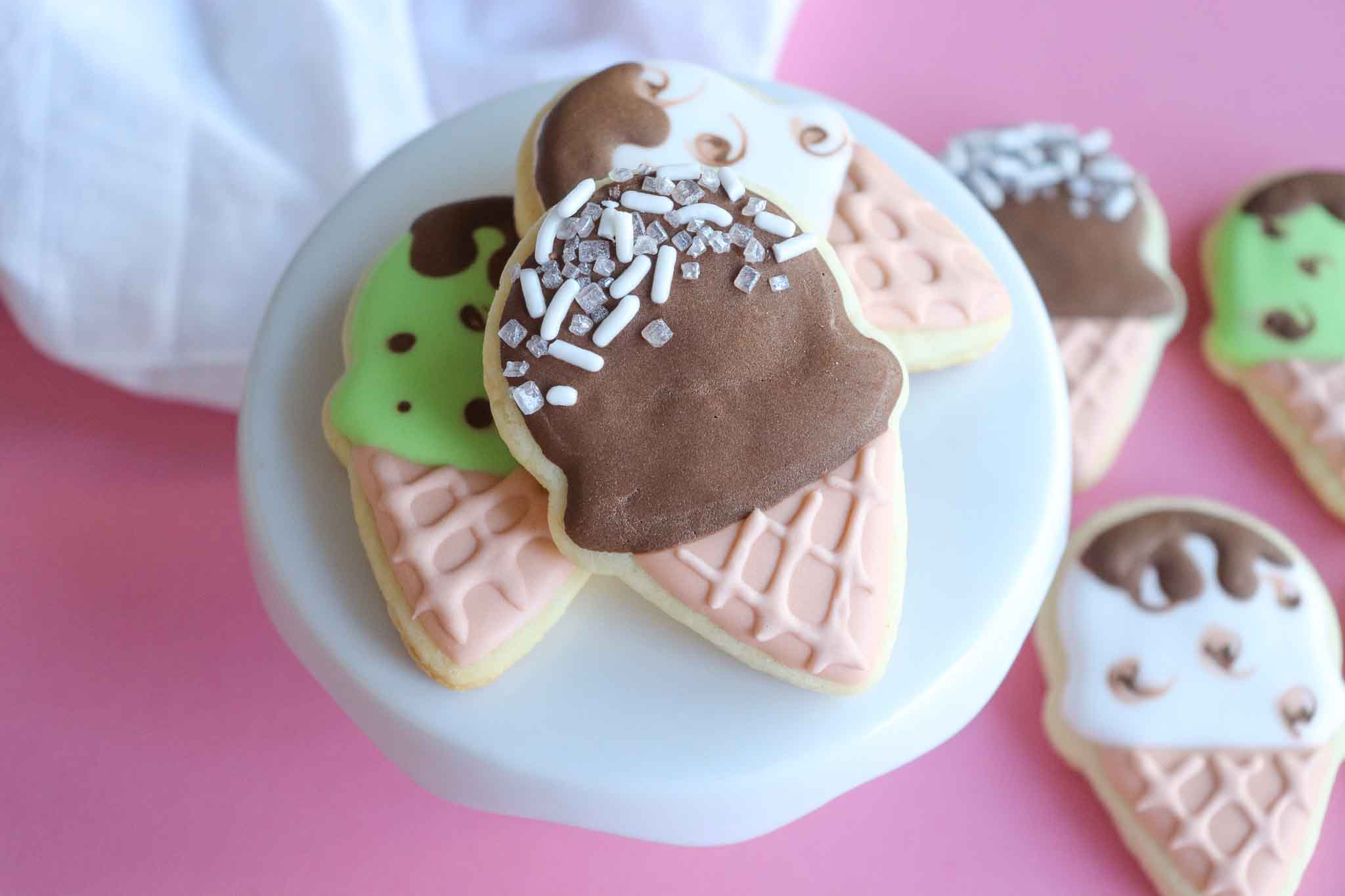 What do I need for these ice cream cookies?
This recipe uses pillsbury sugar dough and transform cookies into a fun shape of chocolate ice cream! You will need the following to decorate the cookies:
4 cups powdered sugar
3 tablespoons meringue powder
8-12 tablespoons room temperature water
Gel food coloring
What are some other fun things you can do with sugar cookie dough?
Sugar cookie dough is a great base for so many fun recipes! Here are some of our favorites:
– Rainbow Pinwheel Cookies – Roll out the sugar cookie dough and form into layers of colored stripes. Then roll it up like a pinwheel to create a beautiful swirl of color.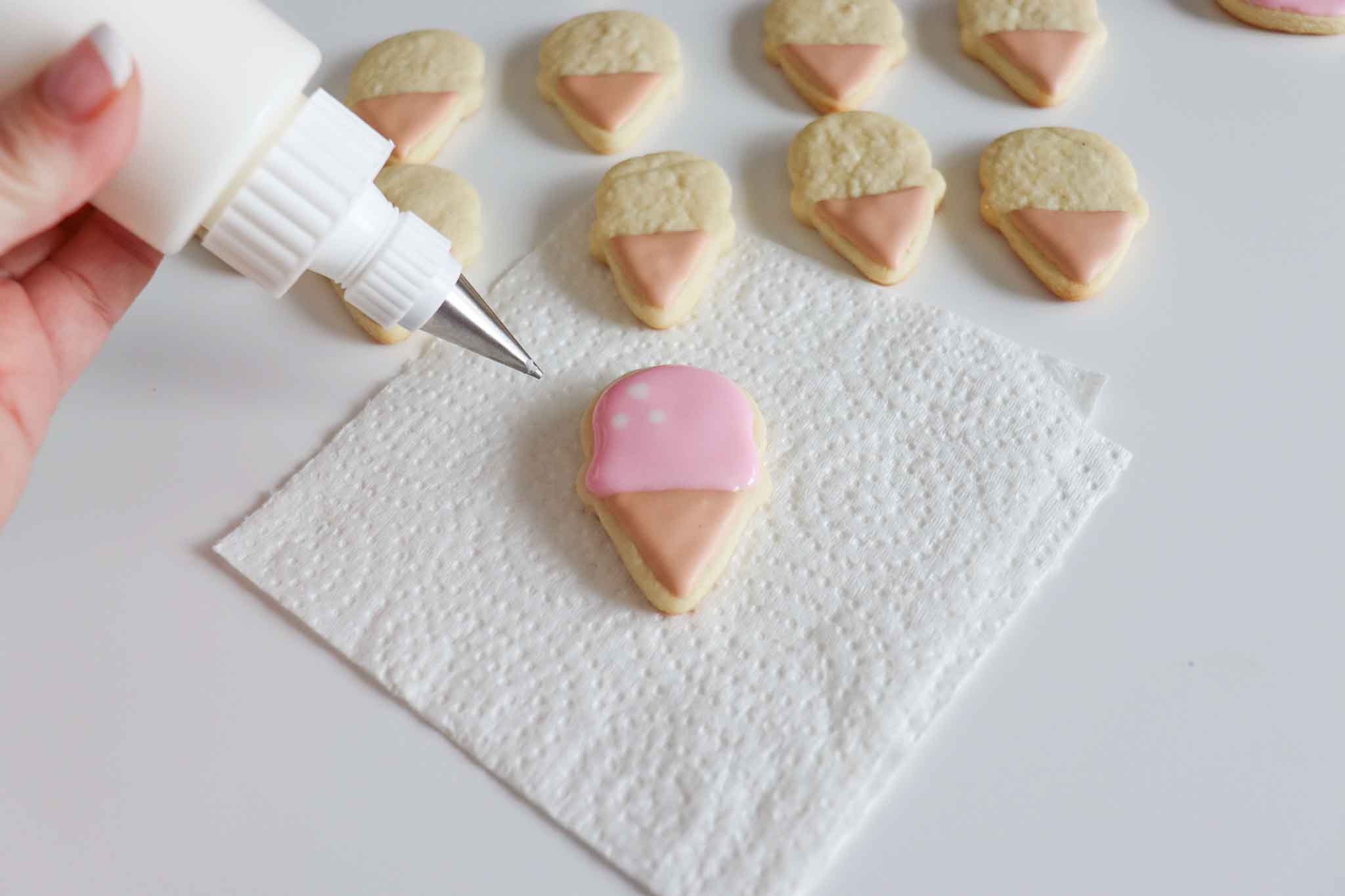 – Shape Cutouts – Get creative with different shapes and sizes of cookie cutters to make fun cookies for any occasion.
– Ice Cream Sandwich Cookies – Make two different colored sugar cookie doughs, one for the top and bottom of the ice cream sandwich. Stack them together with some delicious ice cream in between!
– Jam Thumbprint Cookies – Use a teaspoon to scoop out the centers of each cookie. Fill with a spoonful of your favorite jam, then bake!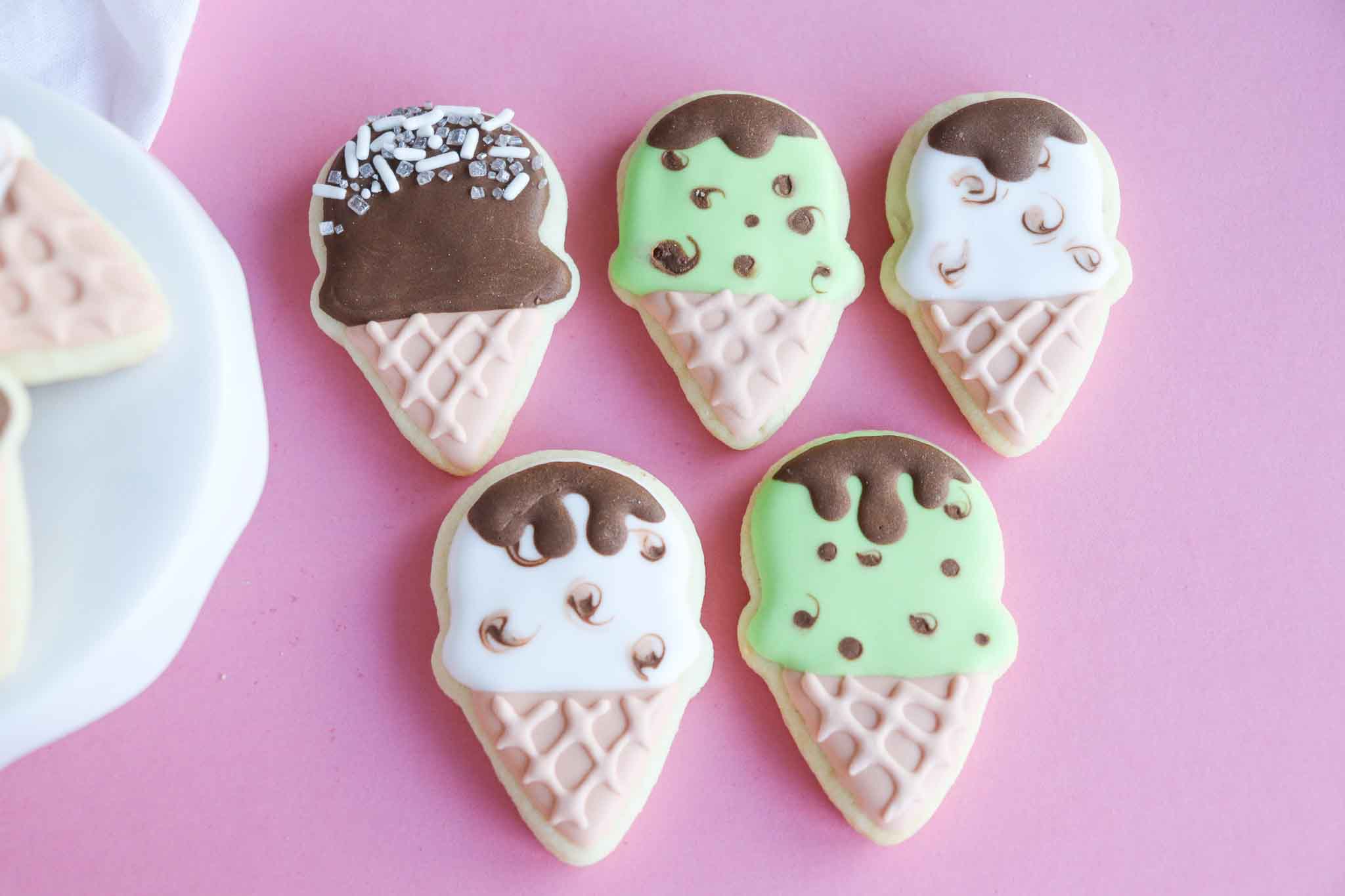 – Chocolate Chip Cookies – Add mini chocolate chips to the sugar cookie dough for a yummy twist.
Where can you serve these awesome Ice Cream cookies?
These delicious cookies are great for any occasion! Serve them at your next birthday party, summer get-together, or just because. Kids will love the fun shape and delicious taste of these Ice Cream Cookies!
What are some helpful tips for decorating these cookies?
Decorating these cookies is easy and a lot of fun! Here are some helpful tips to get the most out of your cookie decorating experience:
– Make sure to let the dough chill in the fridge before rolling it out. This will make it easier to work with and shape into ice cream cones.
– When you are cutting out the shapes, make sure to dip your cookie cutters in flour first. This will prevent the dough from sticking to the cutter and make it easier to work with.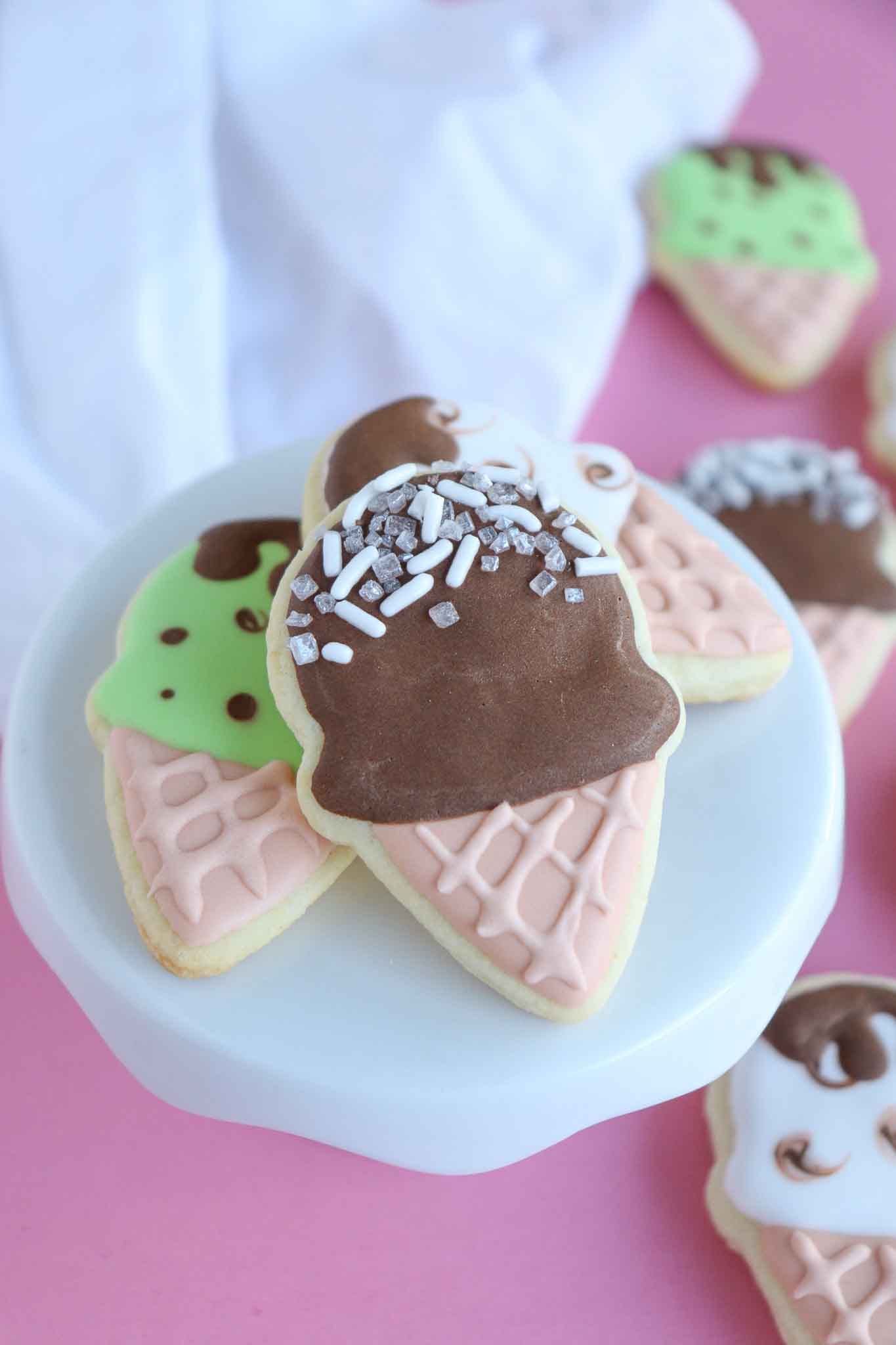 – When adding sprinkles, use a small spoon or tweezers to place them onto each cookie. This is much easier than trying to sprinkle them over the cookie with your fingers.
– Make sure to let the cookies cool completely before removing them from the baking sheet. Otherwise, they may break apart easily.
With these tips and tricks, you'll be making delicious Ice Cream Cookies in no time! Give it a try and enjoy the yumminess of your hard work!
Easy Ice Cream Cookies Sugar Cookie Dough Tutorial
Ingredients
Royal Icing Recipe
Ingredients:
4 cups powdered sugar
3 tablespoons meringue powder
8-12 tablespoons room temperature water
Gel food coloring
Ingredients:
1 package Pillsbury refrigerated sugar cookie dough
¼ cup all purpose flour
Instructions
For The Cookies
Directions:
Combine dough and flour. Roll to ¼" thickness. Cut out cookie
shapes. Bake at 350 for 8 minutes or
until the edges start to brown.
For The Icing
In a stand mixer combine sugar and meringue powder. Add 8 tablespoons of water, using the whisk attachment, beat for 1 minute on low. Continue to add water one tablespoon at a time until the icing slowly drizzles from the whisk when lifted.
Once prepared - if the icing is too hard, add more water one drop at a time. Too runny, add more icing sugar one teaspoon at a time.
Separate the icing into small mixing bowls and add desired food coloring. Mix well. Scoop the icing into piping bags or icing bottles.
Decorating instructions:
Line around the edge of the design with icing and fill the middle. Use a
toothpick to poke bubbles or direct icing into holes.
Allow each design area to dry before moving on. The icing should completely dry, at room temperature for at least four hours, before adding piping details to the top.
Additional decorating tips:
Polka Dots: before the flooded area dries, add dots of different colored icing.
Zig zag design: before the flooded area dries, add stripes of different colored icing and then drag a toothpick through the stripes.
Sprinkles: before the flooded area dries, add sprinkles.
Plaid pattern: allow the flooded icing to dry. Add stripes of icing to the cookie, creating a plaid pattern.
Candy: glue to the cookie with a drop of icing.
Edible marker: before using on the icing, allow the icing to completely harden for at least four hours.
Nutrition Information
Yield
12
Serving Size
1
Amount Per Serving
Calories

185
Total Fat

1g
Saturated Fat

0g
Trans Fat

0g
Unsaturated Fat

1g
Cholesterol

0mg
Sodium

17mg
Carbohydrates

44g
Fiber

0g
Sugar

41g
Protein

1g
Pin it for later!
If you enjoyed this recipe be sure to check out my Instagram Page for the latest posts!
Before you go, check out these great posts!
The Best Homemade Ice Cream Recipes
The Best Cookie Recipes For Year Round Baking
The Best Milkshake and Floats Recipes
Hi! I'm Nellie. I am a busy mama of three, wife to my high school sweetheart who loves to cook, workout and stay organized! I love to share helpful printables, the best recipes and fitness tips for the modern mom. I strongly believe that every mom can feed their family well, take proper care of themselves and have fun along the way! Read my story.
Get comfortable and be sure to come hang out with me on social. Don't grab your free fitness journal before you go!