If you have a bluey fan in your like that you want to create an awesome cake for, this Bluey cake is perfect! Whether you are planning a Bluey birthday party or a fun day, this cake is adorable!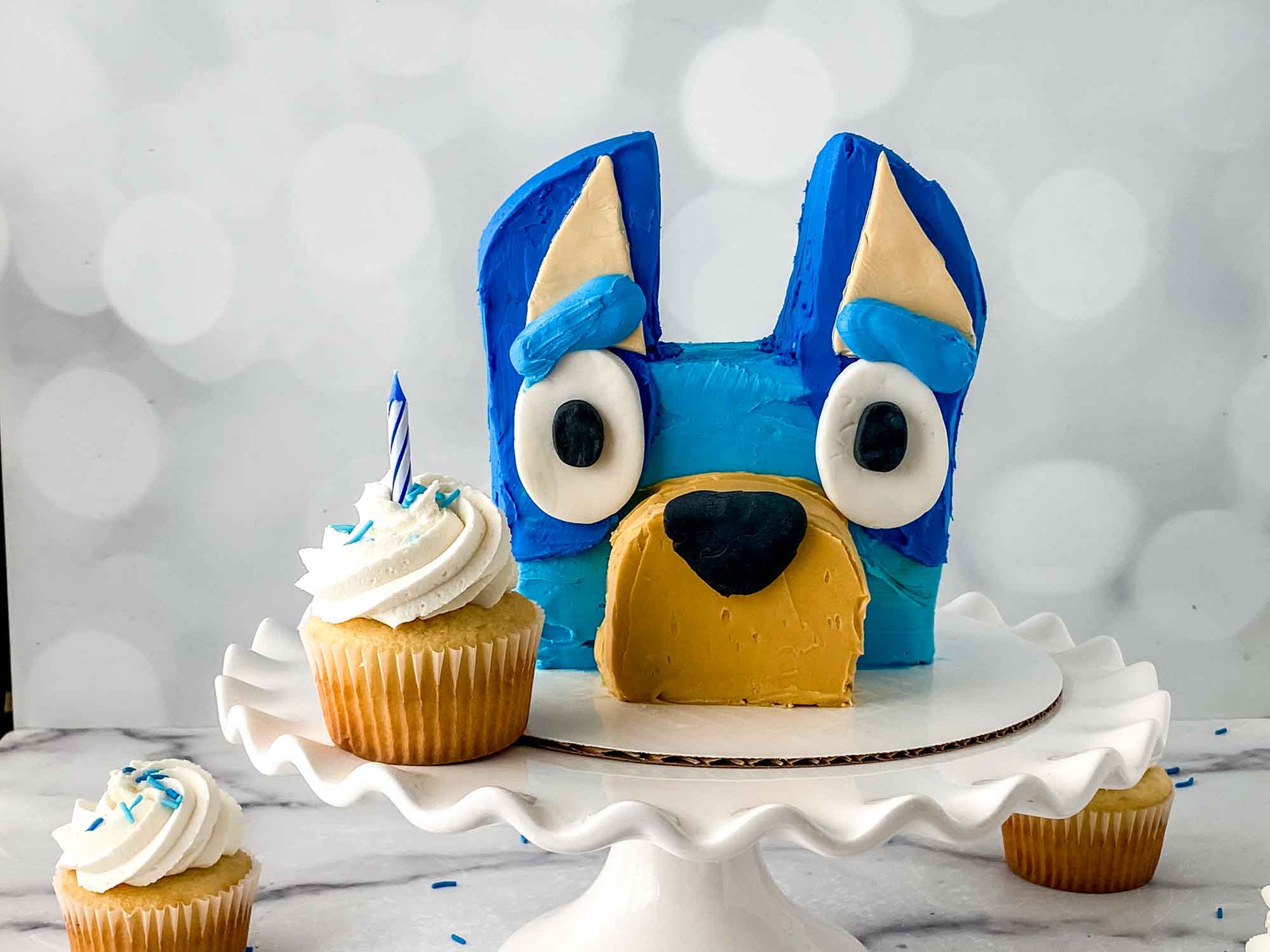 When my daughter turned four we had the best bluey party for her! We had all things bluey birthday party decorations and the birthday girl was in Bluey heaven! Today we have a fun an awesome cake featuring Bluey's face.
This 3D Bluey cake has a great quality and will be perfect for your dessert table! The birthday boy or birthday girl will absolutely love it!
What is Bluey?
In case you don't watch Bluey or have no idea what Bluey is — Bluey is an Australian animated television series for preschool children that first aired in 2018. It follows the adventures of Bluey and her little sister, Bingo, as they explore the world around them with their family and friends.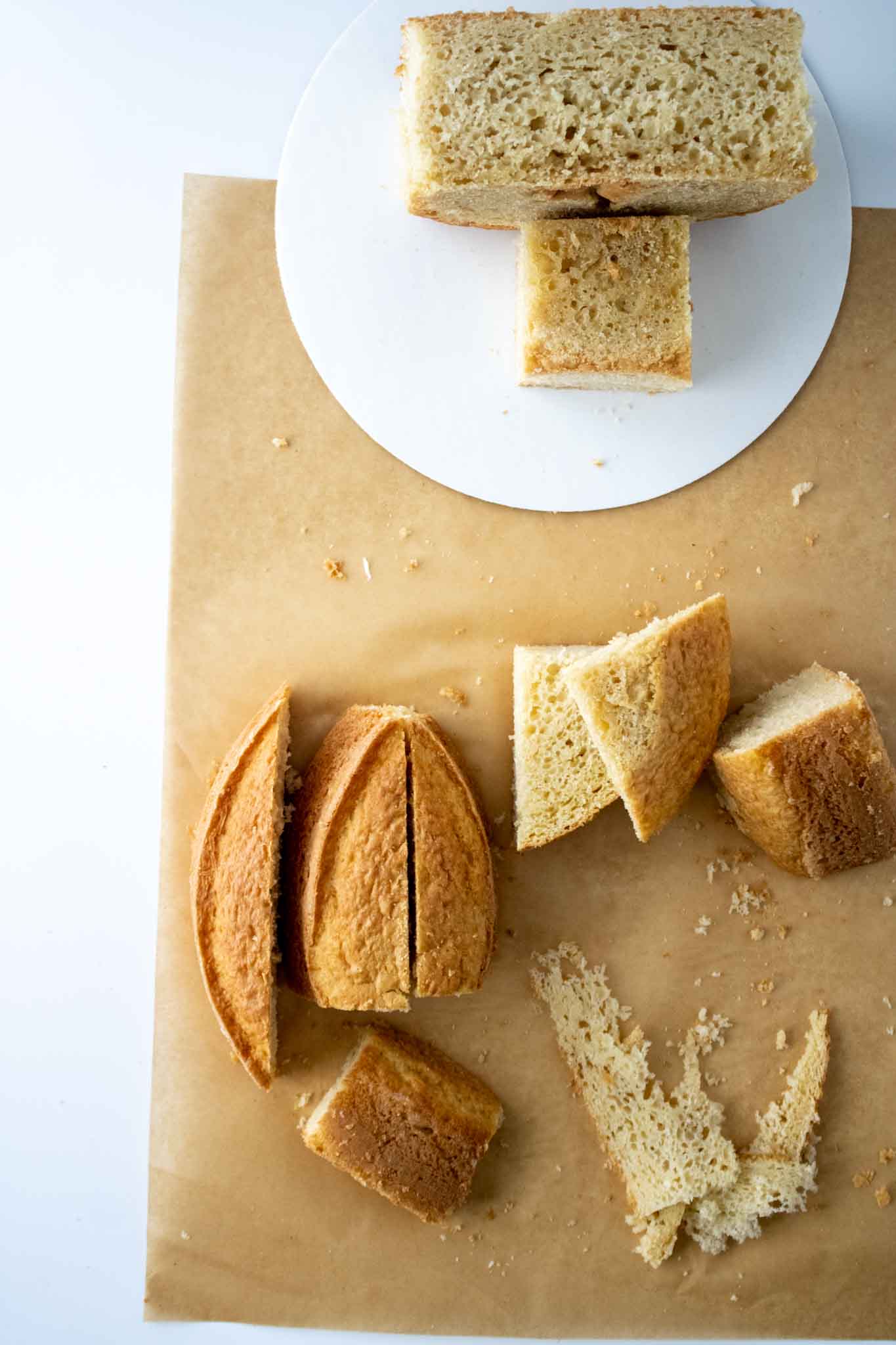 This Bluey cake will be sure to stand out at your next event! With it's 3D design, it looks just like Bluey and is sure to be the talk of your party. So gather up some supplies and let's get baking! Your Bluey fan will absolutely love it!
For this recipe you will need an 8 inch cake that you will magically transform into Bluey's head.
Here are the ingredients you need:
Ingredients: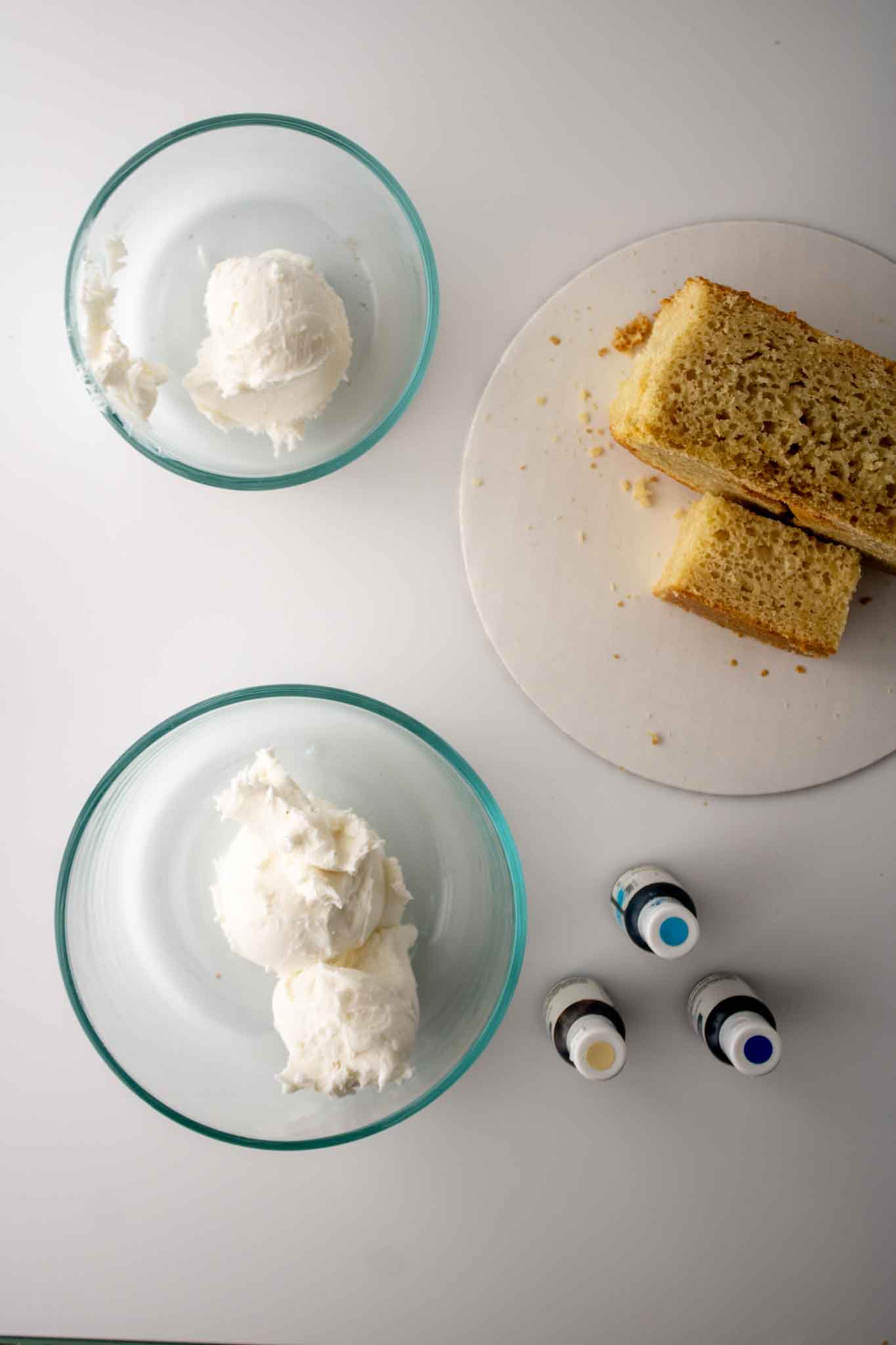 Small Egg or Oval Shaped Cookie Cutter
Large Piping Tip
2 long Skewers
8 inch cake
1-2 tbsp vodka or lemon extract, optional
Why make this Bluey cake for a birthday party?
This Bluey cake is a great way to make your kid's birthday party extra special by adding a themed dessert that they will surely love and remember!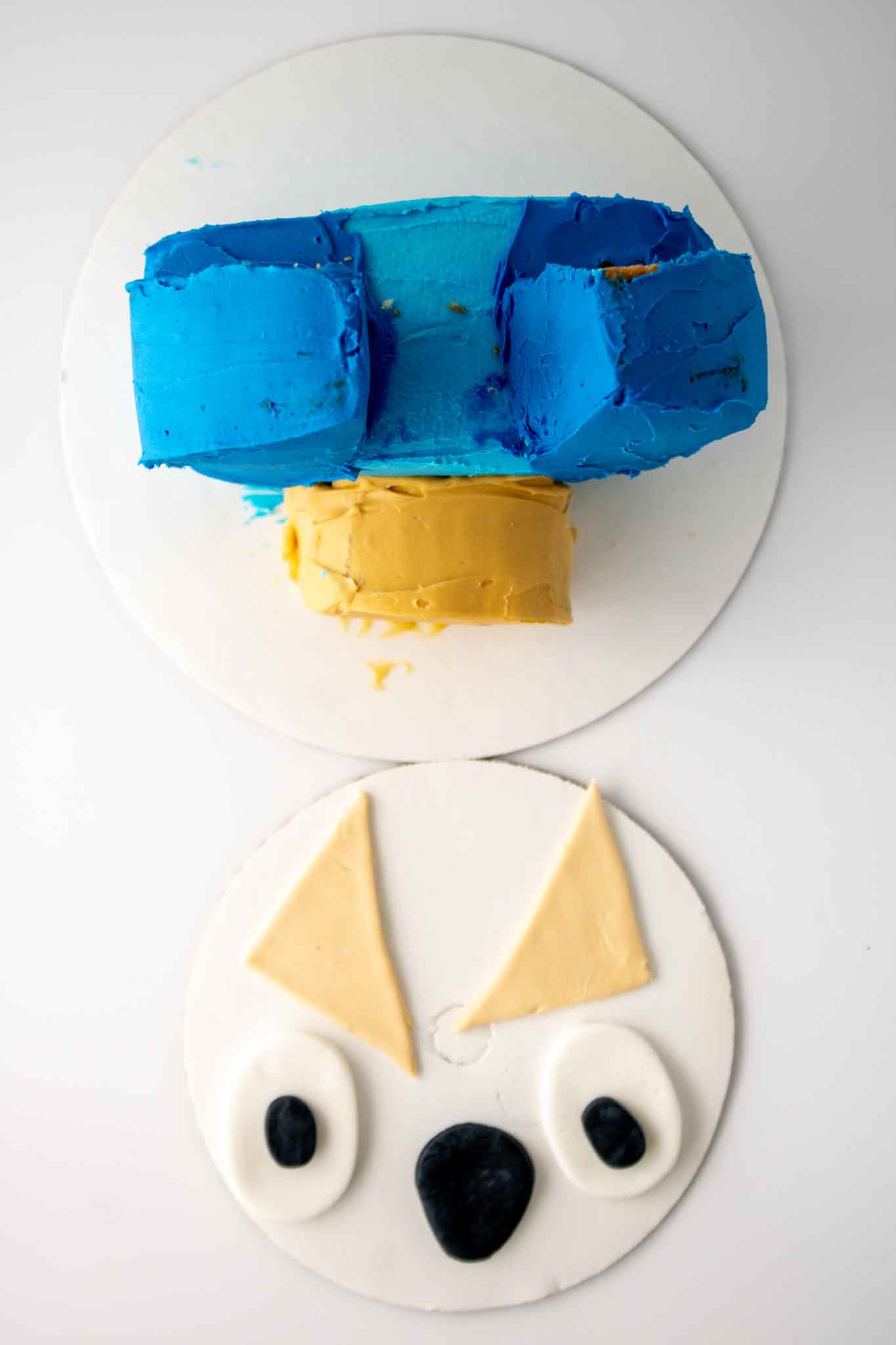 Your guest will be wowed by the 3D design of this Bluey cake and it looks amazing on any dessert table. Plus, you can have fun decorating the cake together with your little one.
And, when the cake is done, your kiddo can proudly show it off to all their friends! So make sure you make this Bluey cake for your next birthday party and make some amazing memories!
How do you store the leftovers?
Any leftover Bluey cake can be stored in an airtight container at room temperature or in the refrigerator for up to 3 days.
If you wish to freeze any leftovers, make sure you double wrap it tightly with plastic wrap and store in the freezer for 2-3 months. When ready to enjoy, defrost overnight before serving.
Where can you serve this cake?
This Bluey cake is perfect for any birthday party, celebration, or special event that you are hosting! It looks great on dessert tables and is sure to impress all your guests. This cake can also be served as a treat after dinner or as an afternoon snack.
Why is Bluey so popular?
Bluey has been a huge hit since it first aired in 2018. It is loved by both kids and adults alike for its endearing characters, feel-good stories, and catchy music. Bluey also promotes important lessons, such as friendship, family values and communication skills.
This Bluey cake will be sure to bring the fun of Bluey to your next event and wow your guests! So get ready for a blast of Bluey fun with this awesome cake!
What equipment will you need for this bluey cake tutorial?
Serrated Knife
Cake Board or Cake Drum
(2) Small Bowls
Spoons
Paint Brush or Wet Paper Towel
Viva Paper towel (non printed)
What is the difficulty level of this Bluey Tutorial?
This Bluey Cake Tutorial is a beginner/intermediate level tutorial. With the right supplies and step-by-step instructions, anyone can create this wonderful 3D cake! So gather your supplies and get ready for some fun!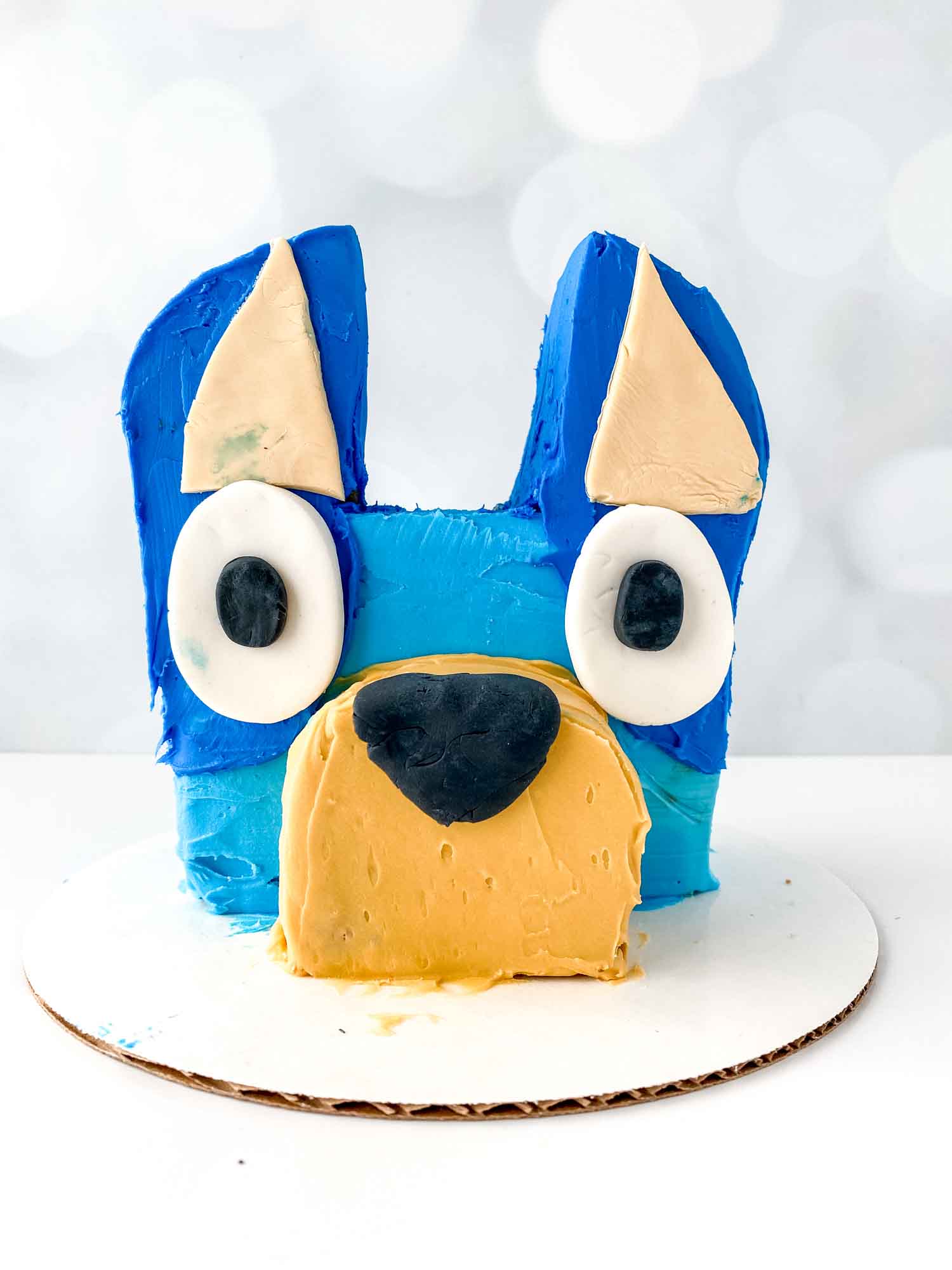 What are some other fun treats to make for birthday parties?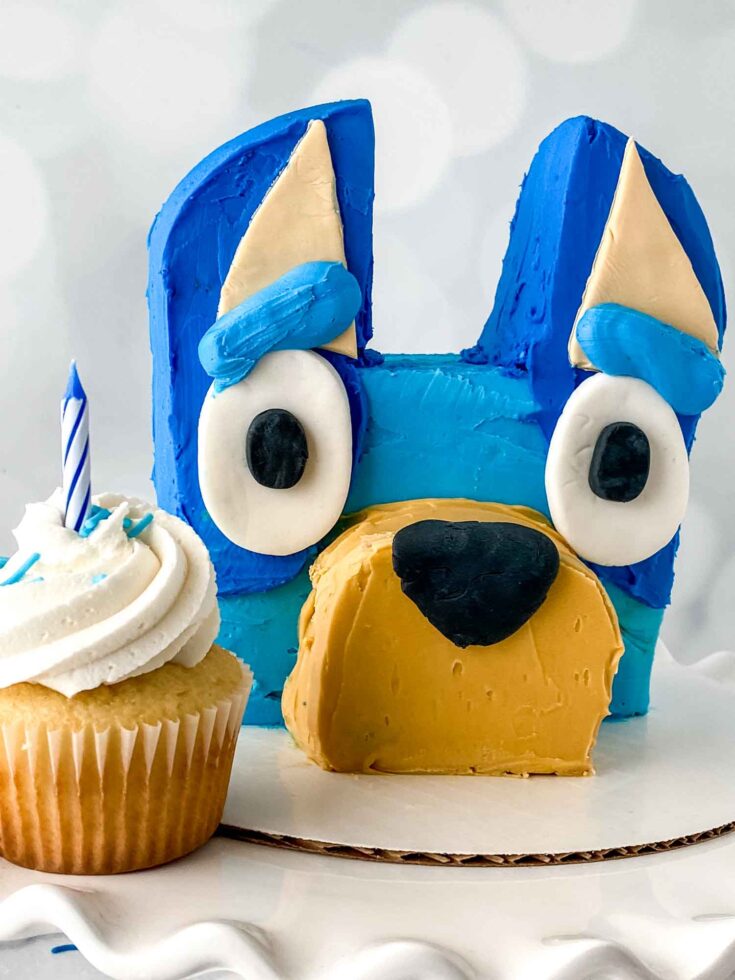 Yield:

10 servings
The Most Adorable Bluey Cake Tutorial
Additional Time:
20 minutes
This Bluey Cake Tutorial is so great for birthday celebrations and more fun!
Ingredients
1 oz Black Fondant
1.5 oz White Fondant
Small Egg or Oval Shaped Cookie Cutter
Large Piping Tip
2 long Skewers
Sky Blue Gel Food Color
Royal Blue Gel Food Color
Ivory Gel Food Color
White Buttercream
8 inch cake
1-2 tbsp vodka or lemon extract, optional
Instructions
Instructions
Using a serrated Knife cut off the "dome" of the cake, while still in the pan (cooled)
Cut off 1.5 inches of cake and then cut it into 3 pieces for the (2) ears and nose
Square off the remaining cake (use the scraps for cake pops!)
To make the ears:
The two outer pieces of cut cake will be the ears.
Make sure they are the same size and notice the direction they are in.
Freeze them while you work on the cake.
Dye the frosting
Use two cups of buttercream frosting and dye it with 1-2 drops of sky blue color. Mix it well before adding more.
Use 1/2 cup of buttercream for the nose and dye it with 1 drop of ivory gel food coloring.
Note: the buttercream needs to be VERY soft, if its not pop it in the microwave for 4 seconds
Assemble the head
Add a dollop of buttercream to the cake board where you want the head to be positioned leaving space for the nose.
Place the squared-off cake upright onto the board.
Frost with the sky blue buttercream, add more than you think you need (using a piping bag is helpful)
Use the icing smoother to remove any excess frosting
For the best smooth result, use a plain white Viva paper towel (no other brand works)
Once the frosting has crusted (you can touch it with your hands without frosting being on it), you can gently lay the paper towel on it and smooth it out with your hand by gently rubbing the paper towel.
Place in fridge to cool for 15-20 mins
Or (without paper towel method)
Pop the freshly frosted cake into the fridge and let it chill for 15-20 mins.
Remove from the fridge and use your hand to smooth out the frosting. It doesn't have to be perfect as we need to add more frosting, but as smooth as possible.
For the nose
Place the middle piece of cake up against the square to create the nose.
Add the ivory buttercream all over the nose, careful not to get it onto the blue.
Smooth it down.
For the ears
Dye the leftover sky blue frosting royal blue. If you need to add more buttercream so you have enough to complete the eyes and ears, do so before adding the royal blue.
This is a two-toned coloring method. You must dye it the lighter blue first then the darker blue to get the deeper shade.
First, add frosting to where the eyes will be.
Position the ears where you'd like them to go, then add the skewers behind them to hold in place.
Frosting the ears with the darker blue frosting, again, adding more than you need.
Use the frosting smoother to clean up the rough edges and smooth the cake out.
Place the cake in the fridge while making fondant pieces
Fondant accents
Be mindful that when working with fondant you may want to use plastic gloves.
Knead the white fondant until smooth and no longer sticky. If its sticking to your hands, dust them with 1 tbsp cornstarch or powdered sugar.
Dust your surface with 1 tbsp cornstarch or powdered sugar and roll out the white fondant to ½ inch thickness.
Cut out two eyes with either a small egg or an oval cookie cutter. A circle cutter will also work, just compare the size to the cake before continuing.
Once the eyes are cut out, knead and roll out the black fondant.
Use the open end of a small piping tip to create the black dot for the eyes.
Use a lightly moistened paper towel and rub it against the back of the black dot.
Position it on the eye and let dry for 2-3 mins before moving.
Re-roll the black fondant and roll out a thick piece. Use a large piping tip to cut out the circle for the nose.
Use your fingers to lightly press in the sides creating a triangle for the nose.
Assembly
Remove the skewers from the head.
Frost the back of the ears.
Press the eyes and nose into place. (if they won't stick, add a small amount of water to the fondant).
Tada! You've made Bleuy's head!
Notes
You could use the Smores Style marshmallows for the eyes with chocolate candies for the pupils. (large marshmallows won't be large enough, you need a jumbo one).
If you accidentally have an issue with colors bleeding, you can use vodka and a paintbrush to rub it off (make sure the brush stays clean.
The vodka will evaporate within minutes, nothing will taste like alcohol nor does it have any effects on children.
Do not try and use store frosting you need buttercream from the cake decorating item - it's different. You can also make Swiss, Italian, French, Royal Icing, American Crusting, or Mock Buttercream.
Nutrition Information
Yield
6
Serving Size
1
Amount Per Serving
Calories

158
Total Fat

5g
Saturated Fat

2g
Trans Fat

0g
Unsaturated Fat

3g
Cholesterol

35mg
Sodium

57mg
Carbohydrates

24g
Fiber

0g
Sugar

20g
Protein

1g
Pin it for later!
If you enjoyed this recipe be sure to check out my Instagram Page for the latest posts!
Before you go, check out these great posts!
The Best Red Velvet Caramel Cupcakes
The Best Cupcake Recipes You Will Ever Try
Easy Strawberry Crunch Cheesecake Recipe
Hi! I'm Nellie. I am a busy mama of three, wife to my high school sweetheart who loves to cook, workout and stay organized! I love to share helpful printables, the best recipes and fitness tips for the modern mom. I strongly believe that every mom can feed their family well, take proper care of themselves and have fun along the way! Read my story.
Get comfortable and be sure to come hang out with me on social. Don't grab your free fitness journal before you go!