There is something special about a Christmas gift made by a young child. Any family member will be happy to receive a Christmas present made with love. Today I'm sharing a fun bookmark Christmas craft as well as 3 more fun ideas for kids holiday crafts.
Young children can only rely on pocket money or odd jobs to earn money so it can be difficult for them to buy Christmas presents. Here are three Christmas ideas to help children learn the true meaning of giving by making their own presents with very little cost.
Fun Christmas Craft Idea #1: Christmas Gift Vouchers
Materials needed for these Christmas gifts.
Paper
Pens
colored pencils
or
Computer with a good paint program
Color printer
Stickers to decorate
How to Make Christmas Gift Vouchers
1. Get a pad of paper and encourage the children to brainstorm. Ask them to write down any idea they have as a voucher. Tell them to write everything down and not to worry if it sounds like a strange idea at the time. Here are some useful ideas to get started, " This voucher entitles … to breakfast in bed every Saturday for a month," or " This voucher entitles … to a freshly baked chocolate cake."
2. Talk through all the ideas and decide which are the best ideas.
3. Either draw vouchers or design and print off the computer. Allow a space for the child to sign their name and print the name of the recipient onto the voucher, with the kind deed included. e.g " To Dad, this voucher is for one free carwash with love from …," with a space for signing. The adults will love it!
Fun Christmas Craft Idea #2: Painted Flower Pots to Make as Christmas Gifts
Materials needed
Small terracotta flower pots
water based acrylic paint. Small sample pots from the hardware store are a cheap and easy option.
Paint brushes
Potting mix if the flower pot is to be given with a plant (optional)
Flower plant or herb plant. (optional)
How to Make Painted Flower pot Christmas presents.
1. Cover the work area with paper or a drop cloth
2. Children can paint free hand or plan ahead with drawings.
3. Younger children may find it easier to make patterns with lines, dots, wavy lines and zigzags.
4. If the children are using several colors they should wait for one color to dry before adding the next to avoid the colors running together.
5. Leave the finished pots to dry.
6. When the paint is dry fill with potting mix and plant. Choose a plant that matches the colors of the pot.
7. Water the plant and decorate with a Christmas gift bow.
Christmas Craft Idea #3: Potted Herb Garden Christmas Gift
Materials needed to make herb garden.
Three small terracotta pots or interesting empty food tins. These could be tins from other countries with nice pictures and foreign writing, giving an exotic touch.
Potting mix
Trowel
Three herb plants such as thyme, oregano, mint, chives.
How to make a herb garden Christmas gift.
1. If using tins drainage holes will need to be added. This is a job for the adult. Use a sharp knife to puncture several holes in the base of the tin. Make sure the top edges of the tin are rounded when a can opener has been used.
2. Put the potting mix into each pot. (wear a mask when handling any potting mix)
3. Plant one herb into each pot.
4. The herb pots can be given as a group to one person or given individually.
5. Instead of wrapping the plant tie a Christmas ribbon around the pot.
Christmas Craft Idea #4: Snowman and/or Elf Bookmark Craft
Yield: 2 Bookmarks
Snowman & Elf Bookmark Christmas Craft
Tools
Pencil
Scissors
Craft glue
Black gel pen
Instructions
Step -1:

The template includes patterns for – Santa Clause and elf. Printout the patterns and select colored cardstock papers for each craft. Let's start with the Santa Clause bookmark craft.

Trace the hat and big circle on a red colored card stock; trace the beard, moustache and small circle on a white card stock paper (I'm using a white embossed paper); trace the oval shape on cream colored card stock paper; trace the strip on black colored card stock paper and the small circle on yellow colored card stock paper.

Cut out the traced patterns nicely.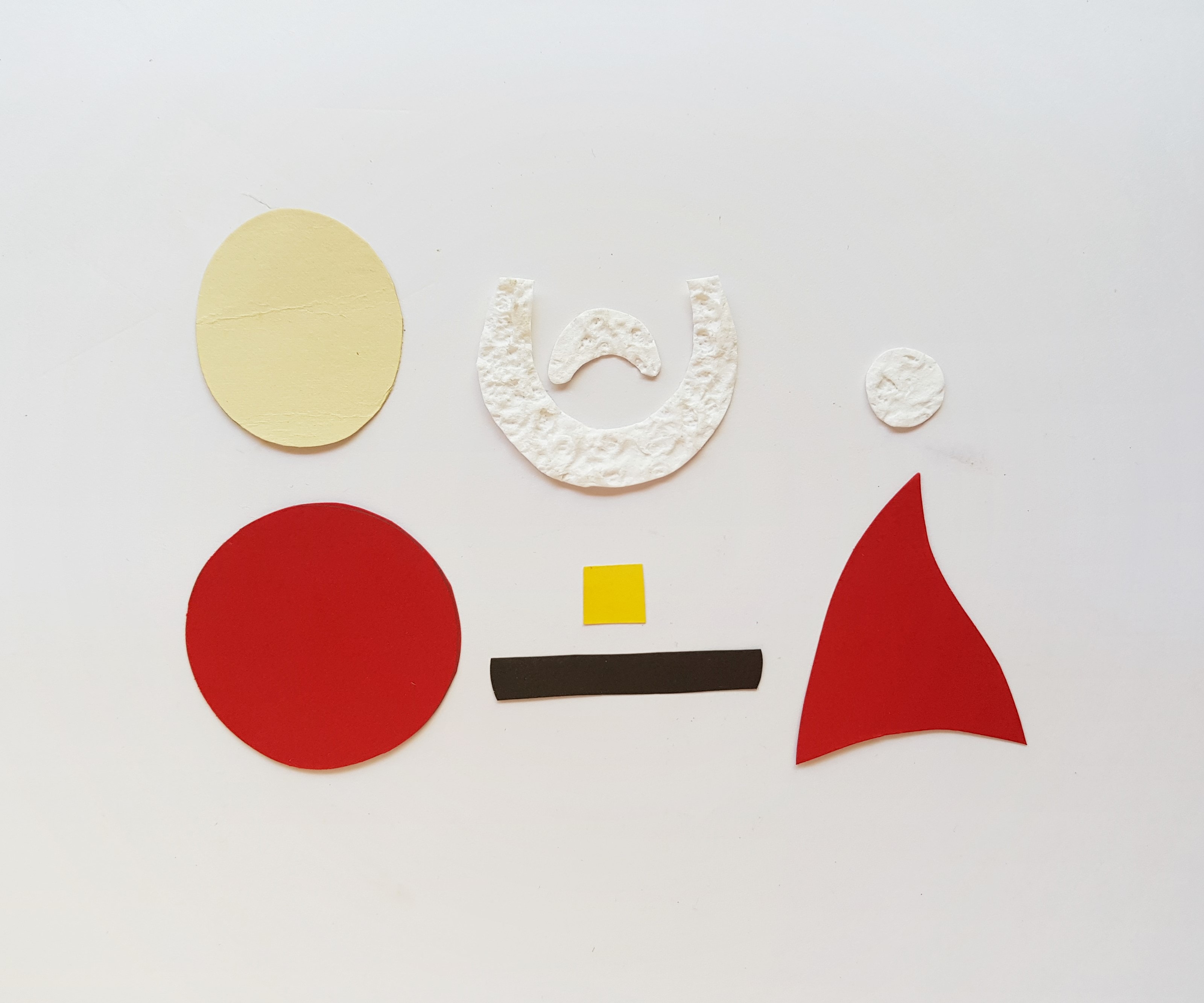 Step -2:

Stick the small yellow square in the middle of the black strip. Stick the small white circle on the tip of the red hat; and stick the oval shaped cutout with the big red circle by overlapping about a cm on the side.
Step - 3:

Stick the beard and the moustache on the oval shaped part (this is the head of the Santa Clause).
Step - 4:

Attach the black strip (the belt) along the middle part of the big red circle and attach the hat on the top side of the head.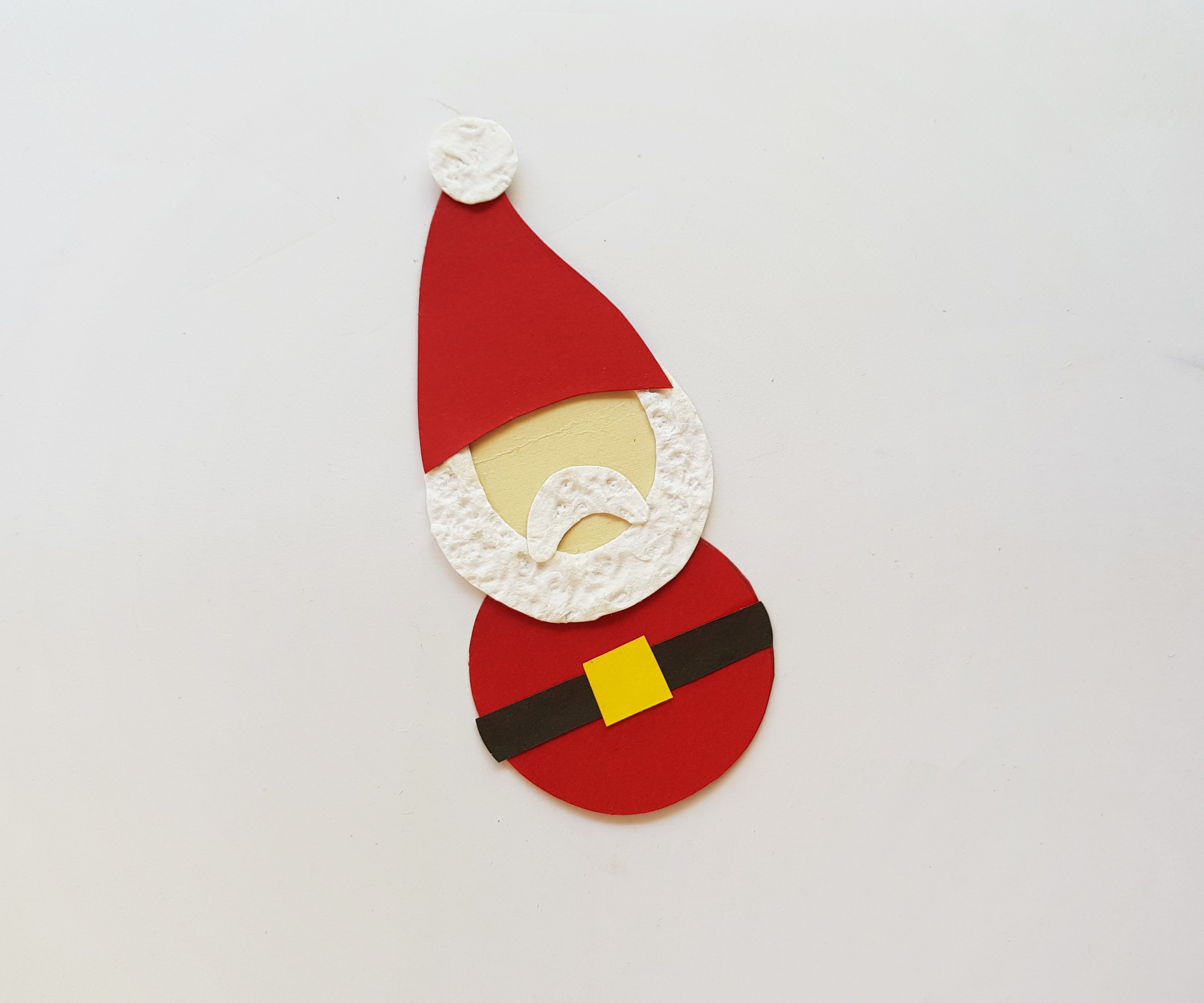 Step - 5:

Use a black gel pen to trace the eyes, nose and mouth of the Santa Clause. You can also draw 2 small blushes on the cheeks using pink highlighter pen.
Step - 6:

Attach the Santa paper craft on a popsicle stick to complete the bookmark craft.
Notes
A super cute and fun way to keep track of your reading with these holiday snowman and elf themed bookmarks!

For more Christmas fun with crafts check out this Christmas Twig Wreath Craft that is fun for adults to make too!
Are you going to make this Christmas Bookmark craft?
Hi! I'm Nellie. I am a busy mama of three, wife to my high school sweetheart who loves to cook, workout and stay organized! I love to share helpful printables, the best recipes and fitness tips for the modern mom. I strongly believe that every mom can feed their family well, take proper care of themselves and have fun along the way! Read my story.
Get comfortable and be sure to come hang out with me on social. Don't grab your free fitness journal before you go!