This post was sponsored by Horizon Fitness. All opinions are my own.
As a New York City girl that has been to many different fitness classes–Spinning has always been one of my top 3 ways to workout. This is why I am so excited to review the Horizon IC7.9 indoor spinning bike for you today. I'm sharing the real and honest thoughts from a spin junkie. Does it match up? Do I miss the studio? Is it worth a purchase?
If you have been hanging out with me a while you know that I have been a hardcore Peloton fan since they first landed in NYC. You know, 5 years ago, BEFORE all the fanfare.
I have always wanted a bike but the cost ($2500!!) always gave me pause. Since becoming an entrepreneur 3.5 years ago, I've had to be extremely smart about my purchases.
Up until I got pregnant last year I was attending daily classes at the Peloton studio in NYC. Since having the baby, leaving the house and arranging babysitting for all three of my children has become an entire production.
Not to mention the commute to the studio is about and hour each way (on a good day!). So I've been looking for a home solution that won't break the budget but will still give me the feeling of being inside the studio.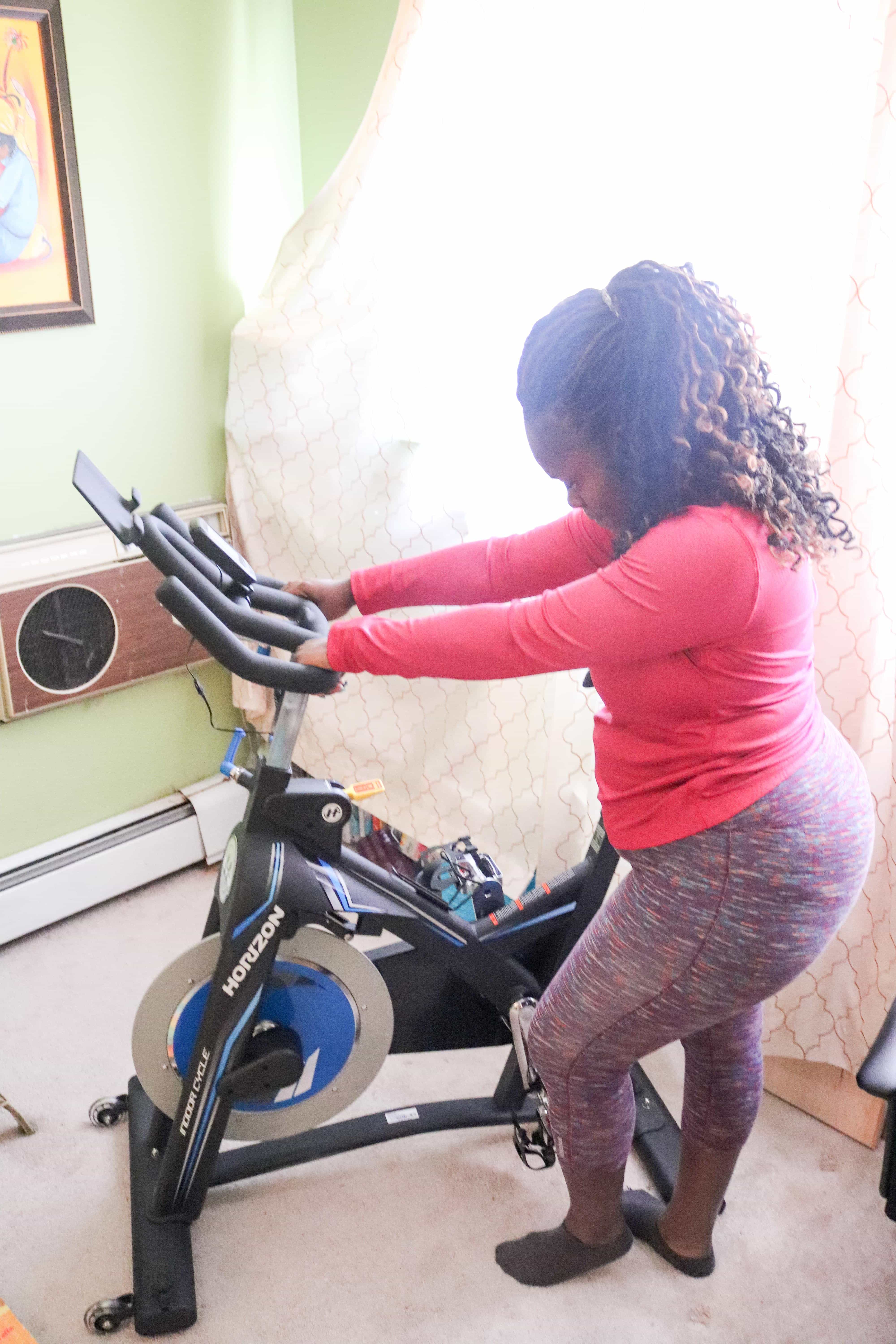 Enter the Horizon Fitness IC7.9 indoor cycle
When I found out that I was getting the chance to review the bike I jumped to the sky with excitement. I sorely missed group fitness classes and since I'm home with the baby full time, my options are limited. Plus Horizon Fitness has been in the home fitness space for years, and it's a trusted award-winning leading fitness brand.
I immediately started reading reviews of the IC7.9 indoor cycle online. The first thing I saw was that I was able to use my tablet for something other than entertaining my children! There is a built in spot on the bike for your tablet to stream cycling classes.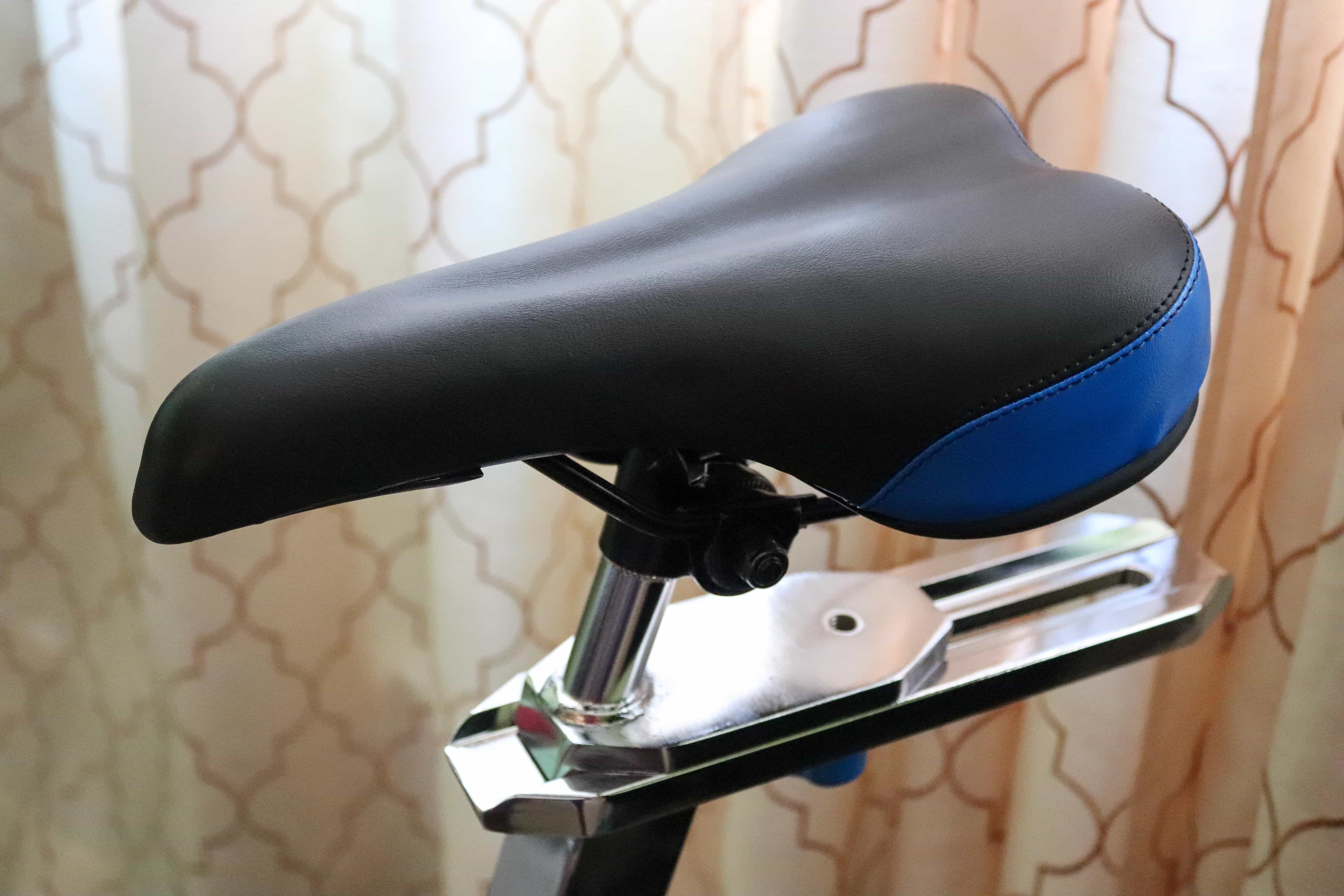 That means, you guessed it! You can stream peloton classes that are live and are from the library directly to your tablet, phone and in some cases your TV.
Just like that I had the experience and feeling of the Peloton studio right there in my home for a fraction of the cost. At less than half the price of the full Peloton bike as well as half the cost of the monthly subscription—I was now riding daily with my favorite instructors.
Including Alex Toussaint who has been my favorite since I took his first class in 2014. (No really, in my head we are best friends, he has the BEST playlists, and 80% of the classes I take are his!)
The bike set up
The Horizon IC7.9 cycle was delivered within a standard 4 hour window and the set up was relatively easy. I set the bike up in my living room. The weight of the bike is 127 pounds.
My husband was able to put this together rather quickly. The middle part of the bike that include the flywheel is on solid piece and the heaviest part of the bike, so basically all you have to do is attach the base, handle bars, pedals, seat and attach the display. It took about an hour before it was all ready to go!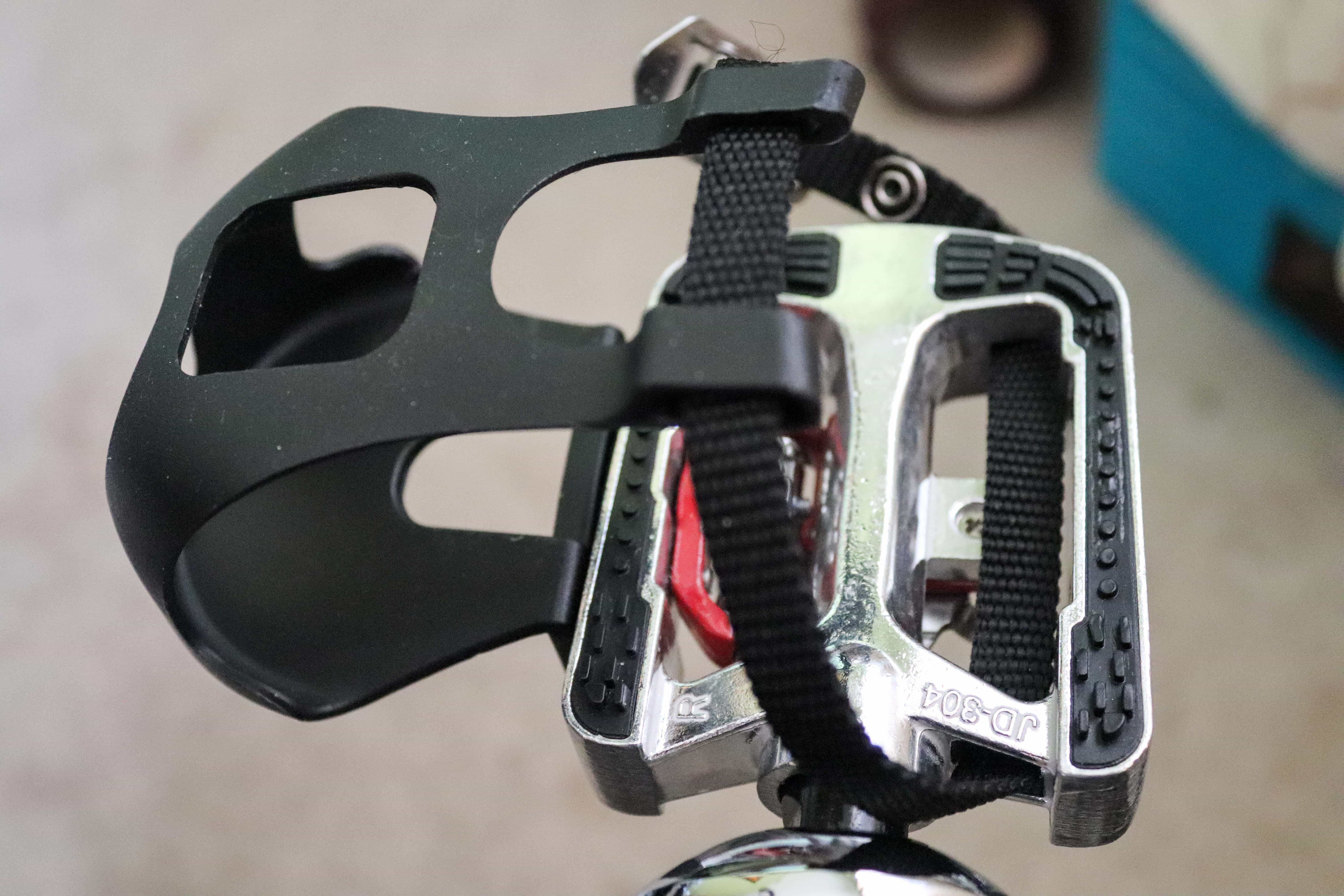 It is gorgeous: It has accents of blue and it doesn't take up a ton of space. It could easily go in a bedroom, living room or your home gym.
How does the Horizon Ic7.9 indoor cycle compare to the Peloton?
There are a few things you should know to make an educated decision about the bike:
The ride data does not upload to the peloton app. You cannot compare your performance to the thousands of riders riding with you. You have to trust yourself to work just as hard (if not harder) than everyone else. There IS a display that comes with your bike that will tell you calories burned, distance traveled, rpm, etc.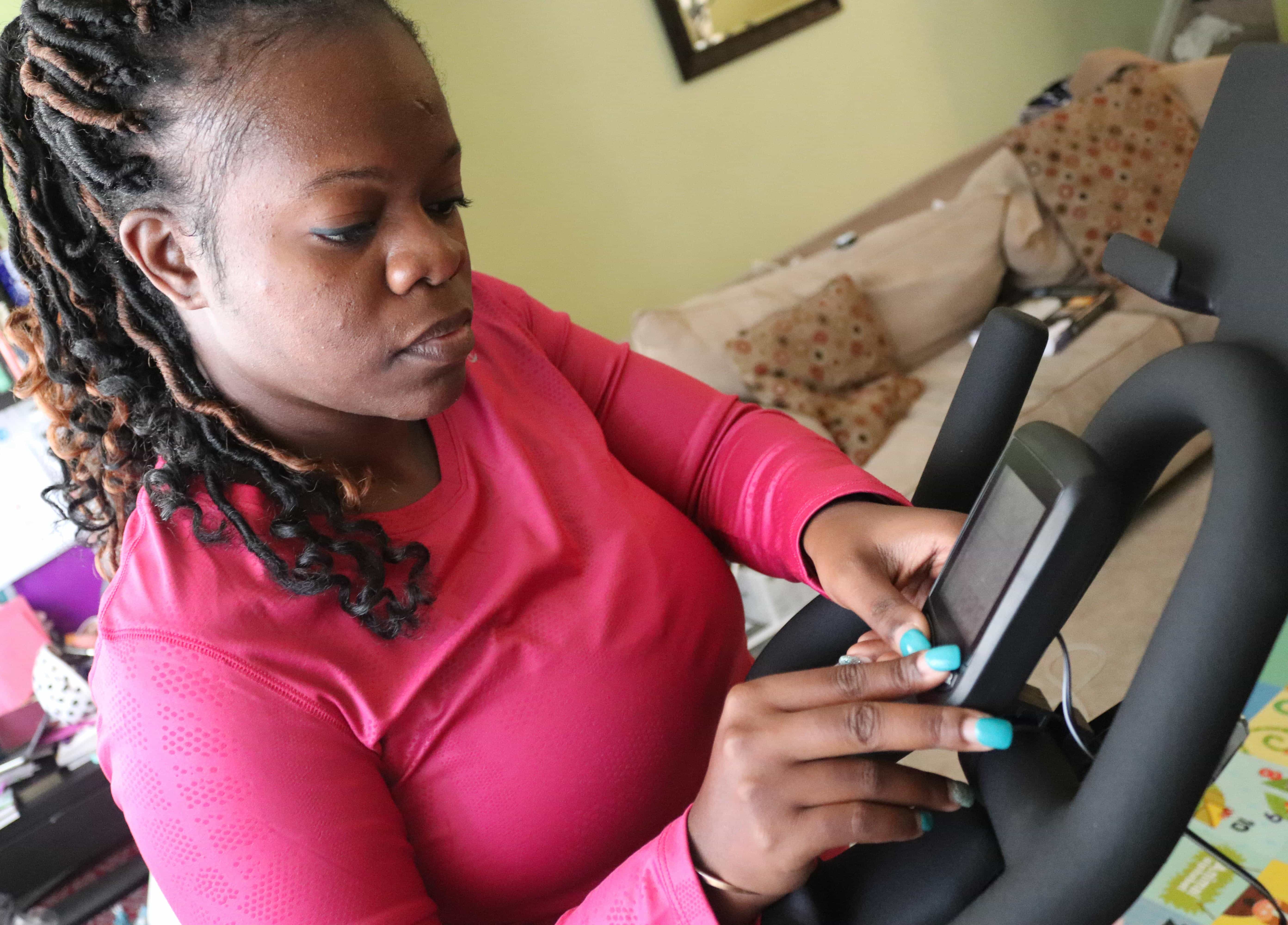 However, whenever you ride the app keeps a log of every workout you have done so you can join the century club (100 rides+) just like everyone else.
The resistance knob is different. You are no longer twisting the knob left and right, you adjust by going up and down. I actually like this better and I don't miss the twisting motion.
You need to use your own tablet. Your phone works too, but the handle bar really works for a tablet. Plus if you have an android you can easily stream cast your peloton/spin classes to a TV.
You don't need to use any technology at all. If you want a spin bike that will record your mileage while you watch TV this bike is perfect for that too!
What are my thoughts after 5 straight days and 5 straight classes?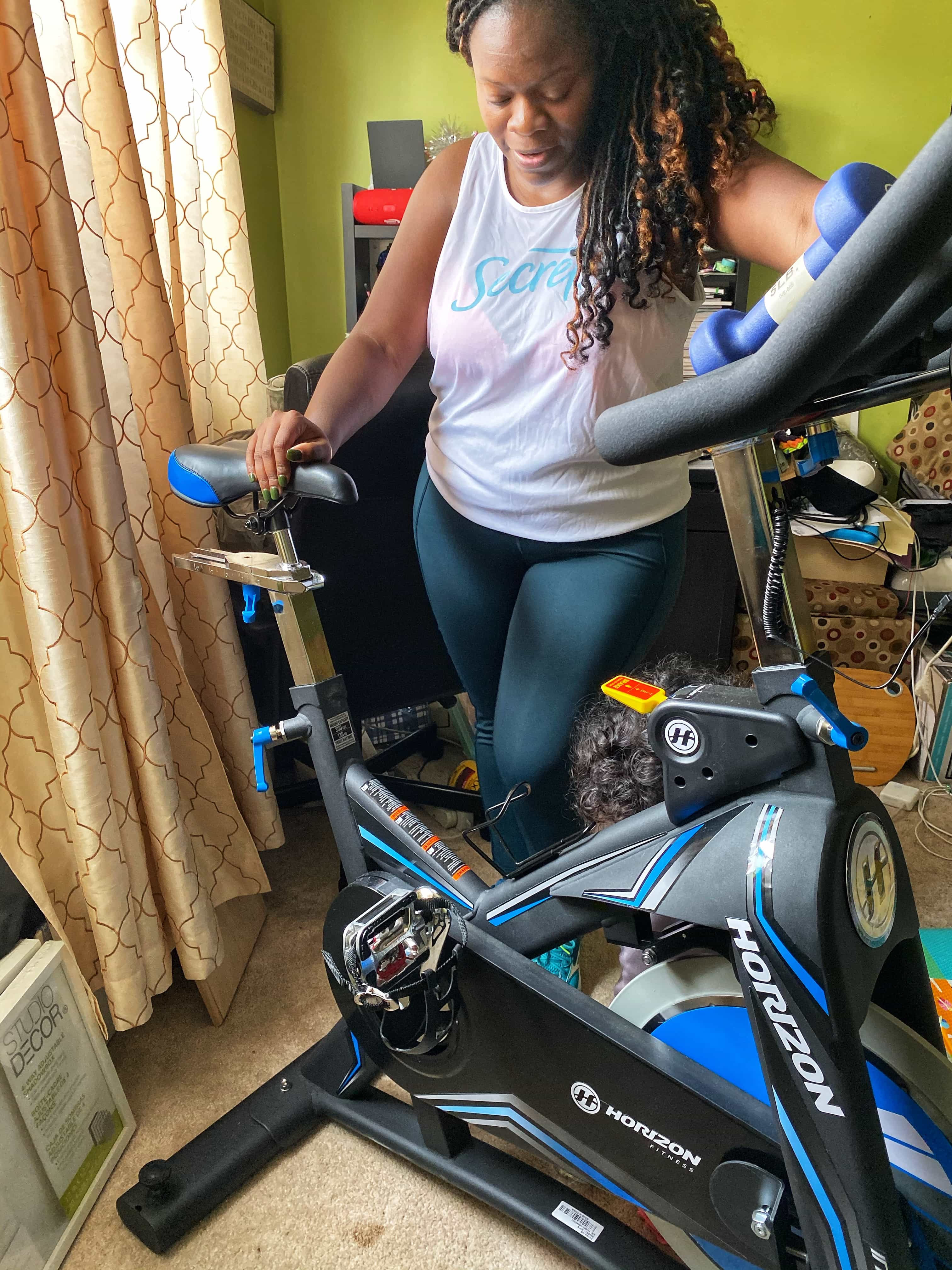 The bike seat is a little hard, it took exactly 4 days of riding before I felt no pain at all hopping on. Unless you are a very experienced and frequent rider you will likely need a while to get used to it. To speed up the process you can also purchase a bike pad from amazon.
Streaming to TV makes cycling way more fun
I currently own a google streamcast which makes it easy to stream the peloton digital app from my iPhone directly to my TV. I currently do this every morning while the kids are getting ready for school. They enjoy the music and I enjoy the ride!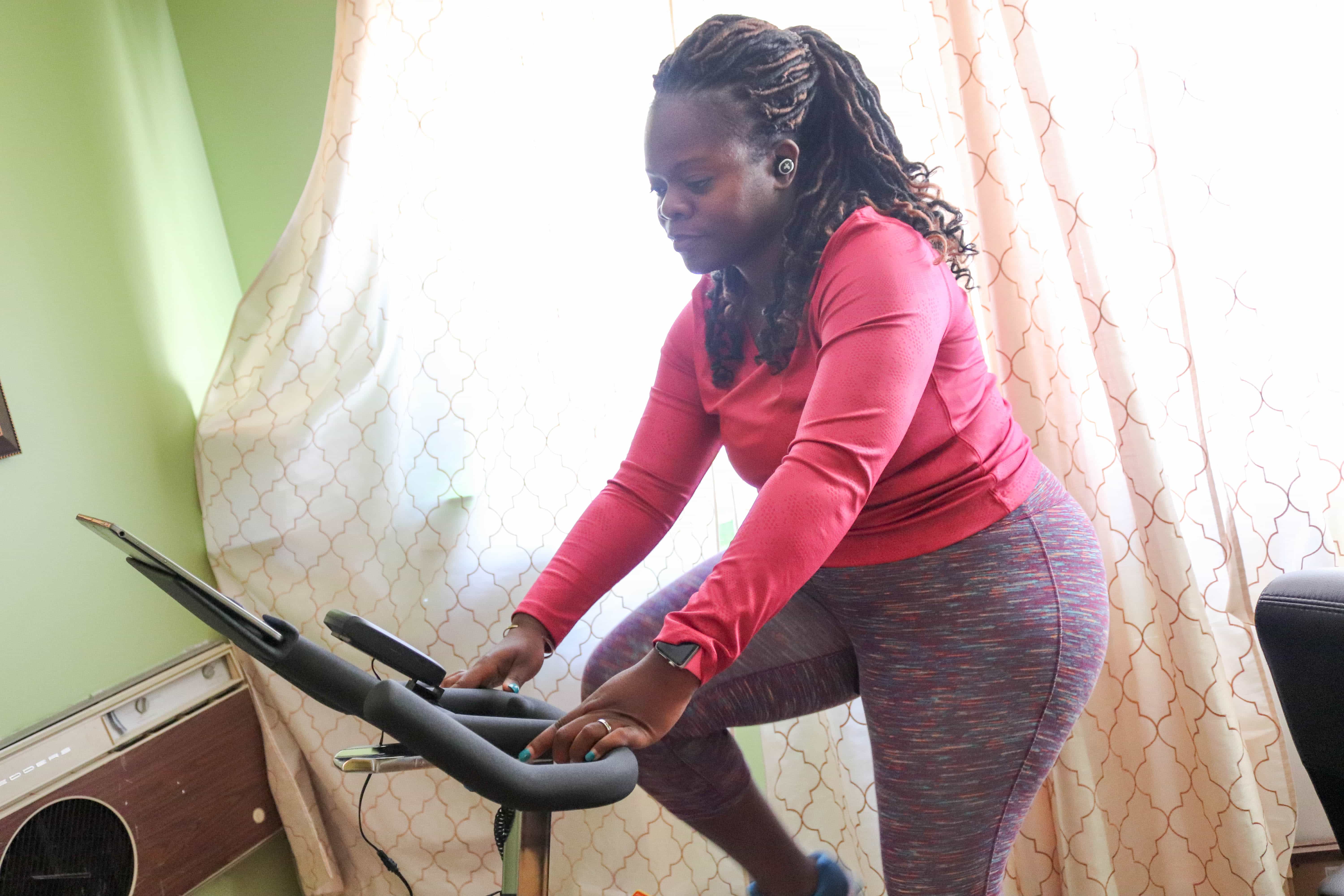 Who should get the Horizon IC7.9 indoor spinning bike?
Honestly everyone–I have taken a ride every single day on the bike since I've gotten it and I absolutely love it. I don't miss uploading my data and I get a fantastic workout with incredible music every single ride. I pop my bluetooth headphones in and I am taken away in my workout.
The best part? The bike is extremely quiet, this is an INVALUABLE feature especially because I plan on riding while my daughter takes her morning naps. It doesn't blow air, it rides like a dream, and with the music in my ears, it's quiet. Now if I start singing along out loud, that's when we have a problem. 🙂
Plus the bike is almost a quarter of the price of a Peloton!! It's currently on sale for $599! You really can't beat that with a stick. If you have been eyeing a Peloton bike and don't really want to drop the $2500–this is really the most perfect option. I'll see you on the leaderboard friends!! Add me! #NellieBK
Spin Shoes for the Horizon Ic7.9
I had to do a bit of research for this because this was my first time buying spin shoes. After some trial and error, here is the exact combination you need to buy spin shoes. Keep in mind that the pedals for the Peloton are NOT the same as the pedals for the Horizon.
–Look for shoes with SPD Clips: I ended up buying these Pearl Izumi Spin shoes. They are super comfortable and I loved the colors. What I didn't know was that they did not come with CLEATS. Cleats is the little metal part that clips from your shoes into the pedals.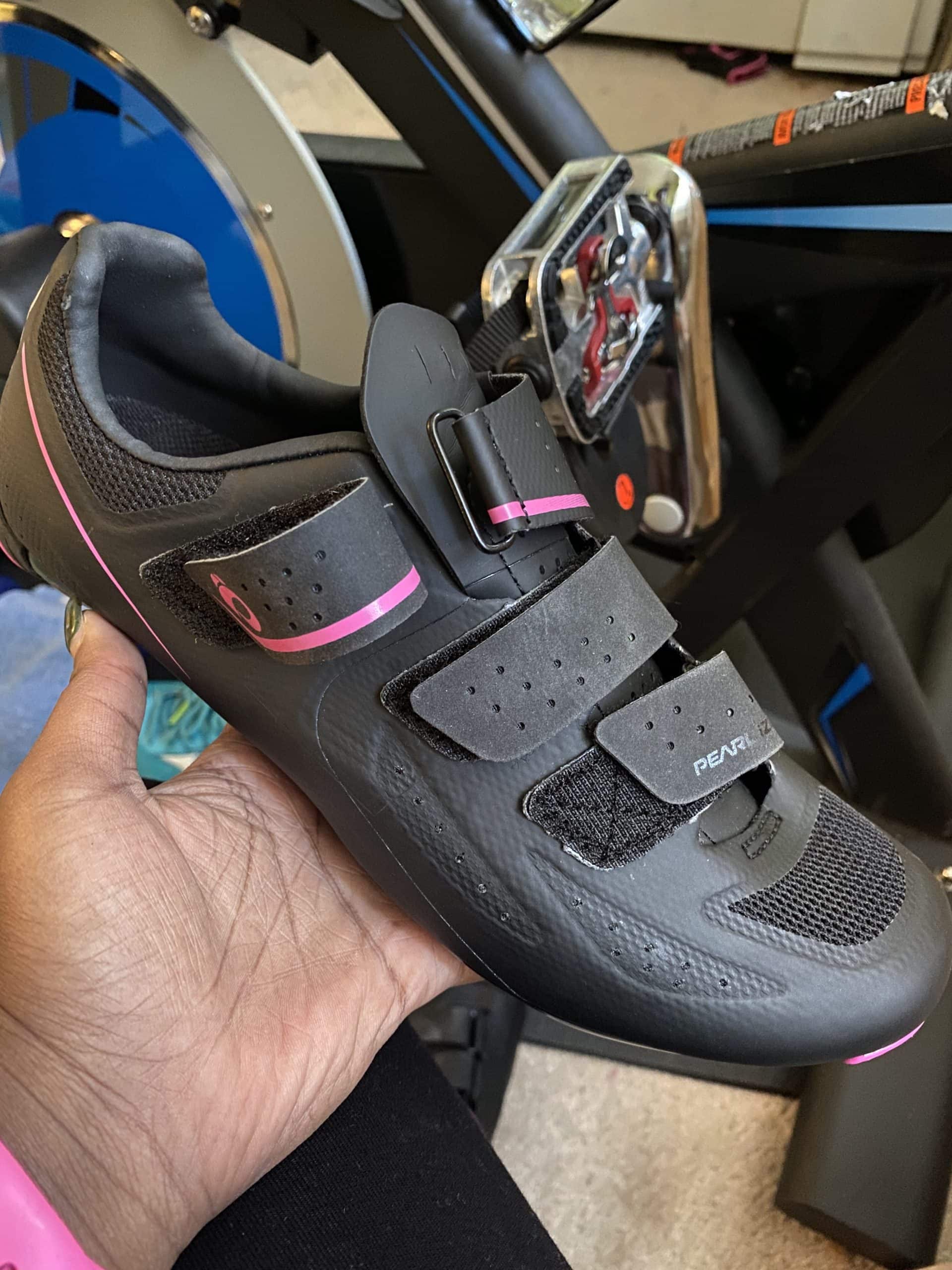 For spin shoes that don't have cleats attached already (many don't) you will have to install proper cleats. These in particular have 2 screws. When you order the shoes, you should order the cleats too so you can ride with them right away.
What You Need:
–> SHIMANO SH56 Multi Directional Release SPD Cleat
I've been using this combination for over 6 months now and I love them! Easy to clip in and out, and they feel great on the foot. The spin shoes are definitely better than the cages. Not an absolute must to ride the bike, but if you can get it I highly recommend it.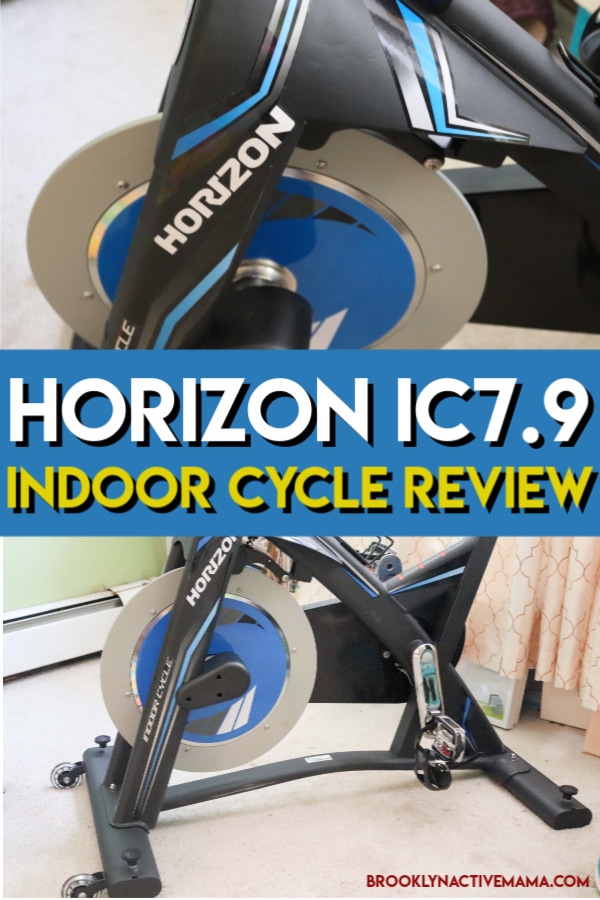 Take an additional $75 off the lowest prices at HorizonFitness.com and get a free gift!
Are you in the market for an indoor spin bike? Have you ever tried a Peloton class?
Hi! I'm Nellie. I am a busy mama of three, wife to my high school sweetheart who loves to cook, workout and stay organized! I love to share helpful printables, the best recipes and fitness tips for the modern mom. I strongly believe that every mom can feed their family well, take proper care of themselves and have fun along the way! Read my story.
Get comfortable and be sure to come hang out with me on social. Don't grab your free fitness journal before you go!