The Grinch is such a fun and beloved character during the holidays, today I've got a fun Grinch Christmas Cricut Jars Craft that you can use over and over!
It's time to whip out the Cricut and start your Christmas crafting. I have something super fun for you this year that you are going to love. You can do this fun craft on jars or on your favorite mug! (You can find plain mugs at the dollar tree!)
Introducing these Grinch Christmas Jars. They are the ideal Cricut Craft to help you make holiday gifts this year. If you are ready to get festive, then let's get started on making this! If you're tired of making the same old crafts, then it's time to try something new!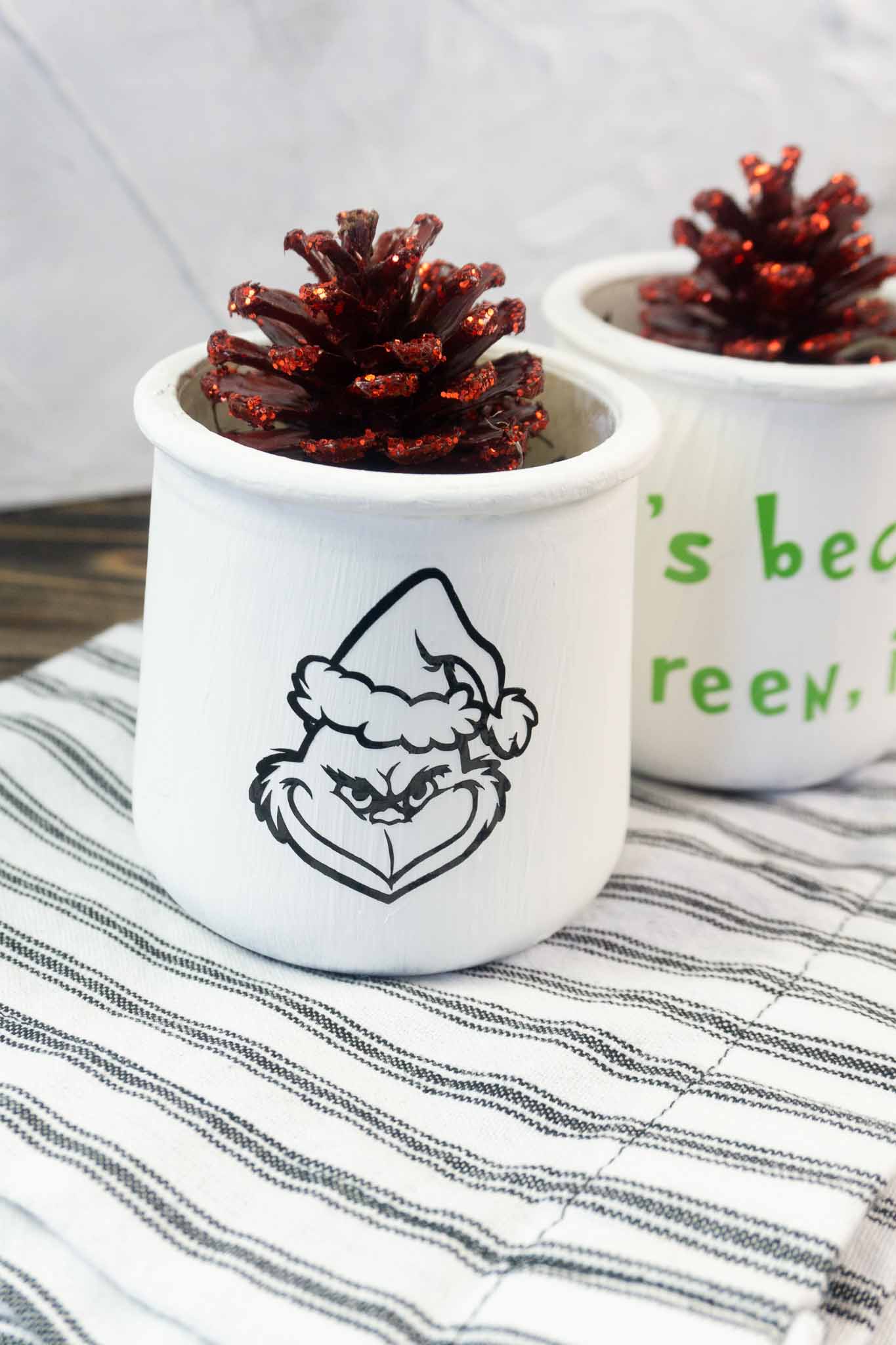 The best part about this craft is that you can cut the design and put it pretty much anywhere. I like it on jars, or even mugs. But you can easily put it on a notebook or a laptop.
Grinch Christmas Jars – Cricut Craft
When it comes to adding a sprinkle of fun and mischief to the holiday season, few fictional characters fit the bill better than Dr. Seuss's The Grinch. This iconic character from "How the Grinch Stole Christmas!" has captivated the hearts of both children and adults for generations. The story's lessons of redemption, community, and the true meaning of Christmas make it a beloved holiday classic. Unsurprisingly, The Grinch has also become a source of inspiration for a myriad of crafty holiday projects that are not only enjoyable to create but also bring a unique twist to the festive season.
Channeling Creativity and Imagination
The beauty of Grinch-themed crafts is that they allow for a broad range of artistic expression. Whether you're making Grinch ornaments to hang on the Christmas tree or crafting Grinchy stockings to stuff with presents, the project can be as simple or as complex as you want it to be. Kids love painting Grinch faces on rocks or making cute little Grinch puppets out of paper bags. The character's distinct green color and mischievous smirk provide ample opportunities to stretch your creative muscles. In crafting, as in the original story, The Grinch allows us to explore both the "naughty" and "nice" elements of the holiday season in a fun, imaginative way.
Involving Everyone in the Family
Grinch-themed crafts are incredibly versatile and can involve all family members, regardless of age. Toddlers can get their hands dirty with Grinchy finger painting, while older children might enjoy sewing their own version of the Grinch's famous red suit. Adults can take the reins in more complex projects like making Grinch-themed wreaths or even baking Grinch cookies that are sure to steal the show at any holiday gathering. The versatility of Grinch crafts makes them a fantastic family bonding activity, fostering collaboration and shared joy.
Creating Lasting Memories
Crafts around The Grinch often serve as memorable keepsakes that families cherish year after year. Just like how The Grinch himself came to realize the deeper meanings of Christmas, crafting these projects becomes about more than just making an ornament or a piece of art. It's about the time spent together, the laughter shared, and the memories made. These crafts often hold sentimental value, making them treasured items that are pulled out year after year, serving as tangible reminders of wonderful family times.
Adding Humor and Whimsy to Holiday Decor
Let's face it, the holidays can be stressful. Between the shopping, cooking, and social commitments, there's a lot going on. Incorporating Grinch crafts into your holiday decor adds an element of whimsy and humor that can lighten the mood and bring smiles to faces. Imagine guests spotting a Grinch ornament hanging cheekily amongst the angelic and traditional Christmas decor, or biting into a cookie only to reveal a Grinch face. These fun surprises can be a real conversation starter and make your holiday gatherings that much more entertaining.
A Craft for Every Skill Level
Whether you're an expert at knitting, a novice at painting, or somewhere in between, there's a Grinch-themed craft to suit your skill level. There are plenty of tutorials and templates available online, making it easy for anyone to join in the fun. Even if your final product is less than perfect, the iconic nature of The Grinch is so universally recognized that your craft will be appreciated for the effort and thought that went into it.
In Summary
Creating crafts around The Grinch is a multifaceted experience that combines creativity, family bonding, humor, and the creation of lasting holiday memories. It's a delightful way to add some irreverence to the holiday season while engaging in a meaningful, fun-filled activity that brings people together. The best part is, every time you look at your Grinch craft in the years to come, you'll be reminded not only of the iconic story but also of the joy and connection it brought into your home.
This craft is so much fun because you are actually recycling materials. This Grinch craft asks that you use two yogurt jars, which is so perfect! Once your kids eat their yogurts, you can put them to good use.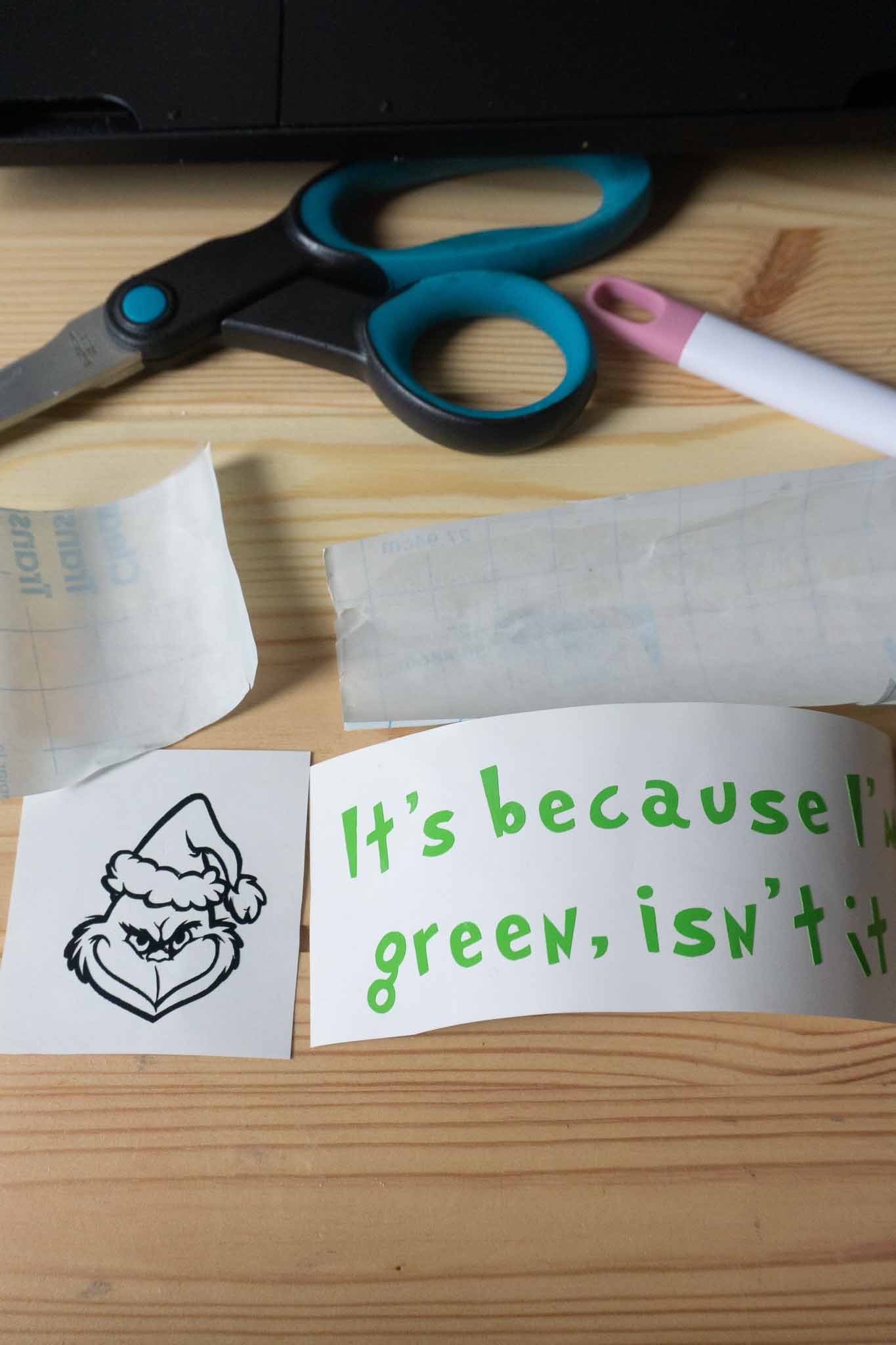 I'm all about helping to keep trash out of the landfills. If you get a chance to make this craft, you could also get the kids to help you recycle the much-needed materials.
I've included the free grinch font download link below in the craft instructions so you can recreate your favorite Grinch phrase!
What Can You Use These Jars For?
Well, after you make these jars, there are several ways you can use them. You can start by making some to decorate your own household. Once you feel as though you have enough for your house, you can start making them for other households.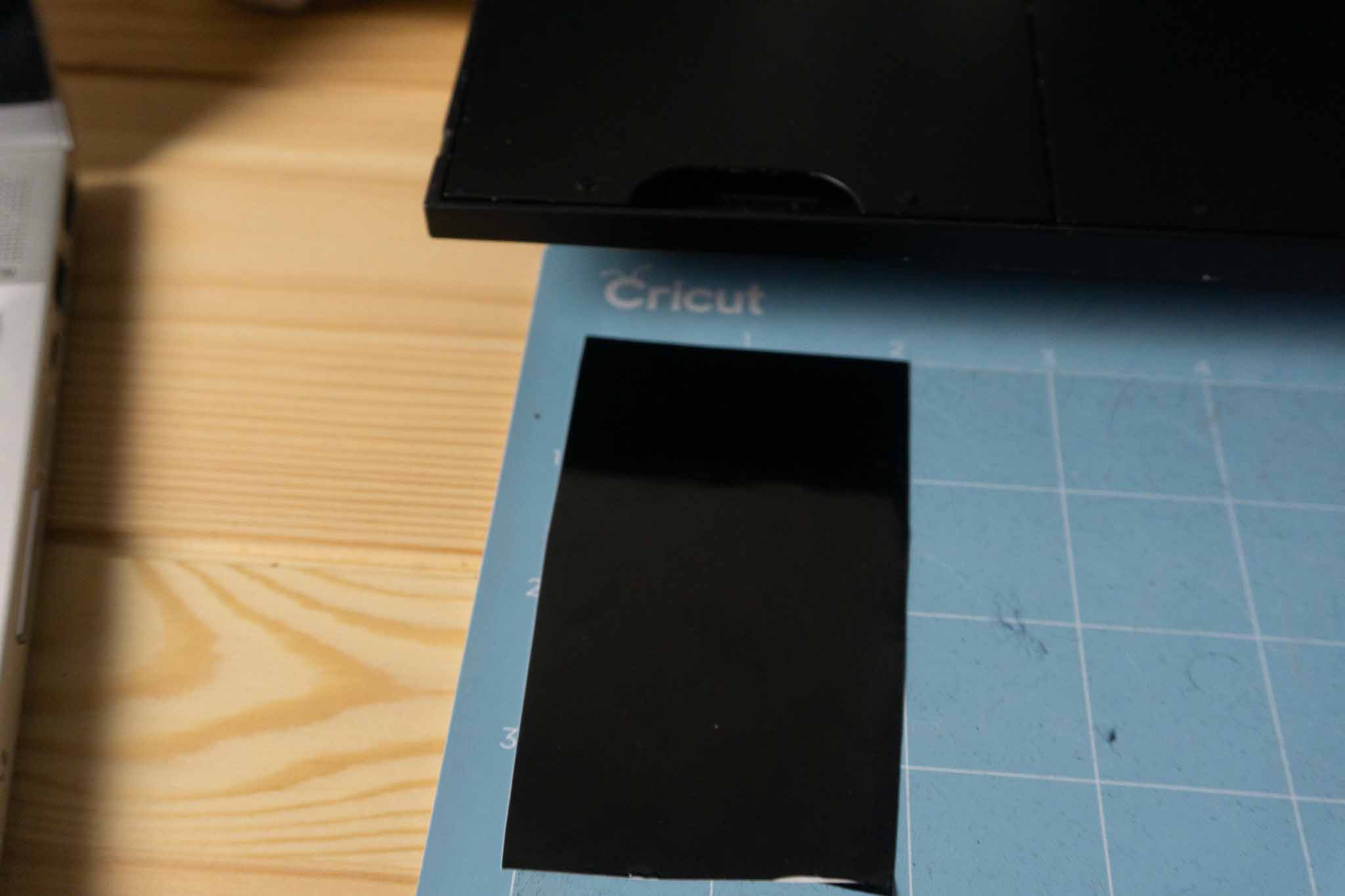 These make excellent gifts for a neighbor or even those you know and those you don't know that well. If you are trying to have a budget-friendly holiday, then this is one of the most budget-friendly things you can do. This is your time to get creative and have fun with your Cricut.
Whenever you decide to start crafting this holiday season, at least you'll have a fun place to get started.
These Grinch Christmas Jars last forever too. Once you make them, you can use them for holiday decor for many more years to come. Make sure you put these on your must create list ASAP!
Happy crafting!
Click here to download the Grinch PNG file
Click here to download the Grinch SVG File
What are some other fun Grinch themed posts to check out?
Grinch Cricut Craft For The Holidays
This fun grinch themed jars are so fun to make for the holidays!
Materials
2 oui yogurt jars; remove labels
1 bottle white chalk matte paint
1 paint brush
1 plastic drop cloth
12x12 black vinyl sticker sheet (oracal 651)
12x12 green vinyl sticker sheet (oracal 651)
blue cricut mat
weeding tool
scraper tool (of gift card)
12x12 sheet transfer tape
Grinched font (https://www.dafont.com/grinched-2-0.font)
Grinch SVG or PNG file
Potting soil or rocks
2 glitter pinecones (Hobby Lobby)
Instructions
Lay out plastic cloth for painting on. Place jars on plastic and paint with white paint. Two coats is best. Let dry.

Place black vinyl on blue cutting mat. Import the svg or png file to cricut design space. Make image less that two inches in height.
Place the cricut on vinyl on the dial and then tell the machine to cut. Once cut weed design.
Use transfer tape to remove the design from backign and place onto the jar. Using the scraper tool scrape well and pull slowly back the transfer tape being sure the design sticks to the jar.
Place green vinyl to blue cricut at. In the design space go to the text tool. Select the grinched or grinched 2.0 font.
Type out any grinch quote you'd like. Resize to be no taller than 2 inches in height. Place the cricut on vinyl on the dial and then tell the machine to cut. Once cut weed design.
Use transfer tape to remove the design from backign and place onto the jar. Using the scraper tool scrape well and pull slowly back the transfer tape being sure the design sticks to the jar.
Fill jars with potting soil or rocks and place pinecone on top.
Hi! I'm Nellie. I am a busy mama of three, wife to my high school sweetheart who loves to cook, workout and stay organized! I love to share helpful printables, the best recipes and fitness tips for the modern mom. I strongly believe that every mom can feed their family well, take proper care of themselves and have fun along the way! Read my story.
Get comfortable and be sure to come hang out with me on social. Don't grab your free fitness journal before you go!