Looking for an easy and delicious roast chicken recipe with simple ingredients? Check out this easy fresh recipe that you can make anytime for dinner!
Roast Chicken
Have you ever pulled a roast chicken out of the oven and it smelled so amazing? This Roast Chicken is literally the best meal you can ever make for your family.
The best part of this chicken is that you can make it and enjoy several different sides with it. I love to have mashed potatoes, mac and cheese, and a veggie with this chicken! Let's talk about how to make this recipe and how delicious it can be for your family.
Roast Chicken
I like making roast chicken because it's so easy to make. There are days where I just don't feel like cooking and this is the recipe that pops into my mind.
I always buy the chicken on sale and I pop them in the freezer. When I am ready to make the chicken, I take it out of the freezer to unthaw. Here are some of the ingredients used in this recipe.
Whole chicken – I always buy the 2 pound whole chickens because it makes roasting it a whole lot easier.
Marinade – The dry brine that I use for this chicken is amazing. You'll want to use it for all of your other chicken recipes too.
Kosher salt – You cannot make a chicken without kosher salt.
Fresh thyme – I love using fresh ingredients on my chicken.
Cut carrot – You'll want to cut these carrots into 2-3 inch cubes
White onion – You will want to go ahead and quarter this onion.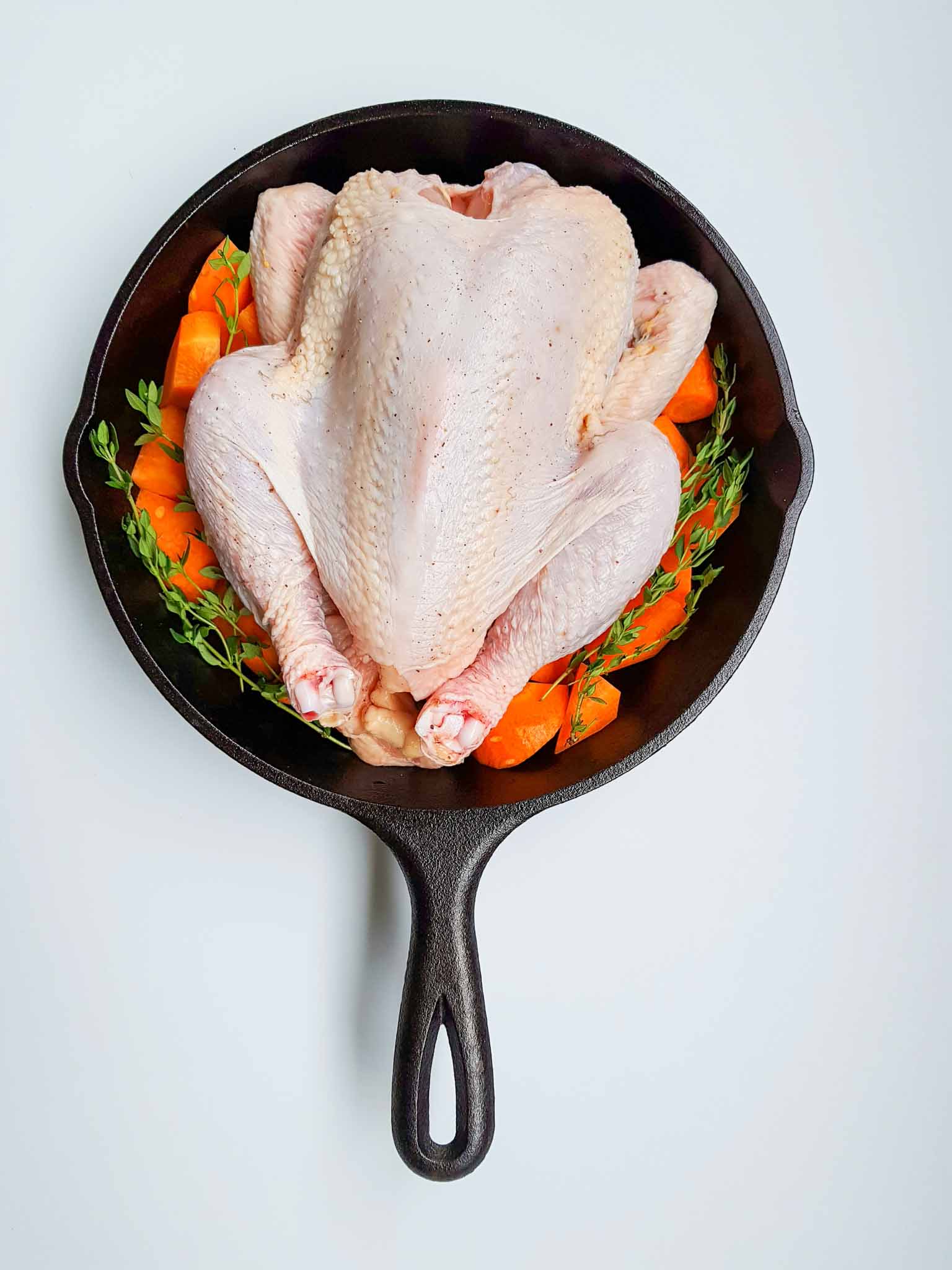 Using all of these amazing ingredients, you will be able to create a Roast Chicken that no one will forget. You can use this as your main meal on Thanksgiving or you can make it for dinner tonight.
Whatever you decide, the taste of this chicken is juicy and oh-so-good.
If you decide to make this chicken, leave a comment below to let me know what you think. What sides to you plan on making with this chicken?
Yield: One Chicken
Simple Roast Chicken Recipe
Ingredients
1 whole chicken (about 2lb 6oz)
Marinade (dry brine):
1.5 tsp Kosher salt
1/4 tsp ground black pepper
Others:
5 sprigs fresh thyme (or rosemary)
2 medium carrot cut into 2-3 inches cubes
1 small white onion quartered
Instructions
Pat dry the chicken with a clean paper towel. Sprinkle salt and
pepper all over the chicken, include its cavity.
Transfer the chicken to a clean cooking pan, tuck the wing tips behind the shoulders.
Cover with plastic wrap and let the chicken marinade over night or maximum 2 days, in the fridge.
When the chicken is ready to cook, take it out and leave it at room temperature for 15 minutes
Pre-heat oven to 450F
Pat dry the chicken with a clean paper towel. Leave 1-2 sprigs of fresh thyme inside its cavity.
Add the remaining thyme, cubes of carrot and chopped onion in a roasting pan or cast-iron skillet.
Then put the chicken, breast side up on top of the vegetables.
Place the chicken on the center rack of the oven and roast for 30 minutes.
After 30 minutes, take the chicken out and raise temperature of the oven to 460F.
Use two rubber spatulas to carefully turn the chicken up side down.
Return the chicken to the oven and roast for another 15 minutes.
After 15 minutes, take the chicken out again and turn it over.
Return the chicken to the oven and continue cooking until the breast turn to golden brown color, approximately 5-10 minutes.
Take the chicken out of the oven and let it rest for 5 to 10 minutes then transfer it to a serving platter.
Discard any burnt vegetables and thyme inside the chicken's cavity. Keep the rest include the dripping.
Serve chicken immediately with the remaining roasted carrots & onions.
Pour the dripping over the chicken right before eating time.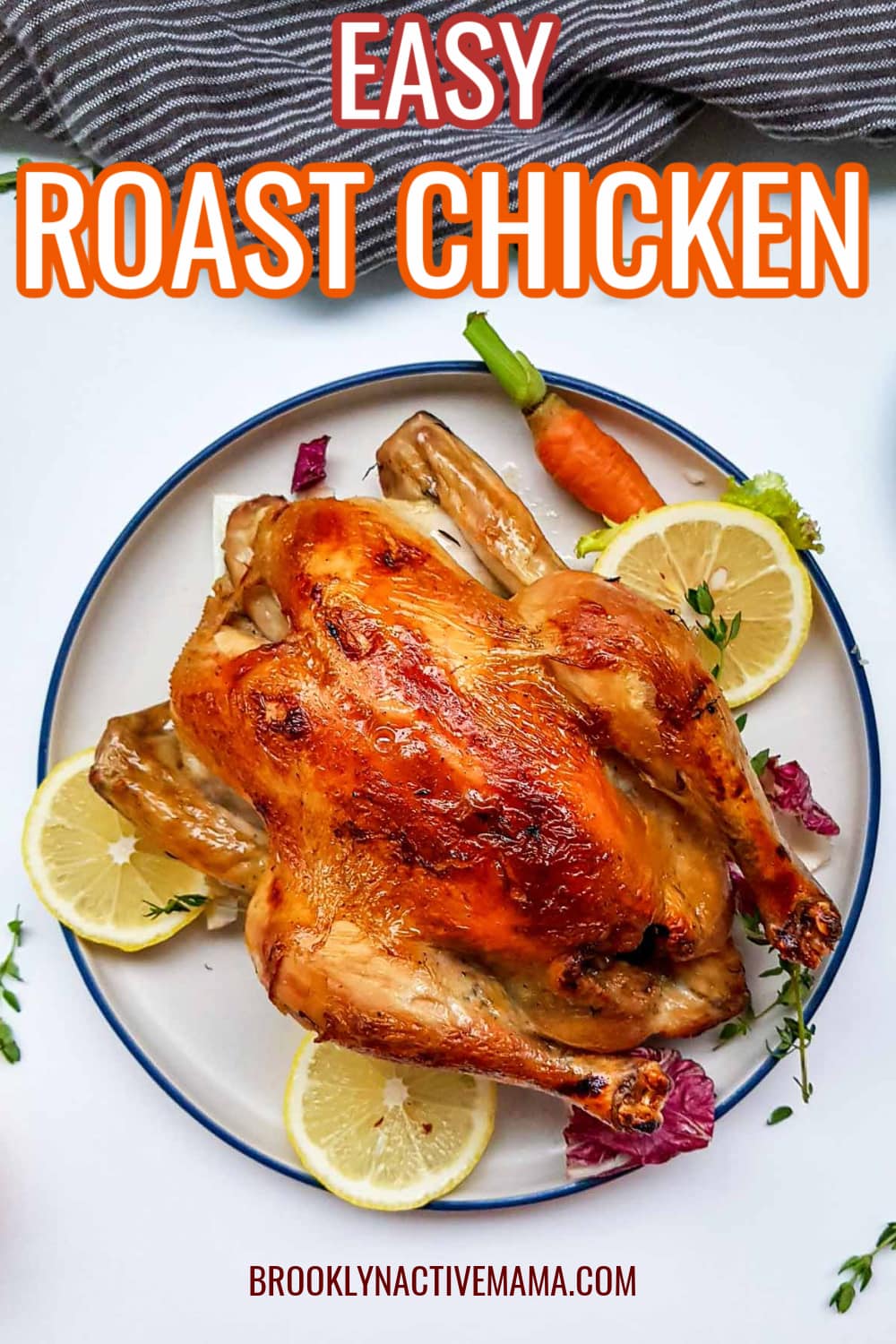 Hi! I'm Nellie. I am a busy mama of three, wife to my high school sweetheart who loves to cook, workout and stay organized! I love to share helpful printables, the best recipes and fitness tips for the modern mom. I strongly believe that every mom can feed their family well, take proper care of themselves and have fun along the way! Read my story.
Get comfortable and be sure to come hang out with me on social. Don't grab your free fitness journal before you go!