Are you tired of making a mess when preparing dinner? Follow this simple One Pan Honey Garlic Chicken thighs recipe. You'll get to cook a flavorful meal in one skillet, eliminating all the extra dishes, all while still making the perfect dinner for the family.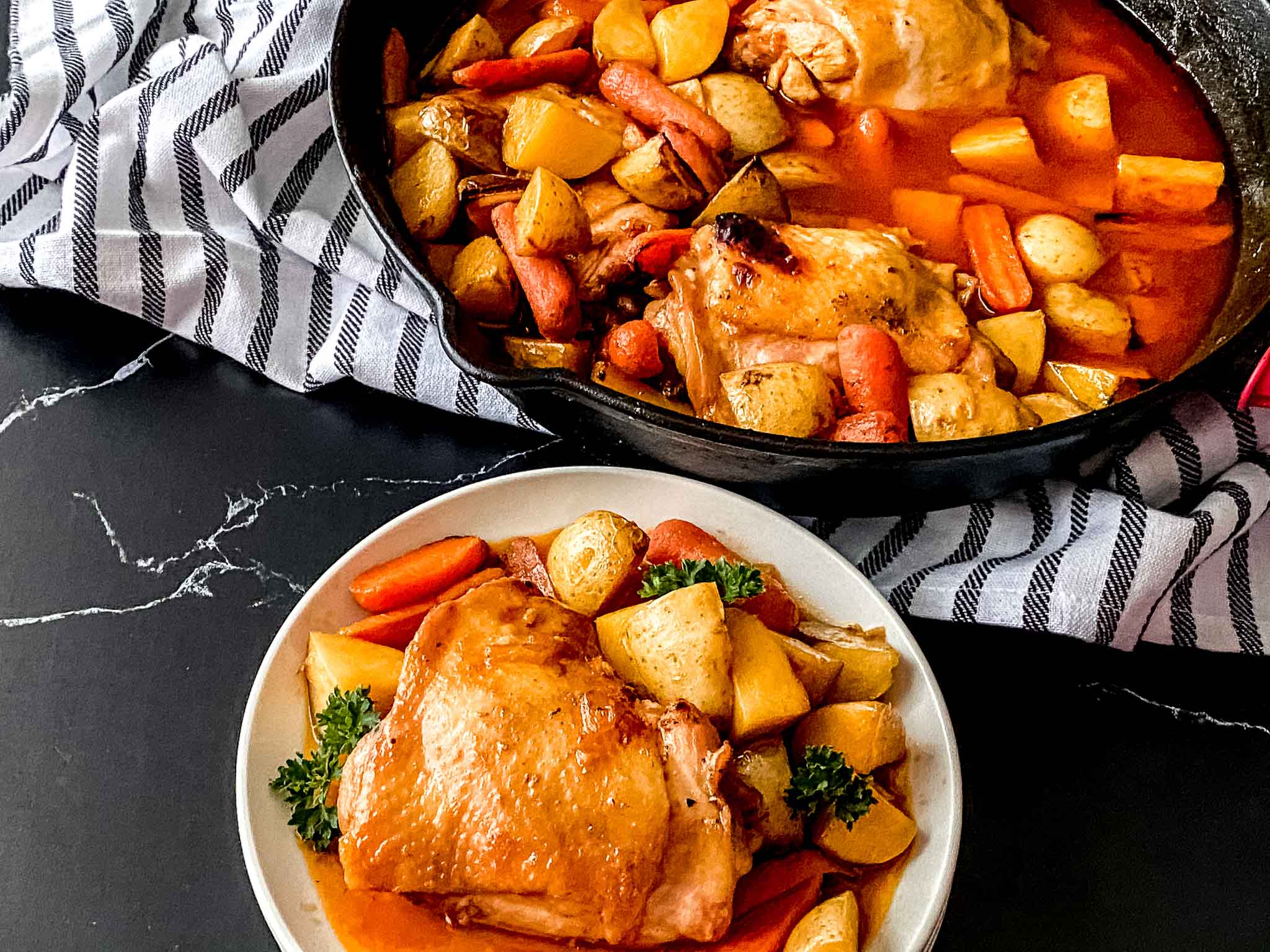 Why Make One Pan Honey Garlic Chicken?
If you're like me, you want to make flavorful meals and super easy recipes for the family. However, you don't want to make a ton of dishes. You'll feel relieved knowing that you can prepare this savory and sweet chicken in a single skillet.
One-Pan Honey Garlic Chicken Thighs: A Symphony of Flavors in a Single Pan
Are you looking for a dinner recipe that's not only mouthwateringly delicious but also easy on the cleanup? Enter the One-Pan Honey Garlic Chicken Thighs—a dish that effortlessly blends the savory flavors of chicken, golden Yukon potatoes, and baby carrots with a sweet and tangy sauce. All these ingredients harmonize beautifully in a single pan, making your cooking and washing endeavors a breeze.
FAQs
Do I have to use chicken thighs?
Chicken thighs are preferred for their juiciness, but you can substitute with chicken breasts if you like.
Can I use other types of potatoes?
Yes, you can substitute with red or russet potatoes if desired.
Is the red pepper necessary?
The red pepper adds color and flavor, but you can omit it if you prefer.
Tips and Tricks
Preheat the Pan: Make sure your pan is hot before adding the chicken to ensure a crispy skin.
Quality of Ingredients: Use high-quality chicken broth and honey for the sauce to elevate the dish's flavor.
Layering: Layer your vegetables under the chicken thighs so they absorb all the delicious juices.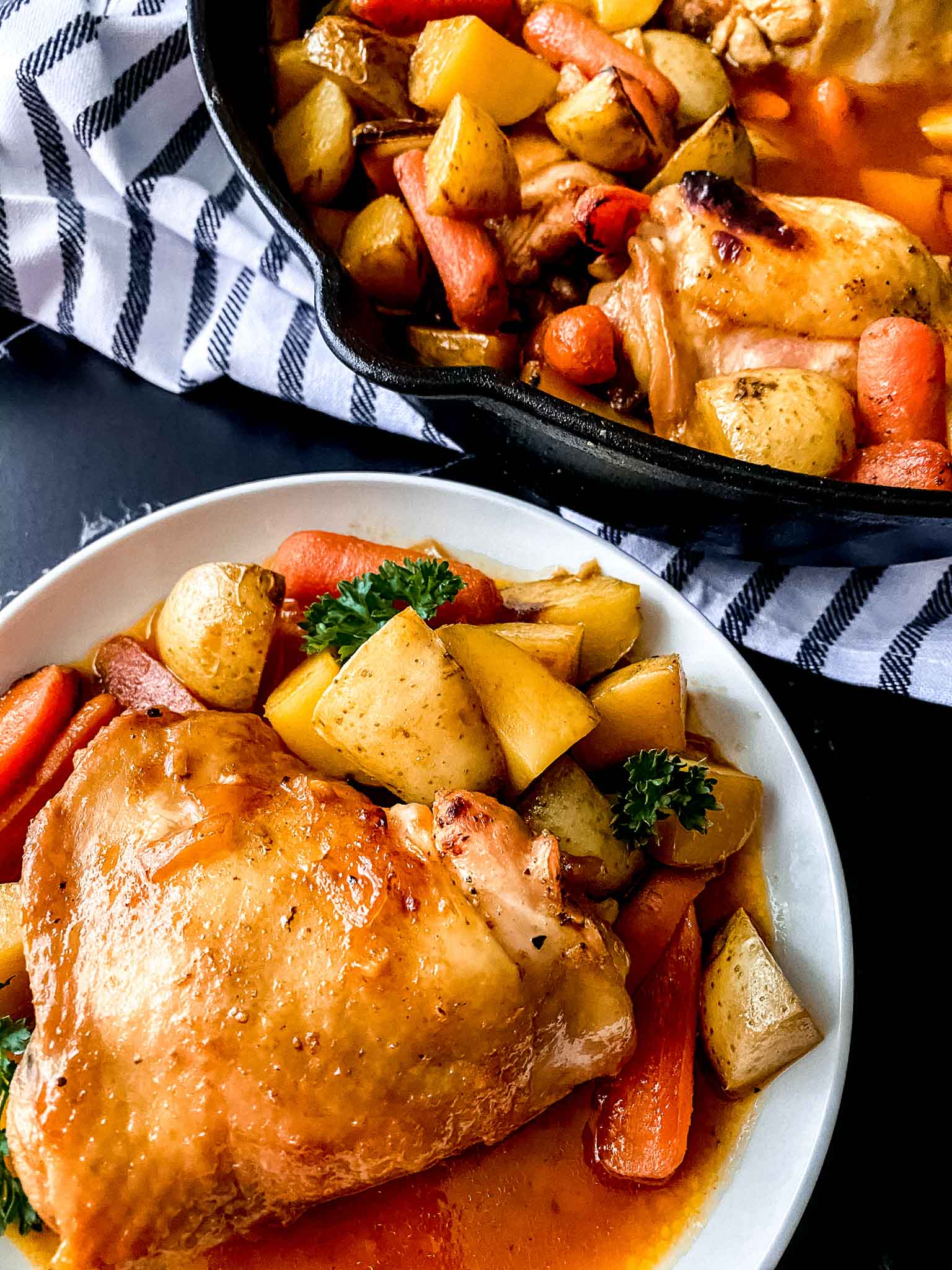 It's a great recipe that will save you some time and energy, allowing you to still put a healthy and delicious meal on the table. If you like the combination of savory and sweet ingredients, this One Pan Honey Garlic Chicken recipe will blow you away. It's genuinely that good!
This delicious recipe can be served with green beans, white rice, sweet potatoes or even cauliflower rice. It is an easy weeknight dinner that you can make in a large skillet. This simple recipe for honey garlic chicken thighs are great for busy weeknights.
Variations
Spicy Version: Add a teaspoon of crushed red pepper flakes to the sauce for some heat.
Vegetable Swap: You can easily switch out the baby carrots for other root vegetables like parsnips or sweet potatoes.
Where to Serve
This dish is perfect for a family dinner but is also impressive enough for guests. It pairs well with a simple side salad or green beans for a well-rounded meal.
Storage
Store leftovers in an airtight container in the refrigerator for up to 3-4 days. The sauce also freezes well.
Common Problems and How to Avoid Them
Soggy Chicken: Make sure the pan is hot before adding the chicken to achieve a crispy skin.
Overly Salty Sauce: The soy sauce already contains salt, so be cautious with the additional season salt.
Tips for Making this Recipe with Kids
Potato Washing: Let the little ones help by washing the potatoes.
Mixing the Sauce: Kids can mix together the ingredients for the honey garlic sauce, teaching them about flavor combinations.
Plus I am all about the easy cleanup, using less time to wash multiple pots.
The Best Type of Chicken to Use to Make the Honey Garlic Chicken
When you want to make the most flavorful chicken to eat, it's best to use chicken thighs. The dark meat chicken brings added flavor to the dish.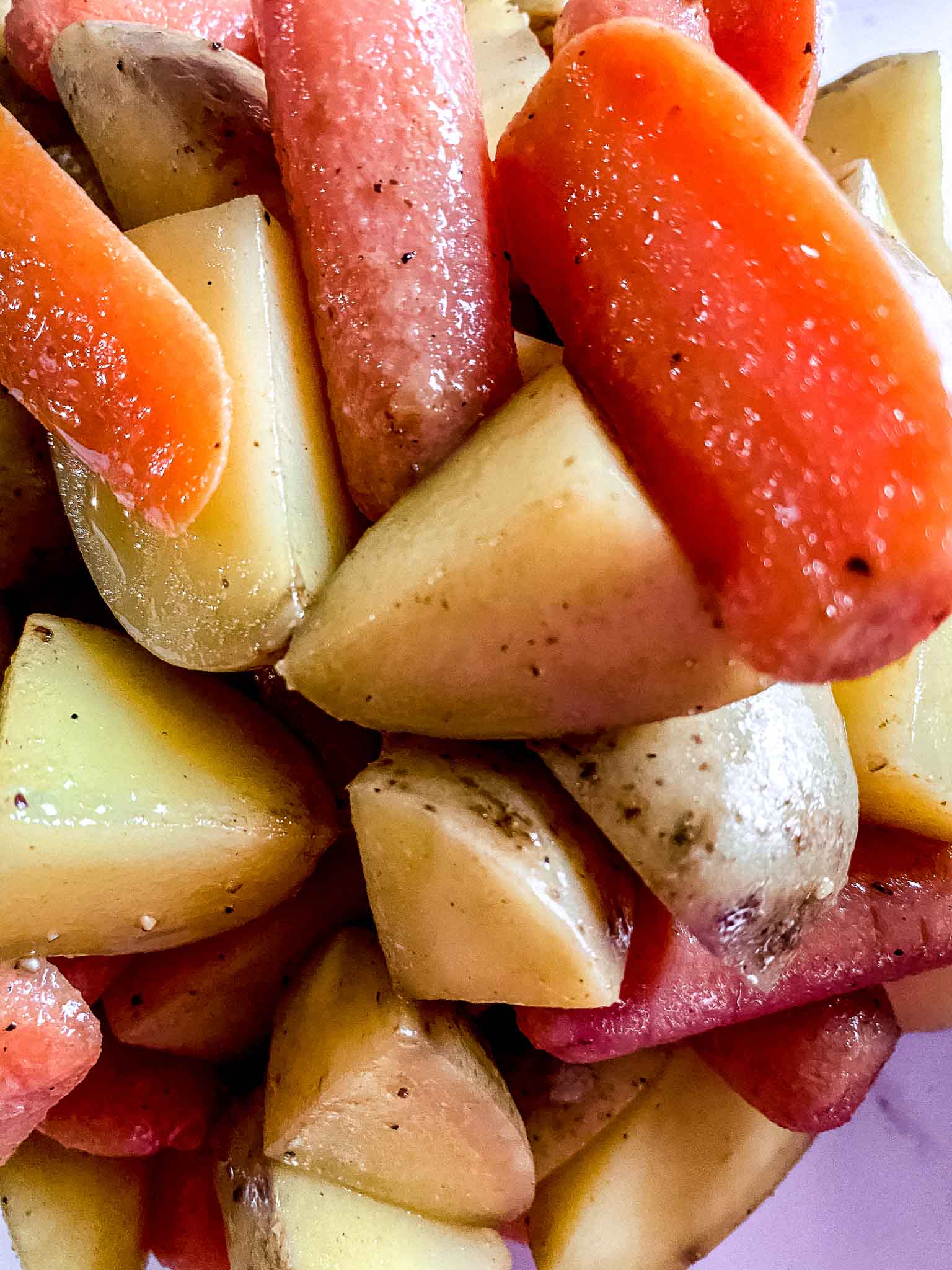 Of course, if you don't have chicken thighs, you can use chicken breast to replace them. If you'd like to make enough chicken to serve four to six people, you'll need to have four chicken thighs or four boneless chicken breasts.
Preparing a Flavorful Sauce to Use on the Chicken
While you may have tasted a honey garlic sauce before, the honey sauce on this chicken has such a unique taste. It consists of chicken broth, soy sauce, honey, and ketchup.
The soy sauce adds a bit of tang, but the honey offers a slight touch of sweetness, both of which taste incredible when combined with the broth and ketchup.
Not only does the sauce taste great, but so does the seasonings you'll use on chicken to give it even more flavor. If you want you can sprinkle with some chopped green onions once you are done.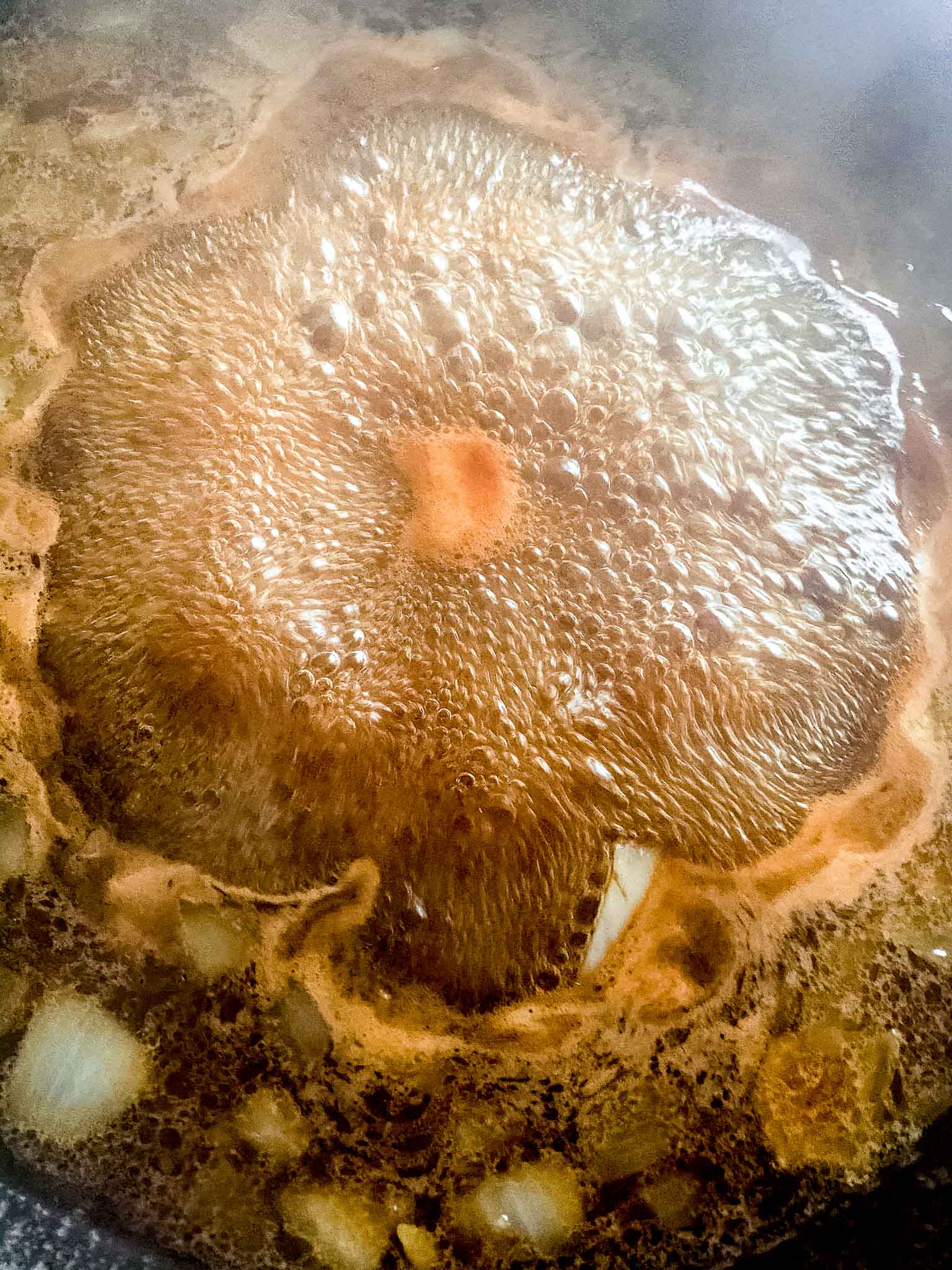 The greatest part about this recipe is the delicious honey garlic sauce. Next time you go to the grocery store be sure to pick up all the ingredients needed for these honey-garlic chicken thighs.
Topping Options
Fresh Herbs: A sprinkle of freshly chopped parsley or cilantro adds a burst of color and flavor.
Sesame Seeds: These add a lovely crunch and aesthetic appeal.
Why This Recipe Works
One-Pan Wonder: Cooking everything in one pan makes for easy prep and cleanup.
Balanced Flavors: The sweet and salty sauce perfectly complements the savory chicken and vegetables.
Versatility: The basic ingredients can be easily swapped out to cater to different tastes and preferences.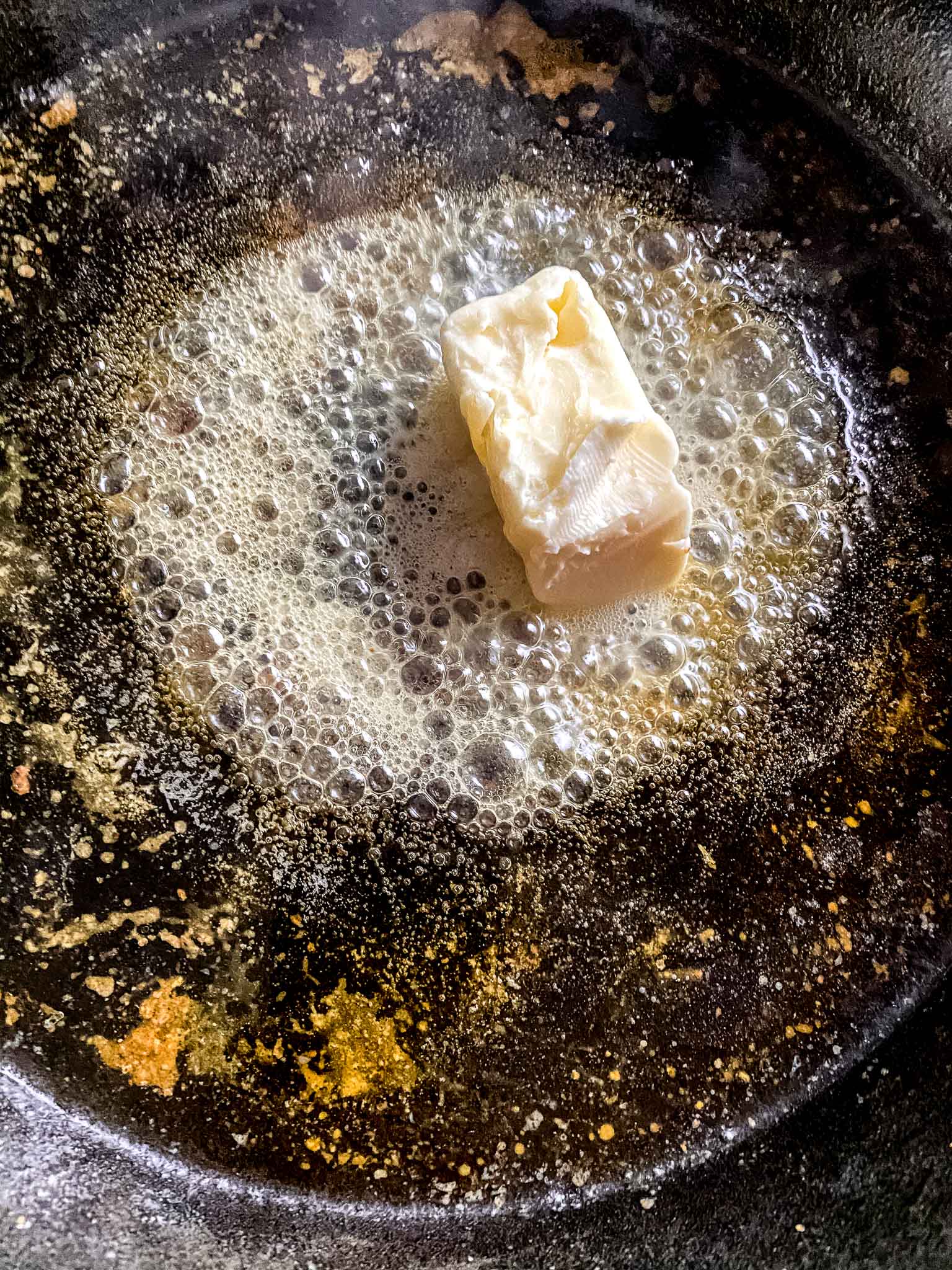 Some recipes call for red chili flakes, chili sauce, tomato paste, and sometimes lemon juice. The great thing about this recipe is that it's awesome for the whole family.
What ingredients are needed for this easy honey garlic chicken recipe?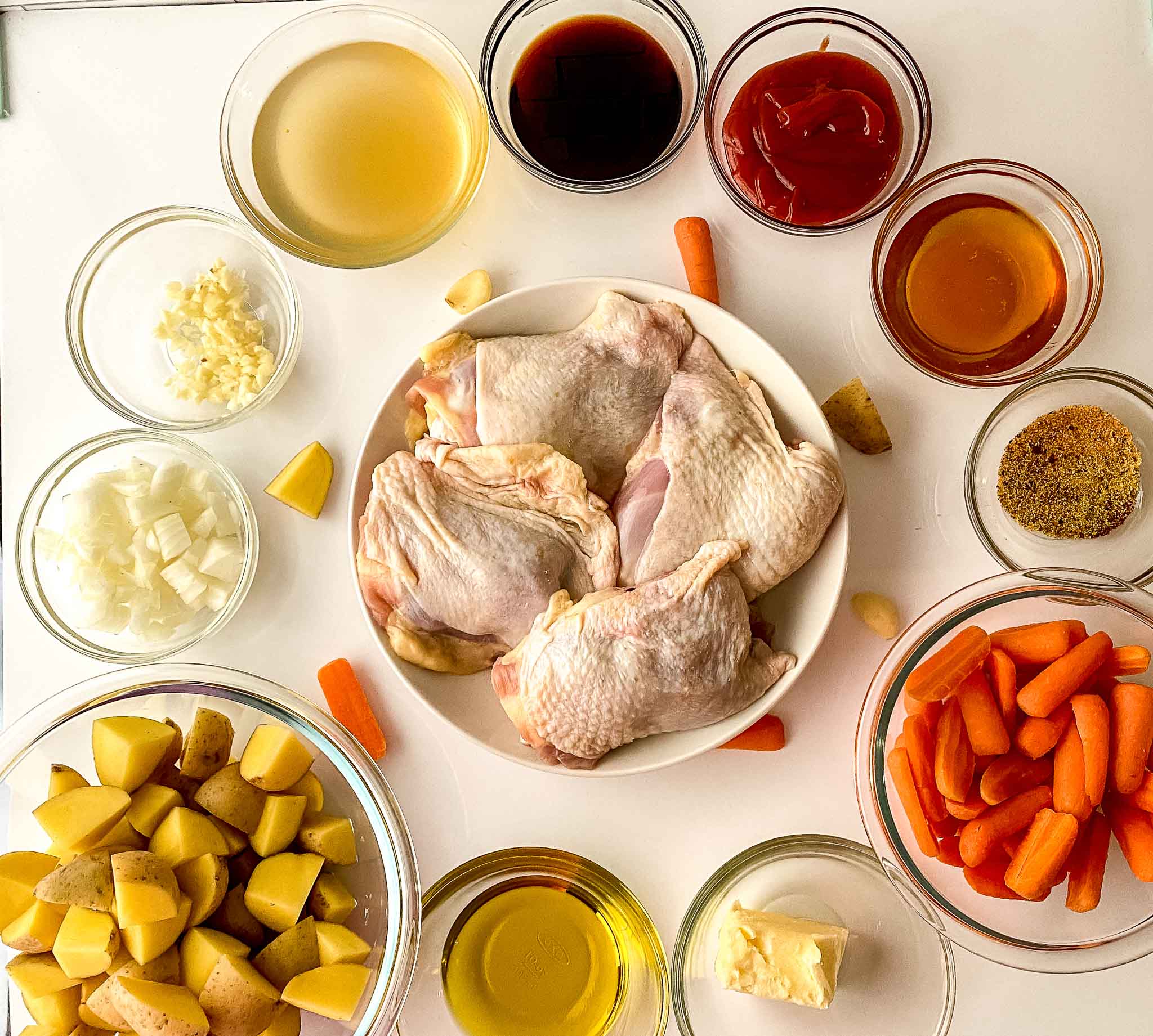 Ingredients
4 chicken thighs
6-8 golden Yukon potatoes
12-15 baby carrots, sliced in half
1 cup chopped onions
1 cup red peppers, optional
4 cloves of garlic, smashed and chopped
1/4 cup butter
1/4 cup olive oil
1 tbsp season salt
1 tsp lemon pepper Seasoning
1 tsp garlic powder
2 tsp black pepper
Sauce
1 cup chicken broth
1/2 cup soy sauce
1/2 cup honey
1/2 cup ketchup
What equipment do I need for this recipe?
Large pan or cast iron skillet
Wooden spoon
This recipe can be made with boneless skinless chicken thighs or chicken thighs with the skin on. Let me know what everyone thinks when you make this chicken dish with this yummy sauce for family dinner!
The One-Pan Honey Garlic Chicken Thighs recipe is a lifesaver for busy weeknights and a star player for weekend feasts. Its versatile ingredient list and simple yet effective cooking technique ensure a flavorful, satisfying meal every time. The sauce—oh, the sauce!—ties everything together in a sweet and tangy embrace that you'll want to pour over just about everything. Happy cooking!
Here are some other amazing chicken thigh recipes to try!
If you are looking for more fun dinner recipes be sure to check out this comprehensive list! Easy and Tasty Dinner Ideas For The Whole Family
Yield:

4 servings
Easy One Pan Honey Garlic Chicken Dinner
This easy one pan honey garlic chicken is so good for family dinners! Featuring a yummy sauce that is so full of flavor and delicious!
Ingredients
4 chicken thighs
6-8 golden Yukon potatoes
12-15 baby carrots, sliced in half
1 cup chopped onions
1 cup peppers, optional
4 cloves of garlic, smashed and chopped
1/4 cup butter
1/4 cup olive oil
1 tbsp season salt
1 tsp lemon pepper Seasoning
1 tsp garlic powder
2 tsp black pepper
Sauce
1 cup chicken broth
1/2 cup soy sauce
1/2 cup honey
1/2 cup ketchup
Instructions
Preheat oven to 425
Add oil to cast iron skillet and heat on medium high brown both sides of chicken thighs about 3 to 5 minutes on each side.
Remove chicken from pans and let it sit.
Add butter to pan and let it melt.
Add potatoes and carrots to pan and sauté for 7 to 8 minutes season with salt and pepper, to taste. Remove potatoes and carrots.
Add garlic and onions and sauté for 3 to 4 minutes add in all of the ingredients for the sauce and bring to a boil.
Add the chicken potatoes and carrots back to the pan and bake in oven for 30 minutes

Notes
This dish can be seasoned to your liking. Try adding Cajun spices to the chicken run in the beginning. The combination of sweet and heat will be delicious.
This dish can be done with skin on or skinless chicken thighs
Nutrition Information
Yield
6
Serving Size
1
Amount Per Serving
Calories

719
Total Fat

30g
Saturated Fat

10g
Trans Fat

0g
Unsaturated Fat

19g
Cholesterol

133mg
Sodium

3173mg
Carbohydrates

90g
Fiber

8g
Sugar

35g
Protein

30g
If you enjoyed this recipe be sure to check out these fun recipes too:
The Best Classic Buttermilk Fried Chicken Recipe
Air Fryer Dry Rub Chicken Wings
Easy Homemade Crispy Chicken Tenders
Chicken Wings 3 Ways: Dry Rub, Buffalo & Caribbean Style
Hi! I'm Nellie. I am a busy mama of three, wife to my high school sweetheart who loves to cook, workout and stay organized! I love to share helpful printables, the best recipes and fitness tips for the modern mom. I strongly believe that every mom can feed their family well, take proper care of themselves and have fun along the way! Read my story.
Get comfortable and be sure to come hang out with me on social. Don't grab your free fitness journal before you go!