Easy Self Care Tips To Treat Your Body Right
This post is sponsored by Olay
One of the hardest things to do when you are in a brand new situation is to keep a routine. It can be super difficult, especially when everything around you is changing. Today I am going to share some easy self care tips to help you set an easy self care routine that you can do daily with little thought.
Do Some Form Of Physical Exercise
This part is hard. I get it. Most days I get up and I don't want to do anything else but lay on the couch with my favorite snacks and watch endless episodes of The Office and King of Queens. Getting up and moving is *not easy*.
However, I have noticed that when I do move–whether it is getting on my bike for 20 minutes (sometimes even 15), walking for a few blocks, dancing for my favorite playlist with my toddler, or even deep stretching–it helps SO much. It clears the mind, it helps to hit a reset button and you feel so much better for it. The hardest part honestly is just starting but once you are there, you are better for it.
Drink More Water Than You Think
Anybody else's water intake plummeted since being home? Water intake is just one of those things that you HAVE to stay on top of. There have been many days since this started that I have barely drunk 8 ounces.
Meanwhile, we should ALL be drinking at least half our body weight in water ounces every single day. It is fantastic for our skin, our organs and so much more. I've started drinking water while I work, even if I'm not thirsty. I've also started drinking water while I cook, since I'm spending a lot of time doing that every single day. 🙂
Find One Piece of Happy, Do it Everyday
Waking up every day can be a bit of a groundhog's day. We get up, we workout, get ready to distance teach, cook, clean and etc. It is so important to find your happy inside of the daily tasks as well.
First thing you need to do is figure it out! Is it walking by yourself while listening to music or your favorite podcasts? Or is it sitting in the car with your favorite snack? Or is it a new video game? For me, I am currently obsessed with the Animal Crossing game on the Nintendo Switch and I cannot play until I've finished all of my *tasks* for the day. It is a little bit of happy that belongs to me and ME only and looking forward to that one thing helps a lot throughout the day.
Take Care Of Your Skin
A really good friend of mine, one that I call big sister because I am ALWAYS asking her advice on life and things, has the most amazing skin I've ever seen in my life. When we first met, I asked her straight up what made her face so glowy and stunning and youthful?
She responded to me with "Olay".
She said her grandmother told her to use a little every day to keep the wrinkles away. She never wears makeup outside of her signature lash extensions and she is simply stunning. I always say I want to be like her when I grow up, so I naturally started using Olay products over 10 years ago.
Even though you may not be doing a full face every day, be sure to moisturize! It is so important for your skin and it doesn't matter what type it is. I have consistently oily skin that I managed to get under control by moisturizing daily. It seemed super counterproductive at the time but once I tried it, moisturizing daily helped to balance my skin right out.
Today I am so excited to introduce you to the new Olay Regenerist Whip SPF 40! This moisturizer offers heavy hitting SPF protection without weighing your skin down. The Whip technology offers a light formula that transforms from cream to liquid on contact for fast absorption and it is super breathable on your skin.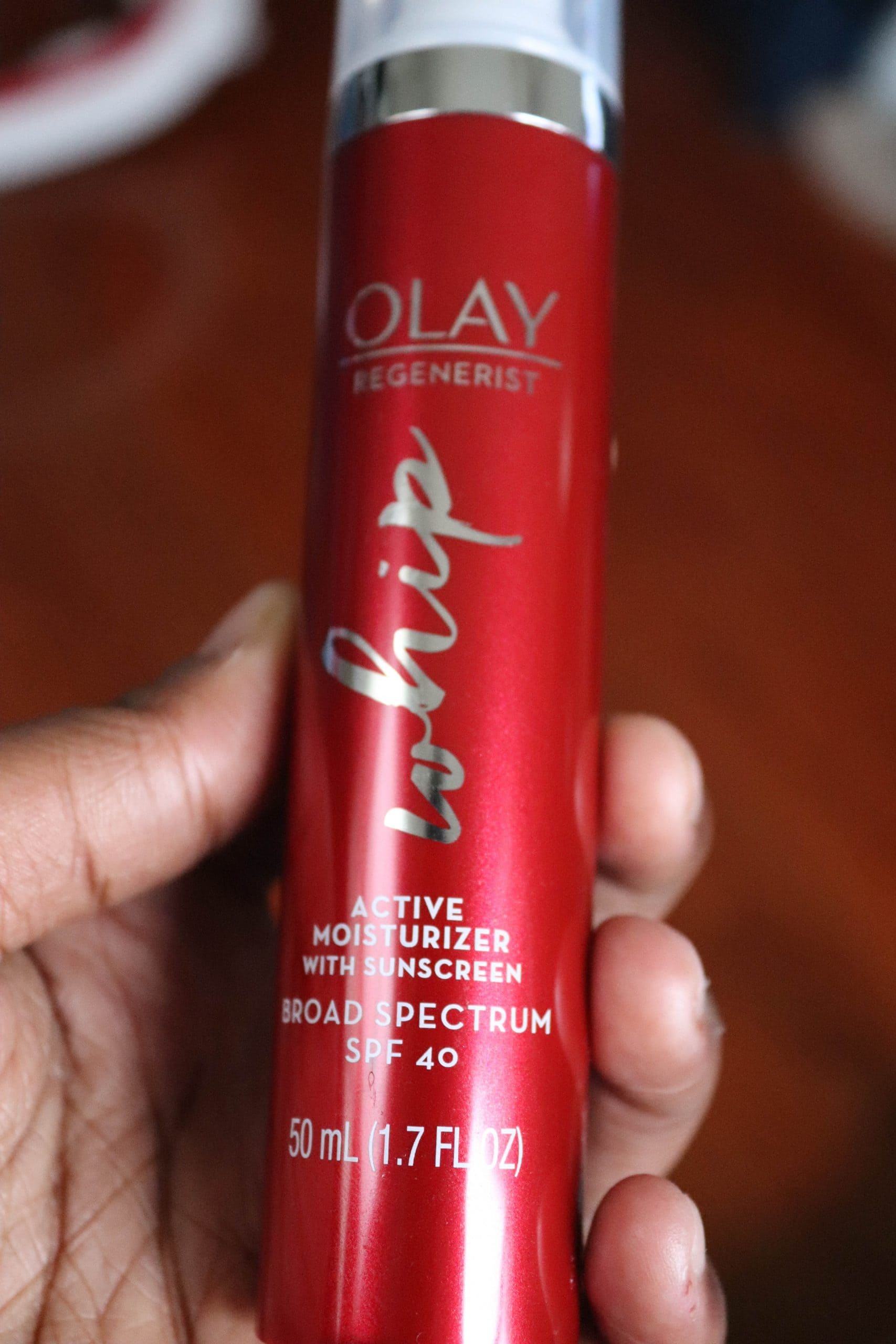 This SPF 40 moisturizer actively hydrates to improve your skin's elasticity and firms your skin for a lifted look. Which means that you are protected when you go out on your daily walks!
How Did The Olay Regenerist Whip Work For Me?
To check and see if the Olay Regenerist Whip with SPF 40 was as blendable as they say, I first tried it on my hand. I put a little and rubbed it right in. Even on my hand you could see the difference between where I used it and where I didn't. Plus a little hand that was investigating as well. 🙂
The product has a really good smell and it is super lightweight. I was able to blend it right in with my skin with very little effort. Since moisturizer is all I am wearing these days, it's great to know that I am also protecting my skin with SPF when I'm out for my walks.
To learn more about the Olay Regenerist Whip check out more here.
How are you taking care of yourself these days?
Hi! I'm Nellie. I am a busy mama of three, wife to my high school sweetheart who loves to cook, workout and stay organized! I love to share helpful printables, the best recipes and fitness tips for the modern mom. I strongly believe that every mom can feed their family well, take proper care of themselves and have fun along the way! Read my story.
Get comfortable and be sure to come hang out with me on social. Don't grab your free fitness journal before you go!