Happy Friday all!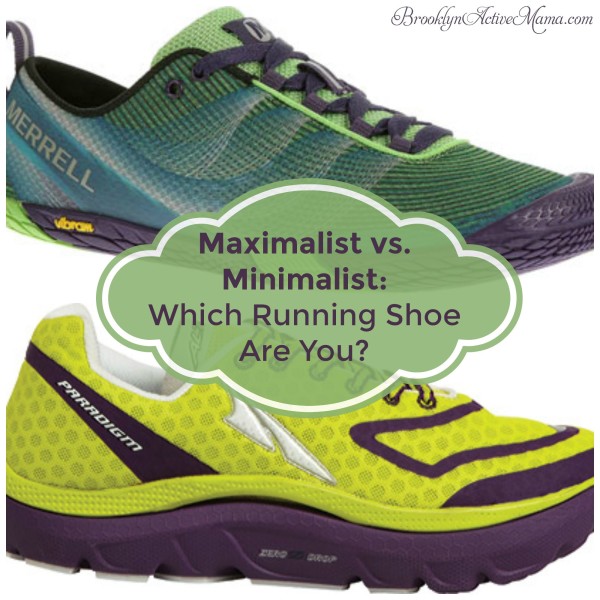 I've been *officially* running for a year now but I am learning everyday that there is still so much to learn! Running is a science. We have already addressed the importance of picking the perfect running shoe. However, there is another layer to choosing the perfect running shoe: deciding whether or not you prefer a minimalist vs. Maximalist type of shoe.
I recruited Sean the shoe expert from the Shoebuy Event that I attended last month, because I was just impressed and highly interested in the science behind shoes he was sharing. He had so much great info in his brain so I am so excited to have his expertise here on the blog!
Minimalist vs. Maximalist Running Shoes – the benefits of each and how to choose
a. The difference between minimalist and maximalist running shoes has everything to do with the stack height, also known as the height of the mid-sole. Designed to mimic running barefoot, minimalists range from having no midsole at all, such as Merrell's Pace Glove, to low profile, low-drop midsoles, like those found in New Balance's Minimus collection. Maximalists are the opposite of these, and feature a big, thick mid-sole with lots of cushioning. These styles still offer a lower heel to toe drop and often a natural foot shape (i.e., wider, more accommodating forefoot that mimics the shape of your foot).
Maximalists descended from ultra-running –longer than marathon distance, often over variable terrain – where foot protection is very important. For many runners, minimalist shoes are not practical, especially when you're running on pavement. A minimalist shoe will offer a greater touch – you're closer to the ground and you may feel more stable—and are best for biomechanically efficient runners, which is a fancy way of saying runners whose feet work very well. Maximalists are for those looking for more cushioning and protection, likely more high-mileage runners.
Sean's Picks:
i. Maximalist: http://www.shoebuy.com/altra-footwear-paradigm/699536 OR http://www.shoebuy.com/asics-33-m-running-shoe/742345
ii. Minimalist: http://www.shoebuy.com/merrell-vapor-glove-2/730846 OR http://www.shoebuy.com/new-balance-zero-v2/671472
Benefits of buying running shoes online
a. Regular runners likely already know what shoes or style of shoes work for them, and often times already have a specific style or brand in mind when setting out for a new pair. For runners that are ready to replace their favorite, go-to shoe that they already know and love, online shopping allows them to shop a broader variety of colors and versions (for example, a winterized version of your favorite shoe) than you might find through a specialty or sporting goods store.
Shopping online is your best bet for securing the color you prefer, and it might be the only way to find an extended size or width. Plus, when you're online shopping, you can look at multiple views of the style to get a true sense of how the shoe will look, and you can read through customer reviews and product information provided by the retailer to really get a sense of the features and fit as well.
[Tweet "Which type of #running shoe are you? Minimalist vs. Maximalist explained by @ShoeBuy expert! #runchat"]
So which one are you? Minimalist? Maximalist? Somewhere in between? How was your fitness and wellness week?
Hi! I'm Nellie. I am a busy mama of three, wife to my high school sweetheart who loves to cook, workout and stay organized! I love to share helpful printables, the best recipes and fitness tips for the modern mom. I strongly believe that every mom can feed their family well, take proper care of themselves and have fun along the way! Read my story.
Get comfortable and be sure to come hang out with me on social. Don't grab your free fitness journal before you go!