7 Easy Ways To JumpStart Your New Running Goals
One of the things that I hear the most from my friends is "I wish I could do that" or "It's always been my dream to run but I could never…" I get it, trust me, I was there only 3 years ago. Prior to taking running seriously, I ran completely untrained 5ks (with a fitness base of dance cardio and ellipticals) and they were always semi difficult, but somehow I always felt so accomplished at the end.
Had I known then what I know now, I would have approached running from a different angle. I didn't realize how much mental capacity is needed and how much training is needed even to run your best 3.1 miles!
If you are looking to one day run a 5k or even a marathon but don't know where to start, today I'm sharing my top 7 Ways to Jumpstart Your new Running Goals.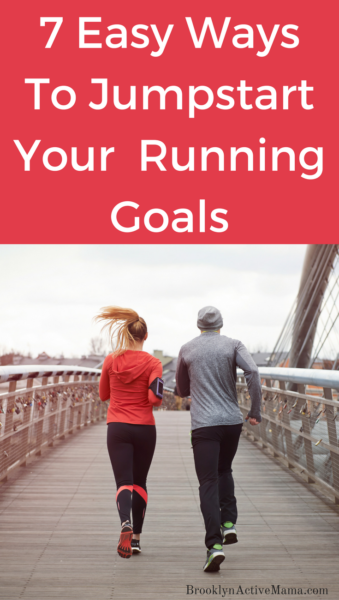 Get In A Groove: Before I started running seriously I used to think that all runners ran every single day for miles and miles. Just the thought of this was SO overwhelming for me because I wanted to run, but I also wanted to cross train and do other things. I started by running a conservative 2-3 times a week and added on according to how I felt versus running every single day of the week. Building a base foundation for running is critical! Don't forget that in order to run, you must walk so run/walking is a great option too!
Have a goal: A goal can be anything you want it to be–1 mile? 5k? 10k? It is a lot easier to stay focused on your running journey when you are looking towards a goal. Plus you can keep track of your progress and not burn out so easily. Having a race on the calendar (even a virtual one) is a FANTASTIC motivator!
Understand that this is NOT easy: The one mistake I made when I started running was comparing myself to everyone else. I'd see people on the race course, the track, the park and wonder why running wasn't the easiest task for me. Now I understand that like anything else running takes a lot of practice to improve. You may be a natural born runner, but even the fastest runners can admit that running their quickest pace is HARD. That feeling of accomplishment and happiness you get when you start to see the fruits of your labor make it SO worth it!
Believe in Yourself: This is a tough one because believing in yourself is such a personal task. When you look to go past your limits, it's easy to get discouraged and think that you can NEVER achieve that pace or distance. I felt that way more than once during my first round of marathon training. The key is getting out and hitting the pavement, put some confidence in your back pocket and attempt that distance or pace with everything you've got!
Push a (Little) Harder: At some point things are going to become a bit easier for you. This is where you need to kick it up a notch. Since growth is only found outside of your comfort zone, you have to be constantly diligent about working harder and getting better. That could mean running faster for 30 second intervals, or simply running longer distances.
Listen to your body: When you get in a good running groove it is SO hard to break. The stars align and you find yourself looking forward to every run. However, you start to feel a tweak here and there. Or you have had a lingering sickness and maybe you didn't skip your run to get better. You always should listen to your body, the signs could be small and minor to very loud and painful. ALWAYS take the time to address the issue whether its with rest, or the doctor. The problem could easily spiral and leave you sidelined for months!
Have FUN: I know this sounds super simple and obvious but when I started running I took everything so incredibly serious! I was devastated when a training run wouldn't be up to my standards, or super discouraged if it was scheduled to rain on race day–now I know that there will be good days and bad. The weather will never always be perfect but some days, more often than not–it will be. I will not set a personal record at every race but I will smile, give high fives and sometimes even dance in the streets.
Looking to start a brand new #running journey? Check out these 7 Tips To Jumpstart Your Running #Goals! #runchat #run Click to Tweet
Running is an amazing adventure! If you are starting a brand new running regimen, welcome to the running community. If you know someone that wants to start running be sure to share this post with them!
For my experienced runners: What would you add to this list to help with running goals?
For my newbie runners: Did you learn anything new?
Hi! I'm Nellie. I am a busy mama of three, wife to my high school sweetheart who loves to cook, workout and stay organized! I love to share helpful printables, the best recipes and fitness tips for the modern mom. I strongly believe that every mom can feed their family well, take proper care of themselves and have fun along the way! Read my story.
Get comfortable and be sure to come hang out with me on social. Don't grab your free fitness journal before you go!