These free printable Christmas Cookie Exchange Party Kit will make for a memorable holiday event! Includes voting ballots, invitations and wall decor!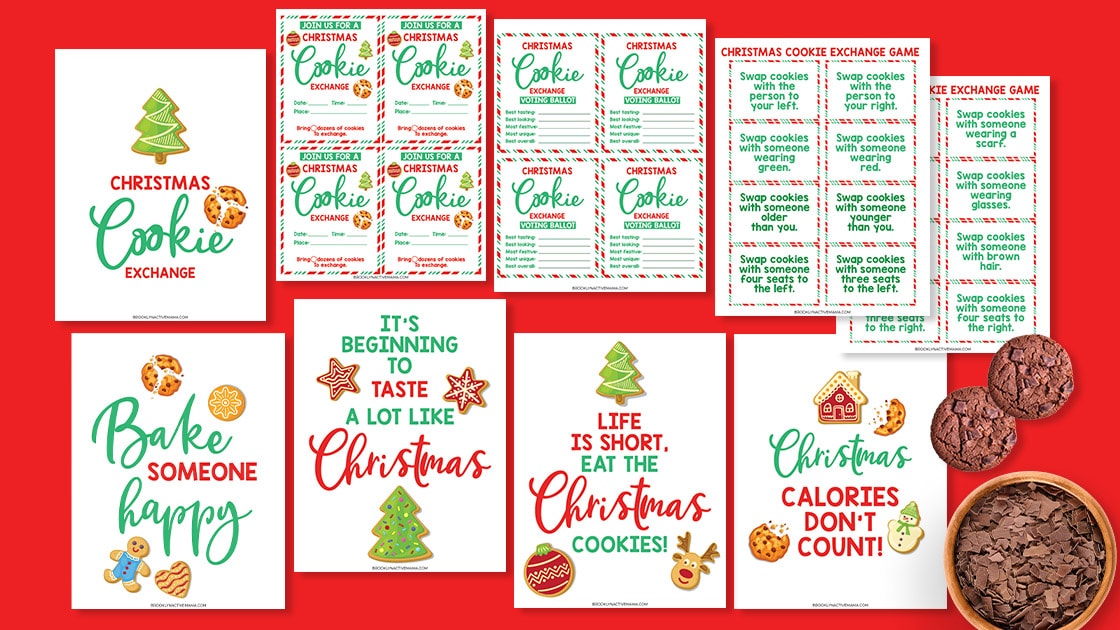 Why do a cookie exchange for the holiday?
A cookie exchange is a great way to get into the holiday spirit! Not only will you have the opportunity to bake and eat delicious cookies, but you'll also get to meet new people and swap recipes.
Plus, it's a great way to save on holiday baking – why make 10 different kinds of cookies when you can just make one?
Ah, the cookie exchange – a deliciously fun tradition that embodies the spirit of giving, community, and of course, indulgence in sugary treats! At first glance, it might seem like just an excuse to eat cookies (not that we'd ever need one), but hosting a cookie exchange is so much more than that. It's a delightful event where memories are baked, traditions are shared, and the joys of the season come alive. Let's explore the many reasons why hosting a cookie exchange is an utterly delightful experience.
Diversity of Flavors: Ever wanted to travel the world on a plate? A cookie exchange is your ticket. From Italian biscotti to German lebkuchen, Dutch stroopwafels, or American chocolate chip cookies, you get to taste a variety of treats that you might not have encountered otherwise. The sheer range of flavors and textures is a delight for the palate.
Showcasing Baking Talents: We all have that one signature cookie recipe passed down through generations or a new one that's just waiting to be shared. Hosting a cookie exchange provides the perfect platform to showcase these delectable creations and to receive oodles of compliments!
Learning New Recipes: Just as you share your recipes, you get to learn others' secrets, too. By the end of the event, not only do you have a full belly, but also a treasure trove of new recipes to try out in your own kitchen.
The Joy of Decorating: The fun isn't limited to the baking. Decorating for a cookie exchange is a treat in itself. Think cozy atmospheres, twinkling fairy lights, warm colors, and perhaps a centerpiece showcasing an assortment of cookies. And let's not forget the themed plates, napkins, and festive drinkware.
Building Community: In a world increasingly dominated by screens and virtual interactions, a cookie exchange offers a wonderful opportunity for face-to-face interactions. It fosters a sense of community, allowing you to bond with old friends and make new ones.
Gifting and Receiving: At the heart of a cookie exchange is the act of giving and receiving. As you share your baked goods, you also receive an assortment from others. Everyone goes home with a selection far greater and diverse than what they came with.
Embracing Tradition (or Starting a New One): For many, cookie exchanges have become a cherished annual tradition. For others, hosting one can be the start of a new festive ritual. Either way, it's an event that participants eagerly look forward to year after year.
The Joy of Sharing: Beyond sharing cookies, these events allow you to share stories, experiences, and traditions. The conversations that flow around the table, accompanied by laughter and perhaps a mug of hot cocoa or cider, are as heartwarming as the cookies are delicious.
An Economical Way to Celebrate: Cookie exchanges are relatively economical. Everyone's pitching in, and since each guest only has to bake one type of cookie in bulk, ingredients can be bought in cost-effective quantities.
Spreading Festive Cheer: If your group bakes extra, you could also decide to share the joy further by donating cookies to local shelters, fire departments, or other community groups, turning the event into a charitable endeavor.
Hosting a cookie exchange is a delightful mingling of flavors, cultures, and friendships. It's a warm, joyous event that provides the perfect excuse (as if we needed one!) to come together, celebrate, and indulge in the simple pleasures of life. Happy baking!
What are the rules of a holiday cookie exchange?
1. Each participant brings a predetermined number of the same kind of cookies (usually 3-4 dozen).
2. Cookies are placed on a table or platter, and each person takes turns choosing which cookies they'd like to take home.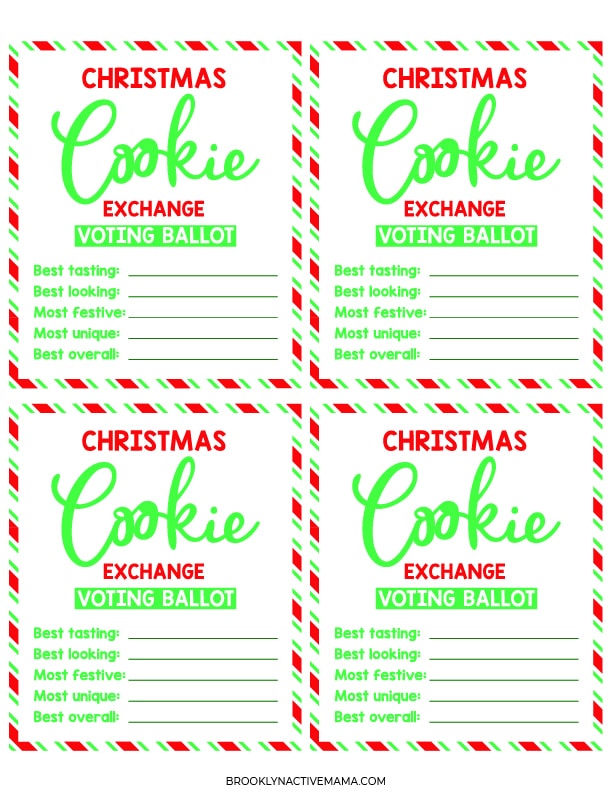 3. At the end of the exchange, everyone goes home with an assortment of different cookies!
How do I host a holiday cookie exchange?
1. Choose a date and time that works for everyone. A weekend afternoon or evening is usually best.
2. Send out invitations (you can use ours!) and ask each person to RSVP with the type of cookie they'll be bringing. This helps to avoid duplicates.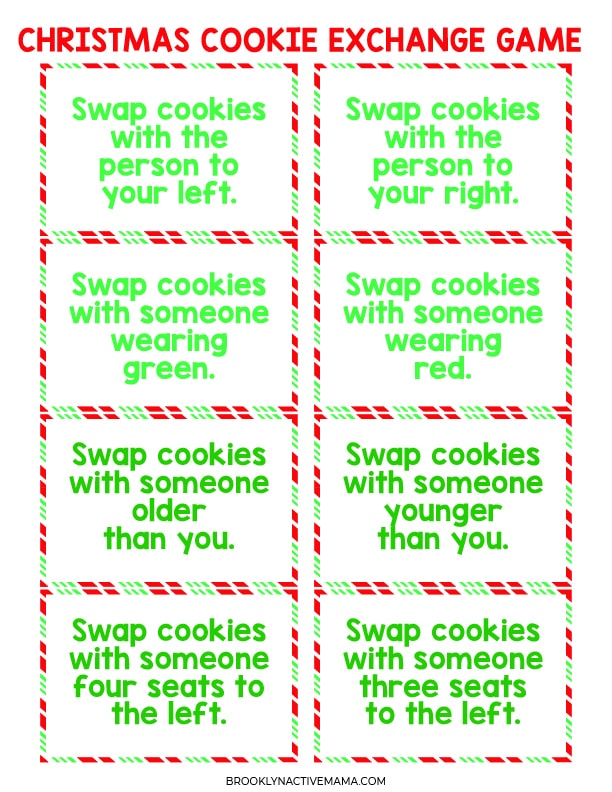 3. Set up a table or platter for the cookies, and provide plates and napkins for people to take their cookies home in.
4. Have fun! This is a great opportunity to socialize and get into the holiday spirit.
What is included in this Holiday Cookie Exchange Printables Kit?
1) Cookie Exchange festive Invitations to send to all of your guests
2) Fun decor to hang or place around the venue
3) Voting Ballots to vote for the best cookie!
What are some fun cookie recipes to make for a cookie exchange?
Pin it for later!
If you enjoyed this recipe be sure to check out my Instagram Page for the latest posts!
Before you go, check out these great posts!
The Ultimate Christmas Planner: 34 Pages Free Printable
Christmas Cranberry Vodka Cocktail For Holiday Parties
Red Velvet Christmas Wreath Cake For The Holidays
Easy Crockpot Christmas Candy Peanut Clusters
Easy and Festive Christmas Oreos
Hi! I'm Nellie. I am a busy mama of three, wife to my high school sweetheart who loves to cook, workout and stay organized! I love to share helpful printables, the best recipes and fitness tips for the modern mom. I strongly believe that every mom can feed their family well, take proper care of themselves and have fun along the way! Read my story.
Get comfortable and be sure to come hang out with me on social. Don't grab your free fitness journal before you go!