Free Things To Do In All 50 States
There are so many fun free things to do in all 50 States! Check out all the things you can do in this free printable!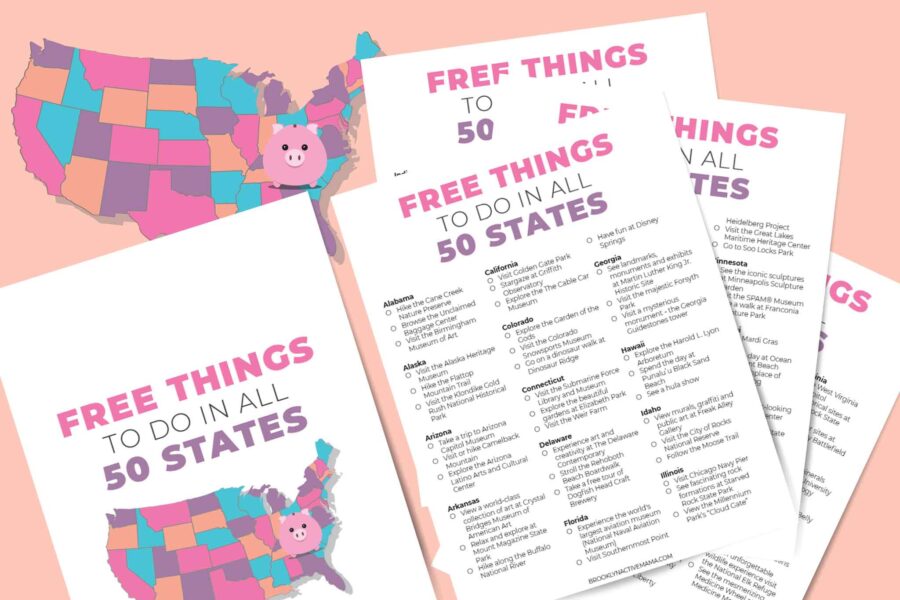 Traveling can be expensive, but that doesn't mean you have to break the bank to explore all that America has to offer. From coast to coast, each state boasts unique attractions and hidden gems that won't cost you a dime. Whether you're an outdoor enthusiast, a history buff, or a culture vulture, there are plenty of free things to do in every state.
Let's take a closer look at some of the best free attractions and activities in all 50 states, so you can plan your next adventure without spending a penny. So sit back, relax, and get ready to explore the beauty of America on a budget.
What skills can I learn from exploring all 50 states in North America?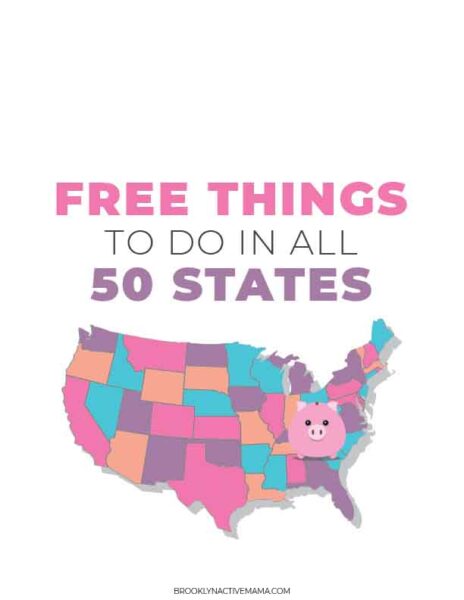 Experience visiting historical landmarks
Take time to visit the visitor center of each state
Get a front row seat to popular attractions.
Understand the difference between free tourist attractions and paid!
What are some free things to do in every state?
Check out diverse landscapes.
Check out the places of interest.
Get an in-depth look at the history of all the states.
Take panoramic views/pictures of mountains, lakes, and oceans.
Free live music
Self-guided tours and interactive exhibits
Take advantage of free parking and free events!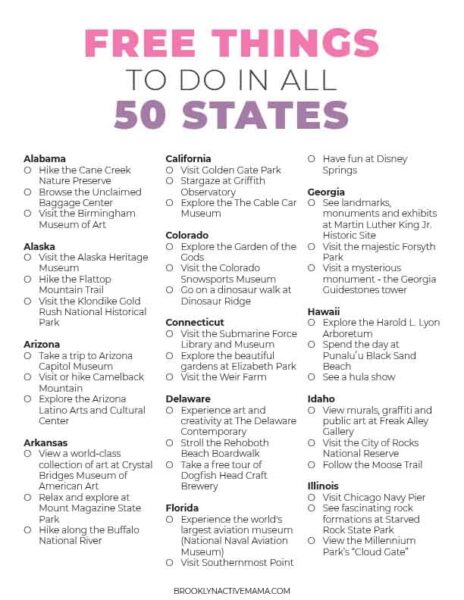 List of the Best Things to Do in All 50 States
Yellowstone National Park
Colorado Springs, Colorado
Visit Little Italy
Visit the Rockefeller Center
Check out the National Historic Landmark(s) in each state.
Space Museum
Atlantic City
National Parks and Historic Sites in the USA
Smithsonian Museums
The Capital Building of each state
Crater of Diamonds State Park
Visit New York City and Central Park
Historic Homes and Historic District(s)
Grand Canyon
Virginia Beach
Bourbon Trail
St. Augustine Beaches and Downtown
Scenic Drive in New Jersey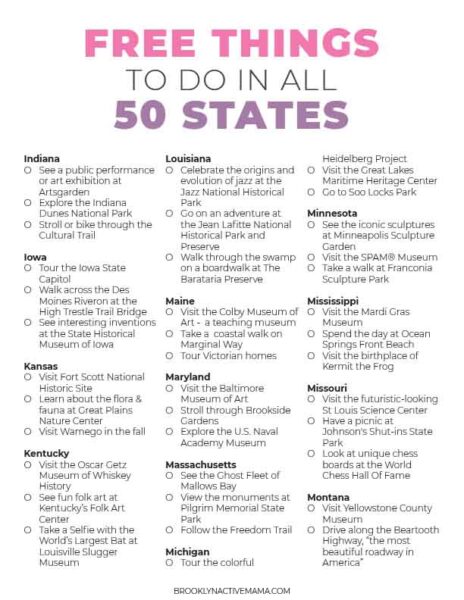 More Tips for Visiting All 50 States
Whether you're visiting North Carolina or Staten Island Ferry, there is never a shortage of things to do! Check out these tips for visiting things that are open year-round and seasonally in the USA. A walking tour, visiting a beautiful park, or just taking in the best views, you can't go wrong visiting ALL 50 of the states.
Research attractions and events in advance
Before you set off on your journey, take some time to research the free attractions and events that are available in the state you plan on visiting. This will allow you to plan your itinerary and make the most out of your visit. OR use my list of free things to do in all 50 states!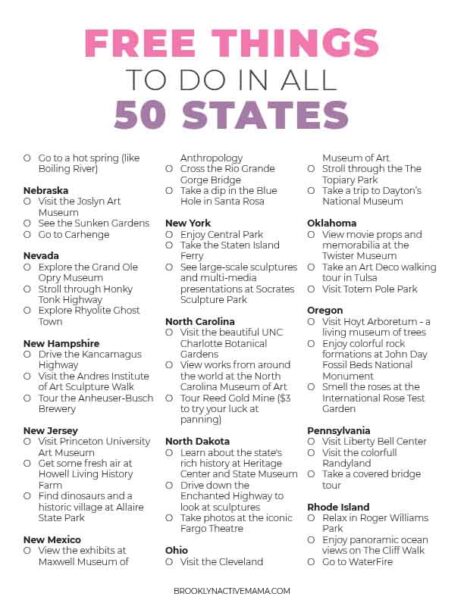 Be aware of seasonal changes
Many states experience extreme weather changes throughout the year, so it's important to visit during a season that will allow you to enjoy the outdoor activities that interest you the most.
Consider alternative forms of transportation
Depending on the state you're visiting, it may be more cost-effective and enjoyable to use public transportation or rent a bike instead of renting a car or taking a taxi everywhere.
Take advantage of free tours
Many cities and attractions offer free tours, so take advantage of these opportunities to learn more about the history and culture of the state you're visiting.
Don't forget about the wilderness
Many of the most breathtaking sights in America's 50 states can be found in national parks and other wild areas. Make sure to factor in time for a hike or a picnic in a scenic natural location.
By keeping these tips in mind, you'll be able to make the most out of your visit to any of the 50 states without breaking the bank. Go ahead and download this printable, so you can see ALL the free things to do in All 50 States!
Download your Free Printable Free Things To Do In All 50 States
What are some other fun travel posts to check out?
Pin it for later!
If you enjoyed this recipe be sure to check out my Instagram Page for the latest posts!
Before you go, check out these great posts!
Get 12k Steps With These Fun Things To Do In Washington DC This Summer
Traveling Solo: The San Diego Zoo
What To Do With 6 Hours In San Francisco
Hi! I'm Nellie. I am a busy mama of three, wife to my high school sweetheart who loves to cook, workout and stay organized! I love to share helpful printables, the best recipes and fitness tips for the modern mom. I strongly believe that every mom can feed their family well, take proper care of themselves and have fun along the way! Read my story.
Get comfortable and be sure to come hang out with me on social. Don't grab your free fitness journal before you go!