These bakery style chocolate chip scones are so good and easy to make right at home. Simple ingredients for a delicious sweet treat!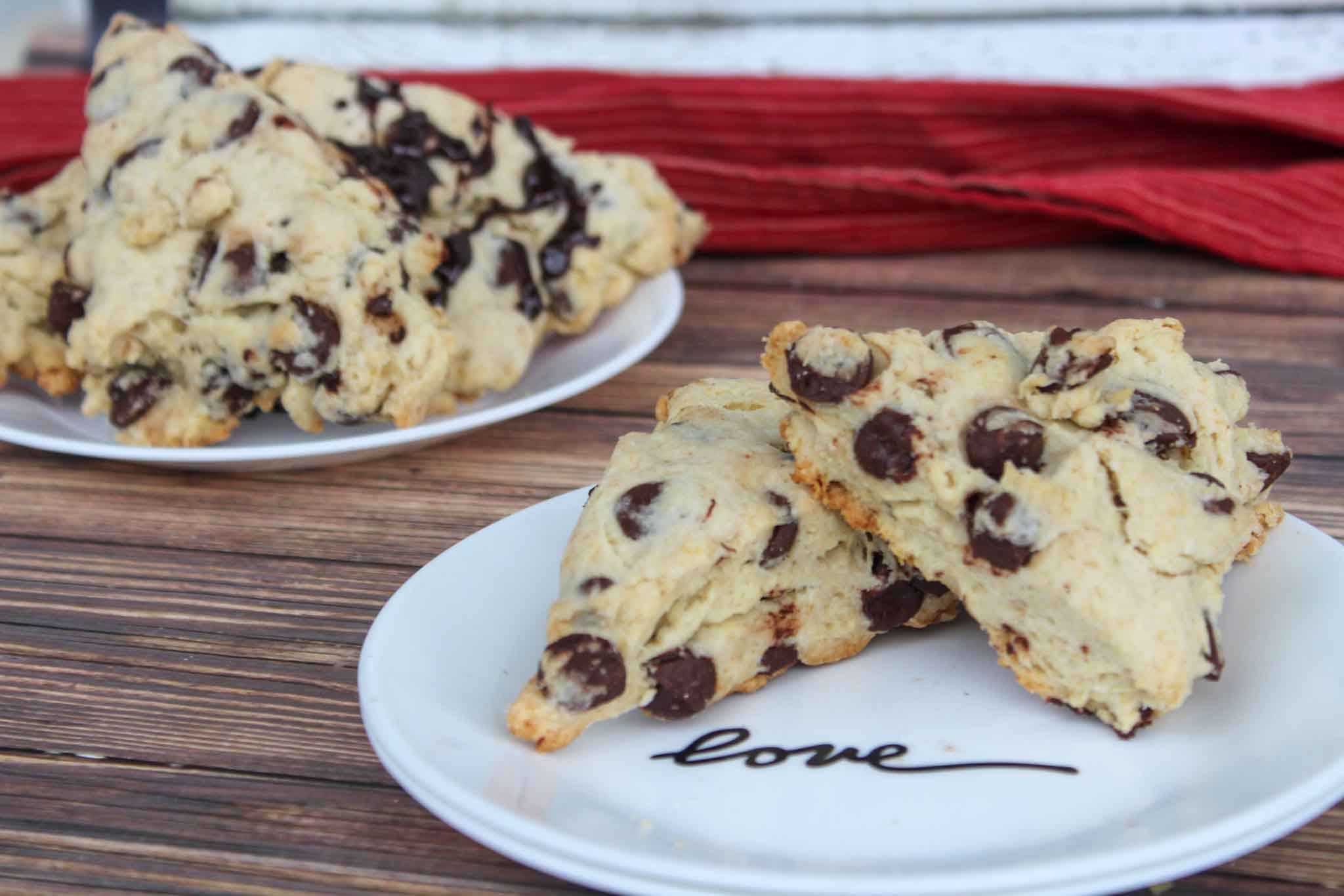 What is the secret to making really good scones?
The key is to have cold butter and cream. It is important not to over-mix the dough, as this will create tough scones. The ingredients should come together just until they form a shaggy lump.
Next, pat out the dough so it is about 1/2 inch thick and use a biscuit cutter or glass cup to cut out scones. Place the scones on a parchment-lined baking sheet and brush them with cream or egg wash for a golden brown finish. Lastly, bake in the oven until golden and enjoy!
Is heavy cream or buttermilk better for scones?
It depends on the recipe you are making. Buttermilk adds a slight tanginess to scones, while heavy cream will result in richer and more tender scones.
Both ingredients work well in recipes, however they can change the texture of the scone so use whichever you prefer! If you are looking for a lighter option then buttermilk is the better choice.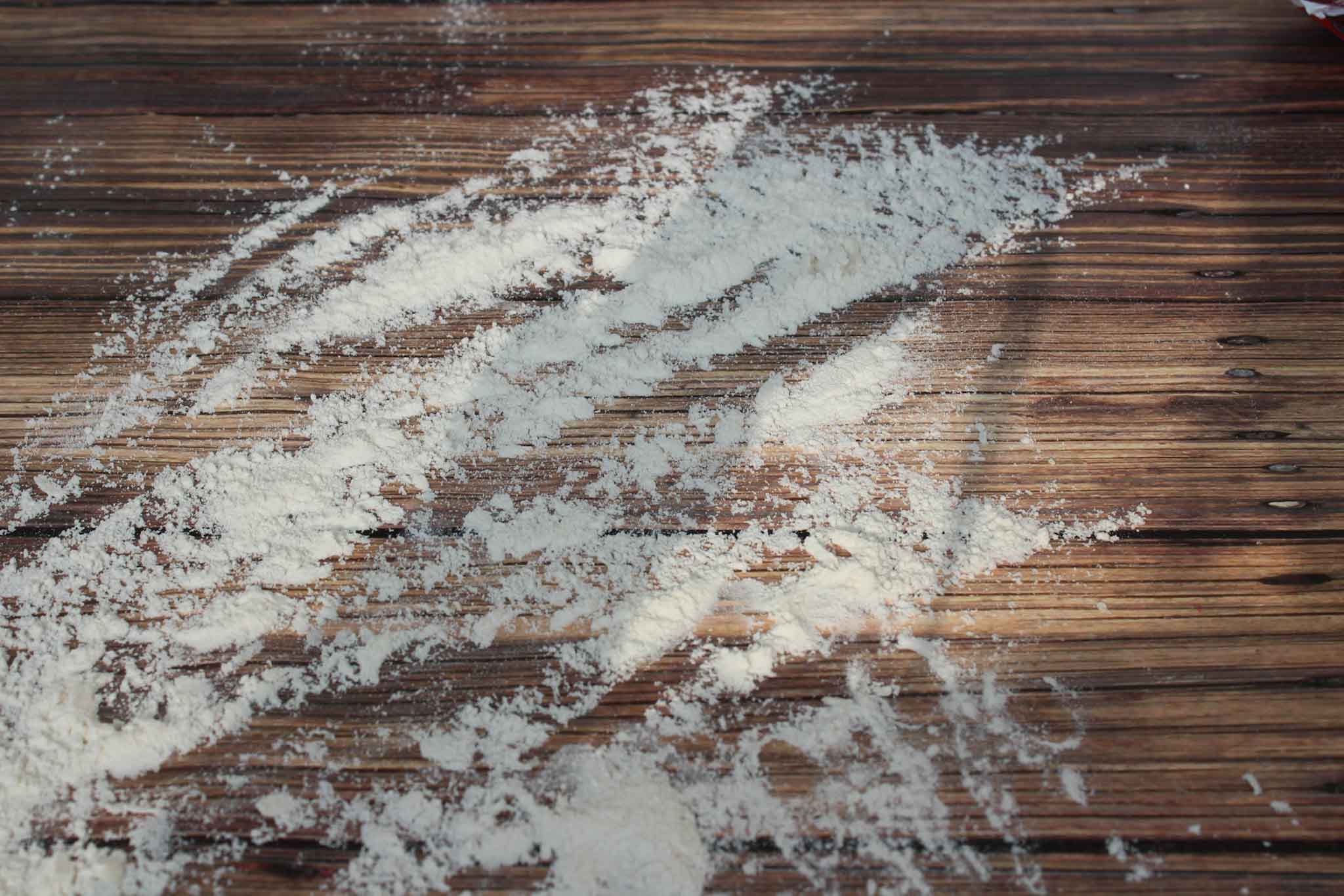 What can I add to scones for extra flavor?
There are so many ways to customize your scones! Add dried fruit like blueberries, cranberries or raisins for a sweet touch. You could also try adding chopped nuts or chocolate chips for a richer flavor.
If you want something savory, try adding herbs and cheese to the dough. You can also drizzle a glaze of melted butter or honey over the scones before baking for an extra touch of sweetness. No matter what you choose, your scones will be delicious!
Can you use milk instead of heavy cream in scones?
Yes, you can use milk instead of heavy cream in scones. The texture will likely be a bit different since milk is not as rich and creamy as heavy cream, but it will still work. If you do choose to use milk, make sure that it is cold so that the butter doesn't melt when it hits the liquid. This will help to keep the scones light and fluffy.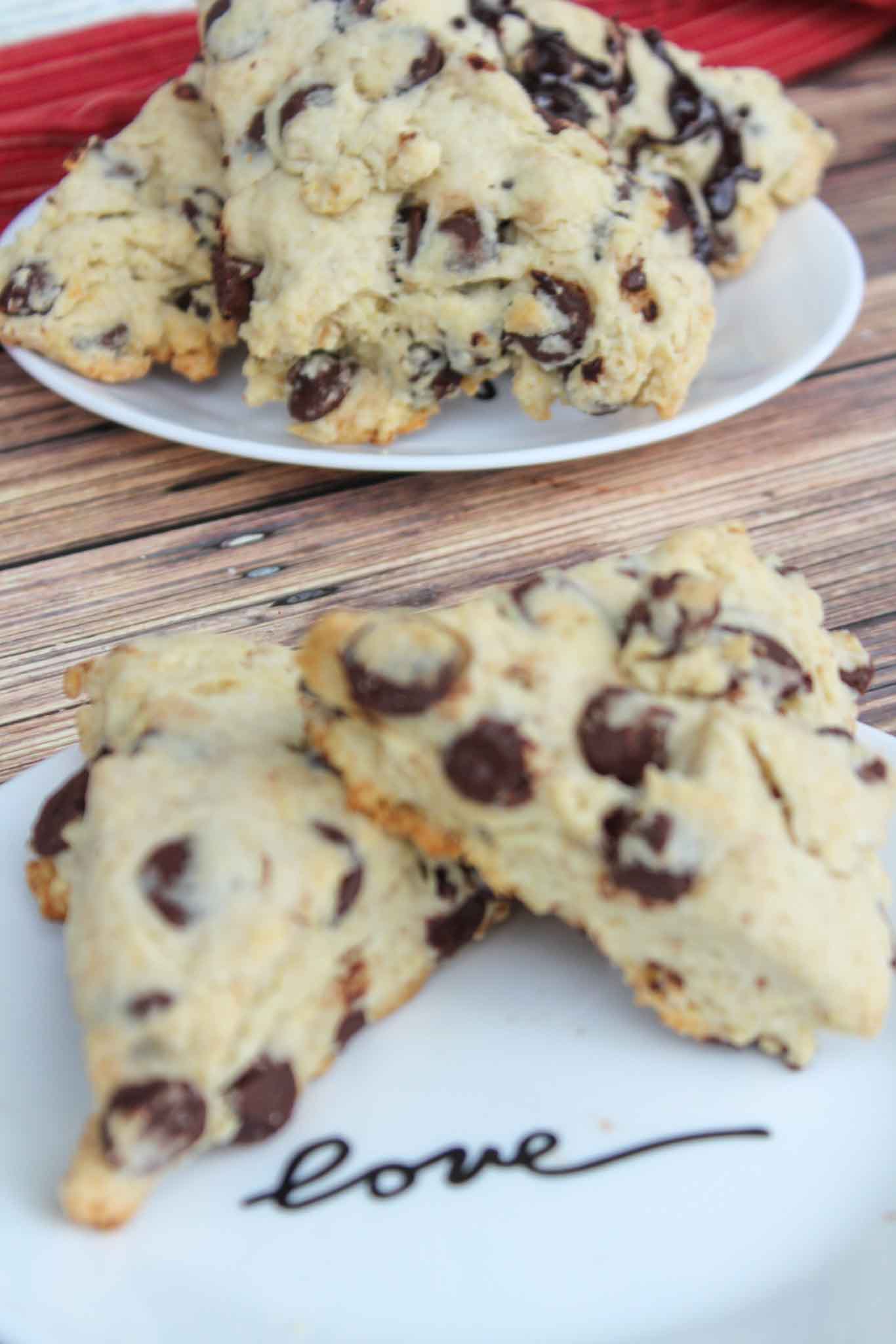 Where can I serve these chocolate chip scones?
These scones are a great addition to any breakfast or brunch table. They can also make an excellent mid-morning snack with a cup of tea or coffee.
For special occasions such as birthdays, holidays, and baby showers, these scones would be a wonderful homemade treat for your guests! Serve them warm out of the oven with a cup of coffee or latte and you're sure to have a hit on your hands.
What other delicious breakfast pastry recipe should you try?
What are some helpful tips for making the best homemade chocolate chip scones?
Some helpful tips for making the best homemade scones include:
-Using cold butter and cream
-Not overmixing the dough
-Patting out the dough to about 1/2 inch thick
-Brushing with cream or egg wash before baking
-Baking in a preheated oven
-Adding mix-ins like nuts, dried fruit, or chocolate chips for flavor
-Enjoying them warm out of the oven with a cup of coffee!
These tips will help you to create delicious bakery style scones in the comfort of your own home. With the right ingredients and techniques, you'll be amazed at the results!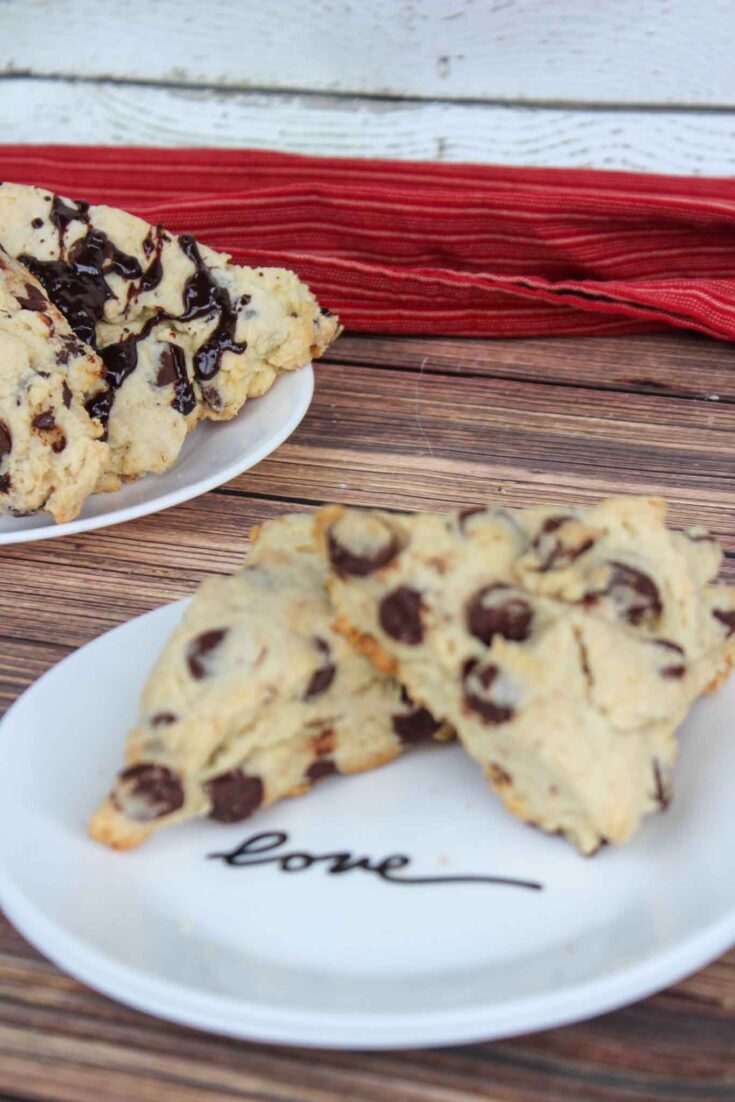 Yield:

8 Jumbo Scones
Easy Bakery Style Chocolate Chip Scones
These delicious bakery scones are so good and easy to make for a yummy breakfast pastry!
Ingredients
2 cups of all purpose flour + extra for dusting
1 tablespoon baking powder
2 tablespoons of white sugar
4 tablespoons of butter, cold
6 ounces of cold heavy cream
2 ounces of cold milk *whole or 2 percent works best*
6 ounces of jumbo chocolate chips
Instructions
Preheat your oven to 400 degrees.
Sift 2 cups of flour into a large mixing bowl.
Sift baking powder and sugar into the mixing bowl.
Discard any lumps!
Give the dry ingredients a good stir to make sure they are all well mixed.
Grate 4 tablespoons of butter with a cheese grater, grating directly into the dry mixture.
Stir everything up, making sure the butter incorporates into the mix, but you do not need to heavily mix yet!
Now add 2 ounces of milk, and give everything a stir.
Add 6 ounces of heavy cream and the chocolate chips.
Mix everything up, so that the ingredients are incorporated evenly.
Now, give your work area a dusting of flour.
Pull the scones dough out of the bowl, onto the floured area and knead it with your hands until the dough doesn't stick to your hands.
You can sprinkle a touch more flour onto the dough, if the dough feels too sticky.
Pat it out with your hands, or a rolling pin (although this is really unnecessary and just creates an extra dish to wash!) until it is about an inch thick.
Cut the dough into 8 sections.
Place on a baking sheet. You can line this with parchment paper or a silicone baking mat to keep clean up a breeze.
Bake in a 400 degree oven for about 25-28 minutes.
You can sprinkle the tops with extra sugar, give them a drizzle of chocolate, or just enjoy as is.
To make a very simple chocolate glaze:
1 cup of powdered sugar
1 tablespoon of cocoa powder
1 to 2 tablespoons of heavy cream.
Blend these ingredients together until you achieve the desired consistency. If the icing feels too thick, add an additional ½ tablespoon of heavy cream at a time until you reach the desired consistency.
Nutrition Information
Yield
8
Serving Size
1
Amount Per Serving
Calories

360
Total Fat

21g
Saturated Fat

13g
Trans Fat

1g
Unsaturated Fat

7g
Cholesterol

41mg
Sodium

241mg
Carbohydrates

42g
Fiber

2g
Sugar

16g
Protein

5g
Pin it for later!
If you enjoyed this recipe be sure to check out my Instagram Page for the latest posts!
Before you go, check out these great posts!
Easy Copycat Burger King French Toast Sticks
50+ Amazing Healthy Smoothie Recipes
The Best Breakfast Recipes For A Great Start To Your Day
10 Easy Overnight Oats Flavors to Try For Breakfast
13+ Best Muffin Recipes To Serve For Breakfast
Hi! I'm Nellie. I am a busy mama of three, wife to my high school sweetheart who loves to cook, workout and stay organized! I love to share helpful printables, the best recipes and fitness tips for the modern mom. I strongly believe that every mom can feed their family well, take proper care of themselves and have fun along the way! Read my story.
Get comfortable and be sure to come hang out with me on social. Don't grab your free fitness journal before you go!