Have you always wanted to impress family members with a dish that you could bring with you to gatherings and family barbeques? If so, you need this perfectly seasoned Potato Salad recipe in your life! It's easy to put together and absolutely delicious.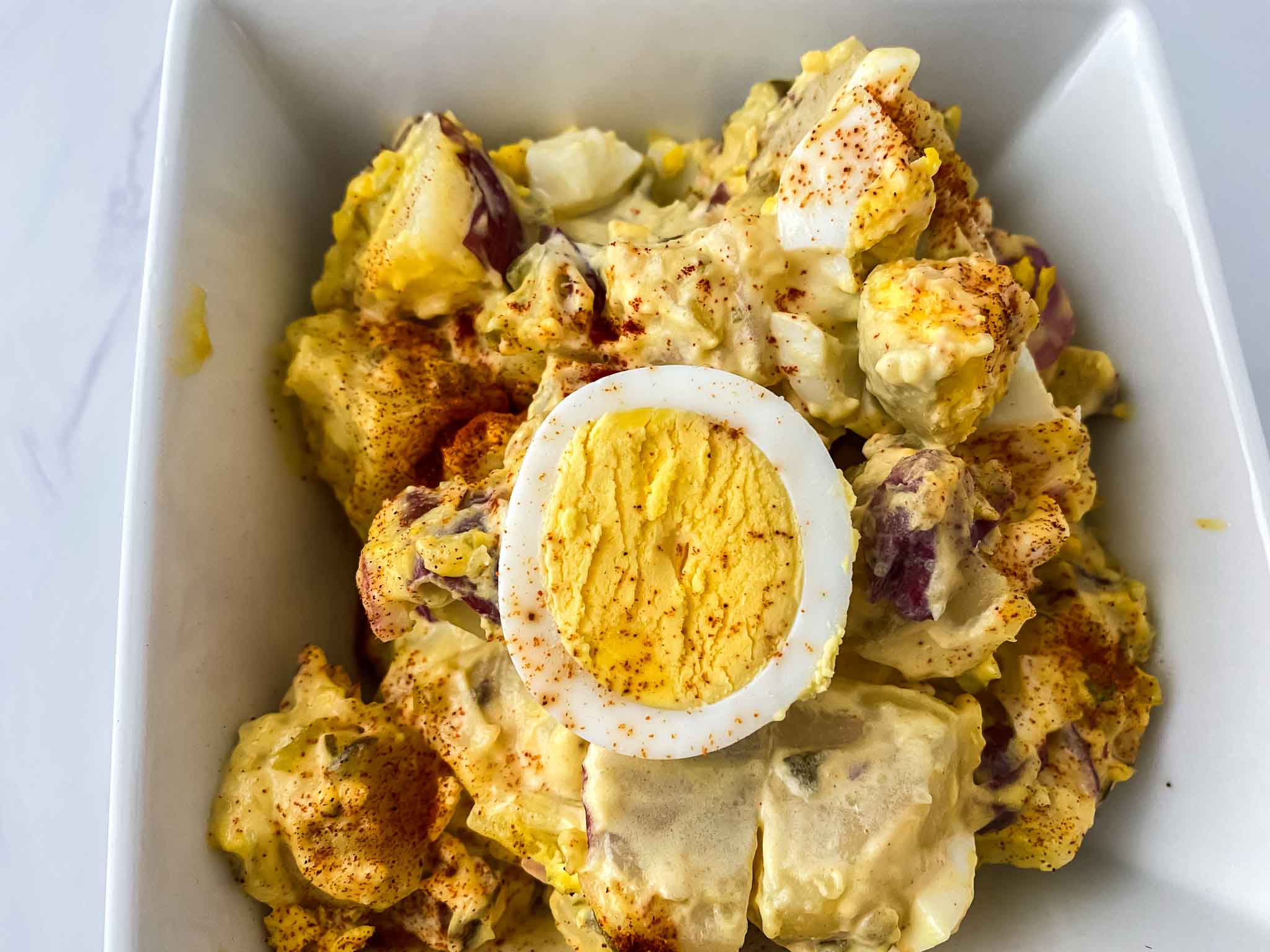 Potato Salad is the perfect side to serve with some of your favorite foods on a hot day, such as hot dogs, hamburgers, ribs, and grilled chicken.
However, it's important to know how to make it well enough. Some people boil their potatoes too long, some people don't use enough mayo, and some people make their potato salad way too plain. This classic potato salad is a great recipe that you can adjust to your personal preference.
If you'd like to make a flavorful side dish that will impress all your family and friends, this recipe is the perfect one to follow.
What ingredients do you need for this easy potato salad recipe?
5 pounds red potatoes
1/3 cup sweet pickle relish
1/4 cup yellow mustard
1/4 teaspoon garlic powder
1/4 teaspoon smoked paprika, plus additional for garnish Salt and Black Pepper, to taste
1/4 red onion, diced
1-2 cup mayonnaise
6 large hard-boiled eggs, quartered
You won't need any red wine vinegar, sweet onion, miracle whip, apple cider vinegar, lemon juice or sour cream for this good potato salad.
What Makes The Potato Salad Different?
You're probably wondering what sets this recipe apart from other potato salad recipes. There is nothing too difficult about this recipe, but it is all about using the perfect combination of ingredients. Trust me this is the very best potato salad recipe and the best choice for a crowd pleaser. You can garnish with fresh herbs like fresh dill or fresh parsley too.
This homemade potato salad recipe uses tender chunks of potatoes and it's a good option for a great side dish. This creamy potato salad is definitely one of my favorite recipes!
Some people use different varieties of potatoes–yukon gold potatoes, fingerling potatoes or even russet potatoes for their favorite potato salad recipes but the best results are always with starchy potatoes so you make the choice about the best potatoes to use!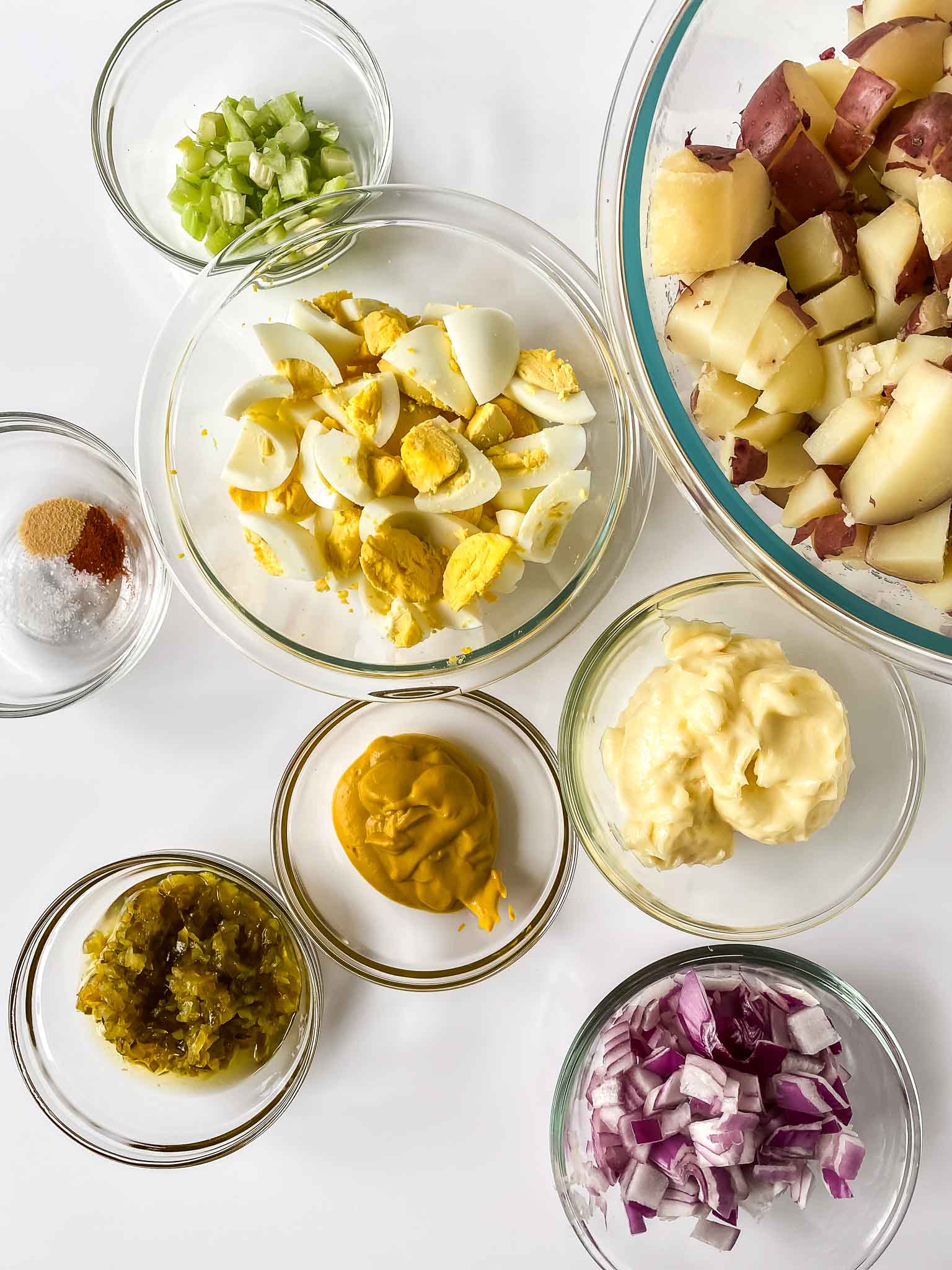 With the right ingredients added to the salad, including mayo, paprika, hard-boiled eggs, sweet pickle relish, and yellow mustard, you'll have a flavorful side perfectly seasoned potato salad that tastes great with everything.
Not everyone knows how to master the art of preparing the perfect potato salad, but when you follow this recipe, you'll make a unique and tasty salad that will have your loved ones asking you for the recipe.
When to Make the Potato Salad
You can make this potato salad whenever you want to. It's the perfect spring and summer salad. It's commonly served during the warmer weather when people are outside grilling some of their favorite foods. This potato salad is great in a large bowl and tastes even better the next day.
Prepare this salad for various occasions, including family reunions, baby showers, and birthday parties.
Make the most impressive potato salad by following this easy recipe. You'll love the way it tastes!
What are some helpful tips for making a delicious potato salad?
1. Choose the right potatoes: For the best potato salad, you'll want to use a starchy, high-diversity type of potato such as russet or Yukon Gold. Avoid using waxy varieties like Red Bliss or new potatoes; they tend to get mushy when cooked and do not hold their shape well in salads.
2. Cook the potatoes correctly: Boil your potatoes until they are fork-tender but still slightly firm. Do not overcook them, as this will make the salad mushy and unappetizing.
3. Use the right dressing: To give your potato salad a creamy texture, use mayonnaise or a combination of mayonnaise and sour cream. Add other flavorful ingredients such as mustard, garlic, onions, herbs, or vinegar to enhance the flavor of the dressing.
4. Add crunchy vegetables: Give your potato salad an extra punch of texture by adding fresh vegetables such as celery, cucumbers, bell peppers, or carrots.
5. Add eggs: Adding chopped hard-boiled eggs to your potato salad gives it a nice texture and adds extra protein.
6. Use the right herbs and spices: To give your potato salad an extra boost, add fresh or dried herbs such as dill, parsley, chives, or tarragon. You can also add a sprinkle of spices such as paprika, garlic powder, onion powder, or black pepper.
7. Taste and adjust the seasoning: Always taste your potato salad before serving to make sure it has enough salt, pepper, and acidity (from vinegar or lemon juice). Add more of these ingredients as needed to achieve the desired flavor. Enjoy!
8. Serve immediately: To keep your potato salad at its best, serve it as soon as it's made. If you plan to make the salad ahead of time, wait until just before serving to add the dressing and other ingredients so they won't become soggy over time. Keep any leftovers in the refrigerator for up to three days. Enjoy!
9. Use fresh ingredients: For the best results, use freshly cooked potatoes, crisp vegetables, and other fresh ingredients when making potato salad. Avoid pre-packaged or canned items as they tend to be overly salty or have a mushy texture.
10. Have fun with it: Potato salad is a versatile dish that can be made in many different ways. Experiment with different herbs, spices, and vegetables to create your own signature potato salad!
Happy cooking!
Yield:

10-12 servings
Perfectly Seasoned Potato Salad For Every Event
This perfectly seasoned potato salad is so great to serve at any event! Made with with flavorful ingredients, that will be a hit at the next party!
Ingredients
5 pounds red potatoes
1/3 cup sweet pickle relish
1/4 cup yellow mustard
1/4 teaspoon garlic powder
1/4 teaspoon smoked paprika, plus additional for garnish Salt and Pepper, to taste
1/4 red onion, diced
1-2 cups mayonnaise
6 large hard-boiled eggs, quartered
Instructions
Fill a large stockpot with heavily salted water, add the potatoes (unpeeled) and bring to a boil.
Cook until fork tender, 20 to 25 minutes.
Drain the potatoes and quarter when cool enough to handle.
In a large bowl, mix together the relish, mustard, garlic powder, smoked paprika, eggs, onion, mayonnaise and a pinch of salt and pepper.
Add the potatoes and toss until combined.

Add additional mayo if it looks dry.

Garnish with smoked paprika.

Serve immediately or cover and refrigerate until ready to eat.
Nutrition Information
Yield
10
Serving Size
1
Amount Per Serving
Calories

563
Total Fat

37g
Saturated Fat

6g
Trans Fat

0g
Unsaturated Fat

29g
Cholesterol

130mg
Sodium

508mg
Carbohydrates

49g
Fiber

4g
Sugar

6g
Protein

10g
If you liked this potato salad recipe be sure to check these out too!
Grilled Steak Kabobs with Homemade Teriyaki Sauce
Tomato Cucumber Greek Pasta Salad Recipe
Easy and Amazing BLT Pasta Salad
Healthy and Tasty Chickpea Salad
Hi! I'm Nellie. I am a busy mama of three, wife to my high school sweetheart who loves to cook, workout and stay organized! I love to share helpful printables, the best recipes and fitness tips for the modern mom. I strongly believe that every mom can feed their family well, take proper care of themselves and have fun along the way! Read my story.
Get comfortable and be sure to come hang out with me on social. Don't grab your free fitness journal before you go!