Red Velvet Cheesecake: A Match Made in Heaven
This red velvet cheesecake is a showstopper, a dessert that's as visually stunning as it is delicious. It starts with a crunchy Oreo crust, followed by a rich cheesecake layer infused with cocoa powder and a hint of tangy flavor from white vinegar and sour cream.
The red food coloring imparts that classic red velvet hue, making it a perfect treat for Valentine's Day or any special occasion. Topped with a velvety cream cheese frosting, this dessert is a love letter to the senses.
FAQs
Q: Can I make this cheesecake without a springform pan? A: A springform pan is ideal for cheesecakes, including this red velvet version, because it allows for easy removal without damaging the cake. However, if you don't have one, you can use a regular cake pan lined with parchment paper, but be sure to grease the sides well.
Q: How do I achieve the perfect red color? A: The key to that signature red velvet color is the right amount of red food dye. Start with the amount listed in the recipe and adjust to reach your desired hue.
Tips and Tricks
Room Temperature Ingredients: Ensure all your ingredients, especially the cream cheese and eggs, are at room temperature to achieve a smooth cheesecake batter.
Water Bath: Baking your cheesecake in a water bath helps to cook it gently and evenly, preventing cracks.
Paddle Attachment: When mixing your cheesecake filling, use a paddle attachment on your stand mixer to avoid incorporating too much air, which can cause the cheesecake to rise and fall, leading to cracks.
Variations
Chocolate Twist: Mix in white chocolate chips into the cheesecake batter for an extra chocolatey experience.
No Red Dye: If you prefer to avoid food coloring, leave it out. The cocoa powder will still give a lovely chocolate flavor.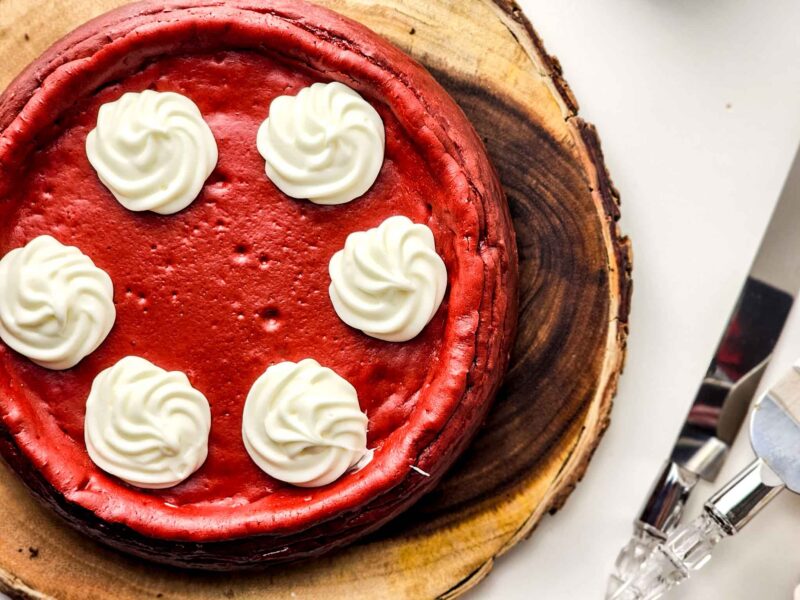 Where to Serve
This red velvet cheesecake is perfect for any gathering that calls for a touch of elegance—think dinner parties, holiday feasts, or a romantic Valentine's Day dinner at home.
Storage
Wrap the cheesecake tightly in plastic wrap or aluminum foil and store it in the refrigerator for up to 5 days. For longer storage, you can freeze it for up to 2 months.
Common Problems and How to Avoid Them
Cracks: Avoid overmixing the batter and don't open the oven door while baking. Let the cheesecake cool gradually in the oven with the door ajar.
Soggy Crust: Prevent a soggy crust by using melted butter in the Oreo crust and pressing it firmly into the bottom of the pan.
Making This Recipe with Kids
Involve the kids by letting them press the crust into the pan or mix the red food coloring into the batter. It's a fun way to introduce them to baking and create lasting memories.
Topping Options
Cream Cheese Frosting: A classic choice that complements the tangy flavor of the cheesecake.
Whipped Cream: Light and fluffy, it adds a nice contrast to the rich cheesecake.
Red Velvet Crumbs: Sprinkle some red velvet cake crumbs on top for a pop of color and texture.
Why This Recipe Works
This recipe is a harmonious blend of flavors and textures. The Oreo crust provides a crunchy base for the smooth, rich cheesecake. The sour cream and white vinegar add the classic flavor associated with red velvet cakes, while the cocoa powder gives a subtle chocolate depth. The cream cheese frosting is the crowning glory, adding a creamy finish that makes this one of the most delicious cheesecakes you'll ever taste.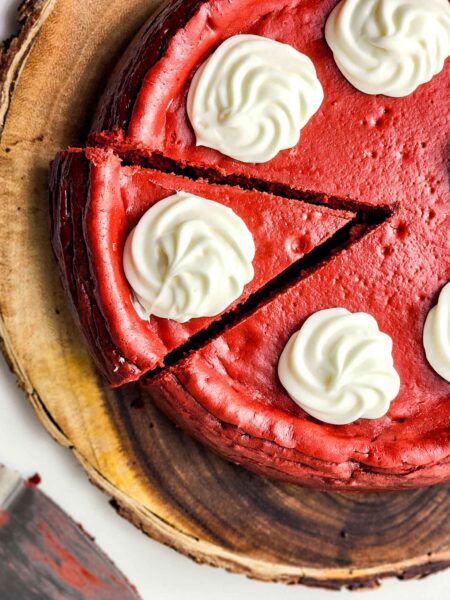 Whether you're a fan of red velvet or just looking for a delicious cake to impress, this creamy red velvet cheesecake recipe is sure to be a hit. It's a labor of love, but the result is a moist red velvet cake layered with creamy cheesecake that's well worth the time invested.
Here are some more amazing red velvet recipes to check out:
Yield:

6-8 slices
Red Velvet Cheesecake
Total Time:
2 hours
15 minutes
Indulge in the luxurious blend of a crunchy Oreo crust and a velvety red velvet cheesecake layer, all topped with a luscious cream cheese frosting. This visually stunning dessert is perfect for special occasions, offering a rich, tangy flavor that's sure to delight any fan of red velvet.
Ingredients
Oreo Crust
2 cups oreos crumbs
4 tablespoons unsalted butter, melted
Cheesecake Filling
24 ounces cream cheese, softened
1 cup white granulated sugar
3 tablespoons cocoa powder
¼ cup milk
2 teaspoons white vinegar
⅓ cup sour cream
2 teaspoons vanilla extract
3 eggs, 1 egg yolk
Red Food Dye
Cream Cheese Topping
4 ounces cream cheese
⅓ cup white granulated sugar
½ teaspoon vanilla extract
⅛ teaspoon salt
1 cup heavy cream
Instructions
Preheat the oven to 350 degrees Fahrenheit. Prepare a springform pan with parchment paper on the bottom and around the edges of the pan.
In a bowl add the oreo crumbs and melted butter. Use a fork to blend together until combined and the oreos become thick and slightly crumbly.
Pour into the prepared springform pan and press in the bottom and slightly up the sides of the pan. Place in the freezer while making the cream cheese filling.
In a large mixing bowl add the cream cheese. Blend the cream cheese until smooth and lump free.
Add the sugar and blend again until combined.
Pour in the milk, vinegar, vanilla extract, sour cream, and cocoa powder at once. Blend with the hand mixer until thoroughly combined. Scrap the sides of the bowl if needed.
Add in each egg, one at a time, blending between each addition. On the last addition of the egg yolk, add the food dye with, using a generous amount depending on the vibrancy of your food dye of choice. The batter is a little brown so you want the batter to be a nice deep red once everything is mixed thoroughly.
Remove the oreo crust from the freezer and pour the red velvet mixture into the springform pan.
Slightly shake the pan to even out the cheesecake and bake in the oven for 60 minutes.
The cheesecake will still be slightly jiggly in the center when done. Turn the oven off and let the cheesecake stay in the oven for another hour to finish cooking and allow it to set perfectly.
Refrigerator for 6 hours or overnight. Make the cream cheese topping about half an hour before serving.
In a bowl, add the cream cheese and white sugar. Blend together until smooth.
Then add the vanilla and salt. Mix once more until combined.
In a separate, smaller bowl, whip up the heavy cream until stiff peaks form.
Add the whipped cream to the cream cheese mixture and fold together until the two are smooth and no streaks are left.
Place in a piping bag fitted with a large star piping tip. Create 6-8 swirls or on top of the cheesecake or as many swirls as slices of cheesecake you plan to cut.
Cut, serve and enjoy!
Nutrition Information
Yield
8
Serving Size
1
Amount Per Serving
Calories

1029
Total Fat

71g
Saturated Fat

38g
Trans Fat

1g
Unsaturated Fat

27g
Cholesterol

260mg
Sodium

692mg
Carbohydrates

87g
Fiber

2g
Sugar

66g
Protein

15g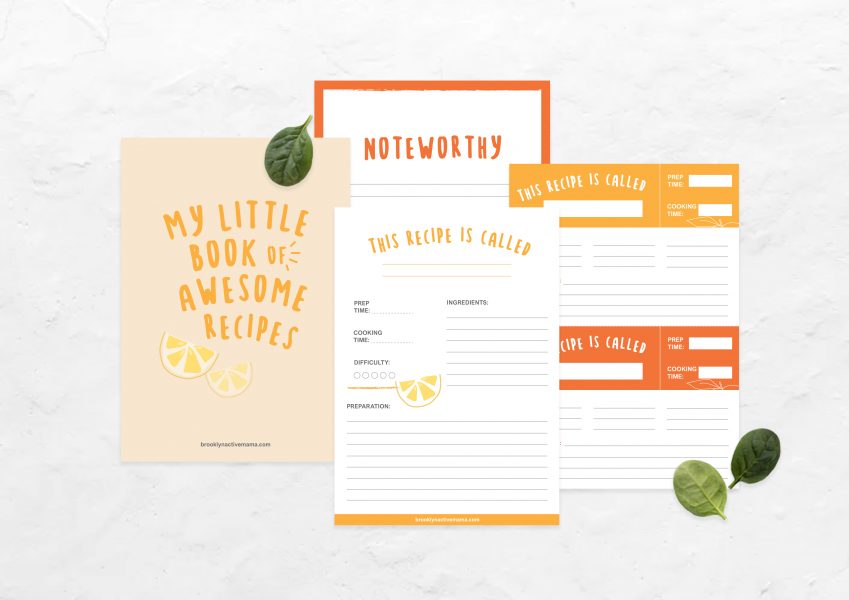 Before you go, grab Your Free Printable Recipe Kit!
Write down your favorite recipes and create your own personal cookbook of your favorite food creations!
Hi! I'm Nellie. I am a busy mama of three, wife to my high school sweetheart who loves to cook, workout and stay organized! I love to share helpful printables, the best recipes and fitness tips for the modern mom. I strongly believe that every mom can feed their family well, take proper care of themselves and have fun along the way! Read my story.
Get comfortable and be sure to come hang out with me on social. Don't grab your free fitness journal before you go!