Have you ever had a Crumbl Cookie? Check out this fun Turtle Crumbl cookie recipe, it's so good and easy to make!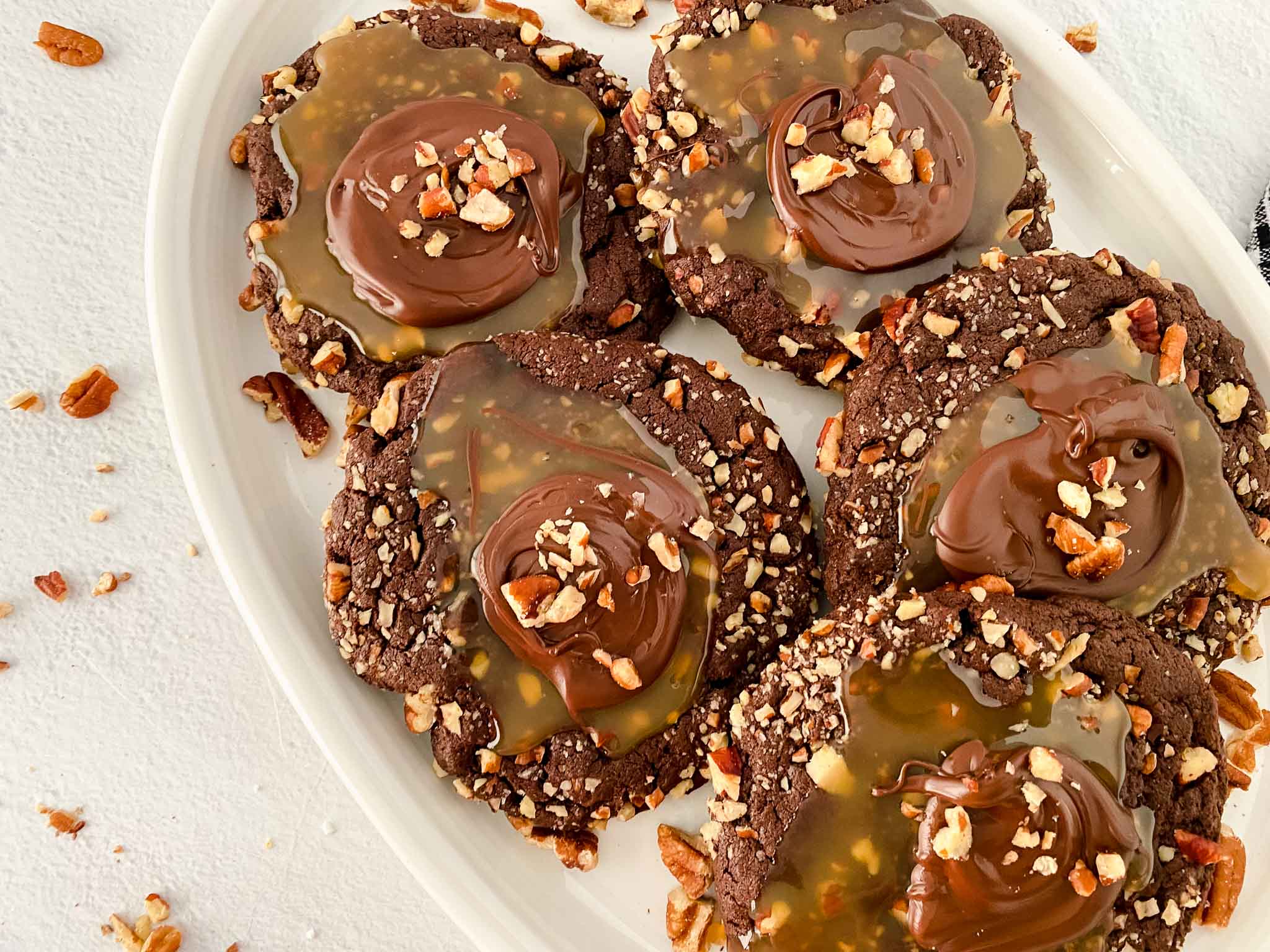 Have you ever tried a crumbl cookie?
They are a cross between a cookie and a crumble, and they are delicious! In this recipe, we will show you how to make turtle crumble cookies. They are so good, and everyone will love them!
I need one to open in NYC stat! But until then, I suppose I'll be okay with baking crumbl copycat recipes!
What exactly is a turtle cookie?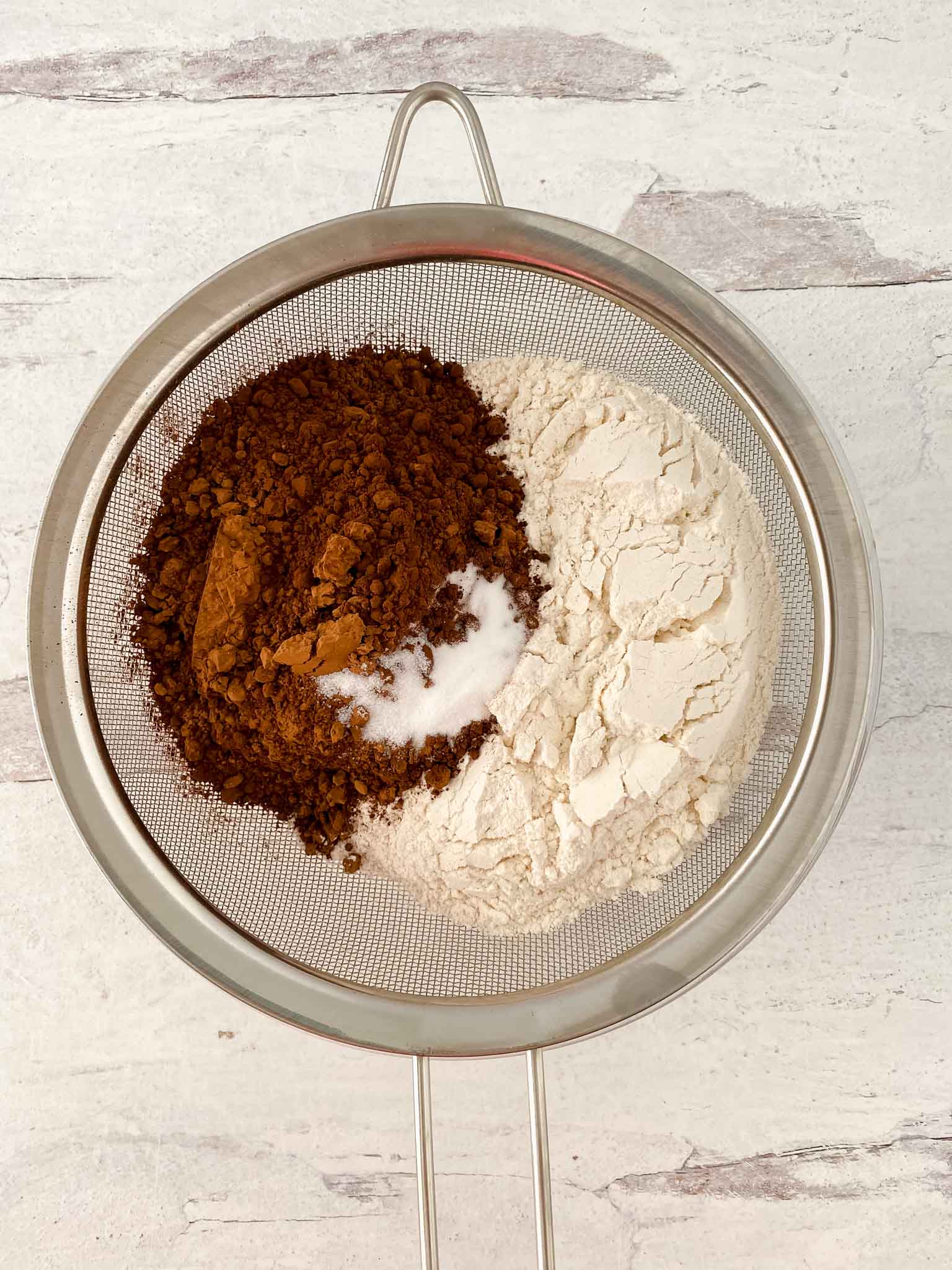 Turtle cookies are a type of crumbl cookie. They are made by combining a sugar cookie dough with a chocolate chip cookie dough, and then pressing the two together. They get their name from the chocolate chips, which form the shell of the turtle.
What do I need to make this Turtle crumbl cookie recipe?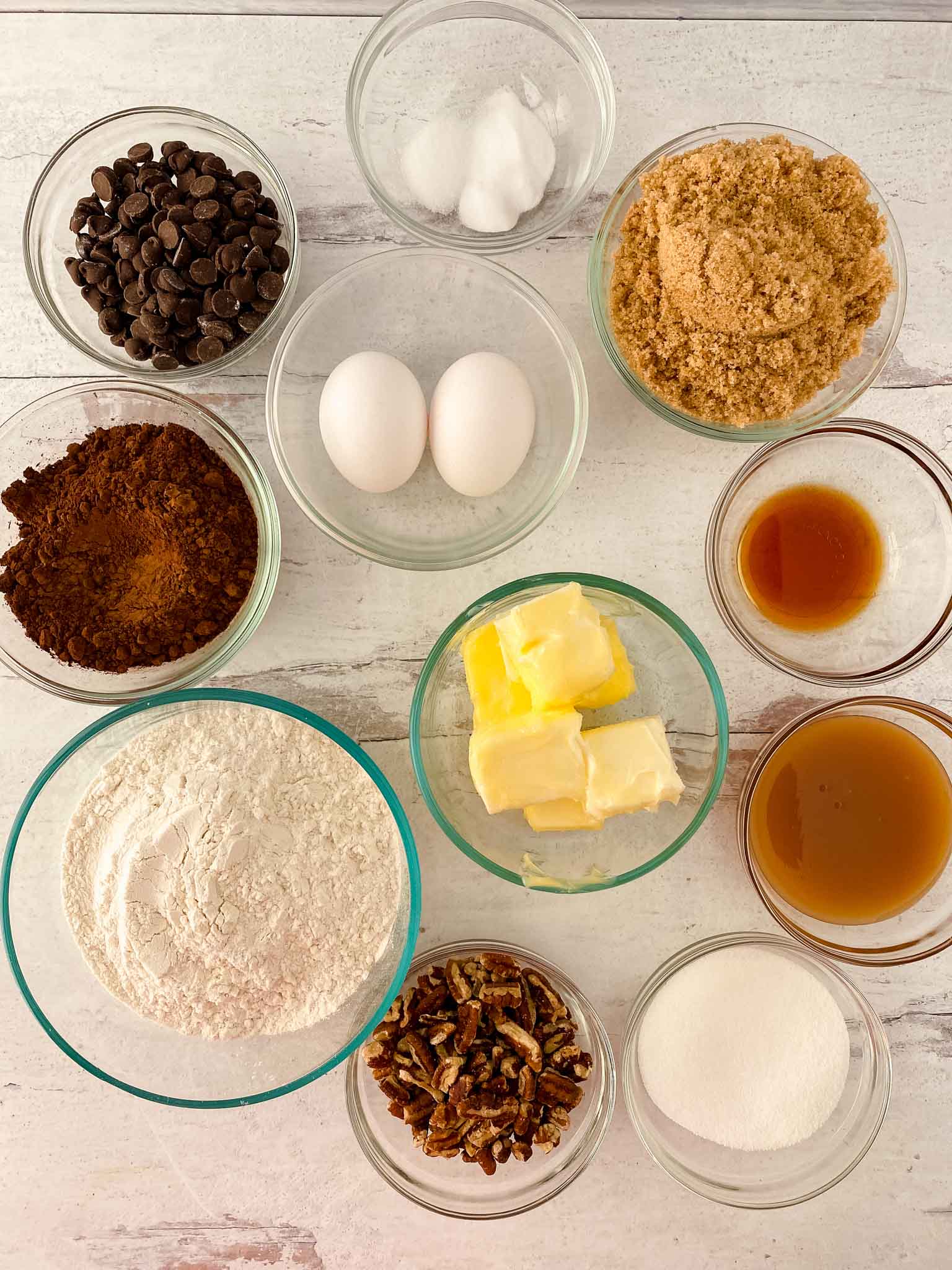 To make turtle crumbl cookies you will need the following ingredients:
1 cup (2 sticks) unsalted butter, room temperature
1 1/4 cup brown sugar, packed
1/4 cup granulated sugar
2 large eggs
1 tbsp pure vanilla extract
2 cups All-purpose flour, scooped and leveled
3/4 cup unsweetened cocoa powder
1 tsp baking soda
1/2 tsp salt
1 – 1.5 cup finely chopped pecans
1/2 cup semi-sweet chocolate chips or bakers chocolate, melted
1/2 cup Ghirardelli's premium Caramel sauce, cold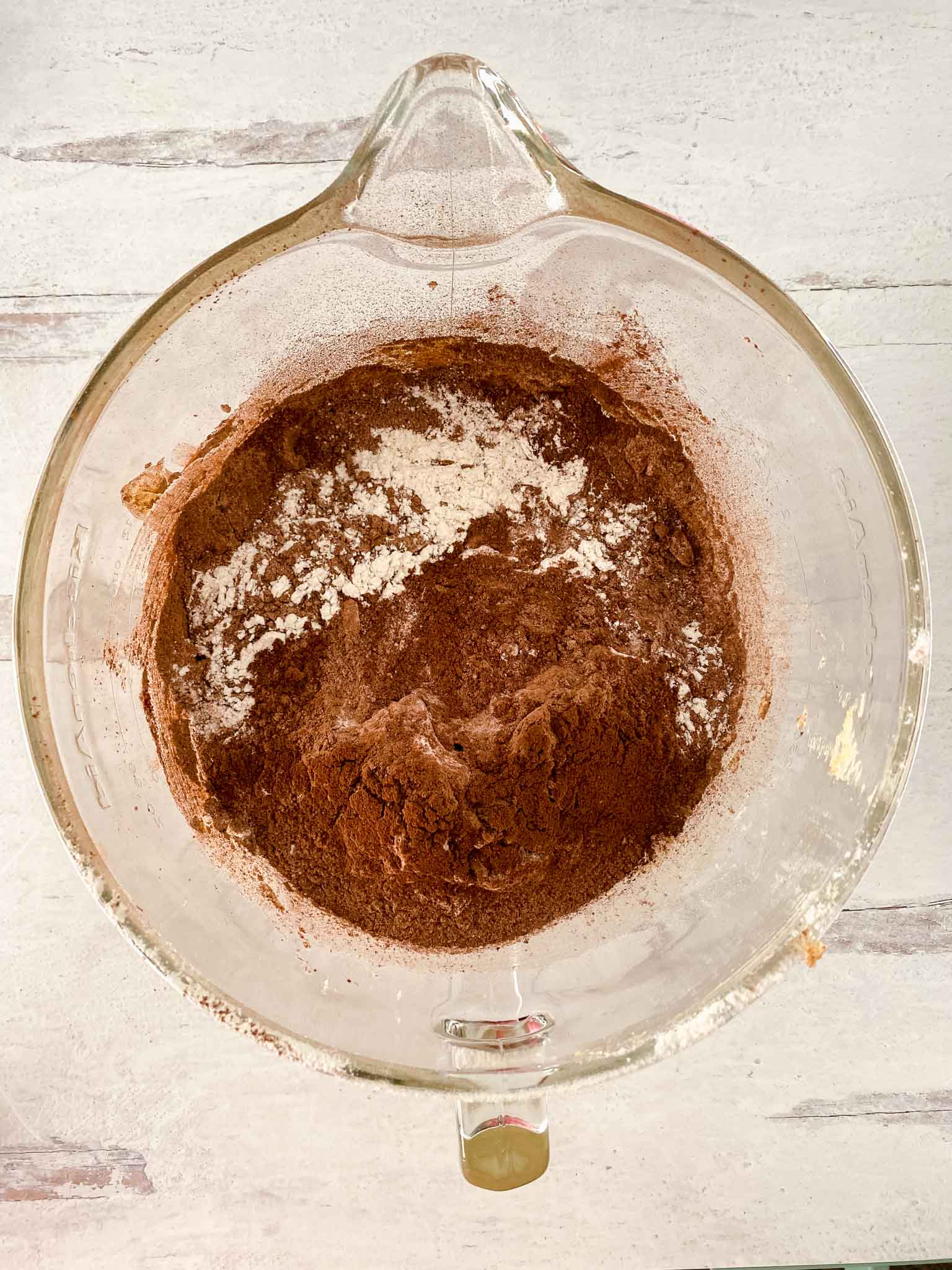 You won't need any powdered sugar, almond extract cream cheese or peanut butter for this crumbl cookie copycat recipe. These are some super simple ingredients you can get from the grocery store.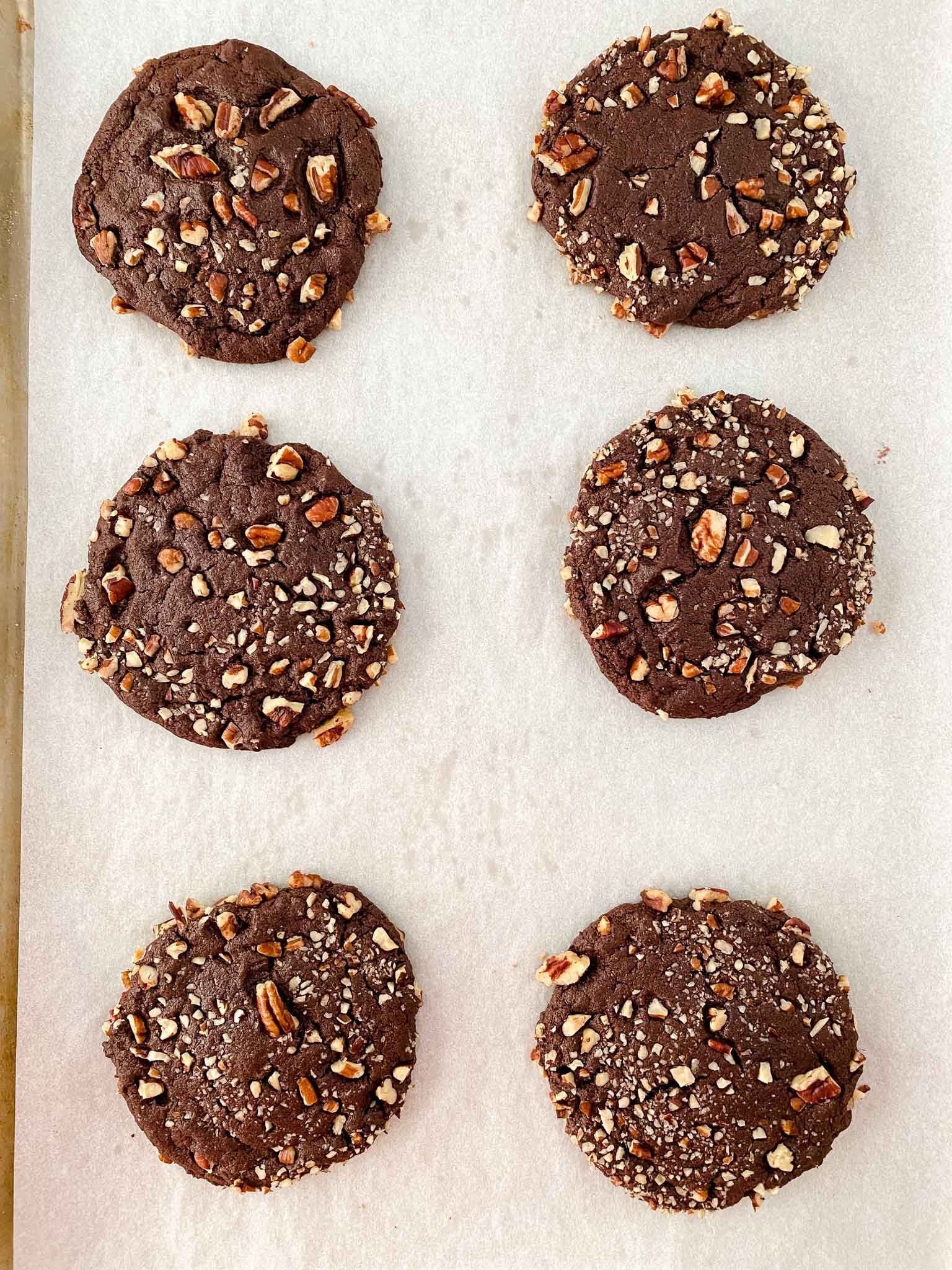 What tools do you need for this crumbl cookie recipe?
Hand or stand mixer
2 Parchment lined baking sheets (cookie sheet)
Sifter
Ice cream scoop
No piping bag needed for this recipe.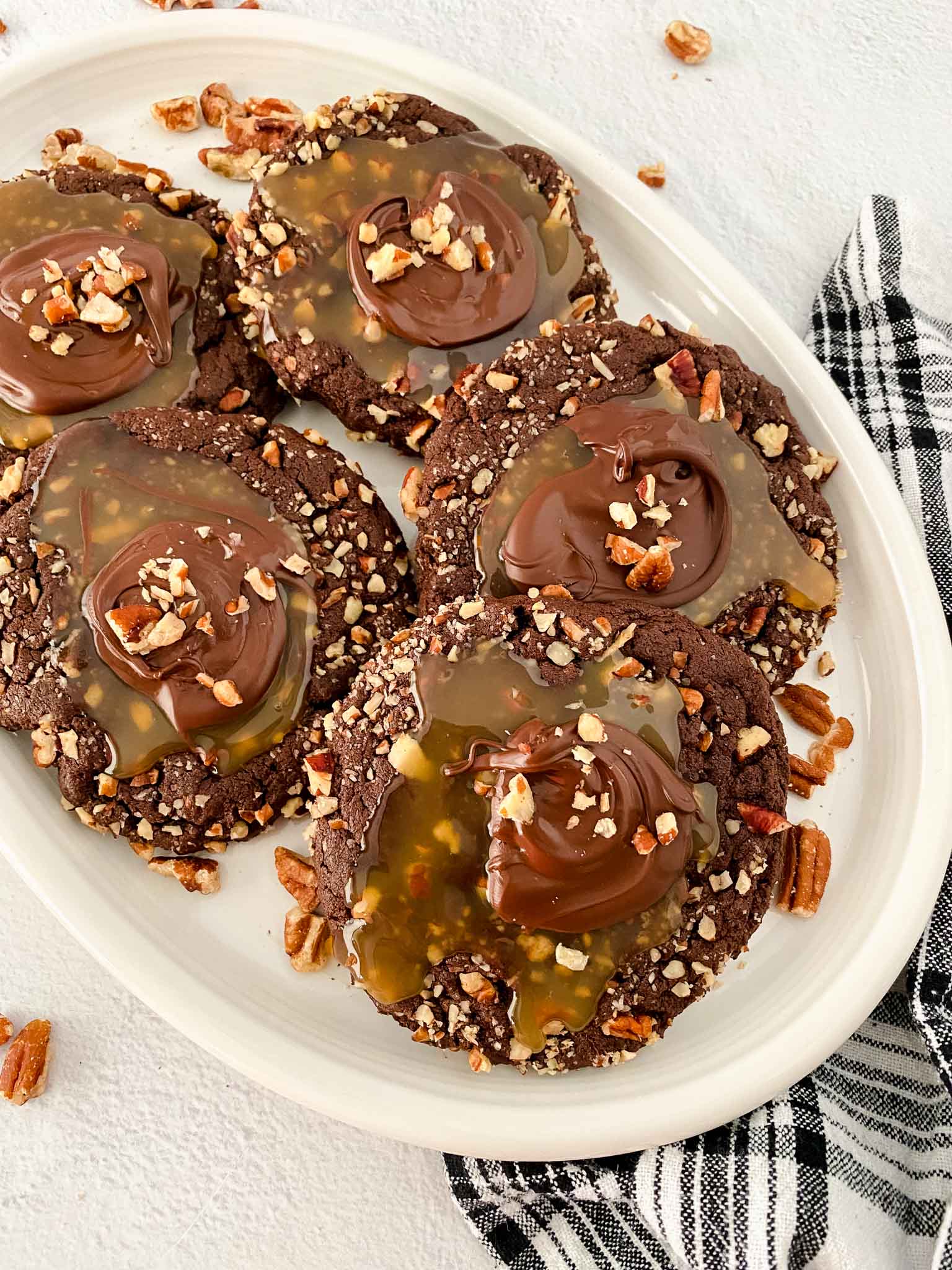 What is your favorite crumbl cookie? Is it one of the buttery cookies, red velvet cookies or maybe the sugar cookie recipe? The crumbl bakery is so popular and I can see why! With churro cookies and chocolate cake cookies, how can you not love this cookie company?!
When it comes to copycat crumbl cookie recipes, this turtle recipes makes some of the best cookies. It's a chocolate cookie and one of the new flavors in the weekly rotating menu. If you are on the perfect cookie quest this is the best thing to try because it will become your new favorite cookie!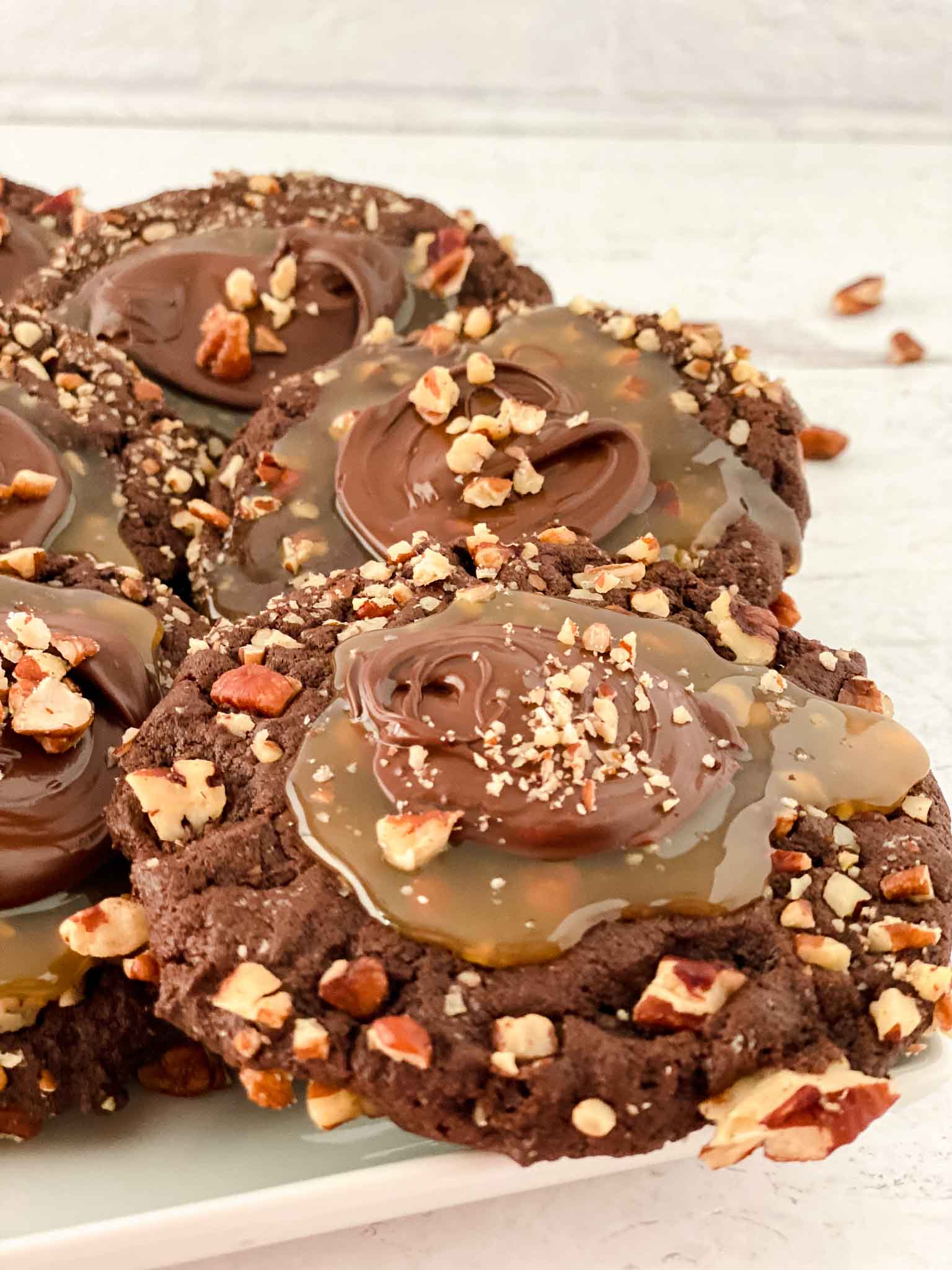 You can find the full instructions in the recipe card below. When you try these crumbl chocolate chip cookies, you will think they are the most amazing cookies you have ever tried!
What are some other fun Crumbl Cookie Copycat recipes?
Enjoy!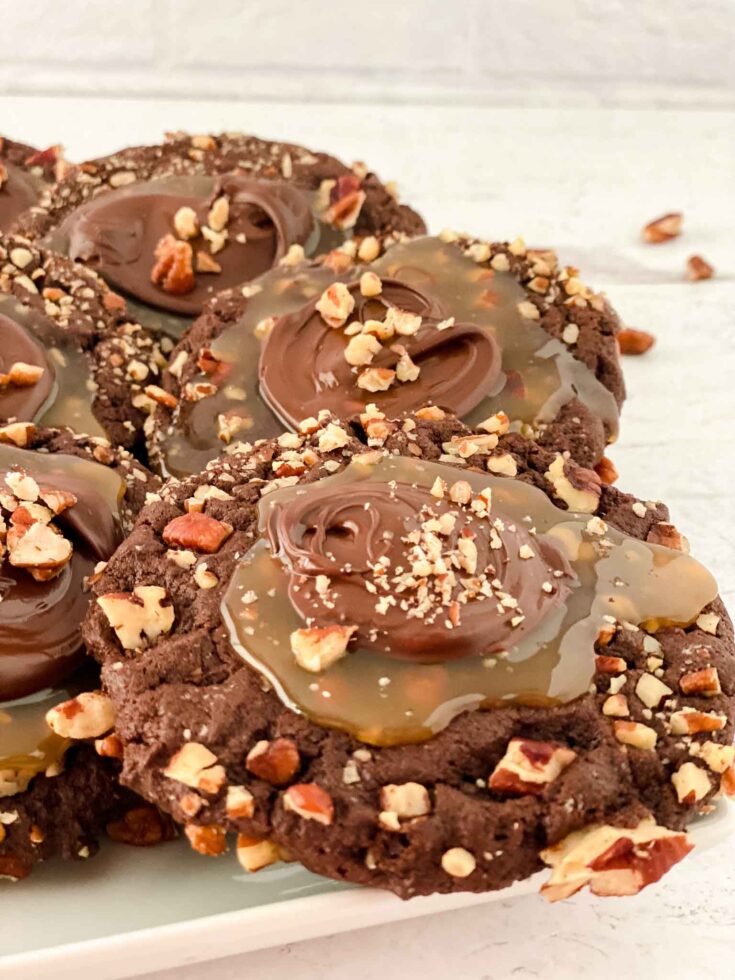 Yield:

14 cookies
Chocolate Turtle Crumbl Cookie Recipe
Total Time:
1 hour
50 minutes
This super fun copycat chocolate crumble turtle cookie recipe is amazing and delicious!
Ingredients
1 cup (2 sticks) unsalted butter, room temperature
1 1/4 cup brown sugar, packed
1/4 cup granulated sugar
2 large eggs
1 tbsp vanilla extract
2 cups All-purpose flour, scooped and leveled
3/4 cup unsweetened cocoa powder
1 tsp baking soda
1/2 tsp salt
1 - 1.5 cup finely chopped pecans
1/2 cup semi sweet chocolate chips or bakers chocolate, melted
1/2 cup Ghirardelli's premium Carmel sauce, cold
Instructions
Put caramel in the fridge and preheat the oven to 350
Line 2 baking sheets with parchment paper.
Cream butter, brown sugar and granulated sugar with a hand or stand mixer for 5-6 mins until light and fluffy.
Add the eggs and vanilla, mix until well incorporated
Sift the all purpose flour, cocoa powder, salt and baking soda into the bowl.
Mix on low speed first, and then medium speed to bring the dough together. Do not over mix.
Use an ice cream scooper to scoop 14 equal sized balls of dough.
Roll the dough in the chopped pecan and place on the baking sheet.
Press the dough balls to about 1 inch in thickness
Bake for 13-15 mins, the cookies will still be really soft but not raw.
Allow them to continue cooking on the pans for 10 mins outside of the oven.
Move them to a cool rack to cool for at least 25-30 mins.
Remove caramel from the fridge and add one spoonful to the center of the cookies.
Melt the chocolate in the microwave in 30 second increments. (I did it twice)
Add a dollop of chocolate to the center of the caramel and then top with chopped pecans.
Place cookies in the fridge to chill for at least 30-45 mins before serving.
The cookies can be served at room temperature or cold. If cold the caramel will be chewier!
Store the cookies in an airtight container for up to a week or frozen for up to 2 months in an airtight container.
Pin it for later!
If you enjoyed this recipe be sure to check out my Instagram Page for the latest posts!
Before you go, check out these great posts!
Easy Magic Cookie Bars aka Hello Dolly Bars
Birthday Confetti Sandwich Cookies
Cookies And Cream Cake In A Jar Recipe
Hi! I'm Nellie. I am a busy mama of three, wife to my high school sweetheart who loves to cook, workout and stay organized! I love to share helpful printables, the best recipes and fitness tips for the modern mom. I strongly believe that every mom can feed their family well, take proper care of themselves and have fun along the way! Read my story.
Get comfortable and be sure to come hang out with me on social. Don't grab your free fitness journal before you go!