Did you know that it is super easy to make Air Fryer Beef Empanadas right at home? Using yummy spices and your favorite filling you will love these delicious treats!
Empanadas are one of my favorite delicacies. Growing up in a Jamaican household, I've grown up eating beef patties almost on a daily basis. Empanadas are similar but not quite the same.
Empanadas come from the Latin cuisine, and are similar to beef patties but have a different color and seasoning. Still just as delicious.
These golden, flaky pastries are filled with a savory, seasoned beef mixture that promises a burst of flavor with every bite. Made effortlessly in the air fryer, these empanadas deliver the delicious crispiness of the traditional fried version but with a healthier twist. Perfect for appetizers or a main course, these empanadas are your ticket to a culinary journey right at home.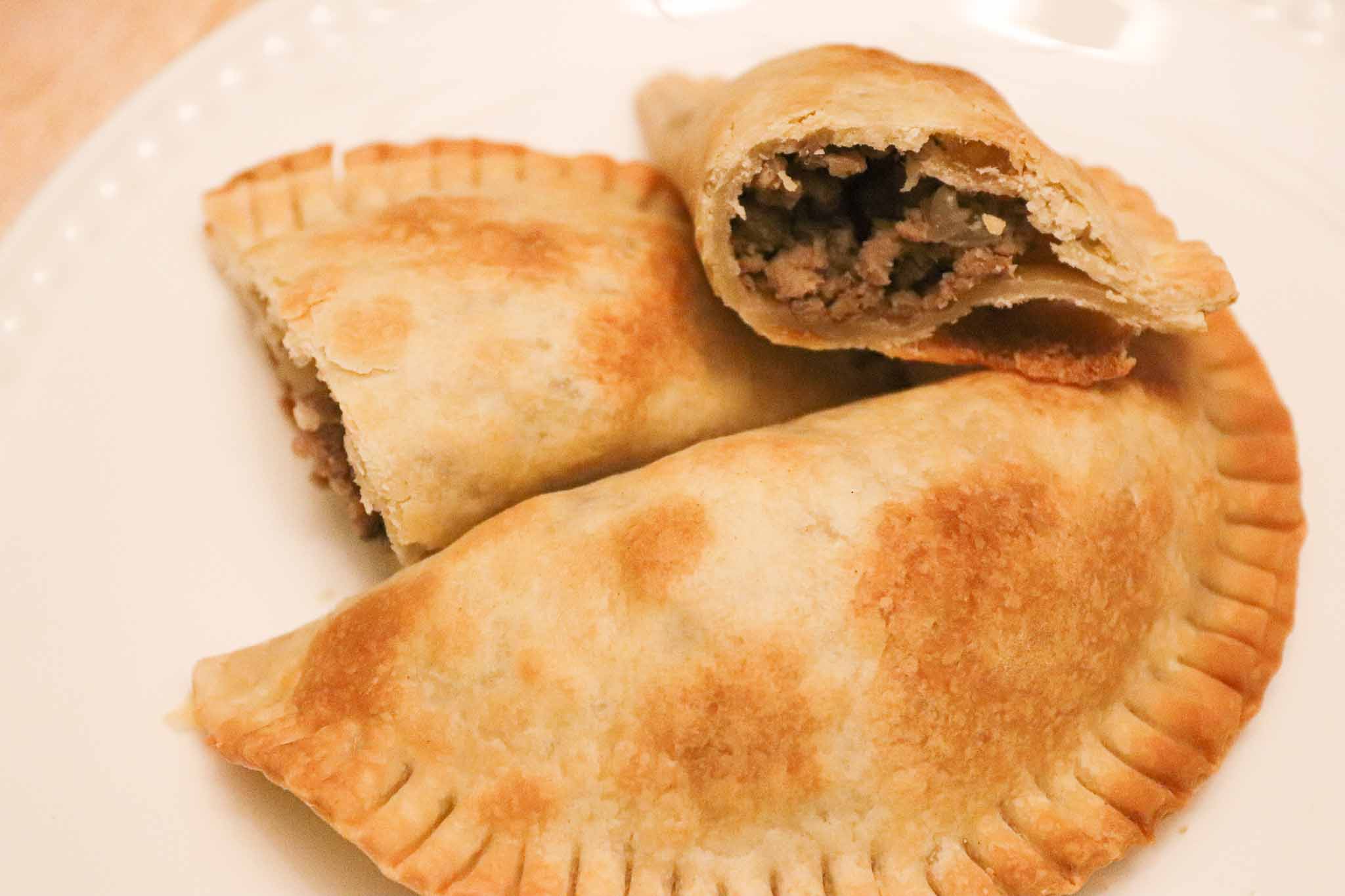 Living in NYC I have always had my choice of empanada trucks, there are so many different ones! I was always a fan of the beef but my husband introduced me to class flavors like guava and cheese, chicken and so much more!
FAQs:
2. Can I use a different filling? Yes, empanadas are extremely versatile. You could use chicken, cheese, vegetables, or even sweet fillings like fruits or jams.
3. Can I make these empanadas gluten-free? Yes, simply use a gluten-free dough. There are many recipes available online, or you can purchase pre-made gluten-free dough.
Air Fryer Beef Empanadas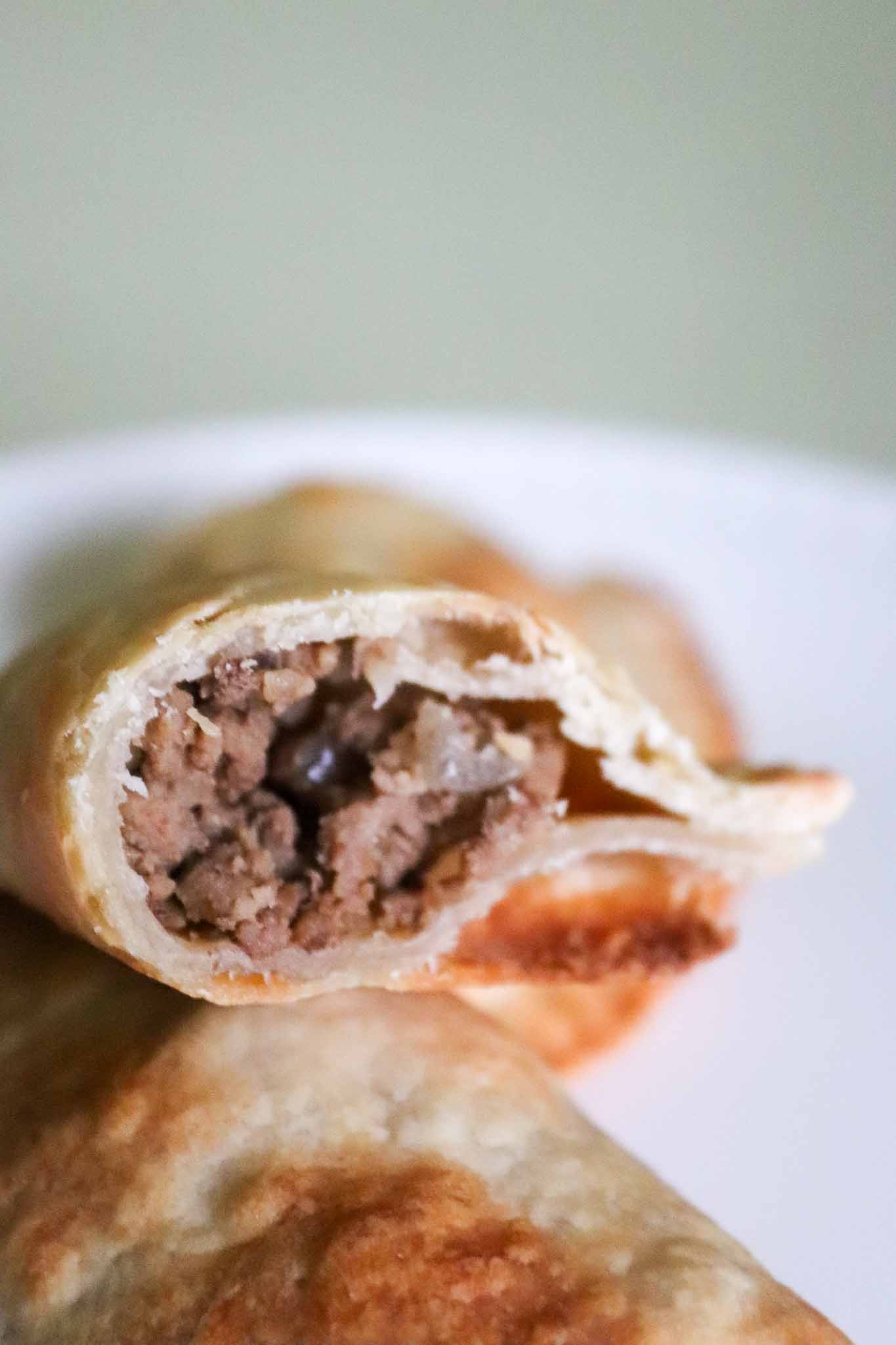 Since we have been home so much I have been trying all kinds of restaurant favorites like these Copycat Red Lobster Cheddar Bay Biscuits and this Easy Copycat Chik-Fil-A Peppermint Milkshake.
One night I really wanted some real Latin inspired empanadas, so I made sure I had ground beef, the essential seasonings and of course the Adobe seasoning.
Tips and Tricks:
Make sure your filling is not too wet. Excess moisture can make your empanadas soggy.
Crimp the edges of the empanadas well to prevent the filling from spilling out during cooking.
Spray or brush the empanadas with a little oil before air frying to achieve a beautiful golden color.
Ensure the empanadas are in a single layer in the air fryer with space around each for proper air circulation.
Variations:
Spicy Beef Empanadas: Add some diced jalapeños or hot sauce to the beef filling for a spicy kick.
Cheese and Beef Empanadas: Add some grated cheese to the beef mixture for a gooey, melty surprise.
Vegetarian Empanadas: Swap out the beef for a mixture of beans, corn, and diced vegetables for a vegetarian version.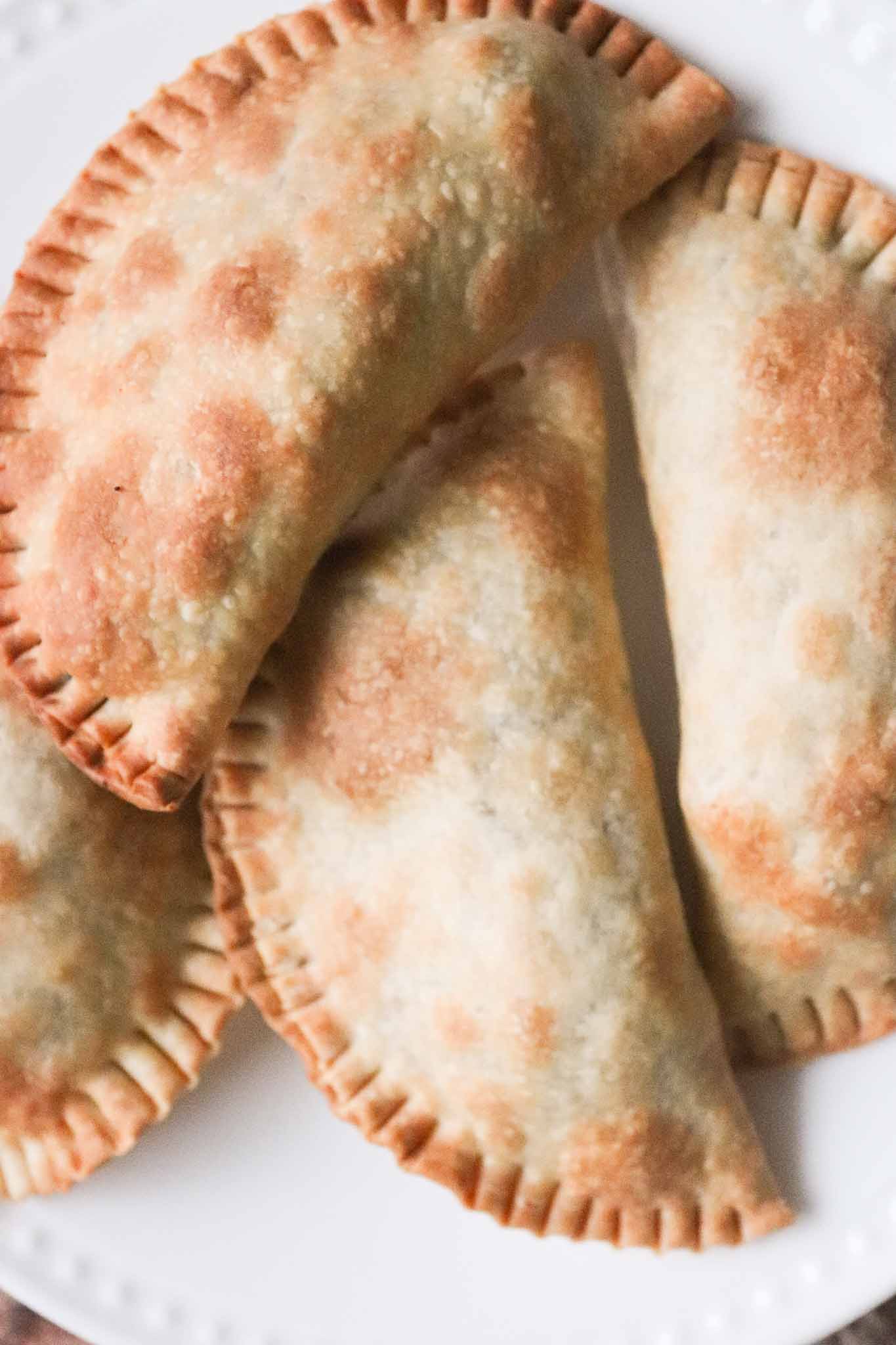 Where to Serve:
These air fryer beef empanadas are perfect for any occasion – as a flavorful appetizer at a dinner party, a satisfying main course paired with a salad, or as handheld snacks during game night or casual gatherings. They're also great for packing in lunches for a flavorful midday meal.
How To Store Empanadas
Store leftovers in an airtight container in the refrigerator for up to 4 days. To reheat, place them back in the air fryer for a few minutes until heated through and crispy again.
Common Problems and How to Avoid Them
Filling Spilling Out: If the filling spills out, it likely means the empanadas were overfilled or not sealed properly. Use a fork to crimp the edges securely, and don't overfill.
Soggy Empanadas: If your empanadas come out soggy, they may have been overcrowded in the air fryer. Make sure they're in a single layer with space around each empanada.
Uneven Browning: For even browning, remember to turn the empanadas halfway through cooking and brush them with oil before cooking.
These empanadas won't be the same taste as the ones you get that are deep fried but they are as close as it gets! Plus they are healthier than the deep fried ones.
What ingredients do you need for these Air Fryer Beef Empanadas?
chopped onion
ground beef
minced garlic

Adobo seasoning

dried oregano

1

packet of sazon

(

optional)

cilantro

15

dough discs
These yummy treats are not only tasty but you can make a bunch, put them in the fridge and reheat for snacks during the week. Good and filling which is what I need with these very healthy and hungry boys here at home.
If you like them, be sure to grab a few pack of discs to keep in the freezer so you can make them anytime! If you like these don't forget to try this Cheesesteak Empanadas Recipe!
Topping Options:
While these empanadas are delicious on their own, consider serving them with a side of salsa, sour cream, guacamole, or a spicy aioli for dipping. A fresh squeeze of lime also adds a lovely brightness to the rich beef filling.
Why This Recipe Works:
Air Fryer Beef Empanadas are an irresistible combination of ease, healthiness, and deliciousness. The air fryer gives you the golden, crispy crust and warm, savory filling characteristic of traditional empanadas without the need for deep-frying. The flavors of the spiced beef filling, encased in a delicate, flaky crust, offer a comfort food experience that is hard to beat. This recipe brings a gourmet touch to your home cooking, and the quick and easy preparation makes it perfect for any day of the week.
What are some other fun air fryer recipes to try?
Yield:

10 Empanadas
Easy Air Fryer Empanadas
Did you know that it is super easy to make Air Fryer Beef Empanadas right at home? Using yummy spices and your favorite filling you will love these delicious treats!
Ingredients
1lb ground beef
1/2 onion chopped
2 cloves garlic minced
1/2 tablespoon of Adobo seasoning
2 teaspoons of dried oregano
1 packet of sazon optional
2 tablespoons of cilantro chopped
15 dough discs
Instructions
In a large pan over medium high heat, warm oil. Once oil is warmed, add beef, onions, and Adobo seasoning.
Brown beef, about 6-7 minutes.
Drain ground beef.
Add remaining seasonings and cilantro. Cook an additional minute. Add shredded cheese, if desired. Melt cheese.
To each dough disc, add 3-4 tablespoons of meat mixture over the cheese slice.
Fold over the dough disc, and with a fork, crimple edges and set to the side.
Preheat Air Fryer at 370 degrees for three minutes.
Once three minutes are over, spray Air Fryer pan with cooking spray and add 3-4 empanadas to the basket. Close basket, and set to 370 degrees and cook for 7 minutes. After 7 minutes, check on it. Cook up to an additional 3 minutes, or desired level of crispness, if desired.
Repeat until finished.
Pin it for later!
If you enjoyed this recipe be sure to check out my Instagram Page for the latest posts!
Before you go, check out these great posts!
Easy Air Fryer Roasted Lamb and Potatoes
Easy Air Fryer Chicken Fajitas
Delicious Air Fryer Roasted Vegetables
Hi! I'm Nellie. I am a busy mama of three, wife to my high school sweetheart who loves to cook, workout and stay organized! I love to share helpful printables, the best recipes and fitness tips for the modern mom. I strongly believe that every mom can feed their family well, take proper care of themselves and have fun along the way! Read my story.
Get comfortable and be sure to come hang out with me on social. Don't grab your free fitness journal before you go!