If you are looking for the taste of a Mexican restaurant but you are on a budget, check out these easy cheap Mexican dinner ideas!
Mexican restaurants have a variety of dishes made with authentic recipes that include traditional ingredients. Next is a list of Mexican menu food items that are available at most restaurants, and may be prepared at home by people who enjoy cooking. They can be made on Cinco de Mayo, any other Mexican fiesta, or just for taco Tuesday.
Best Mexican Recipes
Burritos
Burritos are large wraps. They usually have flour tortillas, beans, rice, meat, lettuce and tomato, and cheese inside of them, but there are many variations that lack certain ingredients or use additional ones. Burritos are some of the most popular Mexican food items in America.
Chimichangas
Chimichangas are essentially deep-fried burritos. Homemade flour tortillas are stuffed with various ingredients, folded up, sealed, and then fried in vegetable oil to make a crispy burrito.
Enchiladas
An enchilada is a small, thin wrap, that uses a corn tortilla that encloses chicken, rice, cheese, and sometimes other ingredients. Enchiladas are usually oven cooked. The best part is that these are often served covered in mole sauce and alongside rice and beans for a more authentic flavor.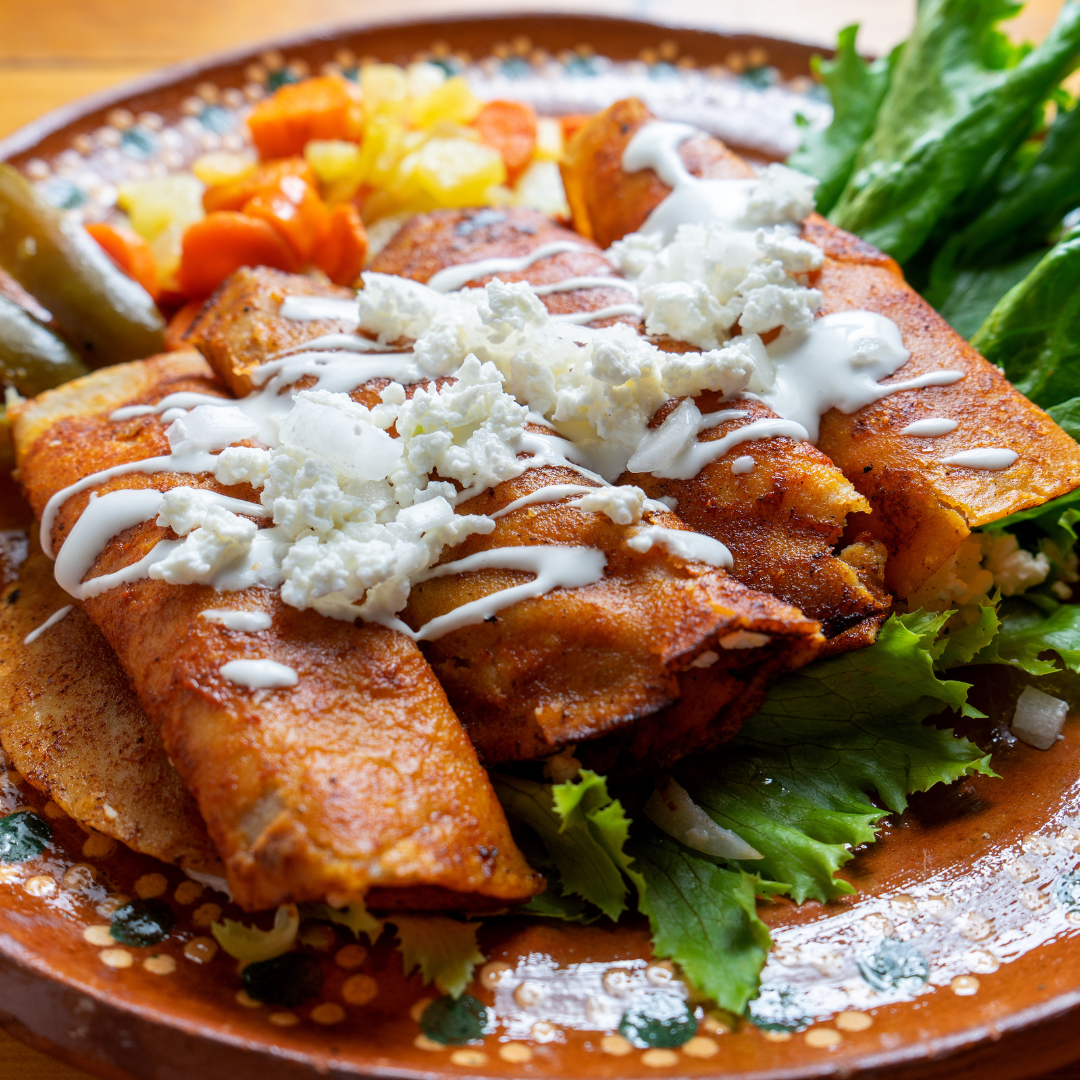 Fajitas
Fajitas are made from flour tortillas which are filled with hot meat, rice, black beans, cheese, and vegetables. In most Mexican restaurants, meat and grilled vegetables are brought out hot, while lettuce, tomato, fresh guacamole, and salsa are brought out cold on another plate. Plain flour tortillas are then filled with the desired ingredients by patrons.
Flautas
A flauta is a large corn tortilla wrap that is fried in oil. Chicken, pork, carne asada, and sometimes other ingredients are placed in the middle of the tortilla before it is tightly wrapped around its filling, and deep fried. These are usually longer and thinner than enchiladas, which are not deep-fried.
Tacos
From steak tacos to fish tacos, a taco is a corn tortilla that is filled with meat and vegetables seasoned with a little taco seasoning (lettuce, fresh tomatoes, onion, and peppers), and sometimes rice and refried beans. For authentic Mexican tacos, radishes, cilantro, and a little bit of chili powder are often used instead of lettuce and tomato. The tortilla used in a taco may be hard (fried in oil) or soft (uncooked). This is one of the most popular Mexican food menu items in America.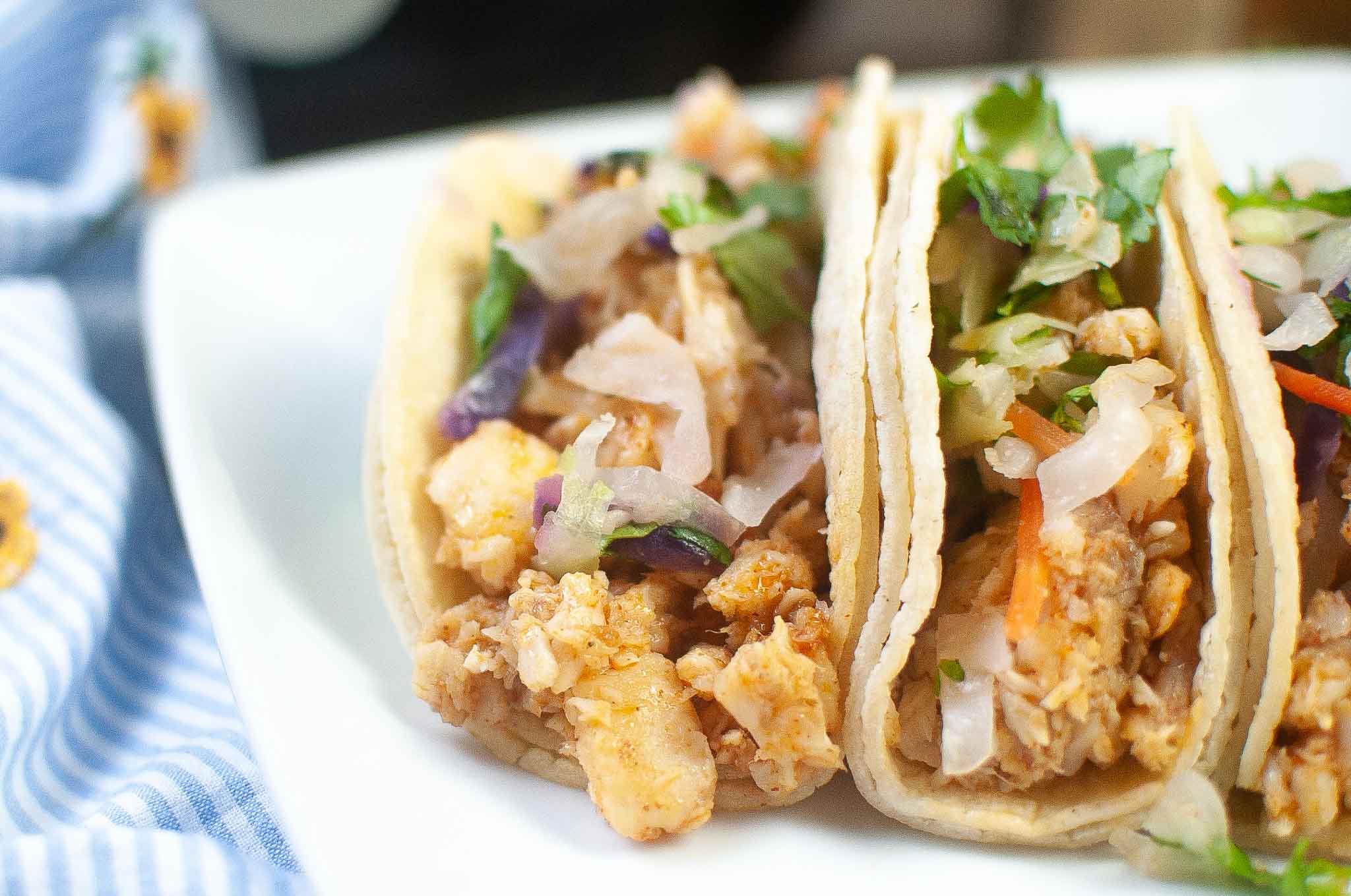 Tamales
Tamales are made with corn dough, which is filled with meat and vegetables, before being wrapped in corn husks and steamed. Chicken and tomato combine for a popular tamale filling, although other meats, vegetables, and sometimes, fruits can be used to fill these tasty Mexican foods.
Taquitos
A taquito is a small corn tortilla wrap that has meat and sometimes other ingredients. Essentially taquitos are flautas that use smaller tortillas. Chicken, pork, beef, or chorizo sausage may be used as a filling before the tortilla is wrapped and deep-fried in oil.
Tostadas
A tostada is a fried corn tortilla with rice, beans, meat, lettuce, and tomato piled over it. Tostadas are similar to taco salads, except the other ingredients are piled onto flat, fried corn tortillas instead of being placed in edible bowls.
Quesadillas
A quesadilla is a cheese sandwich that uses two (flour or corn) tortillas. Cheese is placed between the two tortillas, and the sandwich is cooked in a frying pan or skillet. Other ingredients, such as meat, cilantro, and tomato may also be added along with the cheese.
There are many types of Mexican food meals that use similar ingredients or are entire dishes themselves, but these are some of the popular items that often make the perfect choice for a cheap Mexican dinner.
Here are some of the most popular Mexican dinner recipes and ideas:
My personal favorites are Empanadas. Empanadas are like turnovers. You can fill them with fruits, meats, favorite toppings, or vegetables. Whatever you like, you can stuff into the warm tortilla. Another great way is to use leftovers.
This particular delicious meal is not only popular in Mexico, but it's a favorite in many Central and South American countries. Empanadas are easy and quick to make, making them excellent entrees and the perfect appetizer to prepare in a small amount of time.
This main dish is for a beef center, but remember, you can use ANYTHING to make this great recipe.
Beef Empanadas:
1lb hamburger meat
2/3 cup water
Sliced potatoes
Sliced carrots
¼ cup onion slices
For the pastry shell:
4 ½ cups Bisquik mix
1 cup boiling water
Preheat your oven to 400 degrees. While that's getting warm, go ahead and brown the hamburger meat. Meanwhile, as you keep an eye on your hamburger, you can begin preparing the empanada shells. In a medium to a large bowl, mix the Bisquik and hot water together. Stir until the dough forms. Next, knead the dough about 10 times, until it is soft and well-formed. Tear away 6 balls from the dough and flatten each one out to make a 7 to 10″ circle.
Once your beef is browned, add the onion, carrots, and potatoes, along with the 2/3 cup water. Now, spoon some of the beef onto one side of each circle of dough. Then, fold the dough over the right way to make turnovers. Seal the edges of each with a fork or your finger so the beef doesn't spill out.
Place in the oven and bake for 15 minutes (or until the dough is done). There will typically be 6 servings with this easy recipe.
Another food that is appealing to me is Mexican Rice. It is typically served with most Mexican restaurant dishes and in homes during Spanish or Mexican food night. Spanish rice is usually associated with Mexico, however, it really originated in Spain. In the Southwestern United States, Spanish rice is prepared with meats like chicken and beef tips mixed in.
Mexican Rice: An Easy Weeknight Dinner
6 slices of bacon
2 medium onions, diced
4 cups cooked Rice
¼ teaspoon ground Allspice
1 jar (2 oz.) of diced Pimentos, drained
½ cup red pepper, diced
1 can (15 oz.) Tomatoes, drained
1 cup Longhorn or Medium Cheddar Cheese, grated
Flavored Pepper, to taste
Butter to grease medium casserole dish
Preheat your oven to 350 degrees.
In a medium skillet, you are going to cook the bacon until it is crisp. Then, drain it on paper towels and set them aside. Next, add the onions to the skillet and cook until they are lightly browned.
In a large bowl, combine rice and the remaining ingredients. Add the bacon and onions and mix well. Place the rice mixture in a lightly buttered, medium casserole dish and bake in the oven for 45 minutes.
This recipe will serve 6 people.
Sonoran Pumpkin Cookies
Pumpkin, a food usually popular during the Fall, is a good source of Vitamin A and is widely grown in Mexico. It is a favorite addition to all kinds of dishes. I particularly like Sonoran Pumpkin Cookies. Here's how you can make them.
You will need:
½ cup Vegetable Oil
1 cup Brown Sugar
1 Egg
1 cup Pumpkin, mashed
1 ¾ cup Flour
1 cup Bran Flakes
½ cup Walnuts, chopped
½ cup Salt
1 teaspoon ground Cinnamon
½ teaspoon ground Nutmeg
½ teaspoon ground Cloves
1 teaspoon Baking Soda
½ cup Raisins
Preheat oven to 375 degrees.
In a large bowl, mix oil, sugar, egg, and pumpkin. Beat them well.
In a second large bowl, combine all the remaining ingredients.
Combine the two mixtures and stir until they are completely blended.
Drop teaspoon-fulls of the mixture onto a lightly greased baking sheet.
Bake in the oven for 15 minutes.
This recipe will make 4 dozen cookies. I can assure you though, these will disappear very quickly!
Now, to wash all those down, I like to sip on Tequila Slushes. It is the perfect addition to these great traditional Mexican food recipes. They are very refreshing and have a nice twist on the Tequila Sunrise. The only difference between the two is the absence of grenadine in the Slush.
To make Tequila Slush you need:
1 ½ cups of Tequila
1 can (6 oz.) frozen Limeade
A splash of lime juice
1 cup Orange Juice
1 cup Crushed Ice
Place all the ingredients in a blender and blend on high until mixed and slushy.
This one recipe is enough for 4 servings.
These are just a few healthy Mexican recipes that you can make, even for the first time, at home. With these delicious recipes and bold flavors, the perfect meals that you had planned for the week will make dinner preparations a breeze.
Have a perfect Mexican night!
Pin it for later!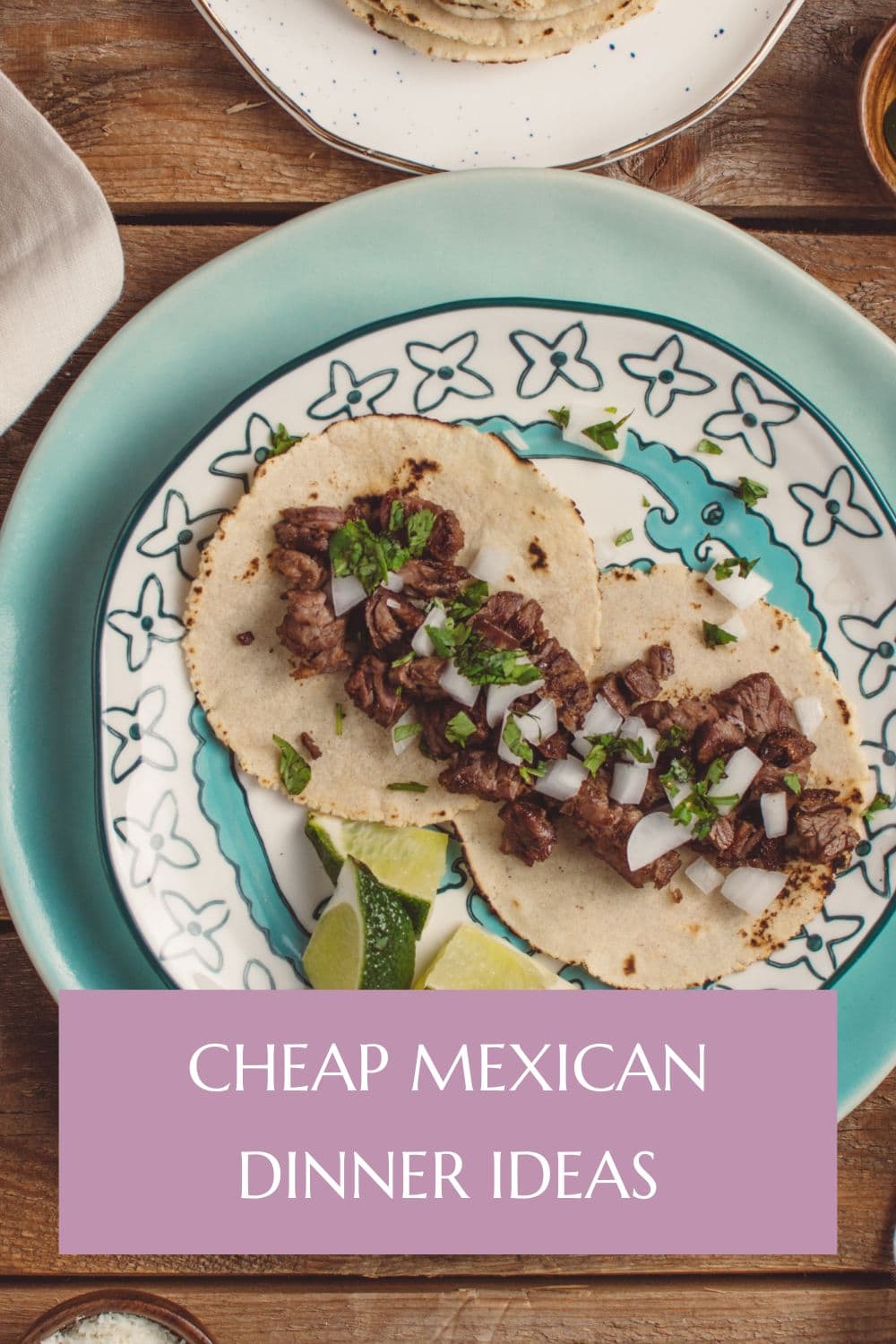 If you enjoyed this recipe be sure to check out my Instagram Page for the latest posts!
Before you go, check out these great posts!
Easy Traditional Mexican Horchata Drink
How To Make Mexican Street Corn (Elotes)
Easy and Delicious Mexican Rice Bowl Recipe
Easy Air Fryer Carnitas Recipe
Hi! I'm Nellie. I am a busy mama of three, wife to my high school sweetheart who loves to cook, workout and stay organized! I love to share helpful printables, the best recipes and fitness tips for the modern mom. I strongly believe that every mom can feed their family well, take proper care of themselves and have fun along the way! Read my story.
Get comfortable and be sure to come hang out with me on social. Don't grab your free fitness journal before you go!