If you're looking for a quick, sweet snack, you've got to try this simple yet tasty air fryer cookies recipe that doesn't take long to make.
Air Fryer Rainbow Cookies: Colorful, Crispy, and Oh-So-Yummy!
What's up, cookie monsters? Are you tired of the same ol' oven-baked cookies? Say hello to Air Fryer Rainbow Cookies! Made with a simple box of yellow cake mix, eggs, and vegetable oil, these cookies are a cinch to make. Top them off with an explosion of sprinkles, and you've got a cookie that's as fun to look at as it is to munch on!
Air fryer Rainbow Cookies FAQs
Do I have to use yellow cake mix?
Nope, feel free to use any cake mix flavor you like. Chocolate or funfetti could also be super fun!
Can I use olive oil instead of vegetable oil?
Absolutely. Just keep in mind that olive oil has a distinct flavor that'll slightly alter the taste of your cookies.
Why air fryer and not oven?
The air fryer gives you cookies that are crispy on the outside and soft on the inside, plus it cooks 'em super fast!
Can You Make Cookies in the Air Fryer?
The air fryer is such a convenient kitchen appliance. If you don't have one, it's a good time to get one. Not only can you cook meats, fries, and other sides in your air fryer, but you can also use it to prepare these delicious Air Fryer Cookies.
When you're in the mood for a sweet snack but you don't feel like putting on the oven and waiting for it to heat up, you can use this recipe to your advantage.
You'll line your air fryer with parchment paper and let the cookies cook for a minimum of five minutes and a maximum of eight minutes. It's that simple!
Do I need to make cookie dough from scratch?
If you're worried about making cookie dough from scratch, the good news is that you don't have to do so. You'll use a box of yellow cake mix to create these cookies.
Tips and Tricks
Preheat is Key: Always preheat your air fryer for about 5 minutes for the best results.
Spacing: Make sure you give your cookies room to spread. They'll need their space to get all crispy and delicious.
Batch Cooking: If your air fryer is small, you might have to cook in batches. No biggie, though!
Variations
Add-ins Galore: How about some chocolate chips or dried fruit to jazz things up?
Color Blast: Use different colored sprinkles or even edible food coloring for a vibrant twist.
Go Nuts: Add a handful of crushed almonds or walnuts for a crunchy surprise.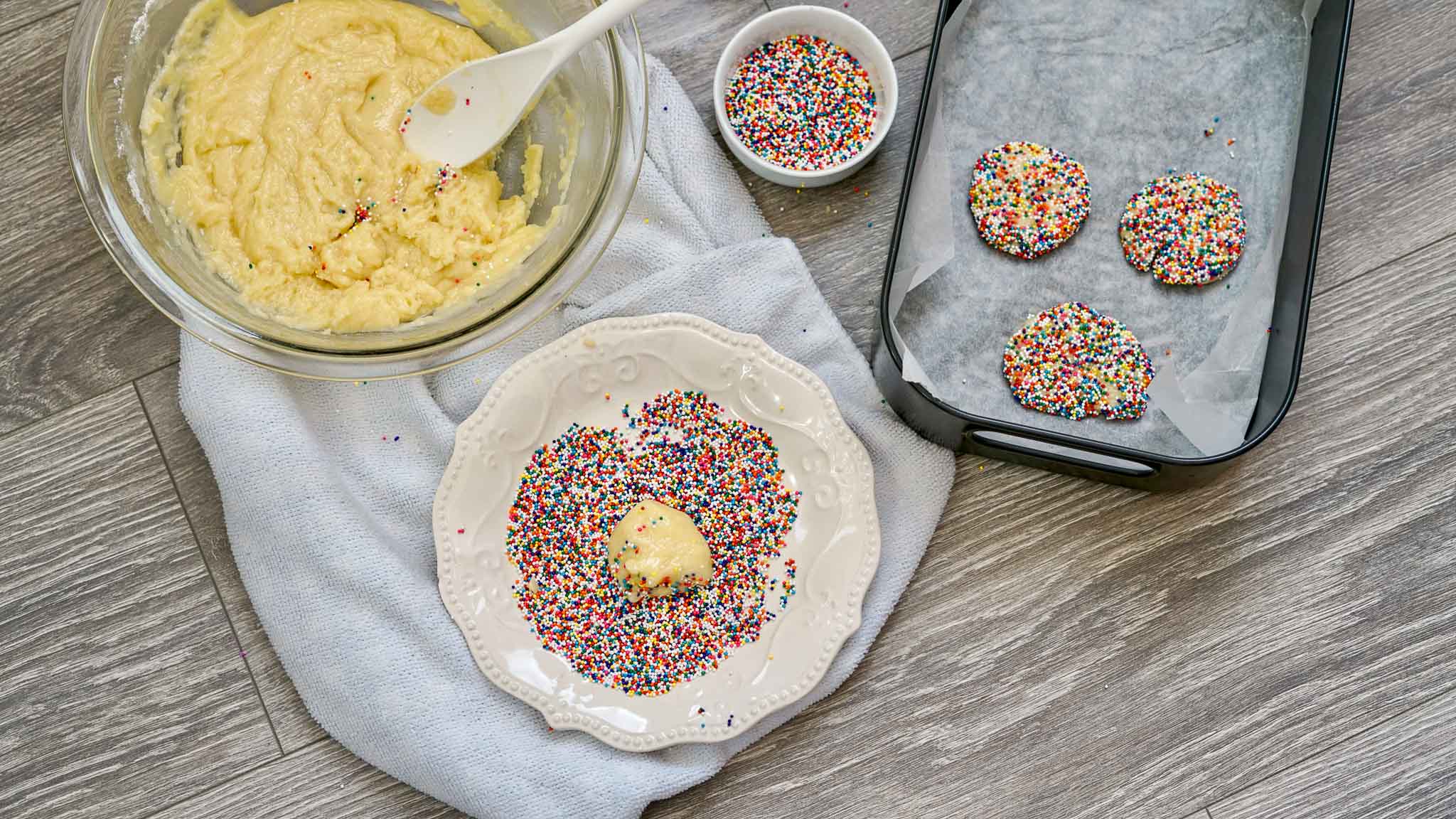 It doesn't matter which brand you choose, but Betty Crocker is always a great choice. Besides the cake mix, you'll only need a handful of other ingredients, such as vegetable oil, sprinkles, and eggs.
With these ingredients, you'll make a flavorful dough that will transform in the air fryer to slightly crispy, slightly fluffy cookies. The perfect combination!
Where to Serve
These cookies are party animals! Perfect for birthdays, weekend treats, or even as a fun after-school surprise for the kids.
Storage
Keep these beauties in an airtight container, and they'll stay crispy and delicious for up to a week.
Common Problems and How to Avoid Them
Too Soft: If your cookies aren't crisping up, you might have overcrowded the air fryer. Give 'em space!
Uneven Cooking: Make sure you place the cookies in a single layer for even cooking.
Burned Bits: Keep an eye on your cookies. Air fryers can cook really fast, and nobody wants a cookie with a suntan!
Can I use other cake mixes?
When you use the yellow boxed cake mix, you're preparing vanilla cookies that taste great with sprinkles. However, you can use this simple recipe to prepare other types of cookies using assorted boxed cake mixes.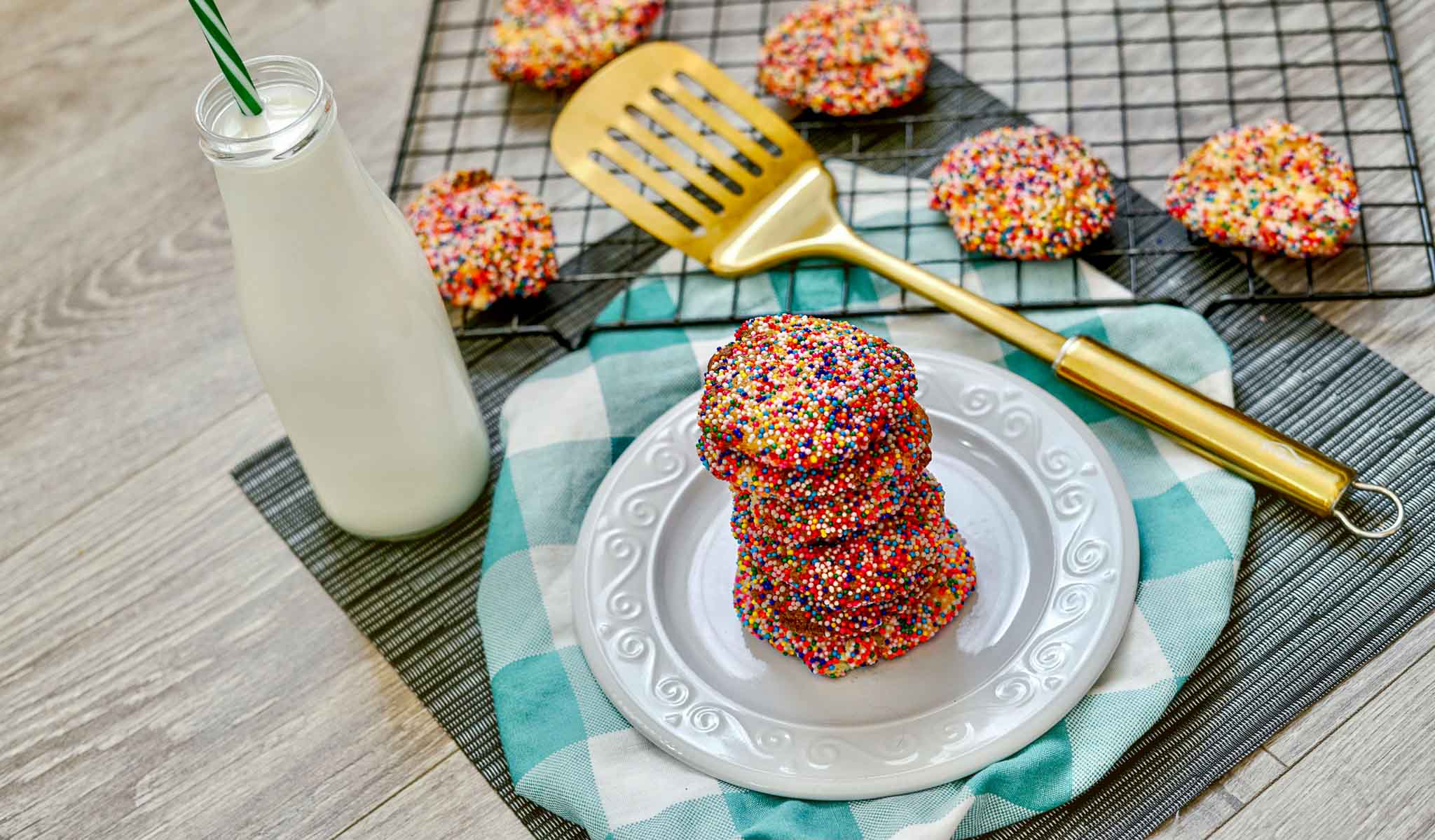 Tips for Making this Recipe with Kids
Sprinkle Fun: Let the kiddos go wild with the sprinkles! The more, the merrier!
Shape It Up: Kids can use cookie cutters to make these cookies into fun shapes.
Mix Masters: Let them mix the dough. It's like Play-Doh, but yummier!
Topping Options
Drizzle some melted chocolate for a gourmet touch
A sprinkle of sea salt for a sweet and salty combo
A dusting of powdered sugar for a snow-like effect
Why This Recipe Works
What's not to love? These Air Fryer Rainbow Cookies take a simple boxed cake mix to new heights. The quick cooking time in the air fryer ensures a cookie that's crispy yet tender. And the sprinkles add not just color but also a crunchy texture that'll have everyone reaching for more. Plus, it's so easy that you can make it a fun family activity. Happy air frying, cookie lovers!
Chocolate, lemon, strawberry, and red velvet are just a few of the many flavors you'll get to make!
What are some other fun air fryer recipes to try?
Yield:

10-20 cookies
Easy Air Fryer Cookies
If you're looking for a quick, sweet snack, you've got to try this simple yet tasty air fryer cookies recipe that doesn't take long to make.
Ingredients
15oz Box Yellow Cake Mix
2 Eggs
1/2 Cup Vegetable Oil
Sprinkles
Parchment paper
Instructions
Pre-heat air fryer to 350 degrees.
In a large mixing bowl, combine cake mix, eggs & vegetable oil.
Line the air fryer basket with parchment paper.
Roll dough into tablespoon sized balls.
Roll around in the sprinkles while slightly flattening the dough balls.
Place on parchment paper lined baskets and air fry for 5-8 minutes or until completely cooked.
Transfer to a cooling rack.
Serve & enjoy.
Nutrition Information
Yield
10
Serving Size
1
Amount Per Serving
Calories

272
Total Fat

13g
Saturated Fat

2g
Trans Fat

0g
Unsaturated Fat

11g
Cholesterol

37mg
Sodium

324mg
Carbohydrates

35g
Fiber

1g
Sugar

19g
Protein

3g
If you liked these air fryer treats be sure to check these out:
Amazing Air Fryer Chocolate Cake
Easy and Delicious Air Fryer Cheese Danish
Air Fryer Blueberry Pop Tarts Breakfast Pastry
Air Fryer Veggie Stuffed Zucchini Boats
Air Fryer Sweet Fried Plantains – Healthy Twist On A Classic Dish
Hi! I'm Nellie. I am a busy mama of three, wife to my high school sweetheart who loves to cook, workout and stay organized! I love to share helpful printables, the best recipes and fitness tips for the modern mom. I strongly believe that every mom can feed their family well, take proper care of themselves and have fun along the way! Read my story.
Get comfortable and be sure to come hang out with me on social. Don't grab your free fitness journal before you go!