I'm having my first baby girl! I went back and forth about whether or not to have a 3rd shower, but my last baby shower was 7 years ago and so many new people have come and gone in our lives since then, so yes, it was time to party!
Pinterest wasn't really around back then, so I was excited to do a fun and super detailed UNICORN themed baby shower! With all of the beautiful pastel colors, the entire affair couldn't BE more girly!
The shower was a huge success thanks to my best friends and family. If you are looking to plan a unicorn themed baby shower here are some fun ideas for your event!
9 Fun Ideas For A Unicorn Themed Baby Shower
Creative and Enchanting Ideas for a Unicorn Baby Shower
When you've got a little one on the way, a baby shower is the perfect way to celebrate with friends and family. And what could be more magical than a unicorn-themed baby shower? This whimsical theme allows for endless creativity and can make your event feel like a fairytale. From decorations to games to food, here are some fun and delightful ideas to make your unicorn baby shower truly magical.
A Whimsical Color Palette and Decor
Set the mood by picking a color scheme that matches the ethereal unicorn theme. Think pastels like lavender, mint green, blush pink, and baby blue. Drape your venue with tulle or fairy lights, and incorporate unicorn elements like gold or glittery unicorn horns, confetti, and of course, rainbows. Don't forget a photobooth corner with unicorn props such as wigs, horns, and plush toys for guests to take pictures with.
Mystical Invitations and Keepsakes
The journey into your magical world starts with the invitation. Go for a mystical design featuring unicorns, rainbows, and stars. Add a sprinkle of glitter inside the envelope for a touch of magic right when guests open it. For keepsakes, consider personalized unicorn-themed items like keychains, mini photo frames, or scented candles, so guests can take a piece of the magic home with them.
Enchanting Food and Drink Ideas
No baby shower is complete without a spread of delicious treats. Turn ordinary cupcakes into unicorn cupcakes by adding a swirl of pastel-colored frosting and a mini unicorn horn. Create a rainbow fruit platter or offer unicorn-shaped cookies. Don't forget beverages—serve pastel-hued drinks like lavender lemonade or a blue-tinted mocktail. For a stunning centerpiece, a unicorn cake with cascading rainbow layers when you cut into it will be the talk of the event.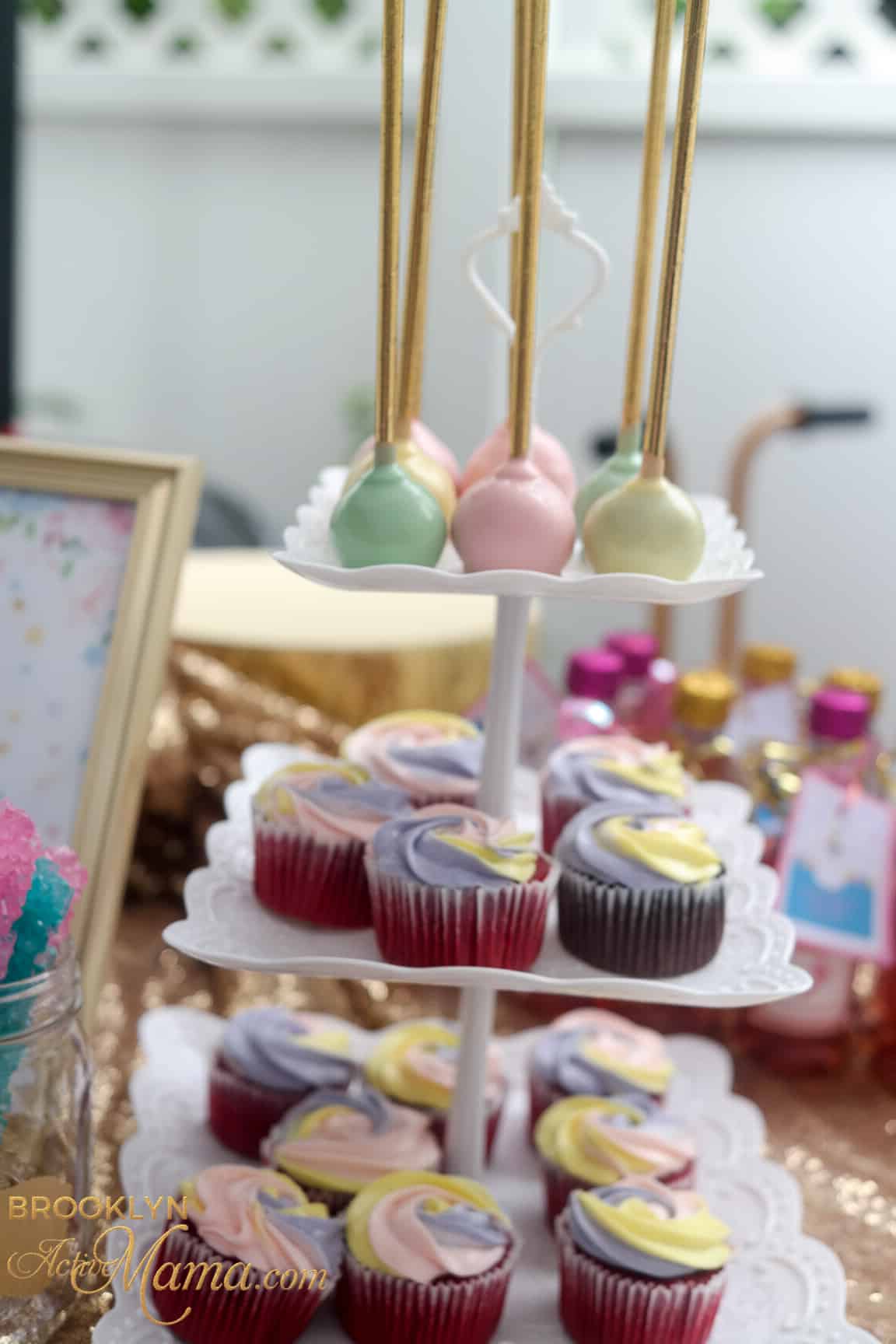 Magical Games and Activities
Baby shower games are a staple, and they can easily be adapted to fit the unicorn theme. Try "Pin the Horn on the Unicorn," or a unicorn treasure hunt where guests search for little unicorn toys or stickers hidden around the venue. For a more sentimental activity, provide wooden or cardboard unicorn cutouts and markers so guests can write down their wishes for the baby, creating a keepsake that will be treasured for years to come.
Crafting Corner for All Ages
Set up a crafting corner where guests can decorate their own mini unicorn figurines, assemble unicorn-themed baby mobiles, or even create their own magical wands. This not only adds an interactive element to your baby shower but also allows for a broader range of age participation, from little cousins to grandparents.
Unicorn-Themed Favors
Send your guests home with a little package of unicorn magic. Ideas for favors include unicorn-shaped soap, unicorn bath bombs, or a small pot of "unicorn food" (colorful jellybeans or skittles). Package these in a pastel-colored bag or box, and you've got a memorable gift that perfectly encapsulates the magic of the day.
Embracing a unicorn theme for a baby shower allows for a plethora of creative ideas that can make your event unforgettable. It's an uplifting and enchanting theme that offers endless opportunities for whimsy and joy, making it a perfect way to welcome a new life into the world.
Mason Jar Centerpieces
When my girlfriend said that she had the centerpieces covered, I didn't even blink. You know when you have one of those creative people in your life that you know you can TRUST? That's her. I absolutely adore these mason jar unicorn centerpieces. You can make this or something similar that looks perfect in the center of any table!
DIY Unicorn Photo Frame
Do it for the gram right? I made this DIY Photo Frame with lots of help from youtube. There wasn't a specific tutorial but I took inspiration from may videos and came up with this! I used my silhouette to cut the letters, ears, horn and eyelashes from vinyl. I also made the paper flowers (for the first time) and that came out better than I imagined! if you have any specific questions about the frame let me know!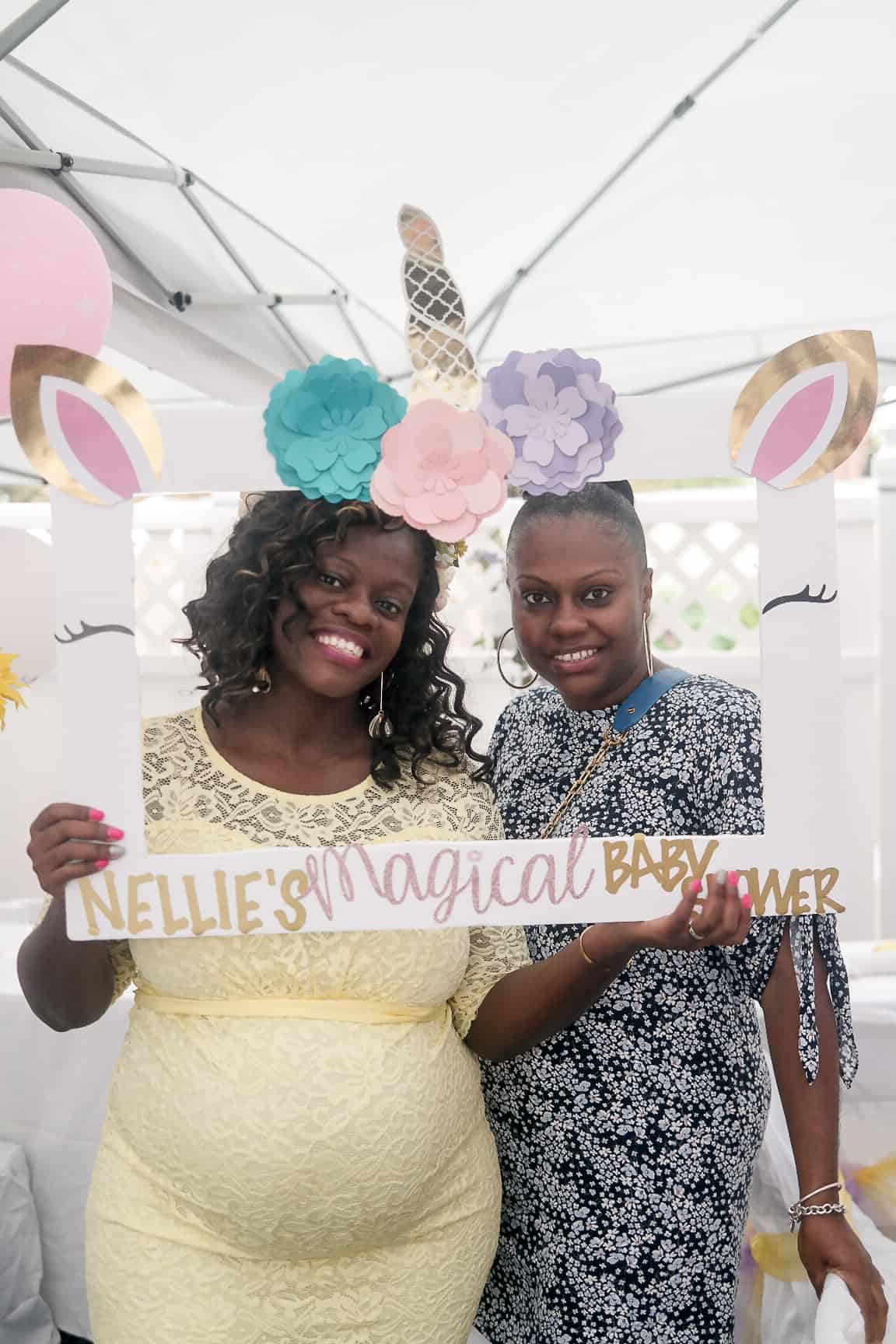 Unicorn Photo Props
Party City sells Unicorn photo props that went perfectly with the photo frame! Of course we forgot to put them out so, no pictures! 🙁 But still a really good idea!
Unicorn Themed Games
On Etsy, they sell easy printable unicorn game packages. This saves a LOT of time figuring out things for your guests to do. The ones we chose were Gift Bingo, The Price Is Right, Who Knows Mommy Best & Best Wishes For Baby. Each of these games were designed perfectly to match the colors and design of the unicorn theme.
Rose in sparkly glasses
Keeping with the very pink and girly theme, my host purchased 2 bottles of sparkling rose that went well with these sparkly disposable wine glasses.
Unicorn Custom Invitations
Etsy has a fantastic collection of Unicorn themed invitations that you can either print, or have them print for you. There are several different color schemes that range from light pastel and super flowery to darker colored flowers. Make sure you stay consistent with your colors to keep a cohesive look.
Unicorn themed Activity Stations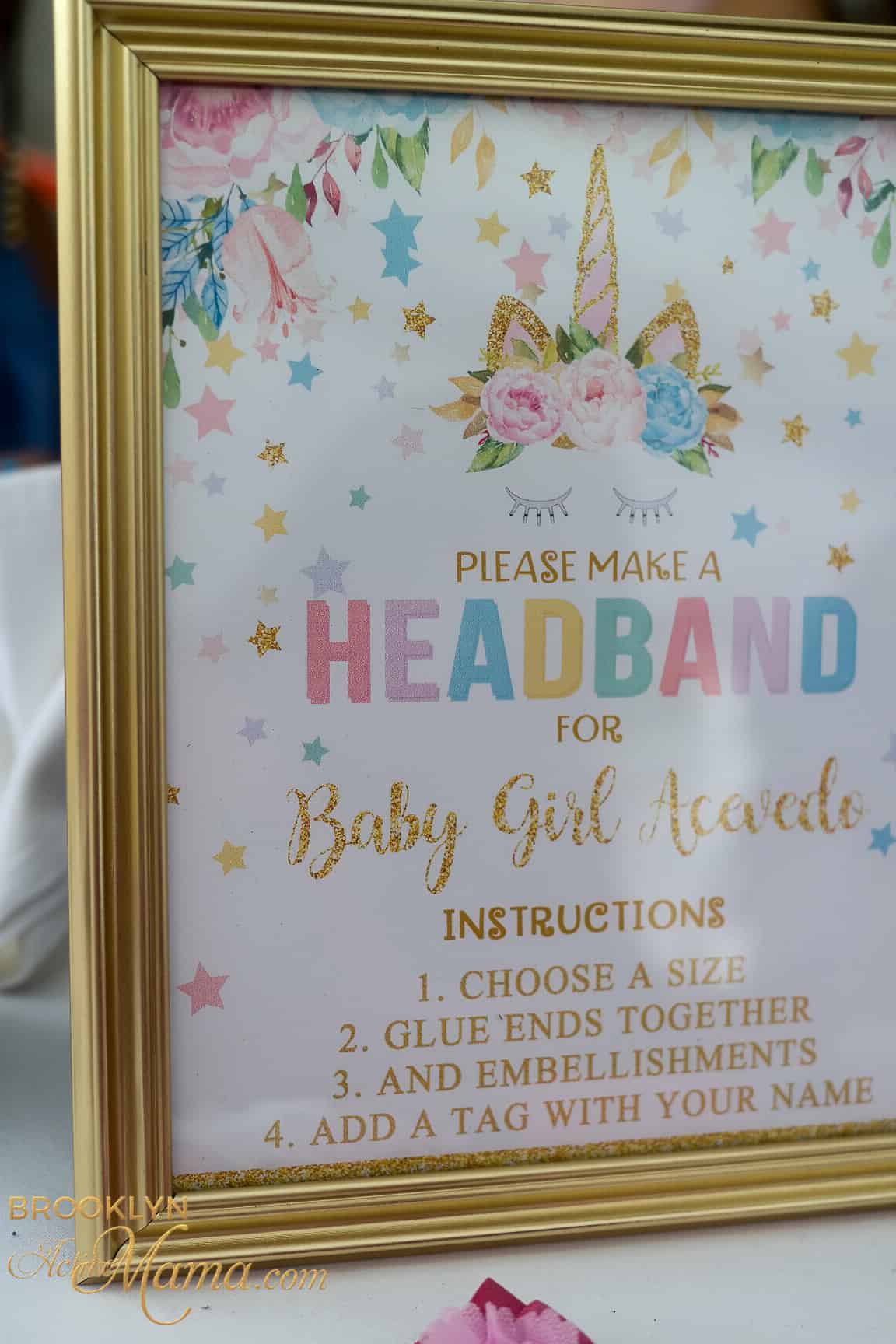 In addition to the games, I wanted the guests to be busy and flex their creative muscles. So we had a onesie station as well as a headband station. We got $1 frames from Dollar tree, purchased and printed out Unicorn themed signs for the activity stations. It was so simple but cute!
Unicorn Themed Sweet Treats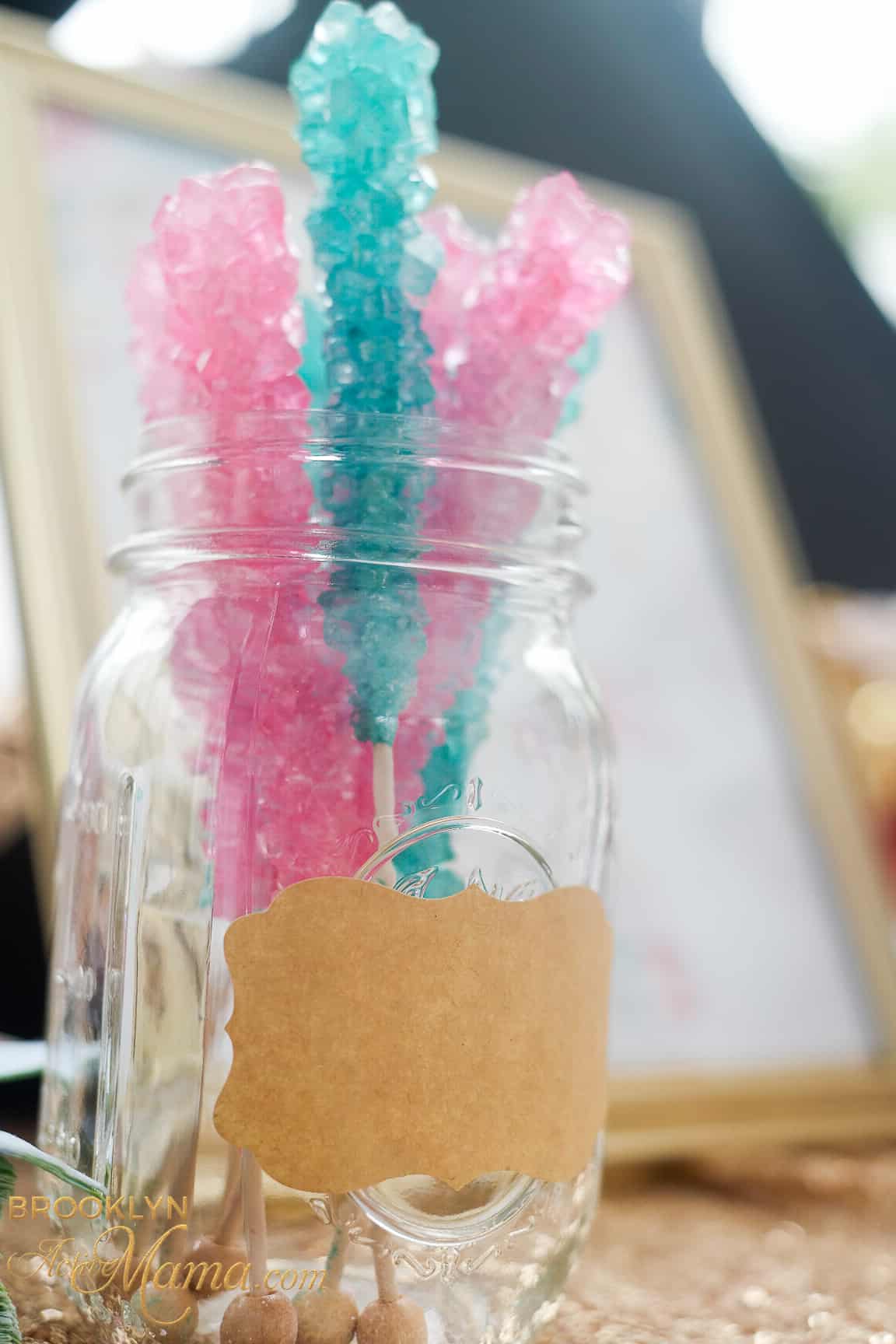 Is there anything better than a Unicorn cake? Nope! We got a beautiful statement cake from one of my friends who is a baker and made sure to include cupcakes and cake pops. My friend brought the gorgeous gold glittery table cloth, and I purchased the really pretty gold glitter cake stand from Amazon and it all came together beautifully.
Unicorn Themes Water Bottle Stickers
On Etsy, I also purchased customized water bottle covers which I printed on sticker paper and applied to the water bottles. It was a small detail that just added to the overall theme!
For some more fun mom to be posts check out:
Hi! I'm Nellie. I am a busy mama of three, wife to my high school sweetheart who loves to cook, workout and stay organized! I love to share helpful printables, the best recipes and fitness tips for the modern mom. I strongly believe that every mom can feed their family well, take proper care of themselves and have fun along the way! Read my story.
Get comfortable and be sure to come hang out with me on social. Don't grab your free fitness journal before you go!