Revealing the gender of a baby can be so much fun! If you are looking for some ideas and inspiration you have come to the right place. Today I am sharing tons of ideas on how to plan a gender reveal party.
Gender Reveal Party Ideas
Throwing a gender reveal party can be such a fun way to find out what the expectant parents are about to give birth to. Whether this is a surprise to the expectant parents or a surprise to the party guests, having a gender reveal party is much like throwing a baby shower event. The difference is that a gender reveal party places focus on whether the upcoming baby is going to be a girl or a boy.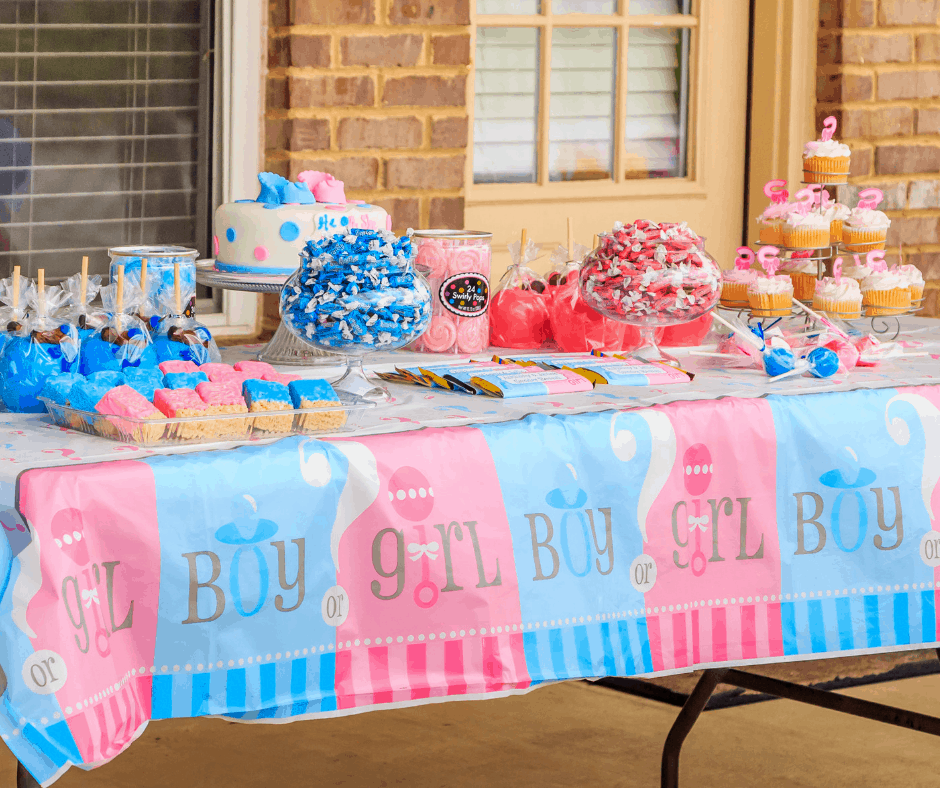 Gender Reveal parties were definitely not a thing when I have my boys 10 and 7 years ago respectively. We definitely learned about the gender of the baby through an ultrasound and called around to tell family and friends.
If I was having a few more kids, I'd probably do a party. I've been to a few reveals and had a great time. I personally LOVE get togethers, so a gender reveal is a great excuse to have one!
We didn't have a gender reveal party for my baby girl last year but we DID go on our local FOX new station as a part of a gender reveal segment.
We popped a big vague balloon that sprayed pink confetti everywhere! That was a super unique way to host a gender reveal and it was easy for family and friends to learn we were having our first girl.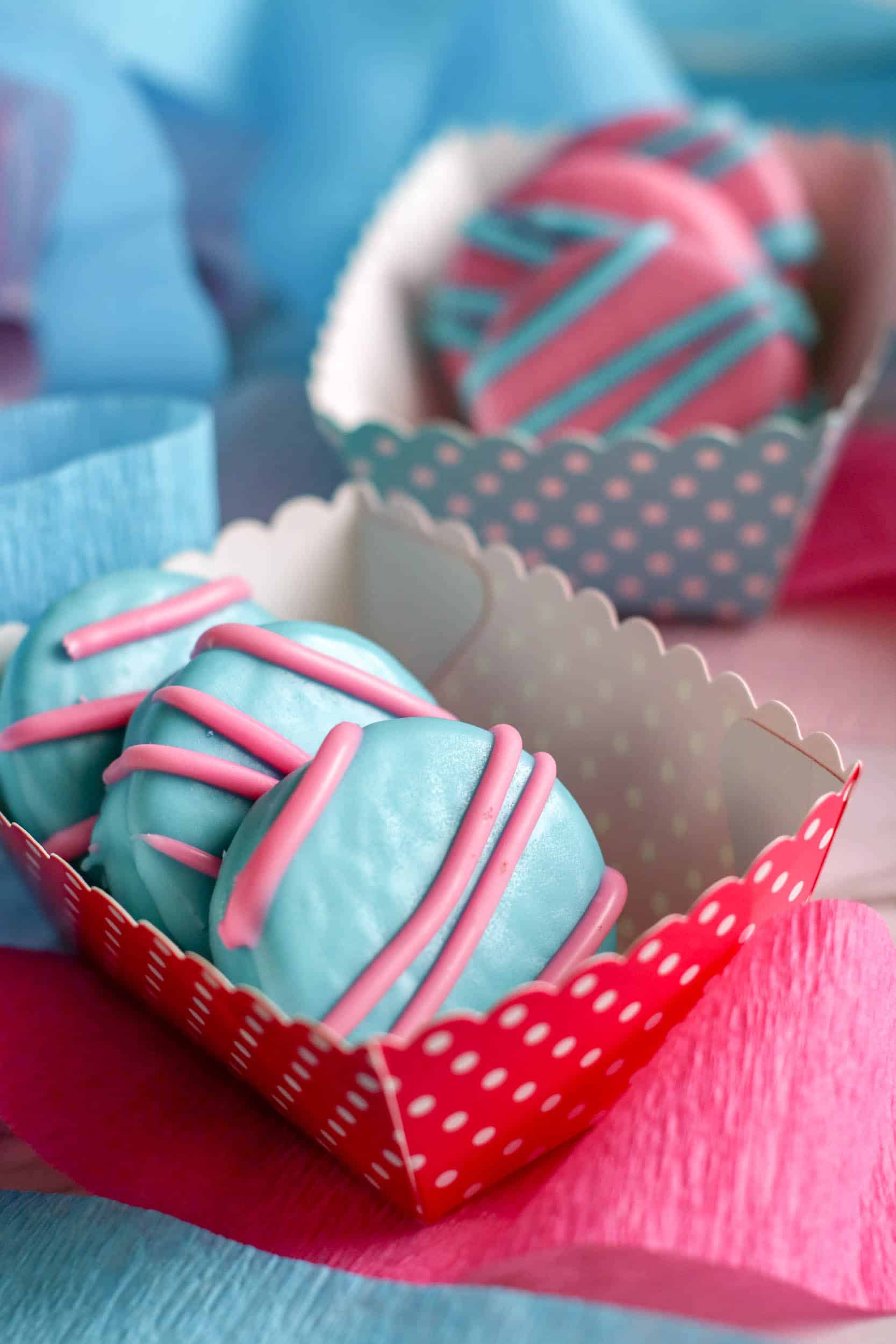 Today I'm going to share some fabulous tips to plan a gender reveal party that are easy to follow and will allow you to plan a spectacular event for friends and family to attend. This is a special time and the big reveal should be one you never forget (for great reasons!)
How to Plan a Gender Reveal Party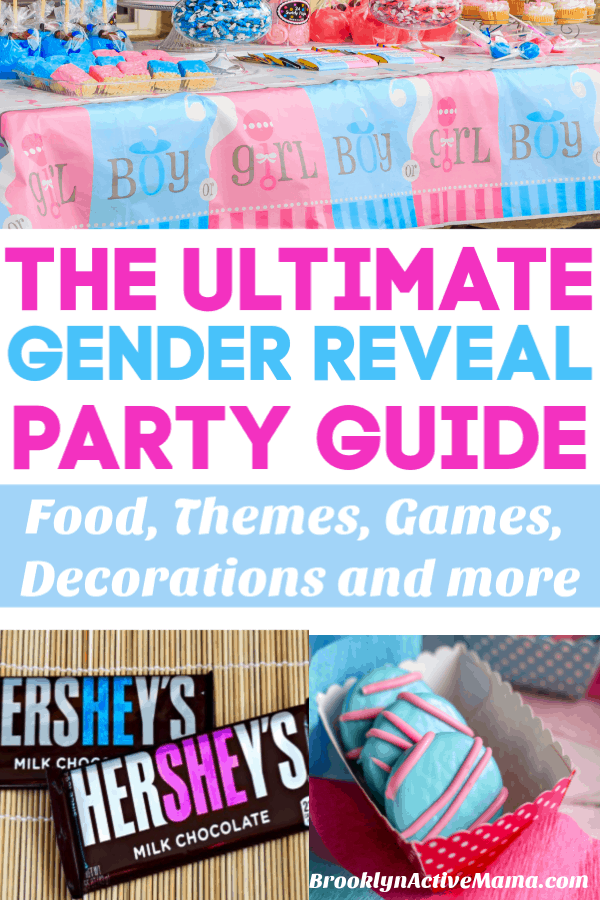 First Pick a Date and Time
It's important to choose a date and time that will work for all of the planned guests to attend as well as the expectant parents. If you're throwing a gender reveal party for the expectant parents, be sure touch base with them to get their schedule. This will help you select a date and time that won't interfere with the expectant parents' current schedule.
Gender Reveal Party Themes
If you're going to go for the element of surprise then you'll want to pick a generic baby reveal party theme that won't give away the gender of the baby right away. While some people prefer to pick a team blue theme for boy and team pink theme for a girl, you could opt to keep it gender-neutral in order to create an element of suspense for guests upon arrival.
Gender Reveal Party Ideas & Games
No party is complete with a bunch of games for guests to play and enjoy. You can pick some gender guessing games to get the guests involved in trying to figure out if the sex of your baby will be a boy or a girl.
You could opt to play some DIY baby shower type games at this gender reveal party too. The options are endless and totally up to you, just make sure you have some games planned!
Some might enjoy some fun games that wives tales, pink or blue confetti (or silly string). Maybe you might want to create some scratch off cards that people can share to social media. What about if you had the winner open the box revealing the gender? The possibilities are so endless!
Check out these 41 Gender Reveal Games everyone will love!
Gender Reveal Party Decorations
Gender reveals have become as popular as birthday parties. You can find some great decorations at Amazon, Etsy and even Party City. There have everything from balloon arrangements to the actual reveal instrument that you want to use. There are even shops on Etsy that will personalize your decorations and games for the parents.
Gender Reveal Party Food Ideas
One of the most fun ways to do a gender reveal is to bake some cupcakes that have a pink or blue frosting or whipped cream filling inside. This will allow each of the guests and expectant parents to bite into something at the same time to reveal the baby's gender. This is a fun way to enjoy some goodies together all the while providing a yummy gender reveal to your guests. If you want to make you own cupcakes instead of ordering them check out these gender reveal cupcakes from Love In My Oven.
There are many more fun treats ideas like cake pops, ice cream, cotton candy and even these cute Hershey chocolates. You can even use marshmallows, blue and pink drinks, and rice krispie treats! I've got a super simple Gender Reveal Oreo Recipe below that you can use for the party too!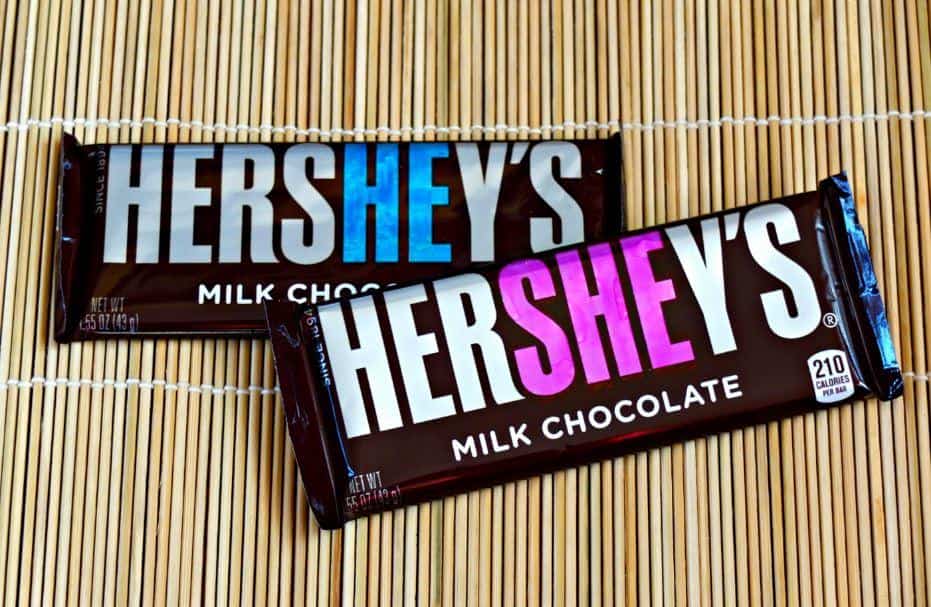 Gender Reveal Surprise Ideas
You can opt to have a balloon pop with confetti flying out to the guests in the colors of blue or pink, as well as other DIY gender reveal options that are found on Pinterest. At the end of the day, it's important to remember that this gender reveal party is all about keeping the guests entertained, mingling and in suspense until the final gender reveal session is ready!
One of my favorite ways for a reveal is with a baseball smash. If you have a baseball inclined partner you should consider this one! Especially during the warmer months.
Gender Reveal Party Etiquette
Most guests wonder, do I need to bring a gift to the gender reveal party? It can be super confusing because it's similar to a shower because you are celebrating the baby but this is all about the gender. The most common answer is no gift. Especially if the party is a separate celebration from the baby shower. Guests are expected to attend, support the couple and enjoy the treats!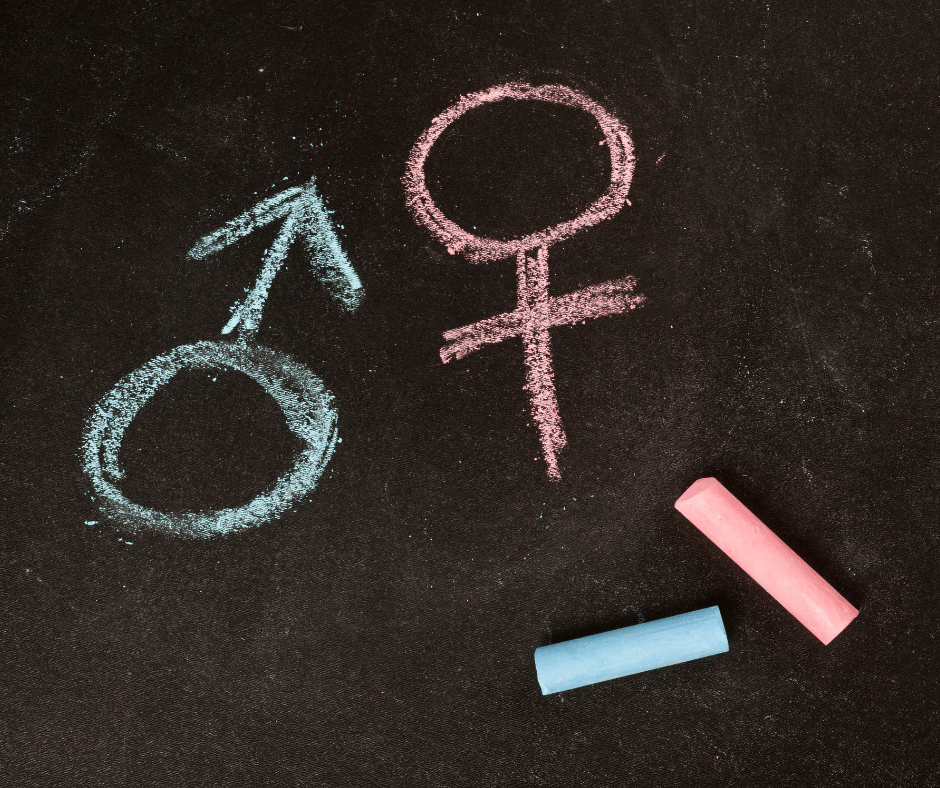 Gender Reveal Fails
There have been some reveals that have gone horribly wrong. Make sure you read the instructions of whatever device that you plan to use because we definitely don't want any of these gender reveal fails to happen to you!
Gender Reveal Oreos Recipe
These oreos are super simple! All you need is to get some blue and pink candy melts, pour them over the oreo cookies and let them set in the refrigerator. These are fun, tasty and they look really cute on the dessert table–if you choose to have one! (But let's be honest, there is so going to be a dessert table!)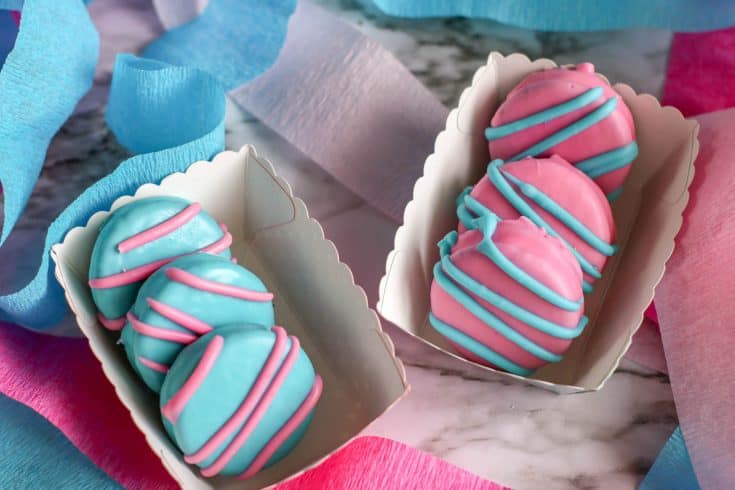 Yield:

12-24 cookies
Gender Reveal Oreo Cookies - Easy, fun and yummy! Perfect for any Gender Reveal Party.
Super easy to decorate gender reveal oreo cookies featuring pink and blue candy melts, making the perfect festive cookie for gender reveal parties!
Ingredients
1 (15.35 ounce) package Oreo Chocolate Sandwich Cookies
2 (12 ounce) packages blue candy melts wafers
2 (12 ounce) packages pink candy melts wafers
Instructions
Line a baking sheet with waxed paper.
Melt candy coating according to package directions. If the candy is too thick to pour, add 1 teaspoon coconut oil or vegetable shortening. Stir well. Do not add water. You can add up to 1 tablespoon of coconut oil per bag of candy wafers.
Dip each cookie into melted candy. Remove
cookie, tapping gently against the side of the bowl, allowing excess candy to return to the bowl. If air bubbles form, pop them with a toothpick. Place the cookie onto the waxed paper. Allow to set completely before proceeding to the next step. To speed the process, cookies can be refrigerated or placed in the freezer in a single layer.
Transfer melted candy coating to a piping bag or a zip top freezer bag with the corner snipped. Create solid lines of an alternating color across the cookie in stripes.
Allow cookie to set completely at room temperature or refrigerate for faster results. Store in an airtight container at room temperature.


Nutrition Information
Yield
24
Serving Size
1
Amount Per Serving
Calories

34
Total Fat

1g
Saturated Fat

0g
Trans Fat

0g
Unsaturated Fat

1g
Cholesterol

0mg
Sodium

32mg
Carbohydrates

6g
Fiber

0g
Sugar

2g
Protein

0g
Have You Ever Been To/Hosted a Gender reveal?
If you liked this article be sure to check out these too!
Free Printable Baby Journal and Monthly Tracker
5 Simple Ways to Save Money on the New Baby
Baby Bath Essentials Plus Tips For Bathing A Baby
Hi! I'm Nellie. I am a busy mama of three, wife to my high school sweetheart who loves to cook, workout and stay organized! I love to share helpful printables, the best recipes and fitness tips for the modern mom. I strongly believe that every mom can feed their family well, take proper care of themselves and have fun along the way! Read my story.
Get comfortable and be sure to come hang out with me on social. Don't grab your free fitness journal before you go!