7 Beginner Strength Training Workouts For Women
I have been preaching the message about how important Strength Training is to every body (especially women)! I gave you plenty of reasons why you should be lifting weights and I have been increasing my own weight training and feeling incredibly stronger as a result.
Today I've got you covered with some beginner strength training workouts for women. These are individual workouts with the accompanying videos so you can see them in action demonstrated properly.
A lot of my friends (including some of you readers) don't really take the time to lift weights. Women often get a bad rap at the gym–we are labeled as cardio bunnies who tend to jump on the elliptical/stairmaster/spin bike for 40 minutes get all sweaty and call it a day at the gym.
Or we go to Zumba class/Run a few miles/bike around the park and pack it in.
These are all legitimate, calorie burning, endorphin producing workouts but for those of us looking to develop muscle as well, supplementing with weight lifting is a must!
Don't forget to check out my guide for strength training specifically for women 35 and over!
How Do I Start Strength Training?
Another question I get is "Where do I start?" My answer to that is start with the basics!
You can go to your local sports supply store or even Amazon and pick up a pair of 5lb and 10lb dumbbells to workout at home. PLUS All gyms are equipped with free weights.
Here are some beginner strength training exercises for women that you can start off with that aren't too complicated. As always, make sure you check a mirror to make sure your form is correct.
You can do these at home with equipment or you can start your new weight training routine at the gym.
Once you feel comfortable with these beginner moves you can move on to the advanced strength training routines that I have for you!
Don't forget to download your Free Fitness Journal to keep track of your progress!
7 Beginner Strength Training Workouts For Women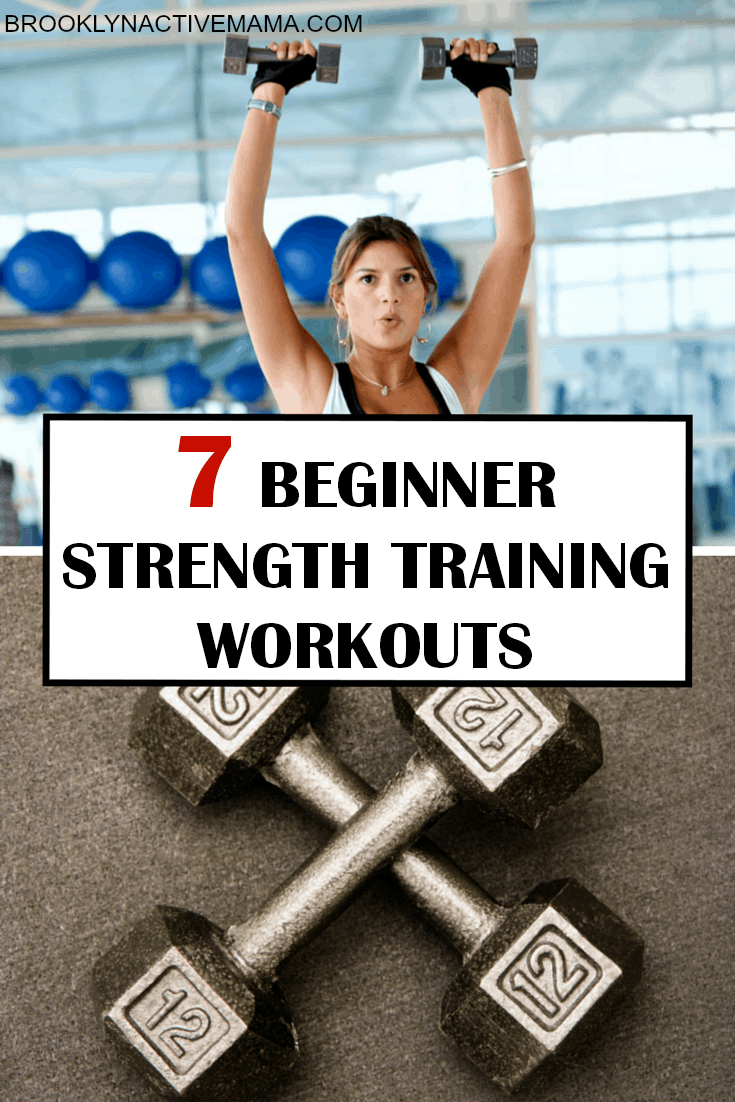 Bicep Curl
This is a great demonstration of a move that targets your arms (hello sleeveless tops!). Keep in mind you don't need to use super heavy dumbbells like the ones used in the video.
Overhead Tricep Extensions:
This is a great move to also improve your arms, check out the details of where exactly your hand should be and the proper form for this exercise
Dumbbell Lunges:
These are great for the lower body and don't require movement of the dumbbells, basically you are taking lunges to a whole new level by adding extra resistance training.
Dumbbell Squat & Overhead Press:
This is a fantastic combo move! Again for beginners, I would start with 5lb weights or less.
Deadlifts:
This one is also fantastic for the legs, notice the options she gives for straight legs, or bent knees, it is up to you and your flexibility level
Chest Press:
This exercise requires you to lie flat on your back and works your chest. You will need dumbbells for this exercise if not a barbell at the gym works just fine too.
One Arm Dumbbell Rows:
This one works your arms and back and a heavier weight is recommended (but not too heavy!)
If you are looking for more advanced strength training programs check out these 9 Beginner Strength Training Routines For Women which features full weightlifting programs from BodyBuilding.com and more.
If you loved this post check out –>
10 Beginner Strength Training Arm Exercises
10 Strength Training Exercises for Strong Legs
5 Practical Reasons Why All Women Should Be Lifting Weights
Do you love cardio or strength training more? For those veterans at strength training, which basic move would you add to the list?
Before you go don't forget to grab your free Fitness Journal Health Goals Tracker here!
Hi! I'm Nellie. I am a busy mama of three, wife to my high school sweetheart who loves to cook, workout and stay organized! I love to share helpful printables, the best recipes and fitness tips for the modern mom. I strongly believe that every mom can feed their family well, take proper care of themselves and have fun along the way! Read my story.
Get comfortable and be sure to come hang out with me on social. Don't grab your free fitness journal before you go!