10 Awesome Educational Apps For Kids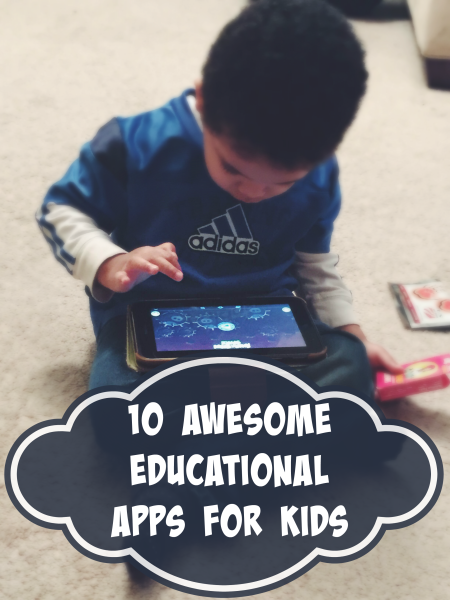 Lately I have noticed that the boys are asking for my phone a lot more. I let them check out the YouTube Kids app which has plenty of educational clips but I really was in the market for full apps (both free and paid) so the kids could have a choice of what they wanted to play with.
I don't let them get the phone often, really only while we are travelling on the trains or at home after all homework is done. I am not the biggest fan of apps that are more like video games so I compiled a list of apps that are not only educational but are fun too!

Ten Best Educational Apps for Kids
In the digital age, technology isn't just for entertainment; it's also an excellent resource for learning. The app stores are teeming with educational apps designed to make learning fun and interactive for children. With so many options available, it can be overwhelming for parents to find the right apps that combine entertainment with quality education. To help you out, here are ten of the best educational apps for kids that are both engaging and beneficial.
ABCmouse
ABCmouse offers a comprehensive curriculum for kids aged 2-8, covering subjects such as math, science, and reading. The app boasts a variety of interactive games, puzzles, and activities that are designed to engage children and foster a love for learning.
Duolingo Kids
An offshoot of the popular Duolingo app for adults, Duolingo Kids offers a more child-friendly approach to language learning. The app is designed for children aged 4-9 and provides a fun, game-like experience to make learning a new language more enjoyable.
Khan Academy Kids
A free, ad-free educational app for kids aged 2-7, Khan Academy Kids offers a wide range of interactive activities and lessons in math, reading, and social-emotional learning. Developed in collaboration with learning experts, the app aims to provide a strong educational foundation for young learners.
Prodigy Math Game
Aimed at children aged 6-12, Prodigy Math Game transforms math into a fun and challenging adventure. The app adapts to the child's skill level, providing an individualized learning experience that helps to improve math skills over time.
Osmo
Osmo combines physical play with digital interaction, offering a range of subjects from math and spelling to drawing and problem-solving. Children can interact with real-world objects and see them come alive on their screens, making the learning experience incredibly immersive.
Toca Lab: Elements
An excellent introduction to the world of science, Toca Lab: Elements helps children explore the periodic table in a fun and engaging manner. The app is designed for kids aged 6-8 and offers a hands-on approach to learning about chemical elements through various experiments.
CodeSpark Academy
A coding app specifically designed for kids aged 5-9, CodeSpark Academy uses visual code blocks and interactive puzzles to teach the basics of computer programming. It's an excellent way to prepare kids for a world increasingly dependent on technology.
Moose Math
Developed by Duck Duck Moose, Moose Math focuses on early math skills for kids aged 3-7. The app offers interactive games that cover counting, addition, geometry, and more. Children can engage with characters and stories that make learning math an enjoyable experience.
Star Walk Kids
A brilliant app for budding astronomers, Star Walk Kids provides an interactive guide to the night sky. Suitable for children aged 6 and up, the app helps kids identify stars, constellations, and other celestial bodies, making learning about astronomy accessible and fascinating.
Splash Math
Splash Math covers a comprehensive curriculum for kids from Kindergarten to Grade 5. The app offers a wide array of interactive math games that adapt to your child's skill level, providing personalized learning experiences that are both educational and entertaining.
Choosing the right educational apps can make a world of difference in your child's learning journey. From language learning to science exploration, these apps offer an exciting and interactive way for kids to broaden their horizons.
What are some more great parenting posts to check out?
Have you tried any of the apps on this list? Do your kids ask for your phone a lot? Do you limit screen time?
Hi! I'm Nellie. I am a busy mama of three, wife to my high school sweetheart who loves to cook, workout and stay organized! I love to share helpful printables, the best recipes and fitness tips for the modern mom. I strongly believe that every mom can feed their family well, take proper care of themselves and have fun along the way! Read my story.
Get comfortable and be sure to come hang out with me on social. Don't grab your free fitness journal before you go!