This beef and rice Mexican bowl is full of flavor and great for a weeknight meal! Mexican rice, ground beef and guacamole make for a delicious meal!
I actually spent a lot of time to figure out what my second rice bowl from Della Rice would be. The options were endless! The Steak, Veggie and Avocado Della Rice bowl was pretty awesome so I knew I had to match it–and I think I did!
Beef and Rice Mexican Bowl Recipe: A Flavor Fiesta
Get ready to bring the vibrant flavors of Mexico straight to your kitchen! This Beef and Rice Mexican Bowl is a culinary fiesta you don't want to miss. Seasoned ground beef, aromatic Mexican rice, and fresh guacamole come together in a symphony of flavors and textures that will leave your tastebuds dancing. This bowl is customizable, nutritious, and incredibly satisfying—a perfect weeknight dinner or meal-prep option.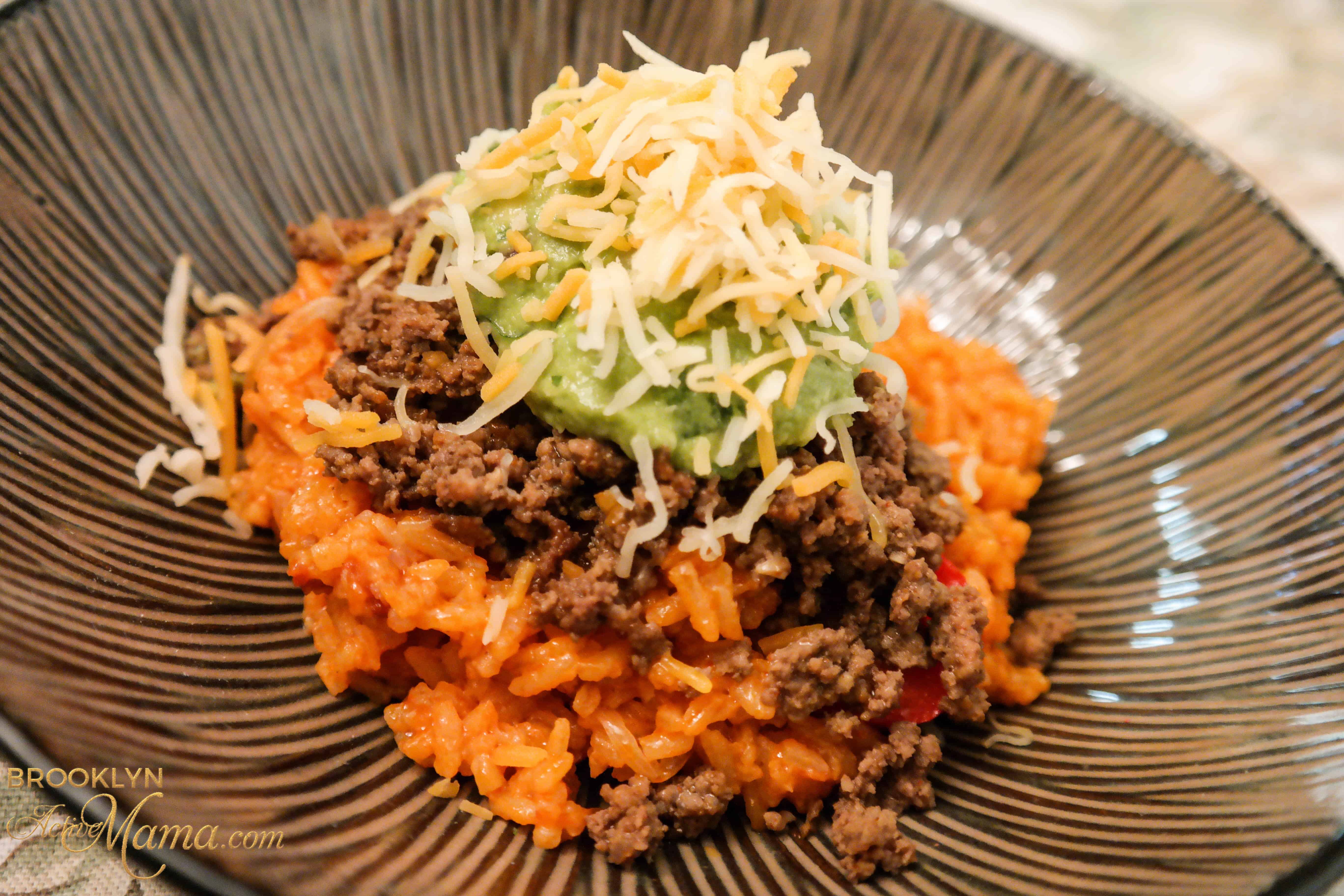 FAQs
Do I have to use ground beef?
No, you don't. While ground beef adds a rich flavor, you can also use ground turkey, chicken, or even tofu for a vegetarian version.
Can I use store-bought guacamole?
While homemade guacamole is recommended for its fresh flavor, store-bought will work if you're in a time crunch.
Is the Mexican rice spicy?
The spice level of the rice can be adjusted according to your preference. Simply modify the amount of chili you add.
Tips and Tricks
For the Ground Beef:
Always drain excess fat after browning the meat for a less greasy bowl.
For the Mexican Rice:
Toast the rice in a pan with some oil before cooking. This gives it a nutty flavor and keeps it from getting mushy.
For the Guacamole:
Use ripe avocados for a creamy and flavorful guacamole.
Variations
Vegetarian: Substitute ground beef with tofu or a plant-based meat alternative.
Low-carb: Replace rice with cauliflower rice.
Spicy: Add some chopped jalapeños or a dash of hot sauce.
Where to Serve
This bowl is versatile and works well for various occasions:
Weeknight Dinner: Quick and easy to make.
Meal Prep: Store in individual containers for lunches throughout the week.
Outdoor Gatherings: Easy to transport and assemble on the spot.
Storage
Refrigerator: Store in an airtight container for up to 3 days.
Freezer: Not recommended for freezing due to the guacamole and rice, which may change texture.
Common Problems and How to Avoid Them
Dry Rice: Ensure you have the correct water-to-rice ratio and don't overcook.
Bland Beef: Season generously. Taste and adjust.
Watery Guacamole: Use ripe, but not overripe avocados, and drain any excess liquid.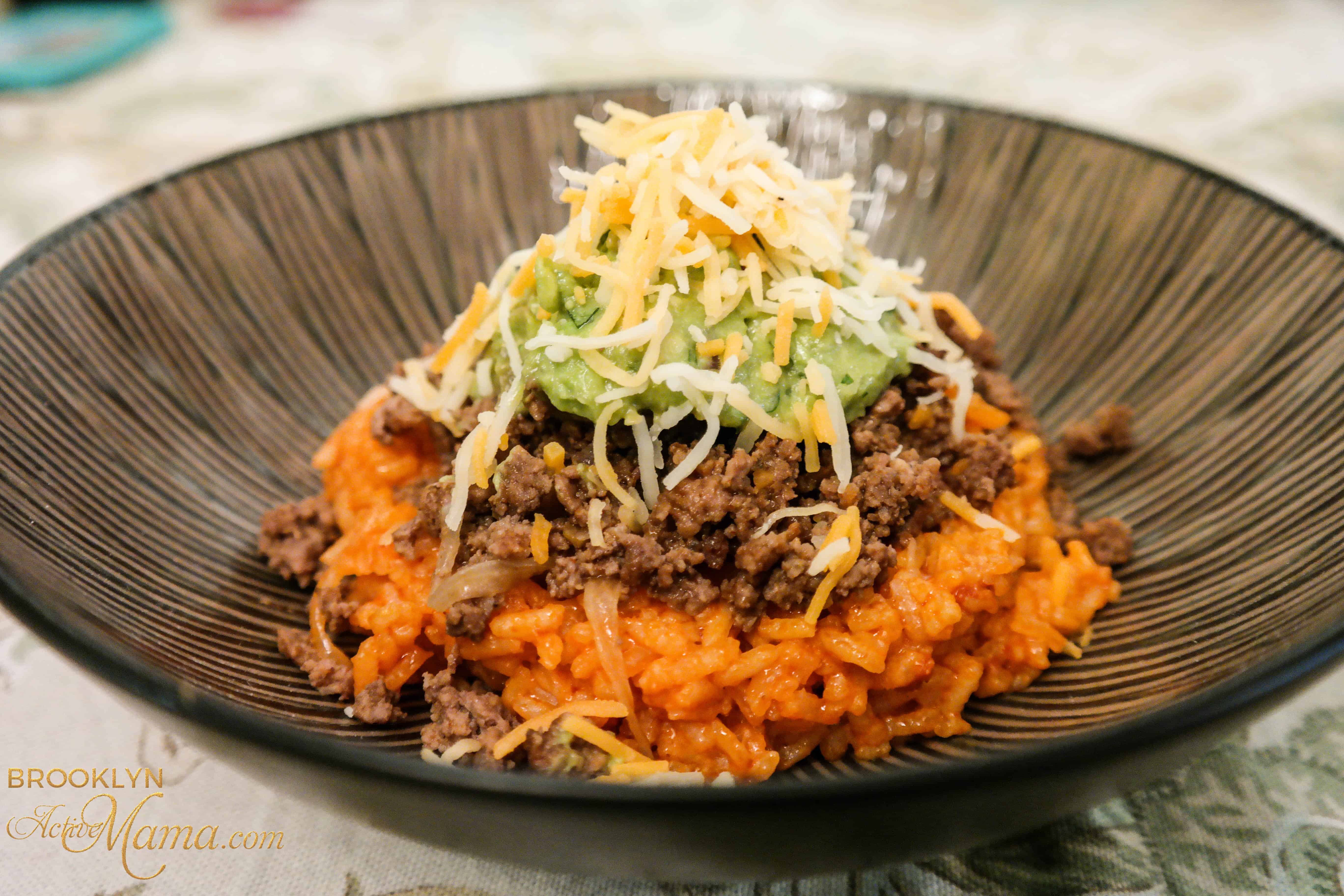 Tips for Making This Recipe with Kids
Safety First: Make sure to supervise when they're using knives or near hot stovetops.
Engagement: Let them mash the avocados for the guacamole or stir the rice. It's a great way to get them involved and interested in cooking.
Taste Test: Encourage them to taste and help adjust the seasoning. It's a fun way to teach them about flavors.
Topping Options
Cheese: A sprinkle of cheddar or cotija cheese adds creaminess.
Fresh Herbs: Cilantro for a burst of freshness.
Crunch: Tortilla chips or corn kernels for some textural contrast.
Why This Recipe Works
Balanced Flavors: The spiciness of the beef, the tang of the guacamole, and the aromatic Mexican rice create a well-balanced meal.
Nutrient-Rich: It's packed with proteins, healthy fats, and carbs.
Customizable: Easy to modify to suit different dietary needs or flavor preferences.
Whether you're an avid home cook or a culinary novice, this Beef and Rice Mexican Bowl promises to be a hit. Enjoy the process and have fun with the flavors!
This recipe creates Mexican rice using Jasmine White Rice. I'd never made Mexican rice before and who knew it was so easy! It was the first time I've made rice in a sautée pan versus a regular pot. The recipe called for seasoning the oil as well which is also a total first for me! I was totally happy with the result though!
I also bought 93% lean ground beef which is great because it's low on the fat but high on the protein. The thing about ground beef is the less fat it has folks tend to complain about less flavor–I seasoned the meat with taco seasoning and I didn't notice a difference!
I also added guacamole to the dish because…guacamole! Confession: I didn't have the time to make guacamole so I stopped at Chipotle and grabbed a side of guac for $3. Since the dish only calls for a teaspoon or so, once of the small containers is more than enough for multiple plates.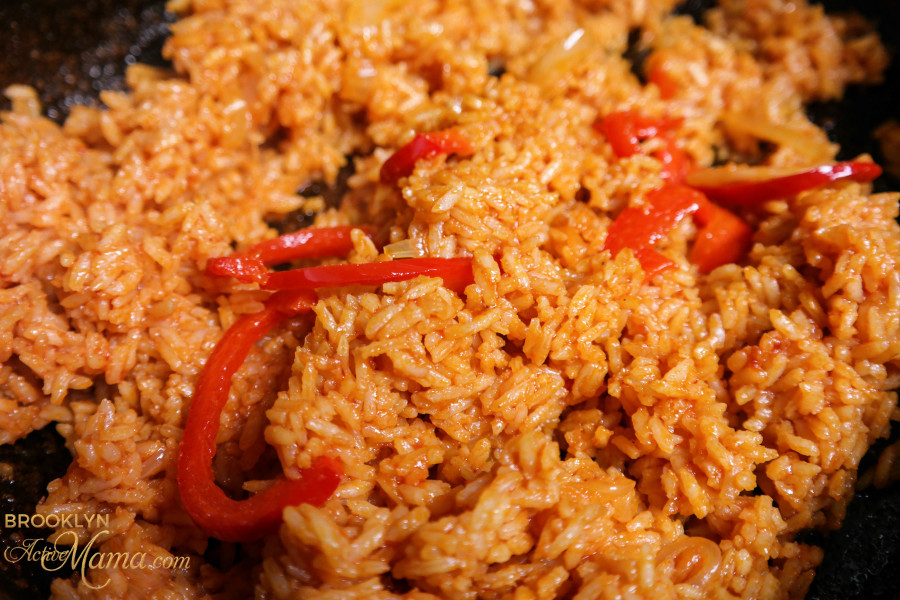 The entire dish consists of Mexican seasoned Jasmine Della Rice, Lean Ground Beef, Guacamole and a sprinkle of Cheese. The household really loved this one, even the super picky older child was asking for more.
Yield:

1 bowl
Easy and Delicious Mexican Rice Bowl Recipe
This Mexican inspired beef rice and guac bowl is so good and delicious for a weeknight meal!
Ingredients
Mexican Rice (adapted from All Recipes):
1 tablespoon garlic powder

1 tablespoon onion powder

2 cups water 

1 cup Jasmine Della Rice uncooked

1/4 cup canola oil
1/4 onion (optional)

1/4 red pepper (optional)

2 1/2 cups water (modified by me)

1 (6.5 ounce) can tomato sauce
1lb 93% lean ground beef
1/4 onion (optional)

1/4 red pepper (optional)

1 package taco seasoning (or make your own)
Instructions
Rice Directions
Heat canola oil in a skillet over medium-high heat. Season oil with onion powder and garlic powder. Cook and stir rice in seasoned oil until rice is golden, 2 to 4 minutes.
Pour water and tomato sauce over the rice; stir. Add thinly sliced peppers and onions (optional). Bring the mixture to a boil, cover the skillet, reduce heat to medium-low, and simmer until the rice is tender, about 15 minutes. IMPORTANT: Keep stirring and add water if rice starts to stick. Taste rice at the 15 minute mark to see if it has fully cooked. If not, add small amounts of water and keep stirring.
Bowl Directions
Place ground beef in skillet on medium heat, add 2 tablespoons taco seasoning until cooked. Once cooked, add more taco seasoning and salt and pepper to taste.
Guacamole--optional (check out my go to recipe here)
1/4 cup 4 cheese Mexican blend shredded
Assembly
Start with the base layer of rice, place cooked ground beef in the middle, top with one tablespoon of guacamole and a sprinkle of cheese. Wala! You have got a yummy Mexican rice bowl!
Nutrition Information
Yield
4
Serving Size
1
Amount Per Serving
Calories

444
Total Fat

25g
Saturated Fat

5g
Trans Fat

0g
Unsaturated Fat

17g
Cholesterol

101mg
Sodium

360mg
Carbohydrates

19g
Fiber

2g
Sugar

3g
Protein

35g
What are some other yummy mexican inspired dishes to try?
What is your favorite rice bowl? Favorite Mexican dish?
Hi! I'm Nellie. I am a busy mama of three, wife to my high school sweetheart who loves to cook, workout and stay organized! I love to share helpful printables, the best recipes and fitness tips for the modern mom. I strongly believe that every mom can feed their family well, take proper care of themselves and have fun along the way! Read my story.
Get comfortable and be sure to come hang out with me on social. Don't grab your free fitness journal before you go!