Here is an incredible truffle baked macaroni and cheese that you will absolutely adore! Made with high quality ingredients, you will feel like you are in a restaurant!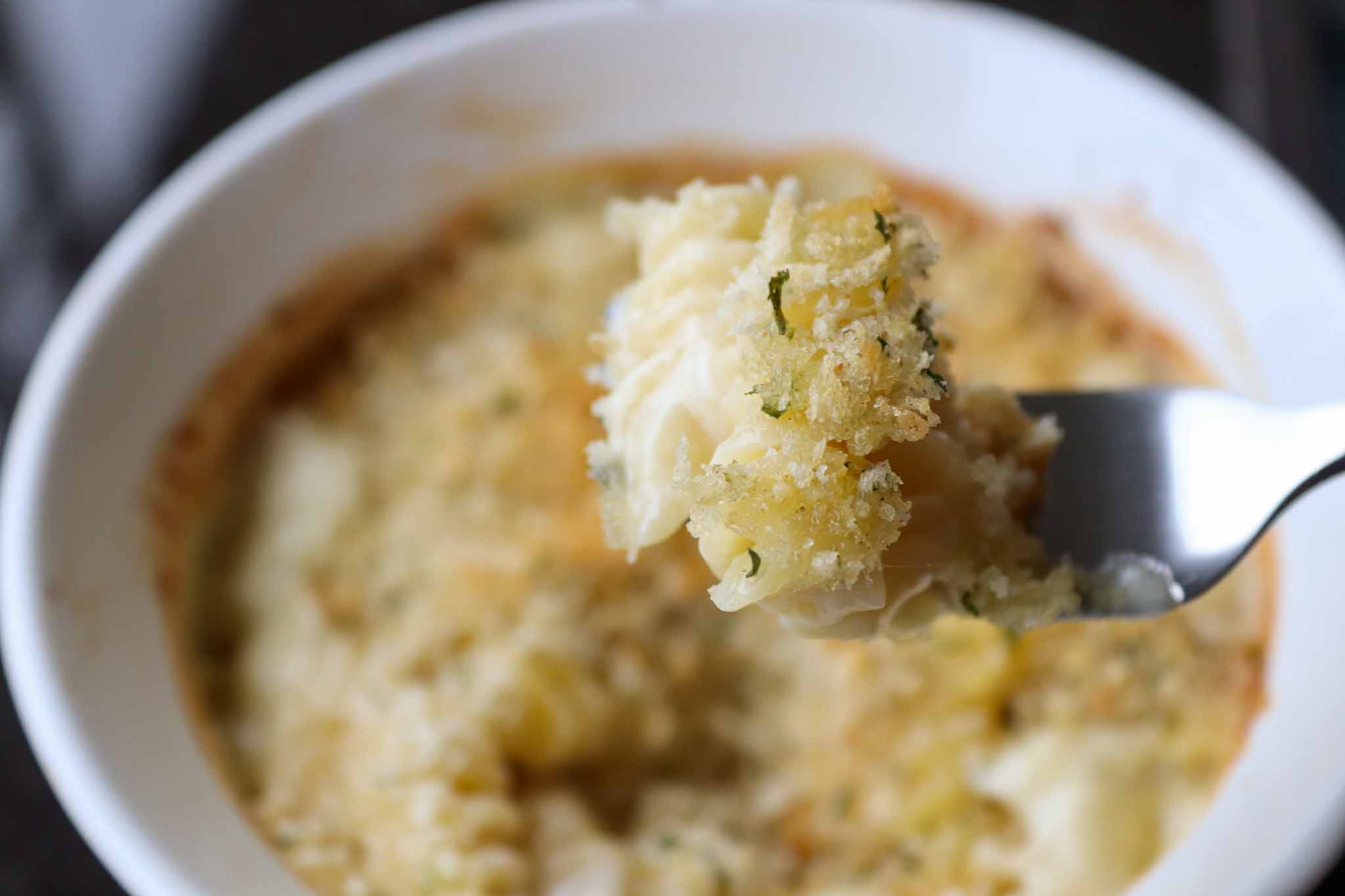 Many many moons ago when I was dating my now husband, we used to go to moderately expensive restaurants all over the city. Living in New York means that you have you pick at the greatest of all cuisines!
One place that we used to frequent when our jobs left us with a lot of money in our non adulting pockets was DelFrisco's. DelFrisco's is a high class steak house that is often filled with executives for a quick lunch during the day but way more chill for date night during the evenings.
The Ultimate Truffle Baked Macaroni and Cheese Recipe
Indulge in the ultimate comfort food with a touch of luxury. This Truffle Baked Macaroni and Cheese recipe is a cheese lover's dream, taking a classic favorite to the next level. The truffle flavor infuses a creamy white cheddar sauce that envelopes Rotini pasta. The dish is then baked to golden-brown perfection, ensuring every bite is an explosion of flavor.
FAQs
Is real truffle oil necessary?
While you can use any truffle oil, natural truffle oil provides a unique flavor that synthetic versions just can't match. If you're a truffle lover, investing in the good stuff will go a long way.
Can I use other types of pasta?
Yes! Choose any pasta with grooves, as this will help the creamy cheese sauce cling to each piece. Cook the pasta in a large pot of salted water until it's al dente.
What's the role of heavy cream in the recipe?
Heavy cream adds a rich, creamy texture to your sauce. Whole milk can be a substitute but won't give the same luxurious mouthfeel.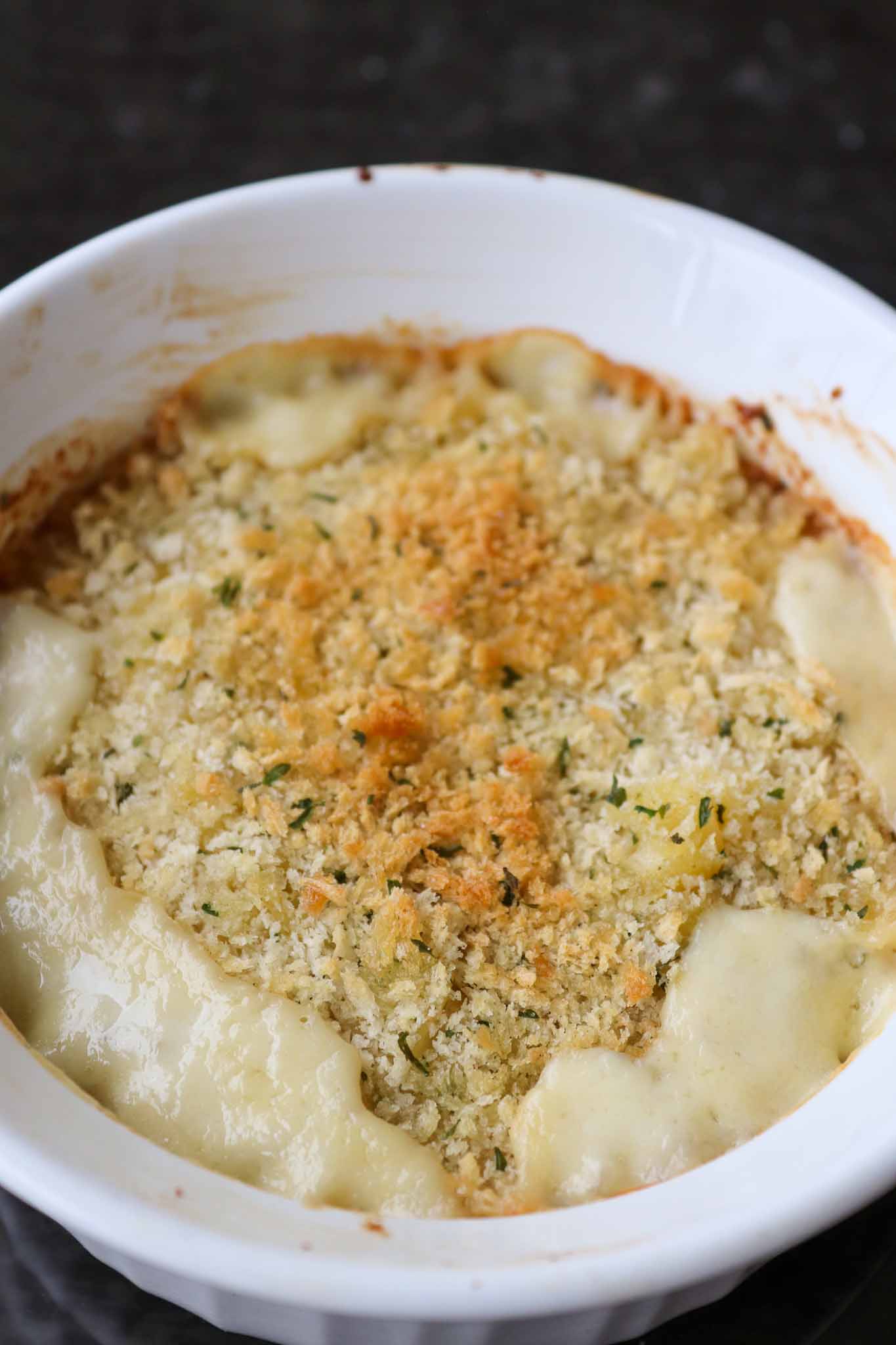 Tips and Tricks
For best results, use a large pot of water and cook pasta until al dente. Stir occasionally to prevent sticking.
In a medium saucepan, melt butter over medium-low heat, and make a thick paste with purpose flour. Add hot milk slowly while stirring to ensure a smooth sauce.
Add a splash of truffle oil and some fresh truffles if you have them. Truffle salt can also add an extra layer of truffle flavor.
Variations
Cheese Pairs
You can add gouda cheese or goat cheese for a different but equally delicious mac. Sharp cheddar cheese also works well, offering a more robust, nutty flavor.
Toppings
For a little bit of crunch, consider breadcrumbs or even garlic cloves sautéed in olive oil.
Where to Serve
This dish is perfect for special occasions and dinner parties. Serve it as a main dish during the holiday season or a romantic Valentine's Day dinner.
Storage
Keep leftovers in an airtight container. You can also freeze the dish, but the pasta may lose some of its texture upon reheating.
The service was always phenomenal and we always felt SO taken care of! I'd often get the rib eye and hubby would get the same. Before we indulged in that though we often had Truffle Baked Macaroni and Cheese as a side dish.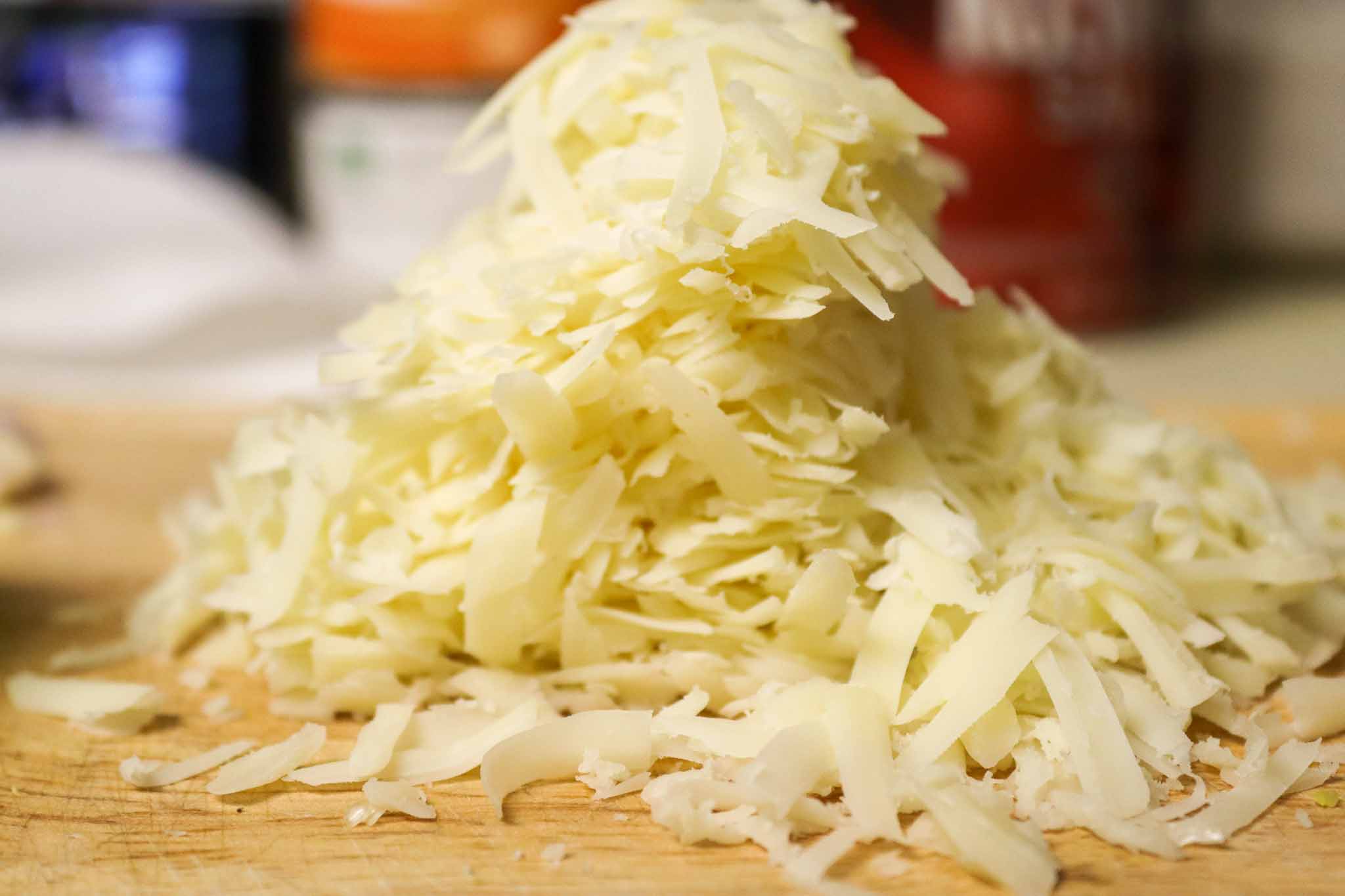 Truffle Baked Macaroni and Cheese
Recently since we have been home so often, we have been recreating some restaurant favorites. I found a recipe online in the throes of Pinterest and I was SO excited! I was able to make it and it was exactly like the real thing!
Common Problems and How to Avoid Them
Cheese Not Melting Properly
Make sure to melt your cheese in hot cream. Use medium heat and stir constantly.
Sauce Too Thick
If the sauce is too thick, you can add a bit of cold water to reach the desired consistency.
Bottom of the Pan Burning
Always keep an eye on your pot, stirring frequently to avoid sticking and burning.
Tips for Making This Recipe with Kids
This is a great way to introduce cooking to children. Let them add the cheese or stir the sauce with a wooden spoon. For safety, keep them away from the stovetop and hot ingredients.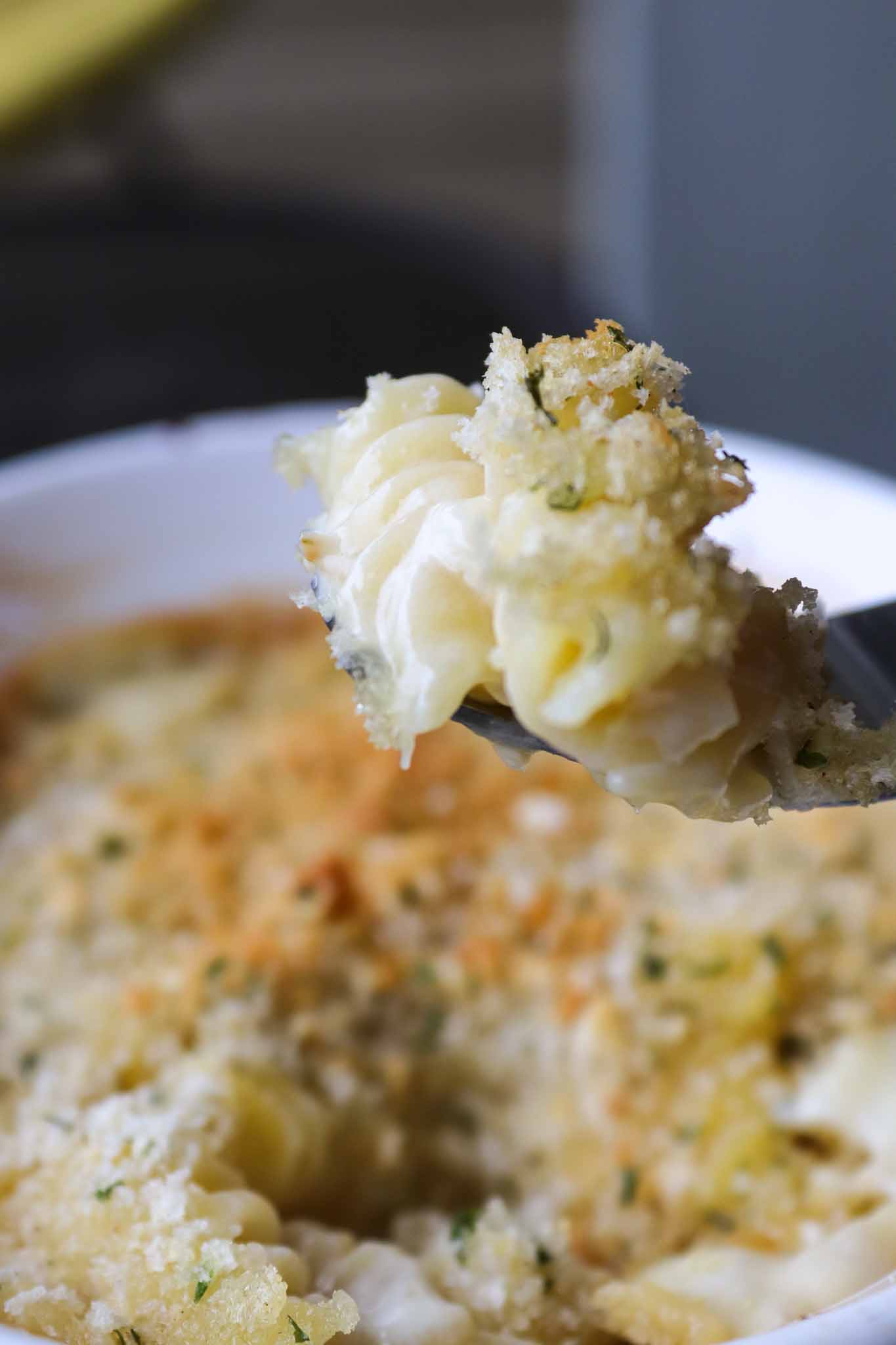 Topping Options
Consider a sprinkle of cheddar cheeses or parmesan cheese. You could also add a grinds of black pepper for a touch of spice. A drizzle of black truffle oil before serving gives the finished dish an extra truffle kick.
Why This Recipe Works
The combination of gruyere cheese and parmesan cheese offers a deep, creamy, and slightly tangy flavor that pairs beautifully with the richness of the truffles. The heavy cream creates a smooth sauce that perfectly complements the cooked pasta. With a handful of ingredients, you can create an amazing mac and cheese dish that will leave everyone asking for your secret. Whether it's the creamy cheese sauce or the luxurious truffle notes, this is the best truffle mac you will ever taste.
This recipe is definitely a different method from the way I make my normal baked mac and cheese but it was so worth it.
Ingredients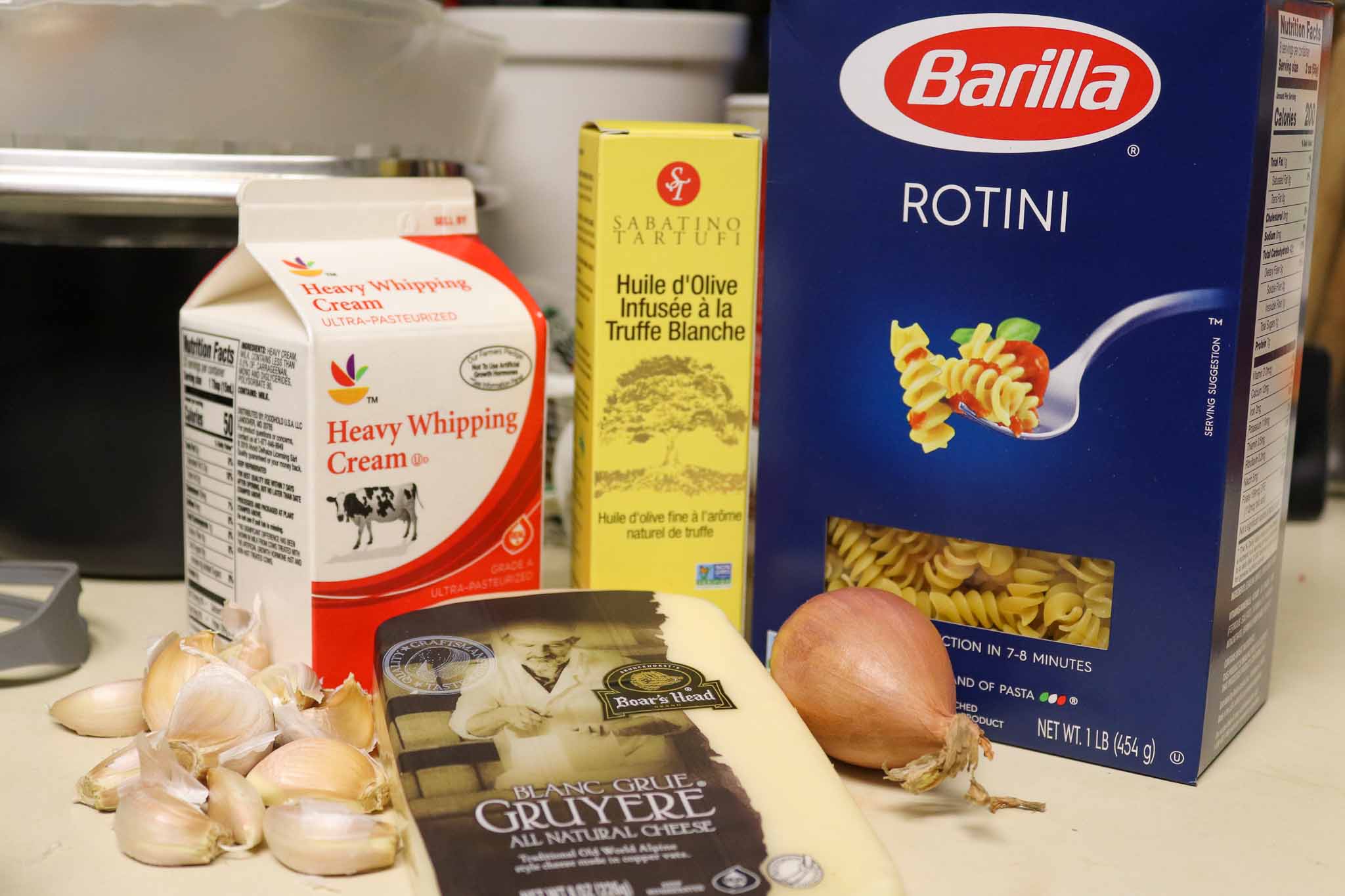 You will need shallots, fresh chopped garlic, olive oil, heavy cream, Gruyere, parmesan cheese and rotini pasta (or any pasta with grooves will do!).
What are some other amazing macaroni and cheese dishes to try?
If you are looking for a full list of fun and delicious side dish recipes be sure to check out this list –> The Best Side Dishes That Will Make Your Meal Amazing
Yield:

8-10 servings
Incredible Baked Truffle Macaroni and Cheese
A super creamy and delicious baked macaroni and cheese with an awesome crust and truffle oil. This could be served as a side or on it's own!
Ingredients
Box of Rotini Pasta (or any pasta with grooves!)
¼ cup diced shallots
¼ cup chopped garlic
2 Tbsp olive oil
3 cup heavy cream
4 oz. shredded Gruyere or swiss
2 oz. grated parmesan
Instructions
With a little oil in the pot sweat garlic and shallots till garlic browns slightly.
Add heavy cream and bring to a boil then simmer (be careful not to over heat, it will spill over the top of the pot)
Reduce by 1/3
Add gruyere and parmesan season to taste with salt and pepper. Reserve.
Pasta and Assembly
Bring 12 cups of water and 6 Tbsp of salt to a boil
Add pasta and stir to prevent sticking
Once pasta is cooked, strain and add to sauce
Stir pasta in with sauce over low heat.
Place in a 4×4 square gratin dish
Top with ½ cup Bread Crumbs, bake in a 400 degree oven till bread crumbs start to brown. (5-10 minutes depending on oven)
Remove from oven and drizzle with a good quality truffle oil (should have truffle in the oil)
Serve
Nutrition Information
Yield
10
Serving Size
1
Amount Per Serving
Calories

405
Total Fat

37g
Saturated Fat

22g
Trans Fat

1g
Unsaturated Fat

13g
Cholesterol

108mg
Sodium

224mg
Carbohydrates

8g
Fiber

0g
Sugar

3g
Protein

11g
If you liked this Baked Truffle Macaroni and Cheese be sure to check out this 20 Minute One Pot Tomato Basil Pasta!
Hi! I'm Nellie. I am a busy mama of three, wife to my high school sweetheart who loves to cook, workout and stay organized! I love to share helpful printables, the best recipes and fitness tips for the modern mom. I strongly believe that every mom can feed their family well, take proper care of themselves and have fun along the way! Read my story.
Get comfortable and be sure to come hang out with me on social. Don't grab your free fitness journal before you go!