Imagine the union of a giant cookie and the most decadent chocolate cake you've ever tasted. That's what you get with our M&M Dump Cake. It's a delightful melange of cake batter infused with candy-coated chocolates and gooey chocolate chips, coming together to satisfy any sweet tooth.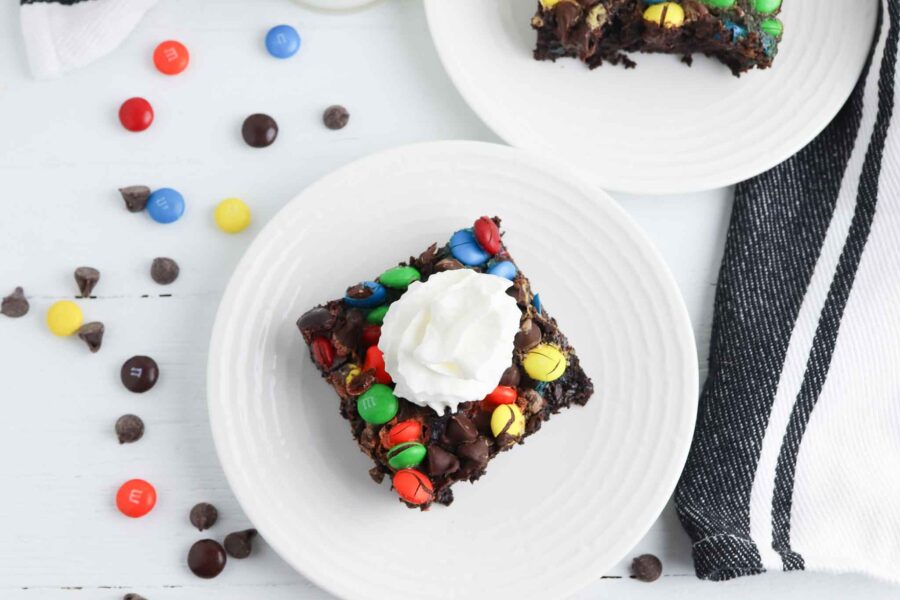 Perfect for birthday cakes or just a quick treat, this dessert is a showstopper. And the best part? It's super easy to make. Let me walk you through this delightful recipe!
What ingredients do you need for this recipe?
Every ingredient in the M&M Dump Cake plays a specific role, both in terms of flavor and functionality.
Here's why each one is important:
Chocolate Cake Mix:

Purpose: This serves as the foundation of the dump cake. It contains a mixture of all-purpose flour, cocoa powder, sugar, and leavening agents, which, when combined with wet ingredients, provides the cake's body and structure.
Flavor Profile: Offers a deep chocolate flavor, creating a decadent base for the dessert.

Instant Chocolate Pudding:

Purpose: This ingredient brings moisture to the cake. It makes the texture more velvety and moist than using just the cake mix alone.
Flavor Profile: Adds an additional layer of rich chocolate taste to enhance the overall chocolate experience.

Unsalted Butter, Melted:

Purpose: Butter provides moisture, fat, and helps in the even distribution of ingredients. The fat from butter also gives the cake a tender crumb.
Flavor Profile: Butter contributes to the richness of the cake and offers a creamy undertone.

Milk:

Purpose: It acts as a liquid agent, helping combine the dry and wet ingredients. Milk also contributes to the cake's moistness and softness.
Flavor Profile: Adds a creamy and slightly sweet element, complementing the richness of chocolate.

Chocolate Chips:

Purpose: They introduce pockets of melted chocolate throughout the cake. This not only adds texture but also ensures every bite is filled with gooey chocolate.
Flavor Profile: They elevate the overall chocolatey goodness, making the cake even more indulgent.

M&Ms:

Purpose: M&Ms are candy-coated chocolates. Their hard shell ensures they don't melt entirely into the cake, so they provide little bursts of candy texture throughout.
Flavor Profile: They add a playful sweetness and a hint of crunch, enhancing the sensory experience of the dessert.
Each ingredient in this recipe, as simple as it may seem, carries its weight and importance. When combined, they work harmoniously to create a decadent, rich, and indulgent dessert perfect for any chocolate lover.
FAQs
What is a dump cake?A dump cake is an easy cake where you simply "dump" all your basic ingredients into a pan and bake. It's an effortless way to satisfy those dessert cravings.
Can I use other types of candy instead of M&Ms?Absolutely! Feel free to swap the M&Ms with other candy like kit kat bars or any of your favorites.
Tips and Tricks
For an even richer flavor, substitute some of the milk with heavy cream.
Always use room temperature ingredients for a smoother mixture.
To prevent the cake from sticking, line your springform pan or cake pans with parchment paper.
Variations
Sugar Cookie Dough Base: Swap the chocolate cake mix for sugar cookie dough for a chewy M&M cookie cake.
Extra Indulgence: Add a layer of brown sugar at the bottom of the pan for a caramelized touch.
Where to Serve
Perfect for birthday parties, special occasions, or even an elementary school treat. It's a versatile dessert that's always a hit.
Storage
Store in an airtight container to maintain its freshness. It can be refrigerated but ensure it returns to room temperature before serving for the best texture.
Common Problems and How to Avoid Them
Cake Sticking: Use parchment paper or a well-greased pie dish.
Uneven Baking: Rotate the pan midway through baking.
Making this Recipe with Kids
Engage your little ones by letting them sprinkle the M&Ms and chocolate chips on the cake batter. Always supervise them, especially when using the oven.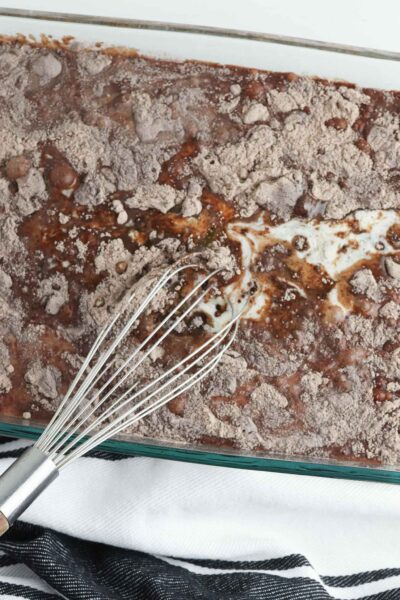 Topping Options
A simple chocolate buttercream or store-bought frosting works wonders.
Drizzle with melted chocolate or even top with vanilla ice cream for good measure.
What do serve with yummy cake with?
The M&M Dump Cake is delightful on its own, but pairing it with complementary accompaniments can elevate the entire dessert experience. Here are some suggestions on what you can serve this cake with:
Ice Cream:

A scoop of vanilla ice cream can balance out the rich chocolatey flavor of the cake, providing a refreshing contrast.
For a more indulgent experience, try chocolate, caramel, or even cookie dough flavored ice cream.

Whipped Cream:

A dollop of freshly whipped cream can lighten up each bite and add a creamy texture.

Berries:

Fresh strawberries, raspberries, or blueberries can introduce a fruity and slightly tart element, complementing the sweetness of the cake.

Sauces and Drizzles:

Caramel sauce, raspberry coulis, or a simple chocolate ganache can enhance the cake's flavor profile.

Nuts:

Sprinkle chopped walnuts, pecans, or almonds for an added crunch and a nutty flavor.

Beverages:

Serve with a glass of cold milk or a hot cup of coffee or tea to cut through the richness and cleanse the palate.

Candies:

Since the cake already features M&Ms, you might consider other candies like crushed toffee bars or even shaved chocolate for added flair.

Mint:

Fresh mint leaves or a drizzle of mint syrup can introduce a refreshing element, especially if you're a fan of the classic chocolate-mint combination.

Coconut:

Shredded coconut or coconut cream can be a delightful addition, giving the dessert a tropical twist.

Banana Slices:
Freshly sliced bananas can offer a soft texture and mild sweetness that pairs well with chocolate.
Whether you're looking to add a touch of elegance with berries and whipped cream or aiming for a hearty treat with ice cream and nuts, these accompaniments can make your M&M Dump Cake even more memorable. Experiment and find the combination that tickles your taste buds the most!
Why This M&M Cake Recipe Works
The M&M Dump Cake stands out because it combines the chewy texture of a cookie with the softness of a fluffy cake. The M&Ms add a little crunch, making it the perfect dessert to satisfy varied taste preferences. Not to mention, it's incredibly easy to make, ensuring that even beginners can whip up this treat.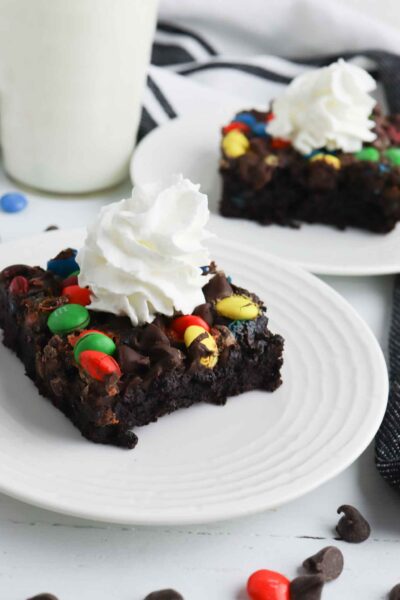 Steps to the Perfect M&M Dump Cake
Preheat the oven to 350 degrees and grease a 9×13 baking dish with nonstick cooking spray.
Sprinkle the chocolate cake mix and chocolate pudding mix in the bottom of the pan.
Add the butter and milk to the pan and lightly mix with a whisk.
Top the cake with the chocolate chips and M&Ms.
Bake for 40 to 45 minutes. Allow to cool slightly before serving.
For the full recipe, including exact amounts and detailed instructions, see the recipe card at the bottom of this post.
Whether you're celebrating a happy birthday or just indulging your chocolate cravings on a whim, this M&M Dump Cake is sure to become a favorite amongst family members. Do give it a try and don't forget to share your creations on social media!
Next time you're thinking of a perfect way to delight your whole family, remember this easy-to-make, irresistible treat!
What are some other fun dump cake recipes to try?
If you are looking for some more amazing cake recipes be sure to check out this comprehensive list: The Most Delicious Cake Recipes For Dessert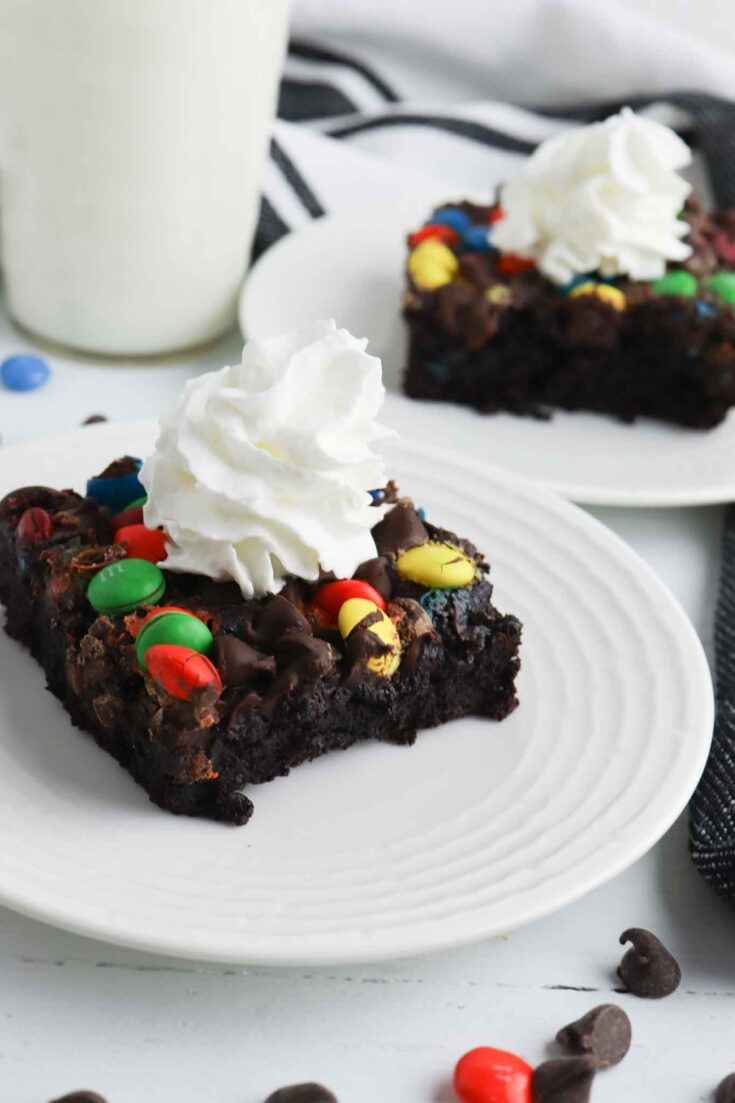 Yield:

15 servings
Easy M&M Dump Cake
This M&M dump cake has super simple ingredients and makes for a great dessert!
Ingredients
1 box chocolate cake mix
5.1 ounce box instant chocolate pudding
½ cup unsalted butter, melted
2 ½ cups milk
1 cup chocolate chips
1 cup M&Ms
Instructions
Preheat the oven to 350 degrees and grease a 9x13 baking dish with nonstick cooking spray.
Sprinkle the chocolate cake mix and chocolate pudding mix in the bottom of the pan.
Add the butter and milk to the pan and lightly mix with a whisk.
Top the cake with the chocolate chips and M&Ms.
Bake for 40 to 45 minutes. Allow to cool slightly before serving.
Nutrition Information
Yield
15
Serving Size
1
Amount Per Serving
Calories

219
Total Fat

14g
Saturated Fat

8g
Trans Fat

0g
Unsaturated Fat

5g
Cholesterol

22mg
Sodium

78mg
Carbohydrates

23g
Fiber

1g
Sugar

18g
Protein

3g
If you enjoyed this recipe be sure to check out my Instagram Page for the latest posts!
Before you go, check out these great posts!
The Best Cookie Recipes For Year Round Baking
Coconut Pound Cake Recipe With Vanilla Glaze
Incredible Glazed Lemon Loaf Cake Recipe
Hi! I'm Nellie. I am a busy mama of three, wife to my high school sweetheart who loves to cook, workout and stay organized! I love to share helpful printables, the best recipes and fitness tips for the modern mom. I strongly believe that every mom can feed their family well, take proper care of themselves and have fun along the way! Read my story.
Get comfortable and be sure to come hang out with me on social. Don't grab your free fitness journal before you go!