My company is sending my entire office to Israel–for a week.
When I found out my first reaction was this: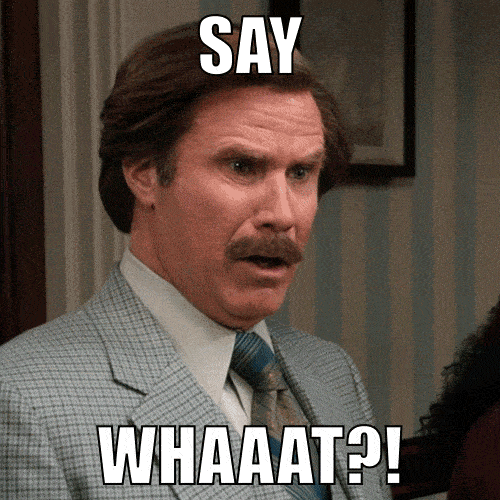 But then I let it fade to the background. I didn't tell a soul except those immediately affected like my mom and hubby. Somewhere deep down I knew it was happening but I couldn't quite wrap my brain around it. The farthest I had ever traveled was to Mexico and the Islands so this was stepping way out of my comfort zone.
Then flight confirmations started rolling in, hotels were being booked, the excited chatter around the office became very hard to ignore.
I'm going to Israel.
Then a few things really sunk in like:
A) If I hadn't made the difficult decision to get a new job I would never have gotten this off the wall amazing opportunity.
B) I have never been so far away from my kids. Ever. I have also never been this far away without my husband right next to me. (Mommy guilt be gone!!)
C) I am going across the world to one of the most beautiful places all because of my awesome company and all on their dime. Which is pretty much like winning the trip on the price is right.
The trip will have me 3 days in Tel Aviv and 1.5 days in Eilat at a STUNNING hotel that I can't stop cyber stalking. More importantly I am looking forward to meeting my coworkers who seem so cool virtually and I can't wait to meet them in person.
Let us not get ahead of ourselves because this is work. I will be working from the moment I step off the plane. My schedule is booked solid with tons of team building and learning objectives, I won't be able to really "tour" but I will be happy to stay in a hotel on a friggin beach while I do so.
With just about 3 weeks left until the marathon I am excited to (maybe) get a run in while in Israel. I'm not putting any pressure on myself because heck, it's a 12 hour time difference, it's hot and finding time to run may not be an option. Don't worry though. I've packed several workout outfits!!
Ever had a moment where someone gives you something and you didn't realize how much you wanted it until you saw it? That is what this trip is for me. I'm so so grateful to my company for giving me this gift.
The Staten Island Half Marathon
Because I can't do ANYTHING without dramatic flare, I will be running a half marathon exactly 6 hours before I take flight. I know. I know. I totally would have skipped it but my entry to the New York City Half in March all rests with me crossing the finish line of this race! I must run! Then I will sleep (on the plane).
And don't worry the blog will be up and running next week because there is a ton I still have to share with you even though I am halfway across the world. I will check in when I can! I will also be periscoping! Believe it or not I've been periscoping everyday for the month of October and I hope to keep it that way!
I will carry you all with me on this amazing adventure. See you soon.
Where is the farthest you have ever travelled? Any long flight tips?! Snack suggestions?! How was your fitness and health week?
Update: Here is how it went!
Here are some more fun travel posts to check out while you are here:
Day Trip Travel Itinerary | Free Printable To Keep You Organized
20 Places to Travel in Your 30s | Best Cities To Visit In USA
Free Things To Do In All 50 States – Free Printable
Hi! I'm Nellie. I am a busy mama of three, wife to my high school sweetheart who loves to cook, workout and stay organized! I love to share helpful printables, the best recipes and fitness tips for the modern mom. I strongly believe that every mom can feed their family well, take proper care of themselves and have fun along the way! Read my story.
Get comfortable and be sure to come hang out with me on social. Don't grab your free fitness journal before you go!