If you are looking for a delicious new margarita flavor be sure to check out this incredible Jalapeno Margarita recipe!
What is a Jalapeno Margarita?
A Jalapeno Margarita is a twist on the classic margarita that features the addition of fresh jalapeno peppers. The jalapenos add a delicious spicy kick to the drink that is perfect for those who enjoy a little bit of heat. If you are looking for a refreshing and unique cocktail to enjoy this summer, be sure to give this Jalapeno Margarita a try!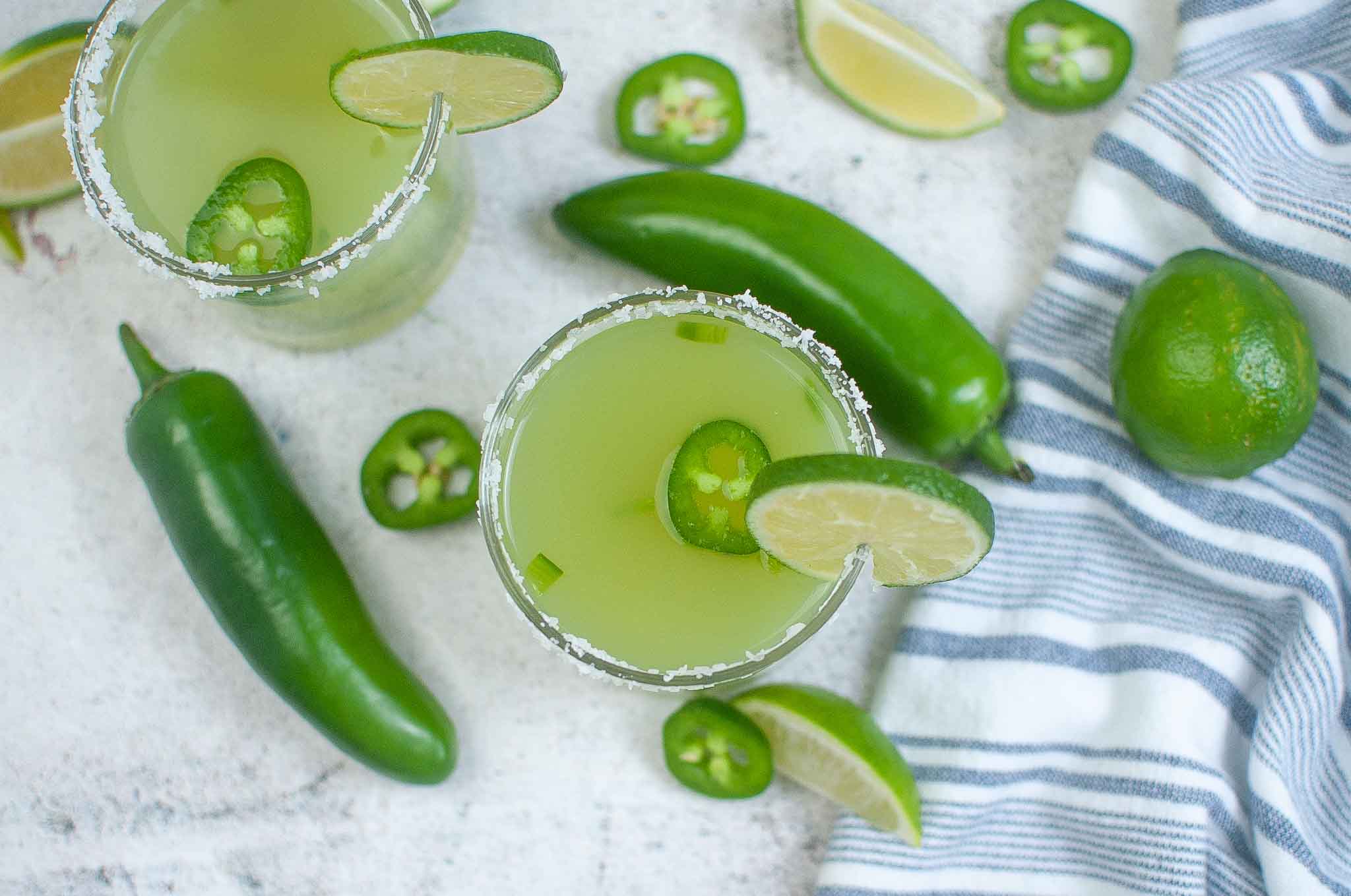 What are the most popular types of margaritas?
There are many different types of margaritas, but some of the most popular include:
– Classic Margarita: This type of margarita is made with tequila, lime juice, and Triple Sec.
– Strawberry Margarita: This type of margarita is made with tequila, lime juice, and strawberry puree.
– Mango Margarita: This type of margarita is made with tequila, lime juice, and mango puree.
– Peach Margarita: This type of margarita is made with tequila, lime juice, and peach puree.
How do you add jalapeno to margaritas?
Adding jalapeno to margaritas is a great way to spice up the classic cocktail. To add jalapeno to your margarita, simply muddle one or two peppers in the bottom of your glass before adding the rest of your ingredients.
You can also put Tajin seasoning on the rim of your glass for an extra spicy kick! This spicy jalapeño margarita recipe is a classic margarita recipe with fresh jalapenos that you garnish with fresh limes.
How spicy are jalapeno peppers?
The level of spiciness in jalapeno peppers can vary depending on the pepper. Some peppers may be very mild while others can be quite spicy. If you are unsure of how spicy a pepper is, it is always best to err on the side of caution and add less to your drink. You can always add more if you find that the drink is not spicy enough. This recipe makes the perfect spicy margarita with fresh ingredients.
Are jalapeno margaritas easy to make?
Yes, jalapeno margaritas are very easy to make! This recipe only requires a few simple ingredients and can be made in just a few minutes. Be sure to have all of your ingredients prepped and ready to go before you begin so that the drink comes together quickly and easily. This spicy jalapeno margarita is a nice upgrade from regular margaritas.
Be sure to use a good quality tequila for a big batch of these spicy margaritas! Whether it's happy hour with your best friends or you need a spicy cocktail with a touch of heat for taco night–these fresh margaritas are right for the occasion!
What is the best tequila to use for a margarita?
There are many different types of tequila, but some of the best varieties for margaritas include: blanco, reposado, and añejo. Each type of tequila has its own unique flavor profile that can enhance your margarita. Be sure to experiment with different types of tequila to find the perfect one for your drink!
Grab your Margarita glass and cocktail shaker and make this spicy margarita recipe with a tajin rim! The full recipe is below and get ready for a delicious cocktail with spicy heat.
What ingredients are needed for this Jalapeno Spicy Margarita?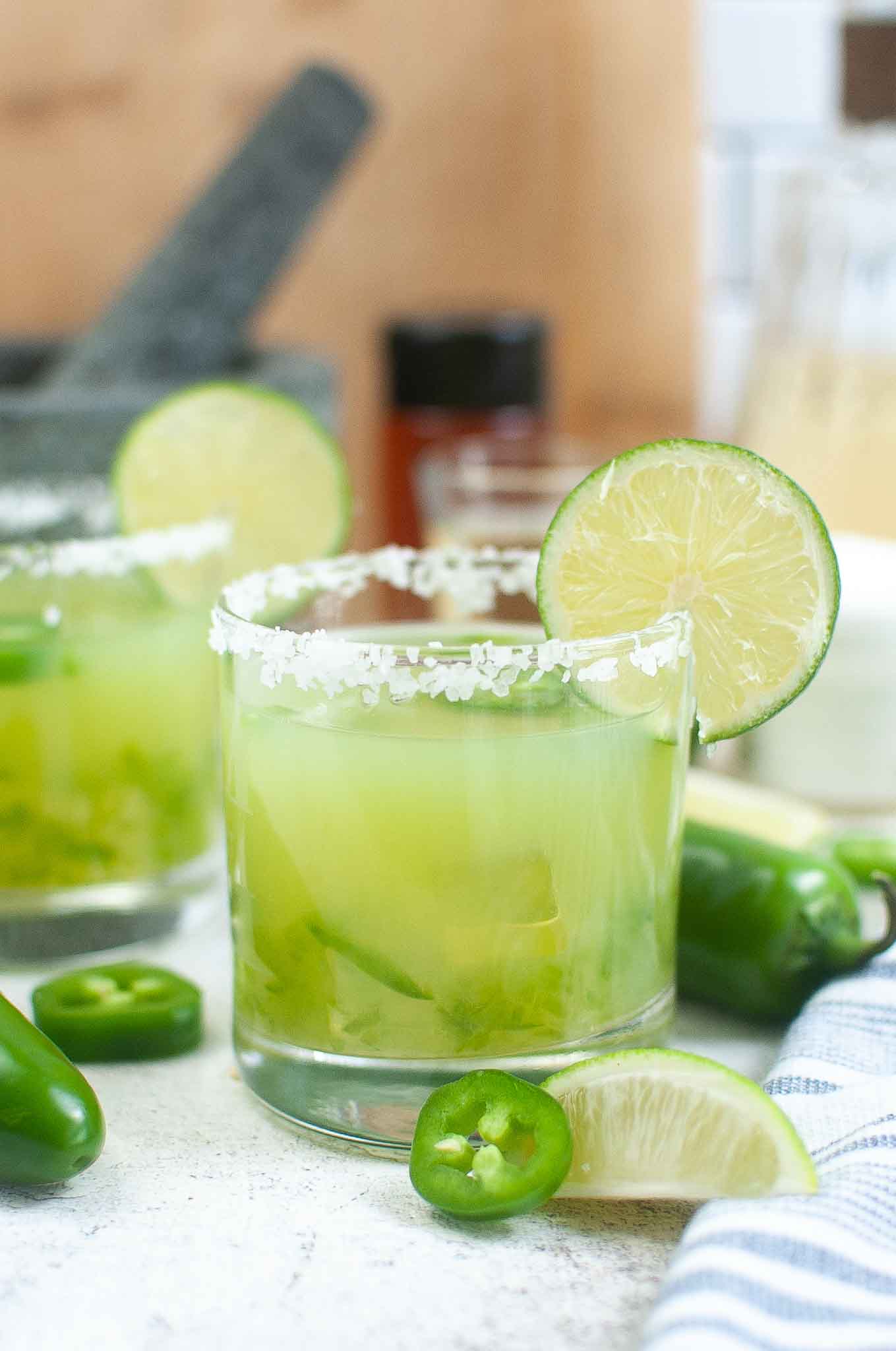 · 1 jalapeño pepper
· 2-3 limes (for real lime juice and lime wedges)
· 8 oz of white tequila (any brand or style)
· 3 tablespoons of honey (agave or simple syrup can be substituted)
· 3 tablespoons of kosher salt
· sprigs of Cilantro, lime, and or jalapeños can be used to garnish.
How do you spice up a margarita?
There are many different ways to make your original margarita unique and delicious. You can add a variety of fruits, such as oranges, limes, lemons, strawberries or any other ingredients you prefer. To add some sweetness to the drink you can use agave nectar or simple syrup. For those who like it spicy, try adding jalapeños, or a chili-infused tequila.
You can also experiment with different flavored syrups like raspberry or mango. For an interesting twist, you can try substituting the tequila for other types of alcohol such as mezcal or vodka. Try adding some fresh herbs to the mix, such as mint or basil for an herbal flavor.
Adding a few drops of bitters can also give your margarita an interesting complexity and depth. And if you want to make it extra special, try rimming the glass with salt and sugar for a unique flavor combination. Have fun experimenting with different ingredients to create a one-of-a-kind margarita that is sure to impress!
What do you rim a spicy margarita with?
To rim a spicy margarita, you can use a combination of salt and sugar. You can also experiment with other flavor combinations, such as chili powder or Tajin spice mix.
To make the rim, wet the edges of your glass with lime juice or simple syrup, then roll it in the desired mixture. This will give an extra flavor kick, as well as a unique look to your margarita.
For an added touch of spice, you can even dip the rim in a bit of hot sauce or sriracha! Enjoy experimenting with different flavors and combinations for a truly memorable spicy margarita. The fresh jalapeno slices with blanco tequila really makes for a fun cinco de mayo cocktail!
What can you serve with a jalapeno margarita?
A jalapeno margarita can be served with a variety of different snacks. Tasty options include tortilla chips and salsa, guacamole, and quesadillas. Pair it with some BBQ ribs or spicy buffalo wings for an extra kick!
For those looking for something more on the sweet side, try serving it with churros or choco tacos. Sweet and salty combinations such as halva and pretzels are also a great option.
No matter what you serve with your jalapeno margarita, it is sure to be a hit! Have fun experimenting with different flavors for the perfect pairing.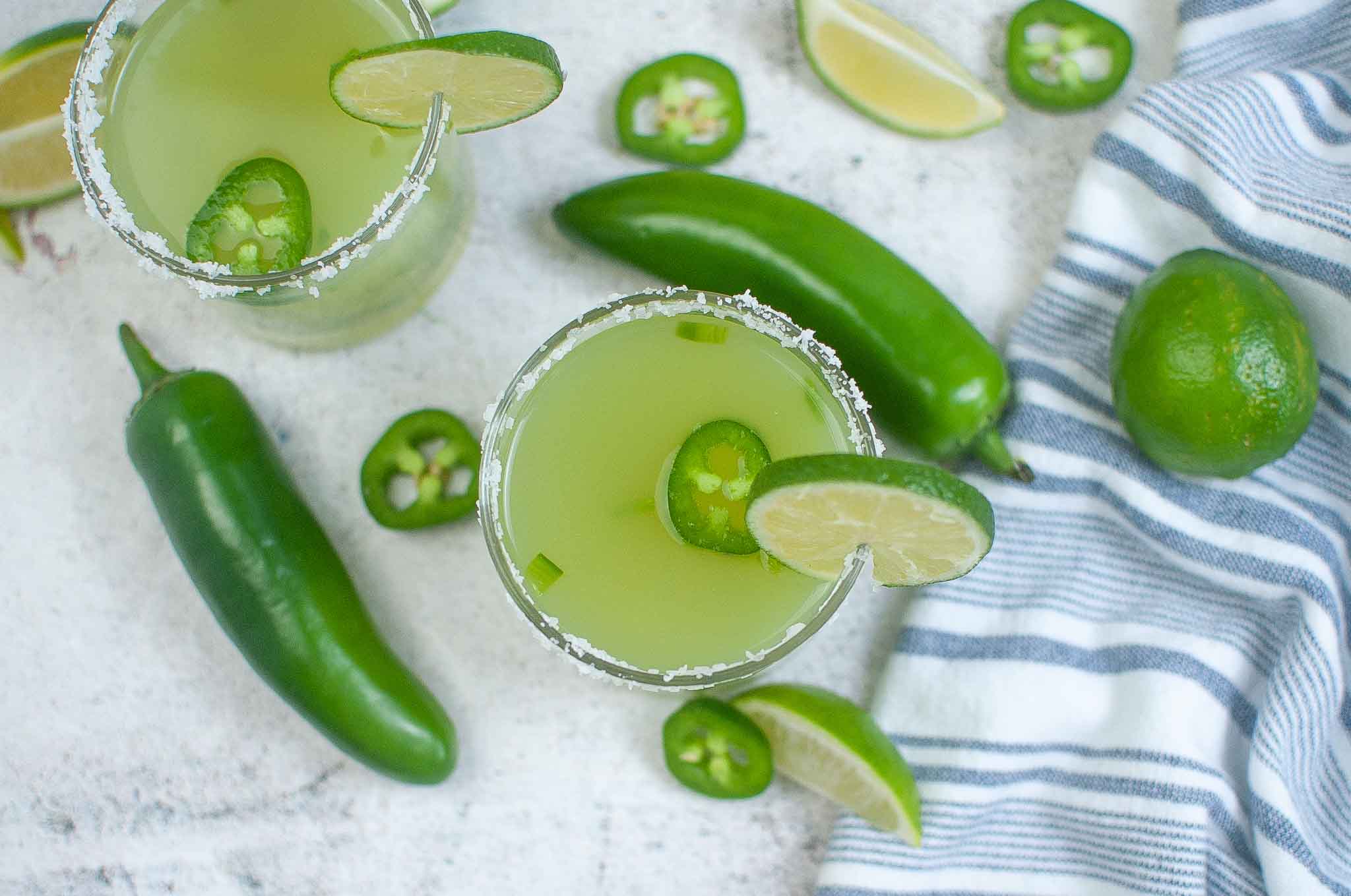 Where should you serve this spicy margarita?
This spicy margarita is perfect for any summer gathering or pool party. It's a classic recipe that can also be enjoyed during a movie night with friends, or served at a special event.
No matter where you serve it, make sure to have plenty of ice and garnishes on hand such as fresh limes and sliced jalapeno peppers. Enjoy sipping your spicy margarita while soaking up the sun or creating lasting memories with friends.
Cheers!
Enjoy!
Yield:

2 Margaritas
The Best Jalapeno Spicy Margarita Recipe
This spicy jalapeno margarita is so great for any occasion!
Ingredients
· 1 jalapeño pepper
· 2-3 limes
· 8 oz of tequila (any brand or style)
· 3 tablespoons of honey (agave or simple syrup can be substituted)
· 3 tablespoons of kosher salt
· Cilantro, lime, and or jalapeños can be used to garnish.
Instructions
De-seed the jalapeño by cutting it in half and scraping the seeds and white parts. Rinse the peppers and wash your hands thoroughly.
Slice the pepper thinly. Thickness similar to a penny.
Place the slices in a mortar and bring to a pulp with the pestle. If you don't have a mortar, you can use a bowl or the cutting board with a wooden spoon back. You just want the juice to be extracted.
Add juice and pulp to a pitcher
Squeeze the lime juice from your lime and add to the pitcher
Add tequila to the pitcher
Stir in honey until dissolved.
Add your salt to a bowl
Rim the glasses with a lime wedge and place in salt to adhere to the rim.
Add ice, margarita, and garnish.
Nutrition Information
Yield
2
Serving Size
1
Amount Per Serving
Calories

398
Total Fat

0g
Saturated Fat

0g
Trans Fat

0g
Unsaturated Fat

0g
Cholesterol

0mg
Sodium

5669mg
Carbohydrates

41g
Fiber

4g
Sugar

29g
Protein

1g
Pin it for later!
If you enjoyed this recipe be sure to check out my Instagram Page for the latest posts!
Before you go, check out these great posts!
Refreshing Strawberry Moscow Mule Drink
How To Make A Classic French Martini Cocktail
Easy Blue Lagoon Cocktail Drink
Sparkling Peach Cocktail with Crown Royal Peach
Strawberry Lemonade Fish Bowl Drink Cocktail
Hi! I'm Nellie. I am a busy mama of three, wife to my high school sweetheart who loves to cook, workout and stay organized! I love to share helpful printables, the best recipes and fitness tips for the modern mom. I strongly believe that every mom can feed their family well, take proper care of themselves and have fun along the way! Read my story.
Get comfortable and be sure to come hang out with me on social. Don't grab your free fitness journal before you go!