Make this Hurricane Cocktail right at home with the help of this recipe! Using coconut rum, triple sec, and pineapple juice, you'll have the most delicious recipe ever!
Introducing the Hurricane Cocktail! This fruity, powerful and punchy cocktail is perfect for summertime days or laid-back evenings.
Made with fresh fruit juices, vodka, rum and a splash of pineapple juice, the Hurricane Cocktail will set your taste buds alive with its balanced sweetness and citrus kick. Experience it for yourself today! If you like making delicious drinks or a classic drink, this fruity cocktail is for you!
Why You'll Love This Hurricane Cocktail
Refreshingly Fruity: Experience the sweet and tart blend of citrus fruits and juices, perfectly balanced with the sweetness of vodka and rum.
Perfect for Socializing: Enjoy a Hurricane Cocktail with friends as you catch up on the latest news or watch the sunset together.
Effortlessly Elegant: With its stunning color and easy-to-prepare ingredients, the Hurricane Cocktail is ideal whether you're hosting at home or out at a restaurant.
Hurricane Cocktail Ingredients
See the full ingredients list below!
Coconut Rum – Enjoy the rich, sweet flavor of coconut with a smooth and mellow finish, perfect for any tropical-themed cocktail. You can always increase the amount of rum in this drink. You can experiment with different kinds of rum.
Triple Sec – This orange-flavored liqueur adds a touch of zesty sweetness to your drink, balanced with the tartness of pineapple juice. Triple Sec has been known to create strong cocktails, so make sure you add accordingly.
Pineapple Juice – Freshly-squeezed pineapple juice brings out an intense, sweet and tart flavor that will tantalize your taste buds.
Grenadine – This deep red syrup not only adds character to the drink but also helps keep it from becoming too sweet or tart.
Cubes – The ice cubes provide balance to the drink, cooling it down and letting you enjoy every sip.
Pineapple Slices – For extra sweetness and tropical flair, garnish with a freshly cut pineapple slice for added color and vibrancy.
Cherries – A traditional addition to many cocktails, cherries add a bit of brightness and sweetness to your Hurricane cocktail.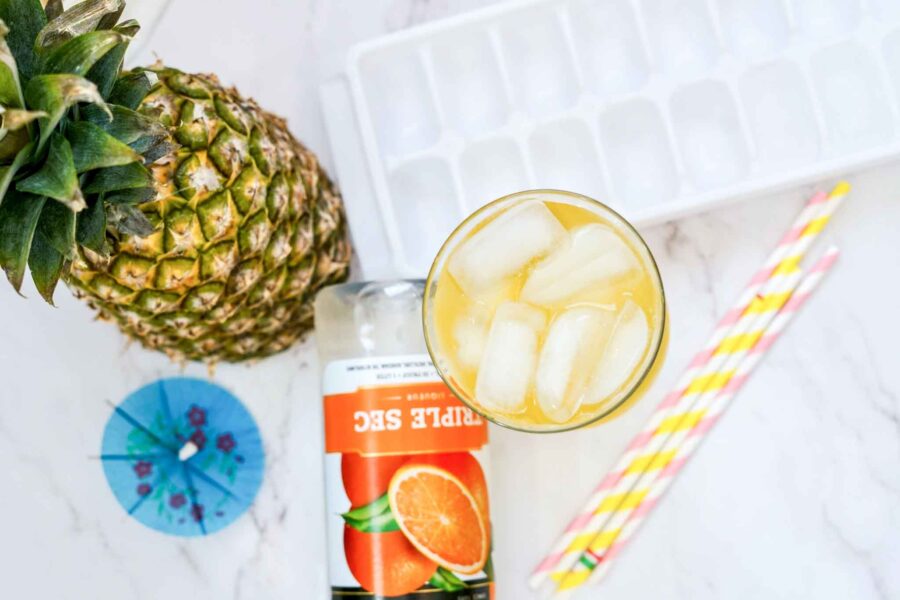 Optional: Passion fruit juice, orange juice, simple syrup, orange slice, lemon juice, maraschino cherry, grenadine syrup, actual passion fruit, passion fruit syrup, white rum, add a bunch of maraschino cherries!
FAQs for this Modern Hurricane Cocktail
What is the Hurricane Cocktail?
The Hurricane Cocktail is a popular tropical-themed drink made with a combination of vodka, rum, coconut rum, triple sec, pineapple juice, and cherries. This cocktail has the perfect tangy sweetness.
How do you make a Hurricane Cocktail?
To make a Hurricane Cocktail, simply mix together the ingredients given in the recipe card! Shake vigorously and pour into an ice-filled glass. Garnish with pineapple slices and cherries.
What are the benefits of drinking a Hurricane Cocktail?
Aside from being incredibly delicious and refreshing, the Hurricane Cocktail is perfect for socializing with friends or for enjoying on a special occasion. It's also ideal for those looking for an easy yet elegant cocktail to whip up at home or out at a restaurant.
This Hurricane Recipe is an original recipe that bar owners use, but you can use it right at home for a good time! Whether you use light rum, gold rum, or add in a little passion fruit puree, it's the most delicious cocktail ever!
Add it to a hurricane glass for even more fun. What's your favorite types of rum to use in cocktail recipes? Don't forget your cocktail shaker for this really fun classic recipe.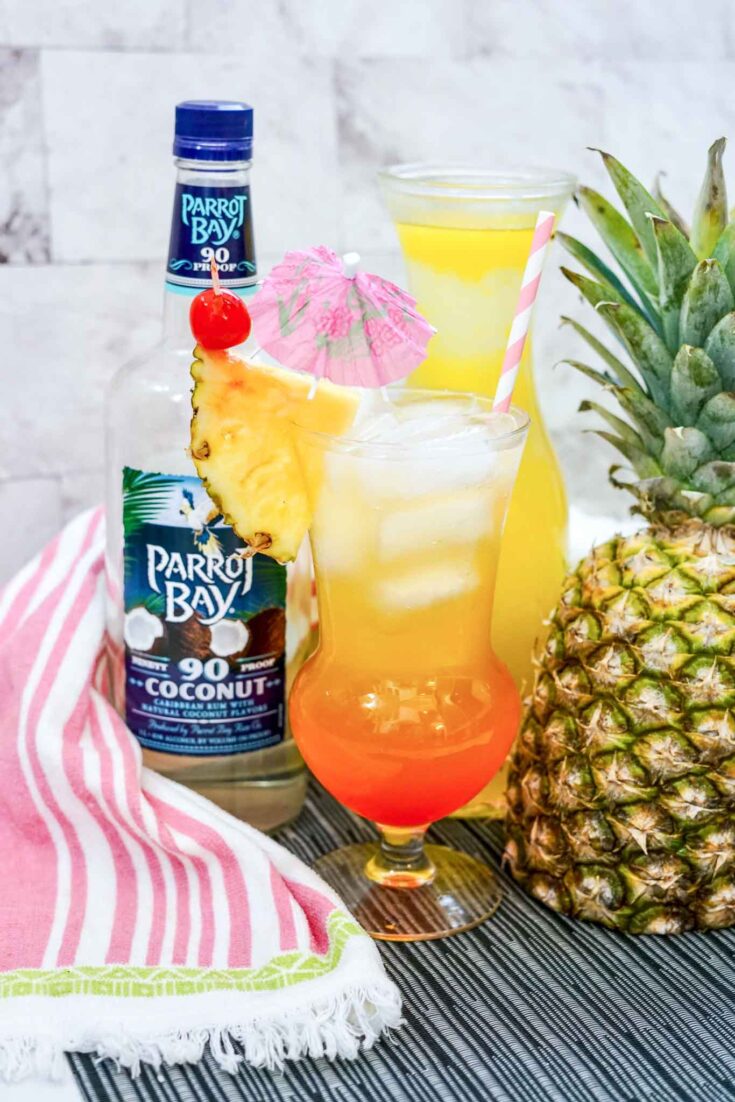 Yield:

1 cockail drink
The Best Hurricane Cocktail Recipe
This classic hurrcane cocktail drink is so easy and delicious for any occasion!
Ingredients
2 Shots Coconut Rum
1 Shot Triple Sec
6oz Pineapple Juice
2 Tbs Grenadine
Ice Cubes
Pineapple Slices
Cherries
Instructions
Fill a hurricane glass with ice cubes.
Pour in the coconut rum & triple sec.
Top off with pineapple juice.
Add the grenadine. To create a layered look, slowly pour the grenadine into the glass from the side of the glass.
Garnish with pineapple slices & cherries.
Cheers!
Pin it for later!
If you enjoyed this recipe be sure to check out my Instagram Page for the latest posts!
Before you go, check out these great posts!
Amazing and Tasty Hot Drink Recipes
The Best Milkshake and Floats Recipes
17+ Delicious Non Alcoholic Mocktail Recipes For Any Occasion
Hi! I'm Nellie. I am a busy mama of three, wife to my high school sweetheart who loves to cook, workout and stay organized! I love to share helpful printables, the best recipes and fitness tips for the modern mom. I strongly believe that every mom can feed their family well, take proper care of themselves and have fun along the way! Read my story.
Get comfortable and be sure to come hang out with me on social. Don't grab your free fitness journal before you go!