!Have you ever been to a restaurant and eaten Churros? You're going to love making your very own homemade Churros from home! You can enjoy these crunchy sweet sticks anytime!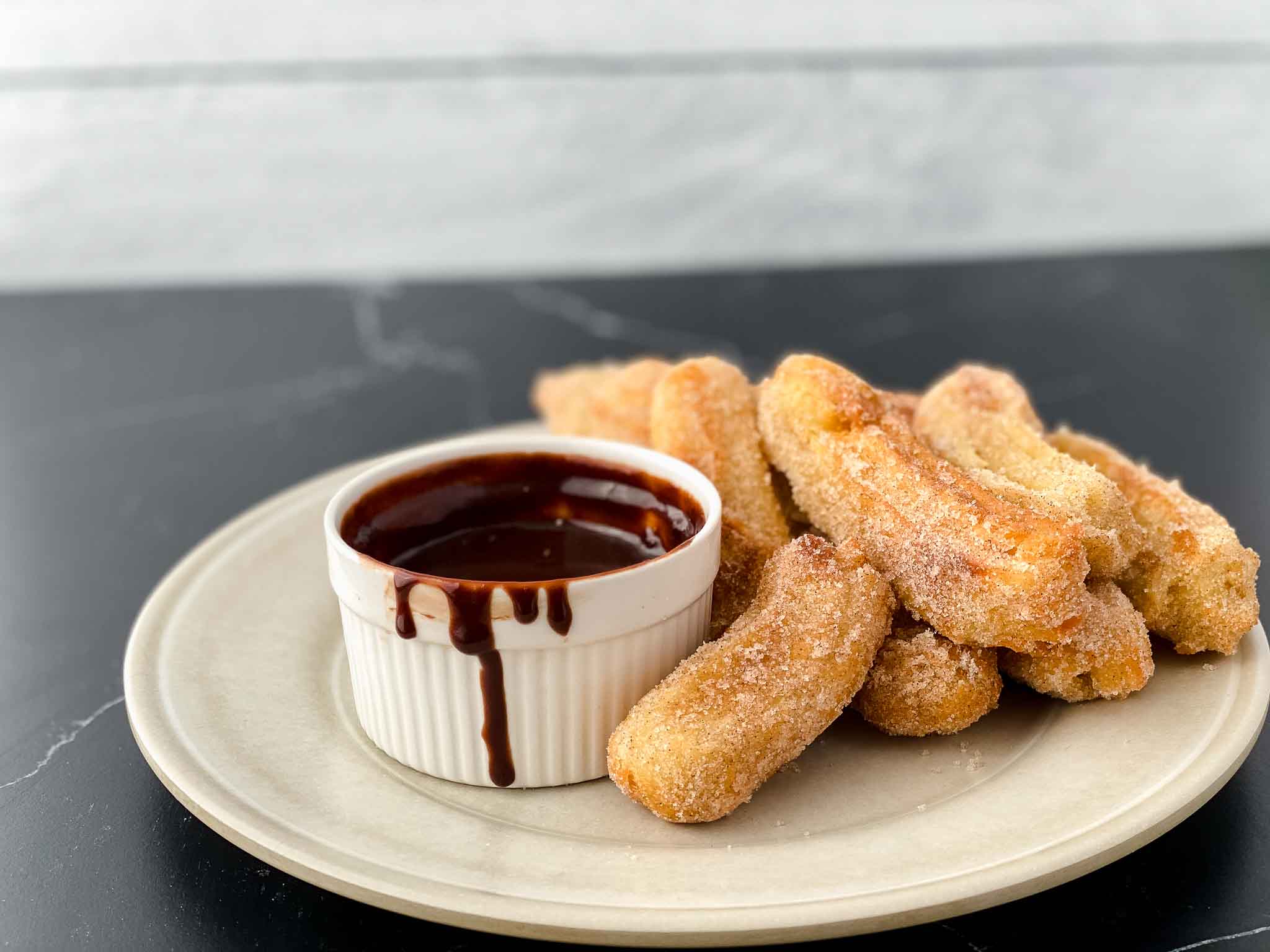 Why This Recipe Works:
Homemade churros capture the essence of a simple yet indulgent treat. The contrast between the crispy exterior and the soft, tender interior makes them irresistible, while the classic coating of sugar adds just the right amount of sweetness. Moreover, their distinct shape, achieved through piping, enhances the texture and creates crevices that hold the sugar and dipping sauce.
The process of making churros is also relatively straightforward and adaptable, making it easy for home cooks to put their spin on this beloved treat.
They are versatile and can be paired with various sauces, making them appealing to a wide range of tastes. Perfect for sharing, churros bring a touch of warmth and festivity to any gathering.
The first time I was introduced to Churros was on the L train. There was a lady there every single day selling churros from her cart. People couldn't get enough!
It wasn't until I was at a fair that I finally tried them, I can finally see what all the hype is about!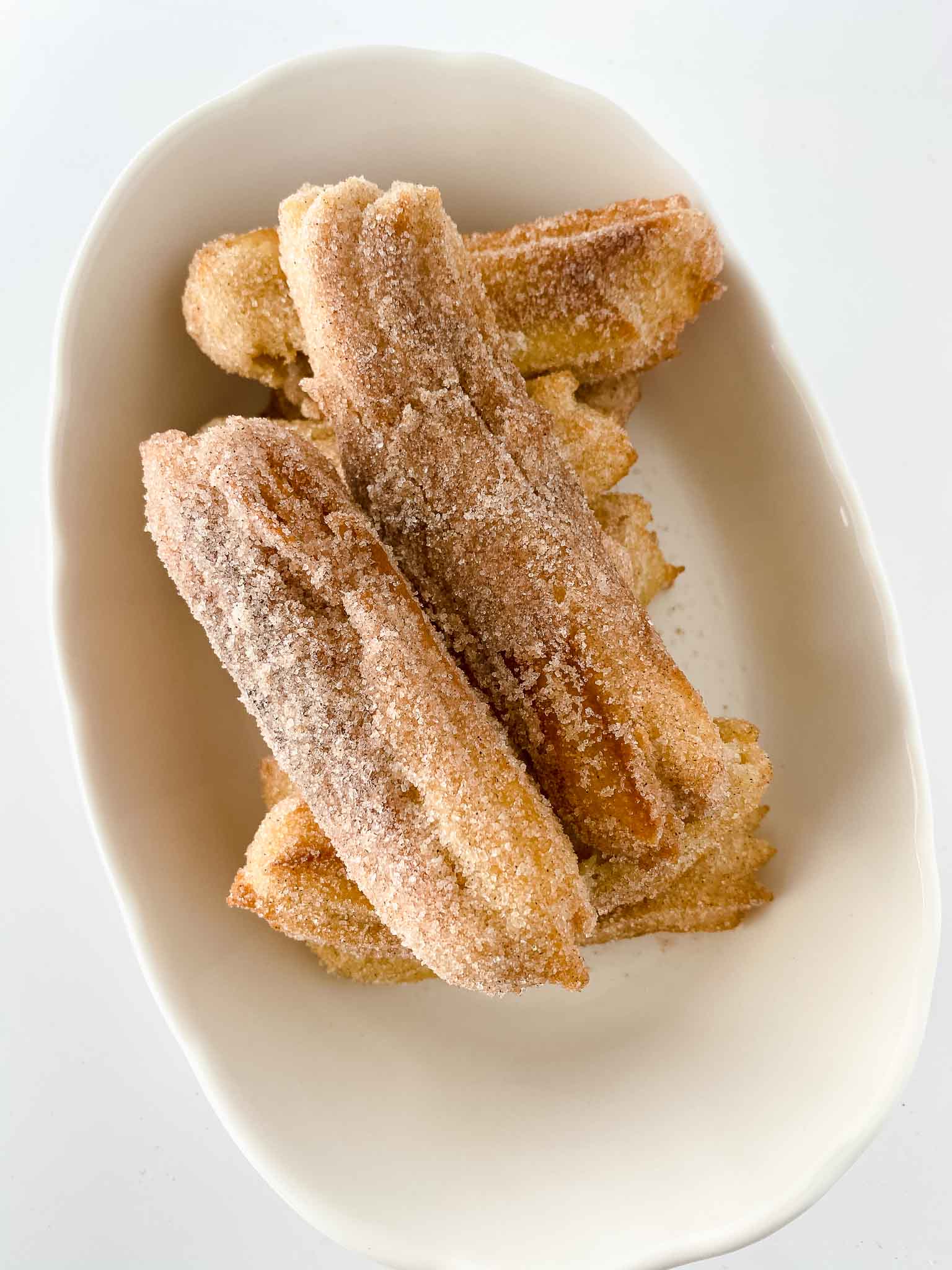 For this recipe, you are going to need some basic kitchen equipment like a heavy bottom saucepan, cast iron skillet, piping bag, and a rubber spatula.
Don't forget you will also need a stand mixer with a whisk attachment. If you have all of these items, then you can start prepping your ingredients.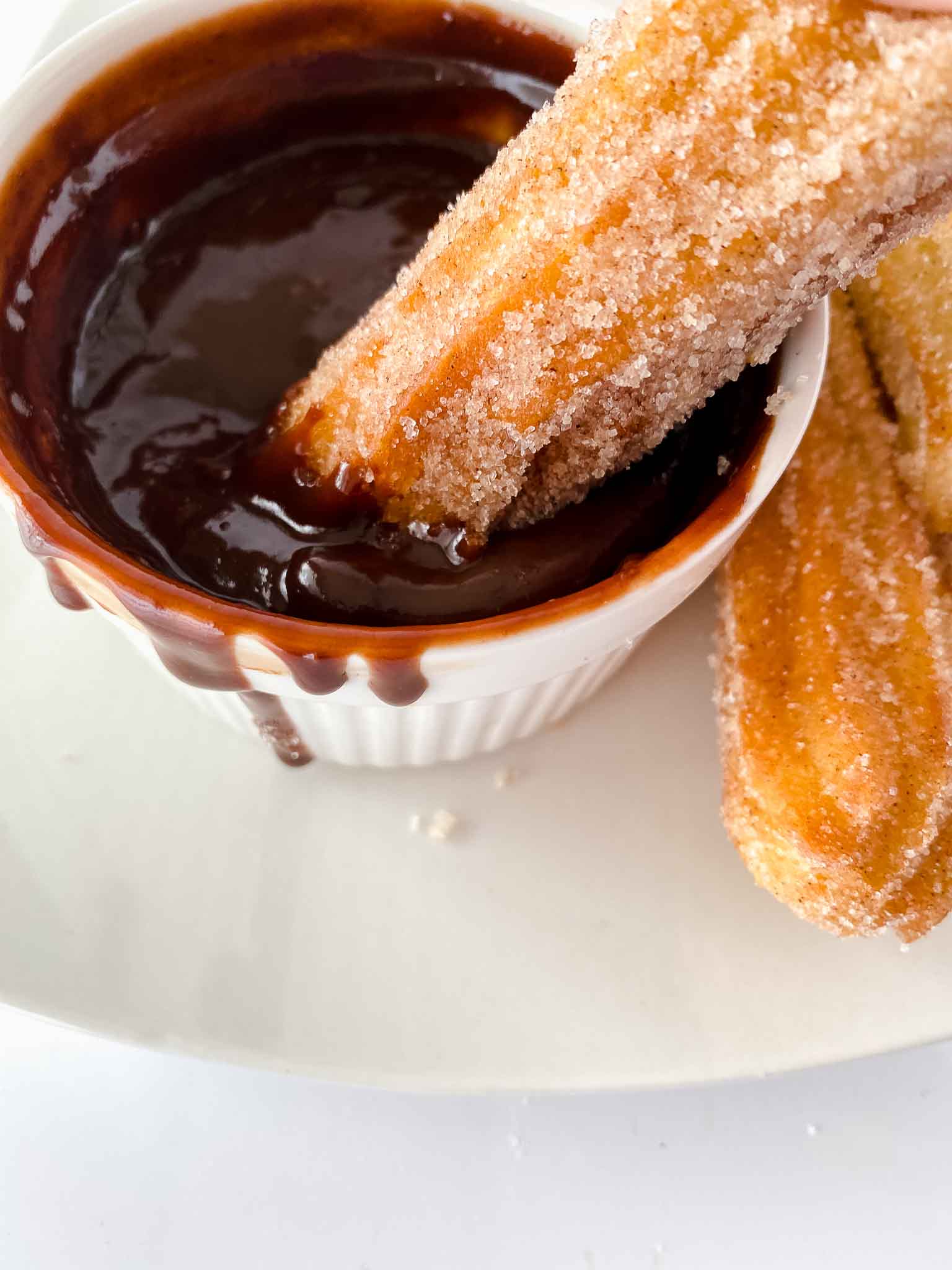 Homemade Churros Ingredients
Every time I eat Churros at a restaurant, I wonder how I can make them at home. I have made it a point to make sure I learn this recipe and now I'm passing it on to you.
Churros are actually a whole lot easier than I ever thought they'd be. Let's talk about the ingredients needed to make these.
Cold water – I love that you can go to your kitchen sink and get an ingredient to make churros.
Unsalted butter – You may have some unsalted butter sitting right in your fridge. You are going to need it.
Granulated sugar – You cannot make churros without having granulated sugar on hand.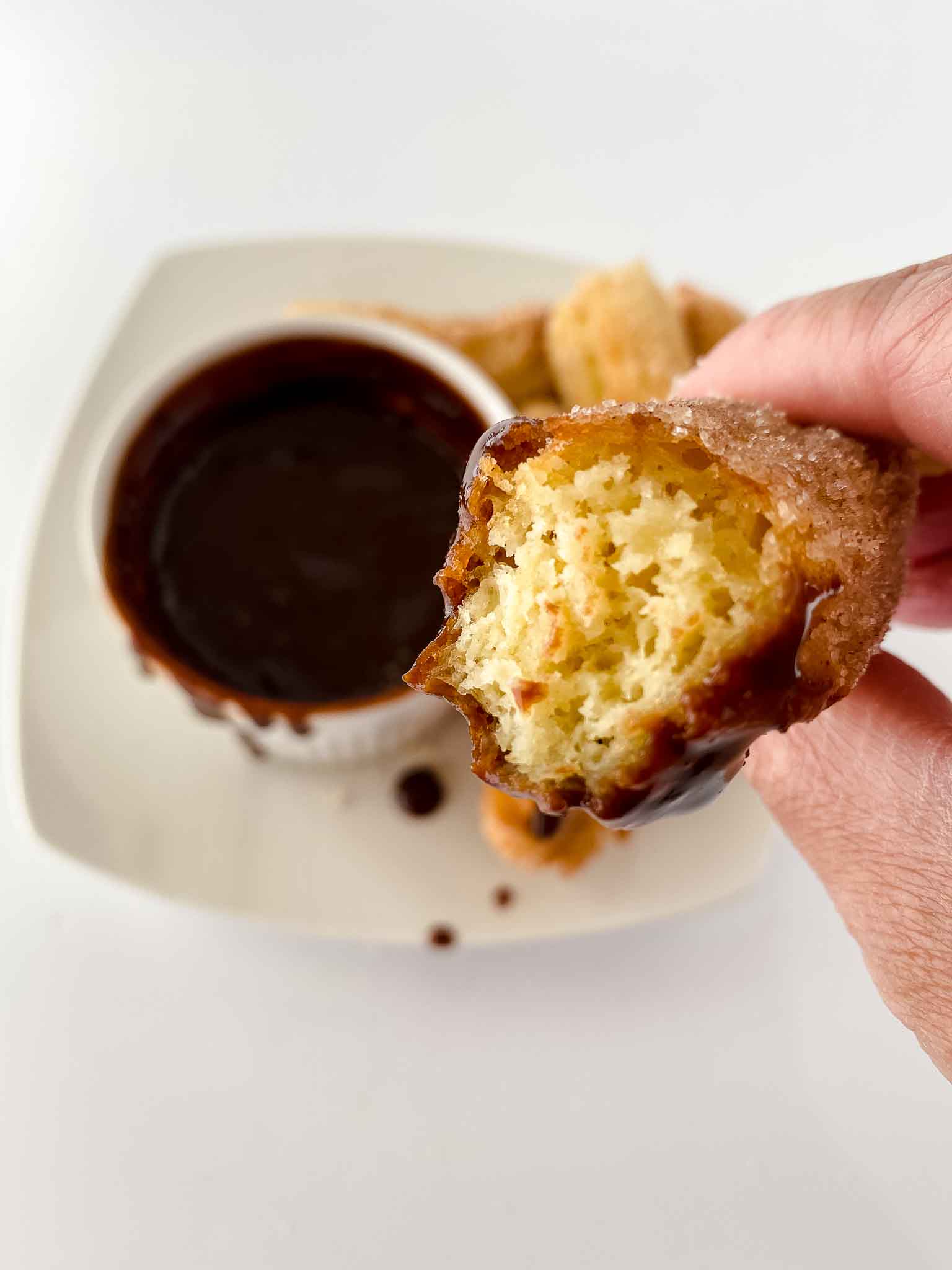 For this recipe, you are also going to need salt, flour, egg, vanilla extract, and a cinnamon and sugar mixture. However, as yummy as these ingredients are, you are also going to make a chocolate sauce to go with these!
Once you are done with the churros and you dip in the chocolate sauce, you are going to be in dessert heaven. If you've never known that you can make these right at home in your own kitchen, then you have been missing out.
FAQs For making homemade churros:
Q: Can I make the churro dough in advance?
A: Yes, you can make the churro dough ahead of time and keep it refrigerated for up to a day before frying.
Q: What's the best oil for frying churros?
A: Neutral oils with a high smoke point, such as vegetable oil or canola oil, are the best for frying churros as they don't impart any additional flavors.
Q: Can I bake churros instead of frying them for a healthier version?
A: Yes, you can bake churros in the oven at 425°F (220°C) for about 10-12 minutes. They will be slightly less crispy than the fried version but still delicious.
Q: What kind of dipping sauce goes well with churros?
A: Traditionally, churros are served with a rich, thick hot chocolate sauce. However, caramel sauce, or even a fruit jam, works great as well.
How to Store Homemade Churros
Once you've made these homemade churros, you may be wondering HOW to store them. I have always placed my churros in an airtight container.
You can leave them on the counter for storage. The chocolate sauce will need to be stored in the fridge. Wait to pour the sauce on when you decide to serve the churros.
Tips and Tricks:
Proper Oil Temperature: Heat the oil to around 350°F (175°C) for the perfect texture. Too hot and the churros will brown too quickly, too cool and they will be soggy.

Piping the Churros: Use a star-shaped piping nozzle to get the traditional churro shape. If the dough is too stiff, let it rest for a few minutes.

Drain Excess Oil: Place freshly fried churros on a paper towel to absorb excess oil before rolling them in sugar.

Keep it Crispy: Serve churros immediately after frying to ensure they remain crispy.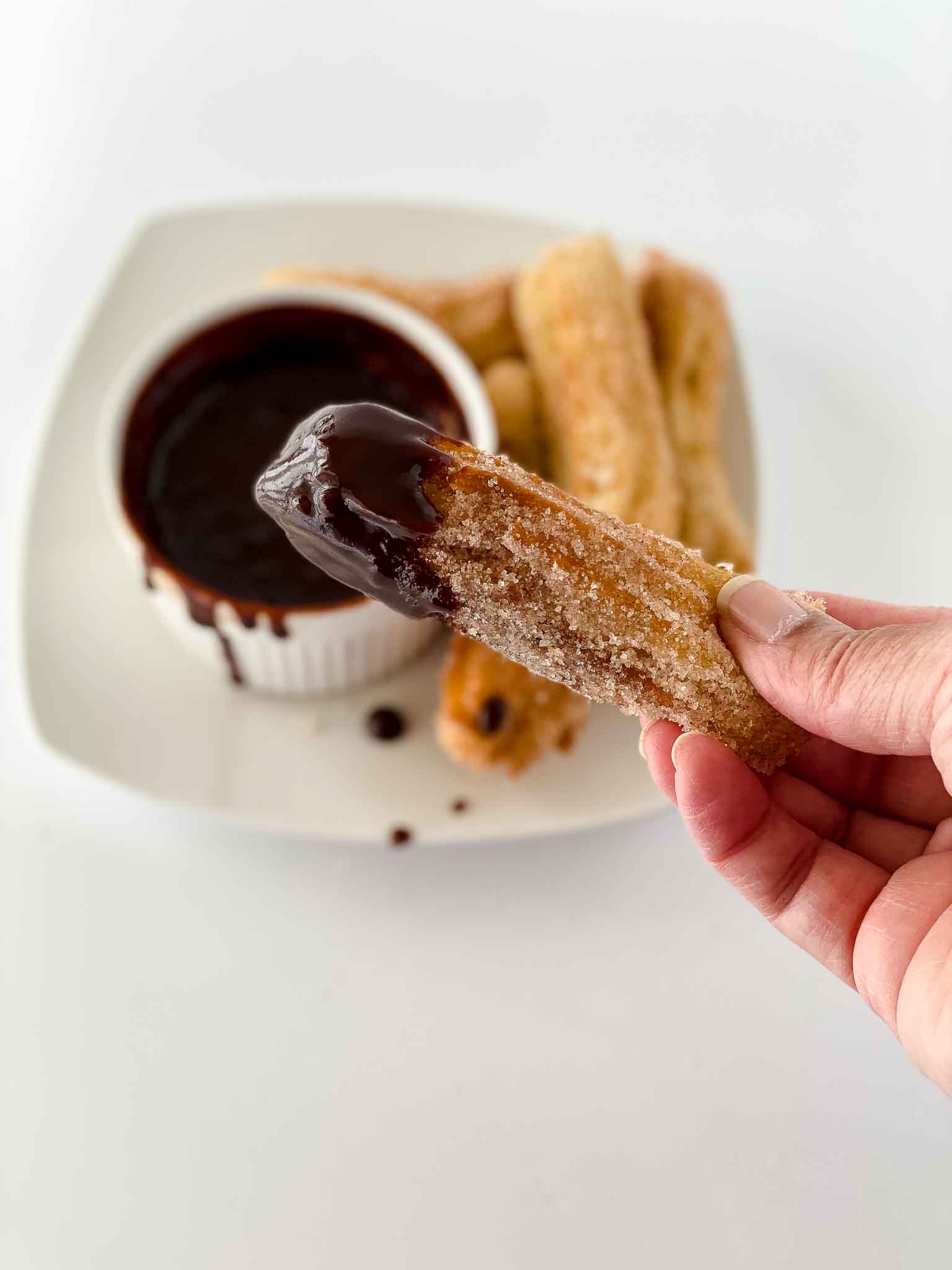 What are some fun variations for these homemade churros?
Flavored Sugars: Roll the churros in cinnamon sugar or use other spices like nutmeg or cardamom for different flavors.

Stuffed Churros: Pipe chocolate, caramel, or fruit jam into the center of the churro using a long, thin nozzle.

Zesty Chocolate Sauce: Add a bit of orange zest to the chocolate dipping sauce for a hint of citrus.

Coconut Churros: Add a small amount of coconut extract to the dough and roll the churros in shredded coconut.
Where to Serve These Homemade Churros:
Breakfast or Brunch: Serve churros as a sweet treat during a breakfast or brunch gathering.

Party Snack: Churros are great for serving at parties or get-togethers and are always a crowd favorite.

Dessert Course: Present churros as a dessert with a variety of dipping sauces for guests to choose from.

Cultural Celebrations: They're perfect for celebrating Hispanic holidays like Cinco de Mayo or Spanish-themed events.
If you are looking for more amazing dessert recipes, be sure to check out this comprehensive list! 50+ Fun and Easy Dessert Recipes For Kids
The Best Homemade Churros Recipe
These delicious tasty treats are so good and yummy for anytime! Included in this recipe is a yummy chocolate sauce for ranking!
Ingredients
1 cup water
1⁄4 cup cold unsalted butter, chopped
1 tablespoon granulated sugar
1⁄2 tsp salt
1 cup All Purpose Flour
1 egg
1 tsp vanilla extract
1⁄2 cup granulated sugar + 2 tbsp cinnamon
Chocolate Sauce
1 cup heavy cream
1 cup milk chocolate chips
1 tsp vanilla
Instructions
Add in the flour and mix until a thick dough forms with a rubber spatula. Add the dough to a mixing bowl and let cool for 5 mins.
Using a whisk attachment, add egg and vanilla and mix until a looser dough forms. It will resemble pate a choux.
Add your piping tip to the piping bag and cut off the opening at the end so that the dough will clear the tip.
Preheat vegetable oil in skillet.
Pipe 5-6-inch-long strips of dough into the hot oil using a knife to cut off the end. Fry on all sides about 3-5 mins, until golden brown.
Drain on paper towels and toss in cinnamon sugar.
To make the chocolate sauce.

Bring the heavy cream to a slight boil.
Add in the chocolate and vanilla.
Stir until chocolate has melted.
Pour in serving dishes.
Nutrition Information
Yield
6
Serving Size
1
Amount Per Serving
Calories

541
Total Fat

31g
Saturated Fat

19g
Trans Fat

0g
Unsaturated Fat

10g
Cholesterol

103mg
Sodium

247mg
Carbohydrates

59g
Fiber

3g
Sugar

38g
Protein

7g
If you liked this Homemade Churros recipe be sure to try these recipes too!
Cinnamon Apple Pie Cups – Easy and Fun Treats
Chocolate Vanilla Swirl Bundt Cake
Bakery Style Double Chocolate Buttermilk Muffins
Hi! I'm Nellie. I am a busy mama of three, wife to my high school sweetheart who loves to cook, workout and stay organized! I love to share helpful printables, the best recipes and fitness tips for the modern mom. I strongly believe that every mom can feed their family well, take proper care of themselves and have fun along the way! Read my story.
Get comfortable and be sure to come hang out with me on social. Don't grab your free fitness journal before you go!