If you love carrot cake you NEED to try these carrot cake muffins with cream cheese glaze! Great for breakfast with your morning coffee or tea!
These carrot cake muffins are delicious and so easy to make! I love carrot cake anything so I am excited to share these with you today.
Is carrot cake healthier than other cakes?
There is no definitive answer to this question, as different people may have varying opinions about what constitutes "healthy" or "unhealthy" food.
Some people might argue that carrot cake is healthier than other cakes because it contains more fiber and vitamin C from the carrots, while others might say that it is less healthy because it also typically contains a higher amount of sugar and fat.
Ultimately, it is up to the individual to decide what they consider to be healthy or unhealthy.
What is the secret to bakery muffins?
There is no single "secret" to making bakery-quality muffins, as there are many different factors that can affect the taste and texture of these baked treats. Some of the key ingredients that most bakers use include flour, sugar, butter or other fats, eggs, and leavening agents like baking soda or baking powder.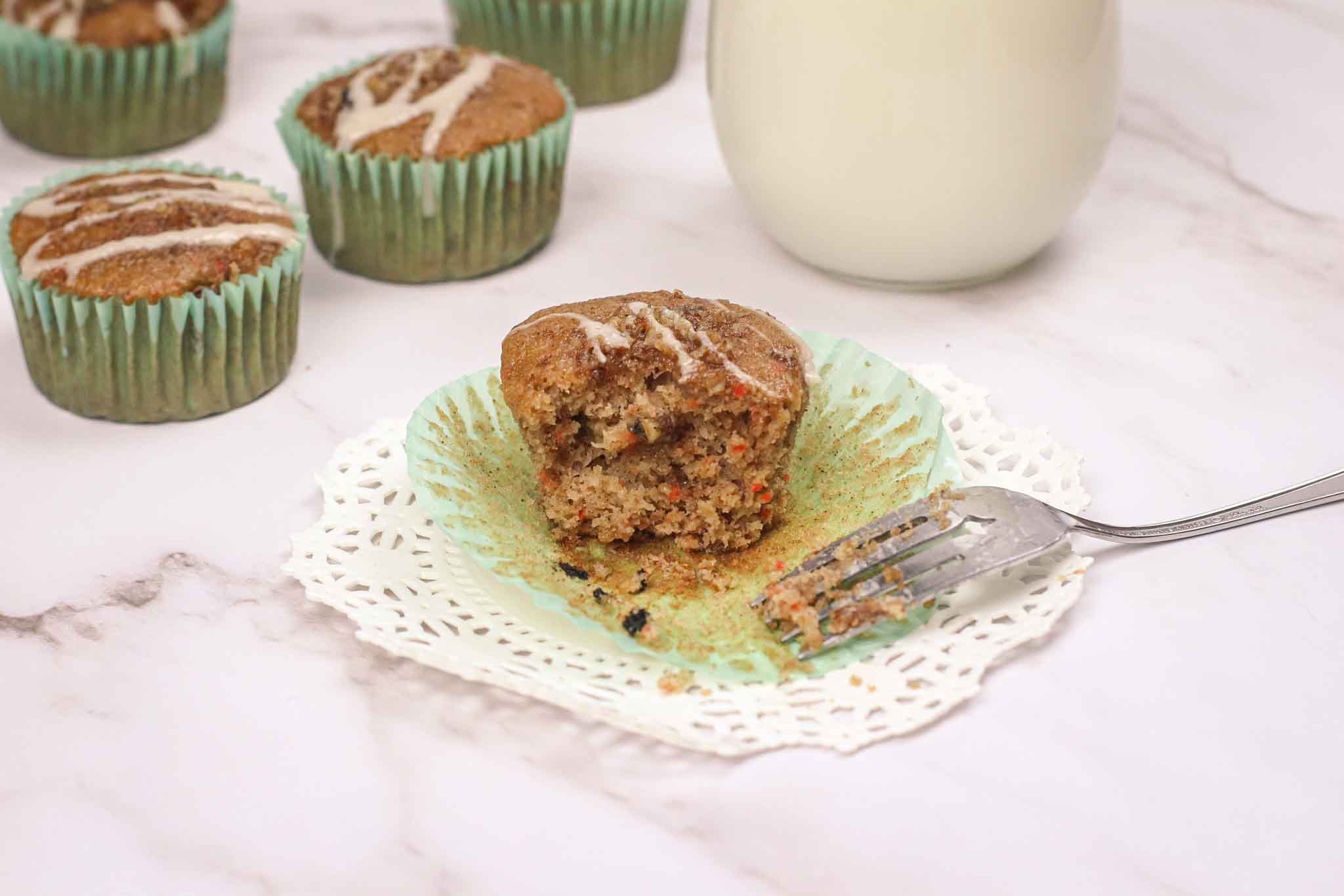 Beyond these ingredients, the specific methods and techniques used in the baking process can also have a major impact on how good your muffins turn out. For example, many bakers recommend incorporating air into the batter as much as possible to ensure light, fluffy muffins with a tender crumb.
Other tips might include using high-quality ingredients and paying close attention to baking times and temperatures. Grab your paper liners and muffin tin and let's get ready to make some amazing muffins!
With a little practice, you can perfect your own muffin-making skills and bake up treats that are just as good (if not better!) than anything you would find at a bakery. This carrot cake muffin recipe does not need any fresh carrots or grated carrots.
What ingredients do you need for this delicious carrot cake muffins recipe?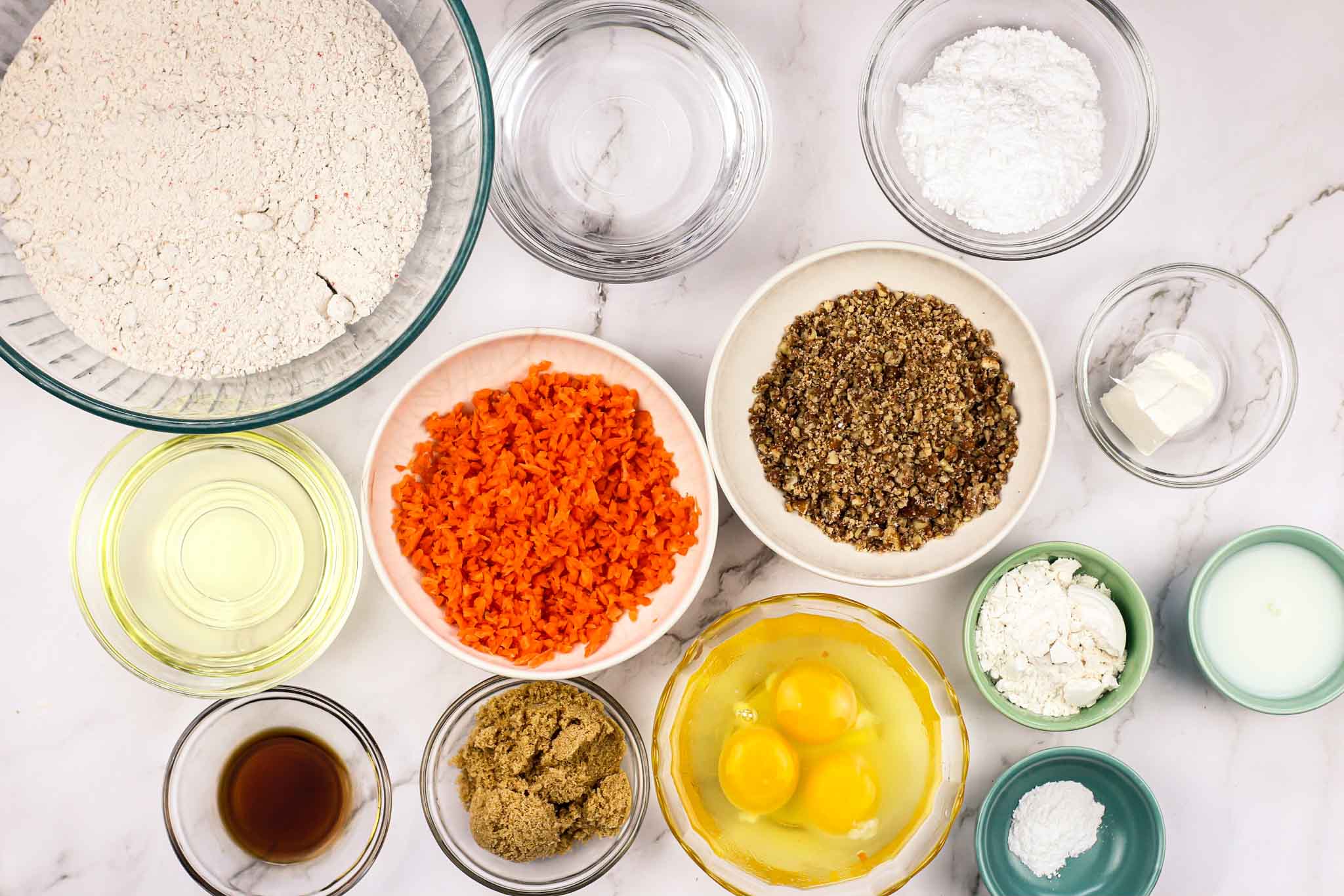 Muffin Ingredients:
1 boxed carrot or spice cake mix
3 tablespoons all-purpose flour
2 teaspoons baking powder
½ cup water
1/3 cup vegetable oil
2 large eggs or 3 medium eggs
½ cup packed light brown sugar, divided
1 cup shredded, diced carrots
1 cup chopped pecans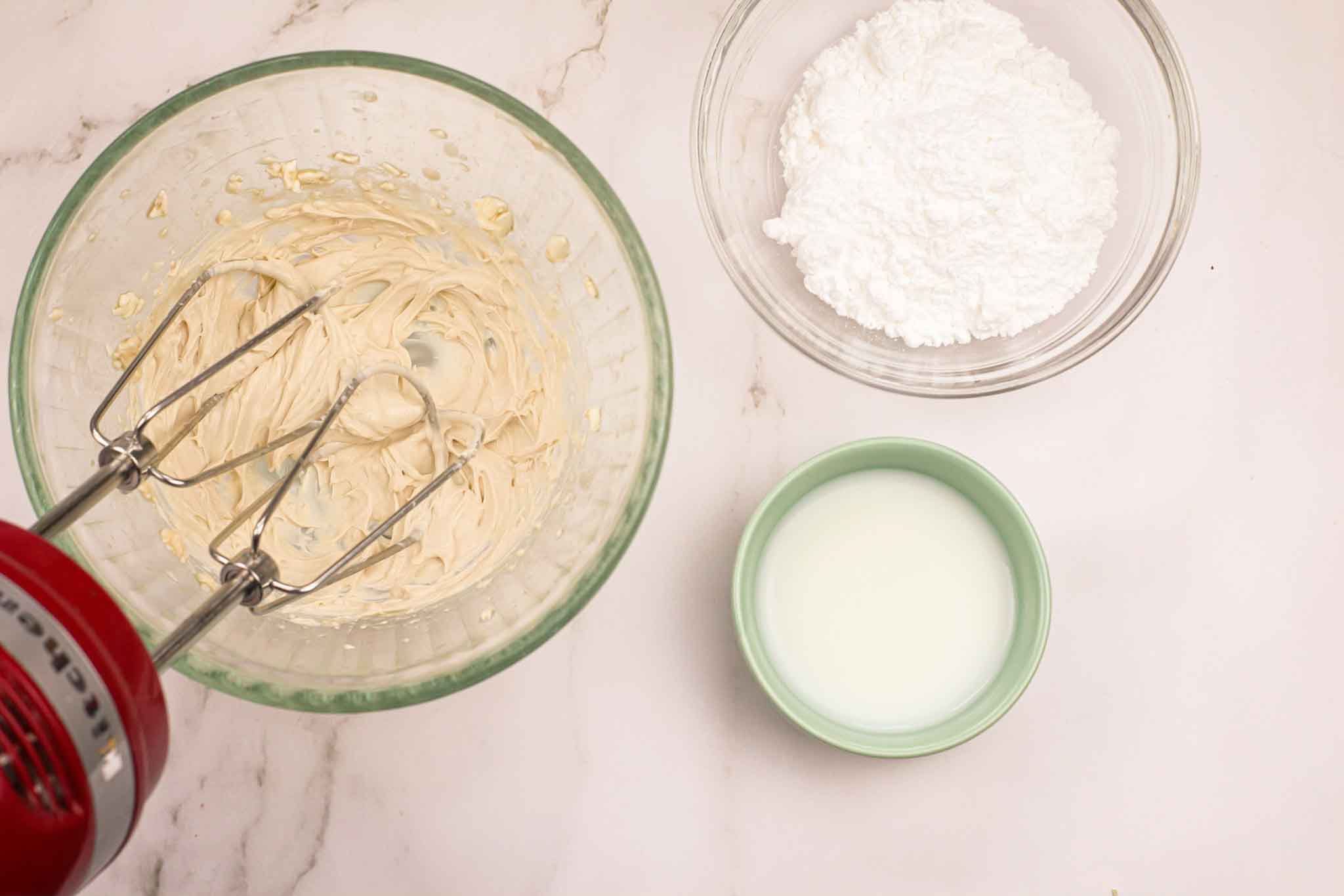 Glaze Ingredients:
1 ounce cream cheese, softened
¼ cup whole milk
1 teaspoon vanilla extract
¾ cup powdered sugar
You won't need any ground cloves, mashed banana, greek yogurt, maple syrup or golden raisins.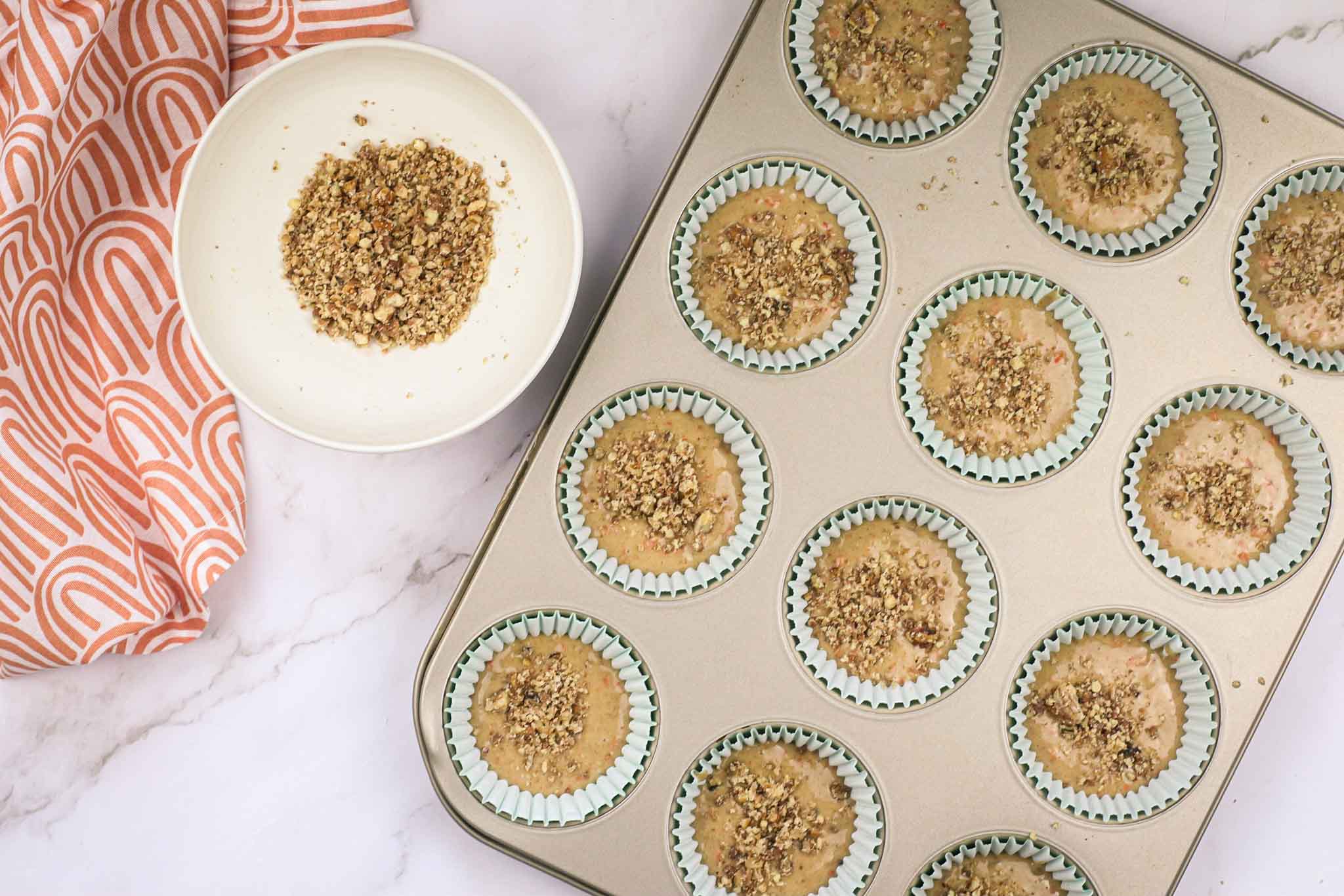 If you wake up with a carrot cake craving try making these carrot muffins for the whole family for a breakfast or an afternoon snack. These easy carrot cake muffins have a moist crumb and it's the perfect way to start your morning!
These delicious muffins are great for mother's day too! It's definitely not one of your traditional muffin recipes but the warm spices and fluffy texture will make this your favorite carrot cake recipe! On the weekends I love to make a double batch so I can save the rest in an airtight container.
Don't forget this recipe comes with a glaze that you can put on the top of the muffins. It's a lighter version of cream cheese frosting and a great topping for these fresh muffins. These are great for snack time or anytime really.
Yield:

12 Muffins
The Best Carrot Cake Muffins
These carrot cake muffins are super easy to make and so tasty!
Ingredients
Muffin Ingredients:
1 boxed carrot or spice cake mix
3 tablespoons all-purpose flour
2 teaspoons baking powder
½ cup water
1/3 cup vegetable oil
2 large eggs or 3 medium eggs
½ cup packed light brown sugar, divided
1 cup shredded, diced carrots
1 cup chopped pecans
Glaze Ingredients:
1 ounce cream cheese, softened
¼ cup milk
1 teaspoon vanilla
¾ cup powdered sugar
Instructions
Directions for the muffins:
Preheat oven to 350°. Spray your pan with the non-stick cooking spray.
Steps 1-2: Whisk the flour and baking powder into the cake mix. Add in the vanilla, oil, water and eggs. Using an electric stand or hand mixture, beat until well combined.
Steps 3-4: Fold in the carrots and ¾ cup of the pecans.
Steps 5-6: Add batter into the muffin tin until each is about 2/3 full. Sprinkle the remaining pecans on top. Bake for 20-24 minutes, or until a toothpick comes out clean. Allow to cool on a cooling rack.
Directions for the glaze:
Step 7-8: In a mixing bowl, cream your vanilla and cream cheese until light and fluffy. Mix in the powdered sugar and milk. Beat until smooth.
Step 9: Drizzle the glaze on top of the muffins. Serve and enjoy!
Makes 24 muffin
Nutrition Information
Yield
12
Serving Size
1
Amount Per Serving
Calories

433
Total Fat

18g
Saturated Fat

3g
Trans Fat

0g
Unsaturated Fat

14g
Cholesterol

78mg
Sodium

481mg
Carbohydrates

62g
Fiber

2g
Sugar

40g
Protein

6g
Pin it for later!
If you enjoyed this recipe be sure to check out my Instagram Page for the latest posts!
Before you go, check out these great posts!
Simple Lemon Muffins Recipe With 4 Ingredients
Yummy Starbucks Cream Cheese Pumpkin Muffins
Bakery Style Double Chocolate Buttermilk Muffins
Easy Blueberry Muffins For A Breakfast Treat
Air Fryer Pumpkin Muffins – Just 2 Ingredients!
Hi! I'm Nellie. I am a busy mama of three, wife to my high school sweetheart who loves to cook, workout and stay organized! I love to share helpful printables, the best recipes and fitness tips for the modern mom. I strongly believe that every mom can feed their family well, take proper care of themselves and have fun along the way! Read my story.
Get comfortable and be sure to come hang out with me on social. Don't grab your free fitness journal before you go!