We all want the best for our children. We want to raise them to be amazing humans that add great value to the universe. Kindness is one of those virtues we want for our kids. Today I have a simple guide for teaching kindness to children that will have them do simple tasks to make the world a brighter place.
PICK UP LITTER IN THE PARK
This one doesn't have to be a full community service cleanup. 😉 Have the kids pick up a few things and remind them that parks are to be taken care of by the neighborhood, too.
SMILE AT EVERYONE YOU SEE TODAY
This one is so great! I love people that naturally smile at strangers. It gives me hope for humanity.
PICK A FEW TOYS TO DONATE
We have a LOT of toys in this household and we go through them sometimes because if we don't we become overrun with them. We donate some that are in great shape and we toss the rest.
COMPLIMENT 5 PEOPLE TODAY
This one is awesome, it prompts the kids to find something nice to say about someone else and before you know it, they will do it naturally.
SAY THANK YOU TO YOUR TEACHERS
This is a big one. Kids see their teachers everyday and they may not realize how hard they work for them.
LET SOMEONE GO AHEAD OF YOU IN LINE
This one is a good one. You rarely see this, which makes it that much better for the kids to do!
PLAY WITH SOMEONE NEW
We all get caught up in routines, but there is always room for new friends!
HOLD THE DOOR FOR SOMEONE
A simple act, that makes a difference!
GIVE SOMEONE A FLOWER
GIVE SOMEONE A HUG
With permission, and if your child is okay with that–of course.
CLEAN UP WITHOUT BEING ASKED
Even though this one will likely require an announcement once they are done–it's a great way to get into good habits.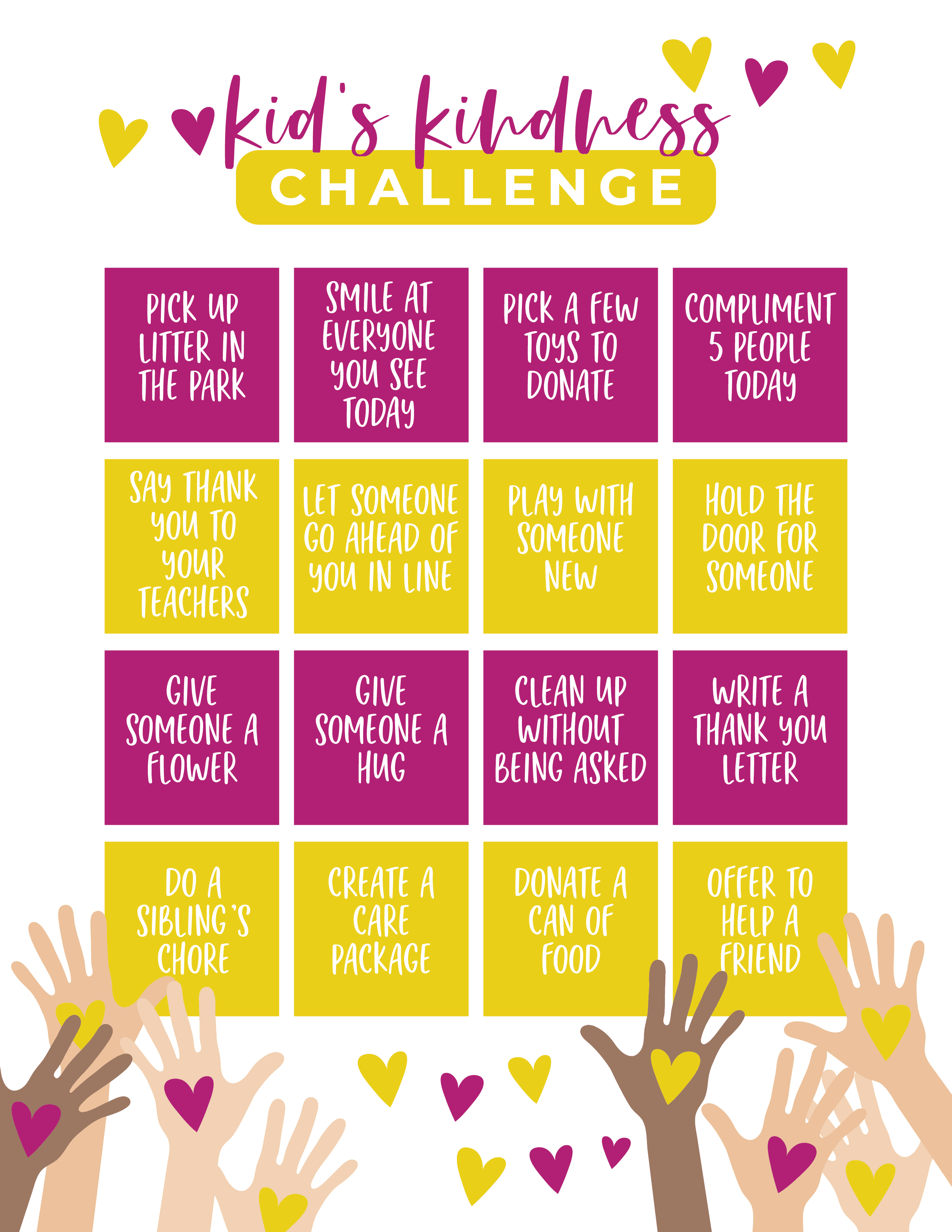 WRITE A THANK YOU LETTER
This is a fantastic habit and so many people would love this kind gesture.
DO A SIBLING'S CHORE
This one is great, especially if you have kids close in age like mine and love to bicker!
CREATE A CARE PACKAGE
This one is beautiful. You can get super creative and let the kids choose what they want to send. They can send it to a family member, a loved one, or even someone in the armed forces. This one is my favorite option!
DONATE A CAN OF FOOD
You can also have kids donate food to a local pantry, it doesn't have to be from your own cabinet. Buy a few can on the next shopping trip for donations.
OFFER TO HELP A FRIEND
This one can be up the child! However they need help, whether its with a project, or school work or something else entirely.
Feel free to download this free kindness printable and have the kids check off as many as they want!
How do you teach kindness to your children?
Hi! I'm Nellie. I am a busy mama of three, wife to my high school sweetheart who loves to cook, workout and stay organized! I love to share helpful printables, the best recipes and fitness tips for the modern mom. I strongly believe that every mom can feed their family well, take proper care of themselves and have fun along the way! Read my story.
Get comfortable and be sure to come hang out with me on social. Don't grab your free fitness journal before you go!