Are you and your family looking for a unique and exciting way to celebrate Easter this year? Then why not try this fun Easter Egg Exchange Game!
This simple game requires very few supplies and can be enjoyed by people of all ages. This is a game that you print out and play with friends and family! No specific type of egg is needed.
What is the Easter Egg Exchange Game?
This game is a printable that you can print out and enjoy as a family. Sometimes you need a game or two to keep kids or teens entertained. Other times, you just want a fun game that everyone can enjoy together!
How to Play Easter Egg Exchange Game
Step one: Every player has to pick an egg.
Step two: Each player gets a chance to roll the die and do the action.
Playing option 1: When a player rolls a number that corresponds to "keep your egg & eat it" that player is out of the game and can eat their egg.
Playing option 2: The game ends when the first player rolls a number that corresponds to "keep your egg and eat it."
5 Reasons to Play Easter Egg Games
Easter egg games are a great way to get everyone involved in the festivities. Here are just a few reasons why people love playing Easter egg exchange games:
It's fun – Playing this Easter egg exchange game and seeing who can win is always a lot of family. This game puts family member up against family member.
It encourages creativity – People of all ages can have a blast thinking up interesting ways to win this game. The more creative, the more fun!
Fosters family bonding – These types of games help families bond over some friendly competition while having fun together.
It's easy to play – Easter egg exchange games don't require any special skills or equipment, making them easy for everyone to enjoy.
They're affordable – Most of the supplies needed for an Easter egg game are inexpensive and widely available, so they won't break the bank!
Instead of playing video games, your kids are having a really fun Easter Holiday that they will never forget with the entire family. If this is their first Easter egg experience, the kids are going to have a ton of fun!
What are some other Fun Easter Games you can play alongside Easter Egg Exchange Game?
Since the Easter Egg game only takes a little bit, it's always best to have lots of games available for everyone to play! Go ahead and check out these fun games!

Easter Egg Roll – Start by rolling your decorated eggs around a table or floor until they each come to a stop. The person whose egg stops closest to a designated finish line gets to keep all their eggs! This is always a good idea for a game.
Egg Hunt – Hide the decorated eggs in various places around the house or yard and have everyone search for them. Once all the eggs have been found, anyone who finds an egg can keep it! If you're looking for outdoor games, this is a good one!
Easter Egg Trading – Place all the eggs in one central area and let everyone trade their eggs with each other until everyone is satisfied with their own collection.
Egg Popping – Line up the decorated plastic eggs and have everyone take turns carefully tapping and popping them open, revealing any small gifts hidden inside!
What are some other fun Easter printables to check out?
A lot of times, you can get plastic Easter eggs at the Dollar store. If you're not sure what to do besides gift Easter baskets this year, make sure you give these creative Easter egg hunt ideas and this Easter Egg game a try!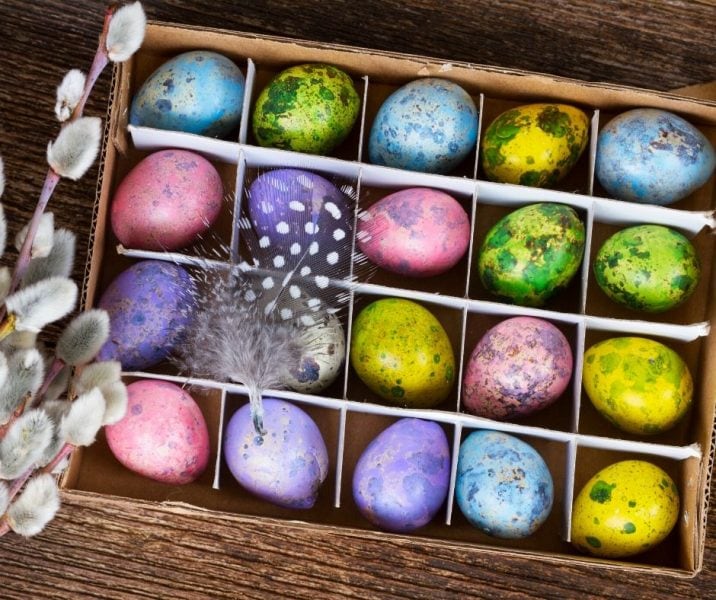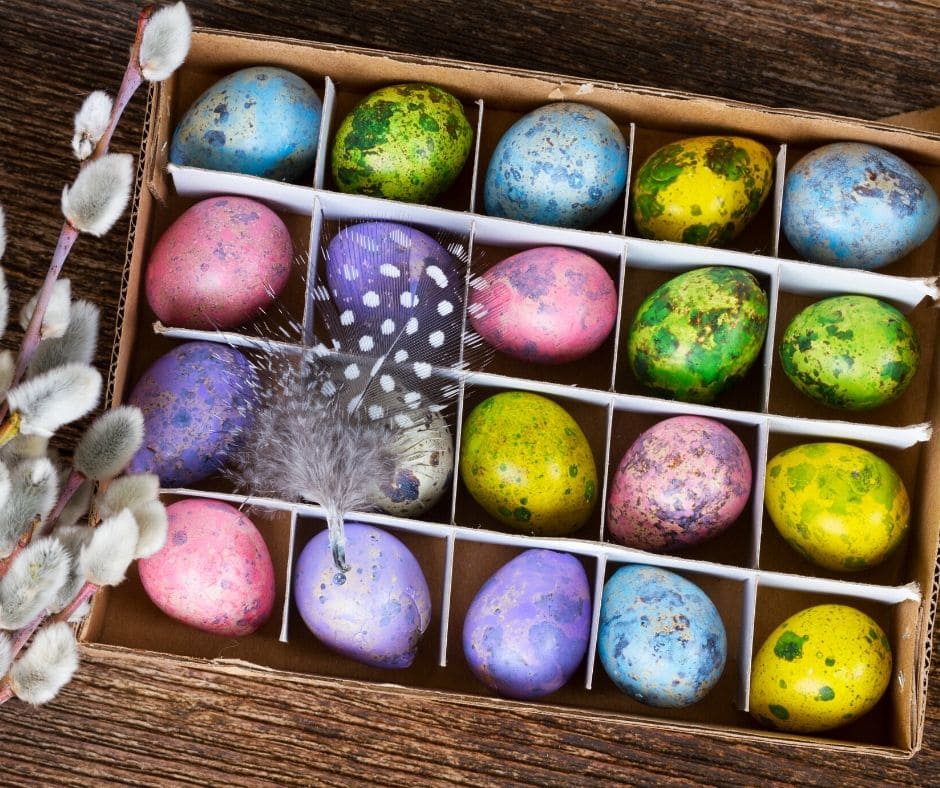 If you have older kids and small kids, these are all games that they can play and enjoy! If you are looking for ways to make the Easter Bunny's holiday even more fun, then this game is for you! Good luck and enjoy the lot of Easter Egg(s) you'll have from Easter.
Pin it for later!
If you enjoyed this recipe be sure to check out my Instagram Page for the latest posts!
Before you go, check out these great posts!
The Cutest Easter Peeps Smores
The Best Easter Charcuterie Board
Easy and Fun Easter Bunny Cookies
Hi! I'm Nellie. I am a busy mama of three, wife to my high school sweetheart who loves to cook, workout and stay organized! I love to share helpful printables, the best recipes and fitness tips for the modern mom. I strongly believe that every mom can feed their family well, take proper care of themselves and have fun along the way! Read my story.
Get comfortable and be sure to come hang out with me on social. Don't grab your free fitness journal before you go!