Summer time is the perfect time for a cold treat. Homemade popsicles are such a great way to cool off! Kids love them, adults love them and it's such a perfect way to celebrate summer. Here are some easy strawberry lemonade popsicles that will become a freezer staple!
Strawberry Lemonade Pops
The best thing about making homemade popsicles is that you have a completely blank canvas. You can make anything you want! You can do any of the variations these awesome fruit filled popsicles to going a bit more savory with these yogurt popsicles with crushed almonds and drizzled chocolate!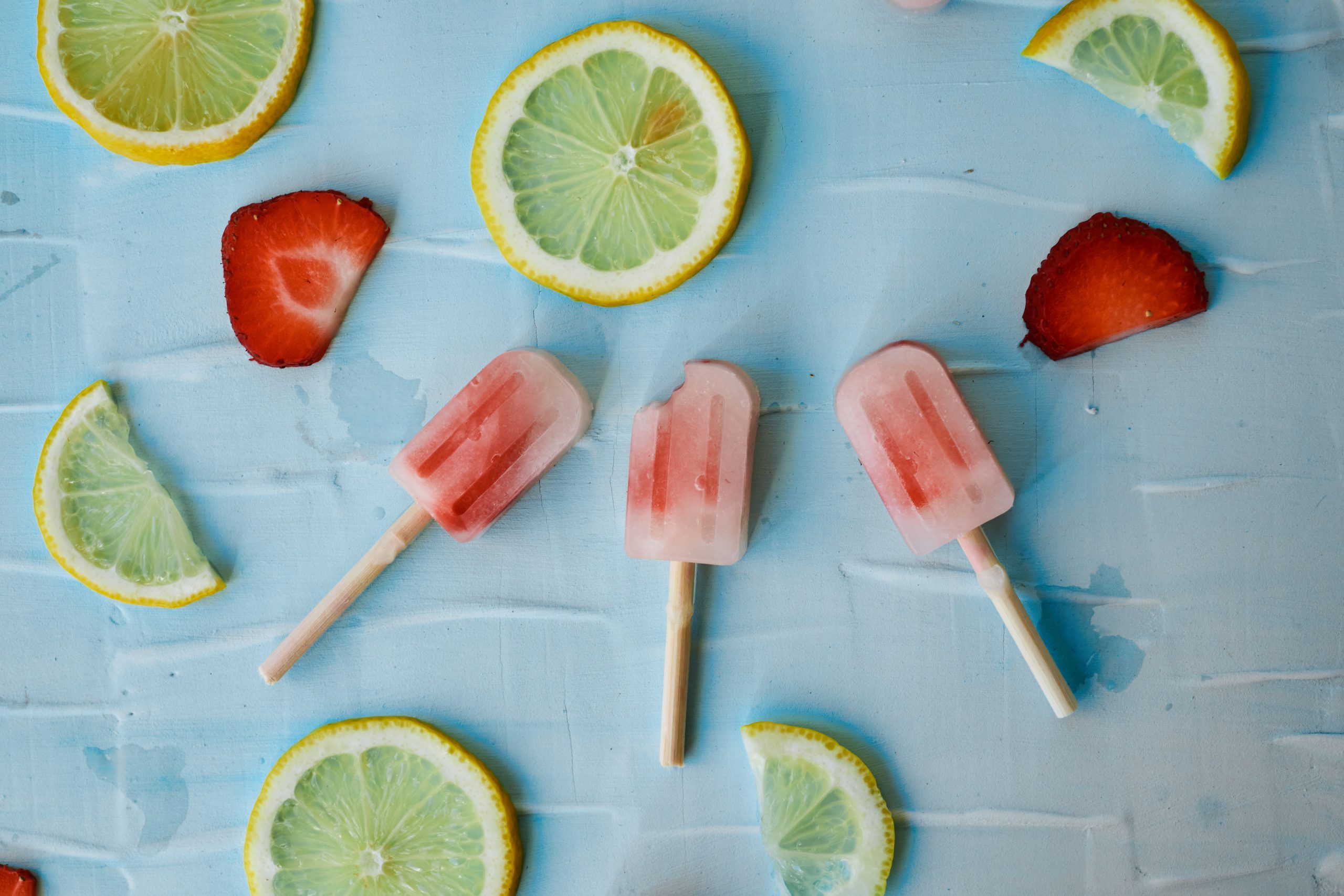 These are real simple though, just mix fresh strawberries and lemonade (homemade or not) and you have a tasty cold treat! They are so easy to make and can be frozen in as little as 6 hours. So if you get up early you can put these in and they will be ready for a fun afternoon snack.
As summer's warmth graces us, there's nothing quite like the refreshment of a Strawberry Lemonade Popsicle. These popsicles encapsulate the tart zing of lemonade and the sweet allure of ripe strawberries, creating a symphony of flavors that dance on the palate and cool you from the inside out.
Why This Recipe Works
Two-in-One Delight: Combines the best of both worlds – the classic tart lemonade and the sweetness of strawberries.
Quick and Easy: With minimal ingredients and hands-on time, you can have a freezer full of these delights.
Kid-friendly: These are a hit with the little ones, making them perfect for families.
FAQs
Can I use frozen strawberries? Absolutely! Frozen strawberries might even lend a more consistent texture to the popsicles.
Is it possible to make these without added sugar? Yes, you can skip sugar or replace it with natural sweeteners like honey or agave nectar, adjusting to taste.
Tips & Tricks
Blending: For a smoother texture, ensure strawberries are blended finely. If you prefer bits of fruit in your popsicle, pulse them a few times for a chunkier consistency.
Lemon Zest: Add a bit of lemon zest for an extra zing and aromatic experience.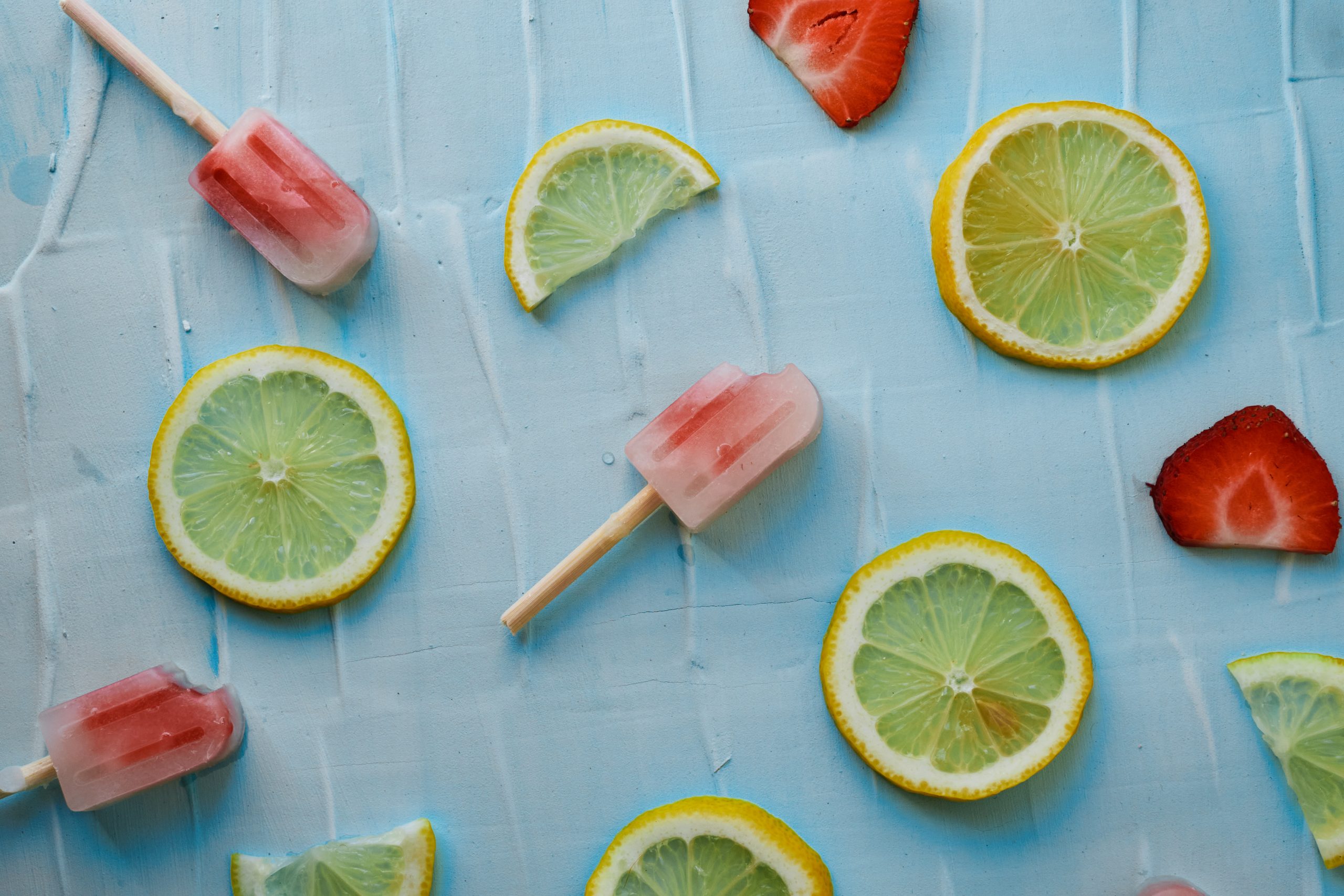 Variations
Berry Mix: Incorporate blueberries or raspberries for a mixed berry lemonade popsicle.
Minty Fresh: Add a handful of fresh mint leaves during blending for a refreshing twist.
Creamy Dream: Blend in some Greek yogurt for a creamier texture and tangy flavor.
Where to Serve
Summer Parties: These are a refreshing treat for BBQs, pool parties, or any summer gathering.
After-school treat: A great way to cool down after a sunny day out.
Dessert Option: Serve after dinner for a light and refreshing dessert.
Storage
Once frozen, transfer the popsicles into individual zip-lock bags. They can be stored in the freezer for up to a month.
Common Problems and How to Avoid Them
Icy Texture: If the popsicles are too icy, it might be due to a high water content. Ensure you're using pure lemon juice and ripe strawberries. A small amount of sugar or natural sweetener can also help reduce ice crystals.
Popsicles Not Releasing: Running the mold under warm water for a few seconds helps in easier release.
Tips for Making this Recipe with Kids
Safety First: If you're letting the kids blend, ensure it's under supervision. Use child-safe knives if they're helping with prepping.
Decorate: Let them decorate the popsicles with toppings before freezing.
Mix and Match: Encourage them to suggest and add their favorite fruits.
Topping Options
Crunchy: Before freezing, dip the tops in crushed graham crackers or granola for a crunch.
Chocolate Drizzle: Once frozen, drizzle melted chocolate over the popsicles and refreeze.
Tropical: Add some shredded coconut on top for a tropical twist.
With the perfect balance of tart, sweet, and icy, these Strawberry Lemonade Popsicles are a quintessential summer treat that's as fun to make as it is to eat, especially with little chefs in tow. Dive into this refreshing experience and make memories along the way!
What are some other great popsicles recipes to try?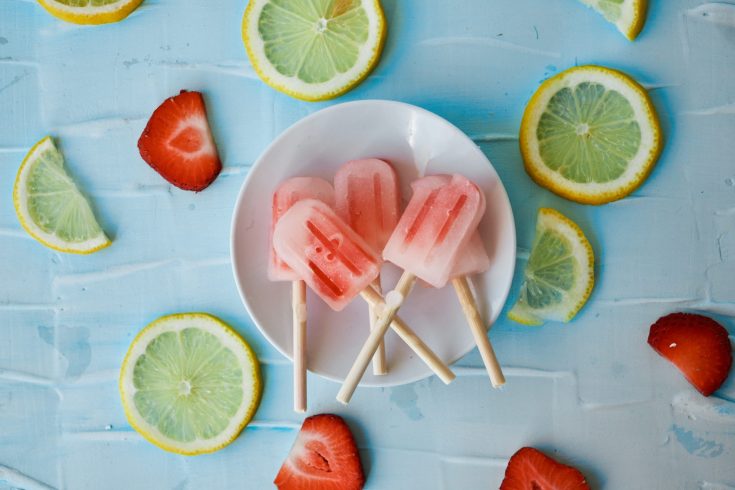 Yield: 6 popsicles
Strawberry Lemonade Popsicles
Prep Time: 5 minutes

Cook Time: 6 hours

Total Time: 6 hours 5 minutes

Eating popsicles is such a perfect way to celebrate summer. Here are some easy strawberry lemonade popsicles that will become a freezer staple!
Ingredients
Lemons (peeled and cut)
Lemonade (I used ready made)
one cup of strawberries
If you want to make your own lemonade
mix 2 tablespoons of sugar with 2 cups of water and 2 tablespoons of lemon juice
Instructions
Place lemons and strawberries into molds
Pour lemonade on top of the fruit to fill the molds
Freeze overnight
When you are ready to serve run molds under hot water for 20 seconds to loosen molds
Nutrition Information
Yield
6
Serving Size
1
Amount Per Serving Calories 63Total Fat 0gSaturated Fat 0gTrans Fat 0gUnsaturated Fat 0gCholesterol 0mgSodium 8mgCarbohydrates 17gFiber 1gSugar 14gProtein 0g
Hi! I'm Nellie. I am a busy mama of three, wife to my high school sweetheart who loves to cook, workout and stay organized! I love to share helpful printables, the best recipes and fitness tips for the modern mom. I strongly believe that every mom can feed their family well, take proper care of themselves and have fun along the way! Read my story.
Get comfortable and be sure to come hang out with me on social. Don't grab your free fitness journal before you go!