Butternut Squash Crockpot Risotto: A Creamy, Cozy Masterpiece
Get ready to warm up your cold evenings with a butternut squash crockpot risotto that's both creamy and comforting.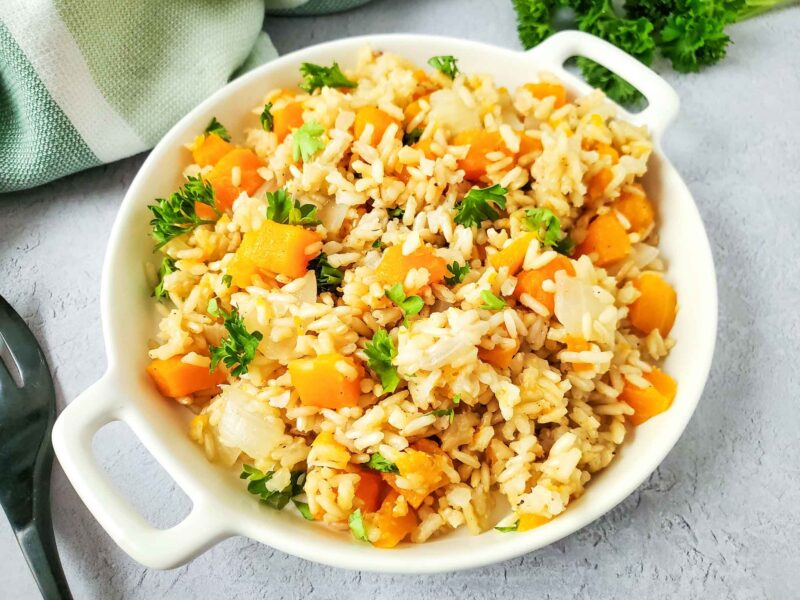 This slow cooker butternut squash risotto combines the wholesome goodness of butternut squash with the creamy consistency of brown rice risotto.
FAQs
Can I Use Arborio Rice Instead of Brown Rice?
Yes, arborio rice is a classic choice for risotto recipes, but this recipe calls for brown rice to add extra fiber and a nuttier flavor.
Can I Make It In An Instant Pot?
Sure, although this is designed as a slow cooker recipe, you can adapt it for a pressure cooker. The cooking time will differ; consult your Instant Pot manual for rice-cooking guidelines.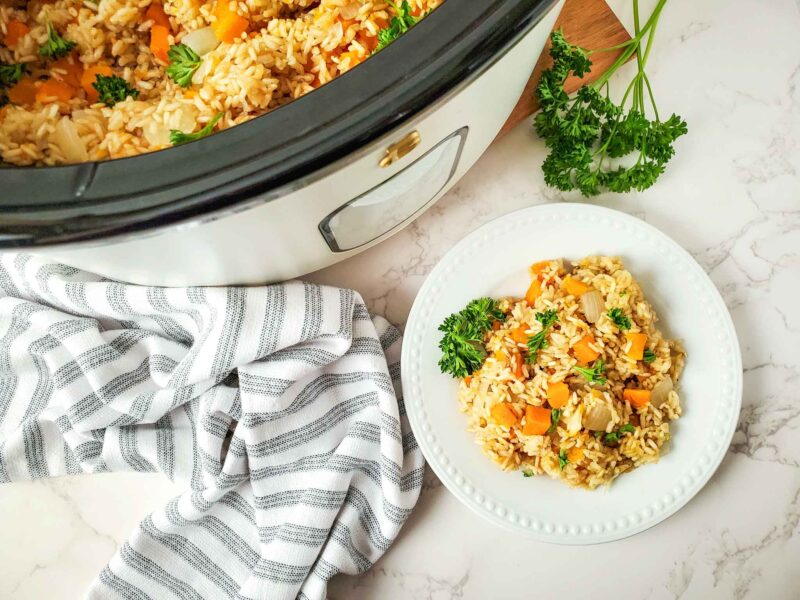 Tips and Tricks
Don't Skip the Sauté
Although it might be tempting to just dump everything into the slow cooker, sautéing the onions on medium heat in a large saucepan with a little bit of olive oil first will add great flavor.
Use Good Quality Broth
Whether you choose vegetable broth or chicken broth, make sure it's of high quality for the best results.
Add a Splash of White Wine
For an extra layer of flavor, consider adding a splash of dry white wine during the cooking process. It can make a world of difference!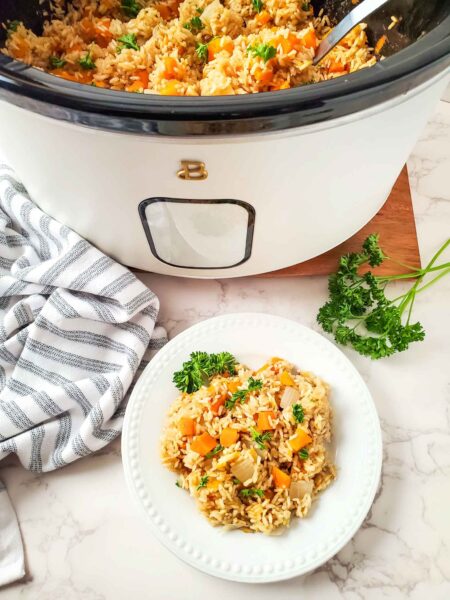 Variations
Mushroom Risotto
If you love the umami flavor, try adding some sautéed mushrooms to the mix.
Vegan Version
Swap out the parmesan cheese for nutritional yeast or vegan butter for a dairy-free alternative.
Where To Serve
This creamy dish makes a delicious side dish at holiday dinners, or can stand alone as a main dish. It's a huge hit at dinner parties and also fits in seamlessly with a more casual dump dinner.
Storage
Transfer any leftovers into an airtight container and store in the refrigerator. The creamy texture of the risotto may change slightly, but a good stir before reheating should bring it back to life.
Common Problems and How to Avoid Them
Grainy Texture
To avoid an unpleasant grainy texture, make sure to cook until the rice is al dente. Brown rice tends to hold its shape better than white rice, but it's still possible to overcook.
Dry Risotto
If the risotto seems dry, simply add a few extra cups of vegetable broth or a little bit of olive oil to restore its creamy texture.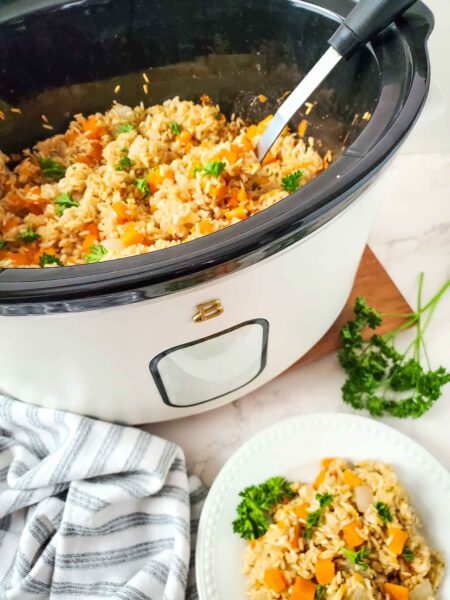 Tips for Making This Recipe With Kids
Let the kids help by measuring the ingredients.
Kids love pressing buttons, so allow them to set the slow cooker or Instant Pot.
Older kids can assist in the sautéing process, under supervision, of course!
Topping Options
A garnish of chopped fresh parsley or sage leaves provides a pop of color and added flavor. You could also try goat cheese for a tangy kick.
Why This Recipe Works
The slow cooking process allows the flavors to meld together perfectly, and using a slow cooker offers a free pass on the labor-intensive stirring associated with traditional stovetop versions. Brown rice offers a healthy twist, adding whole grains to this creamy dish.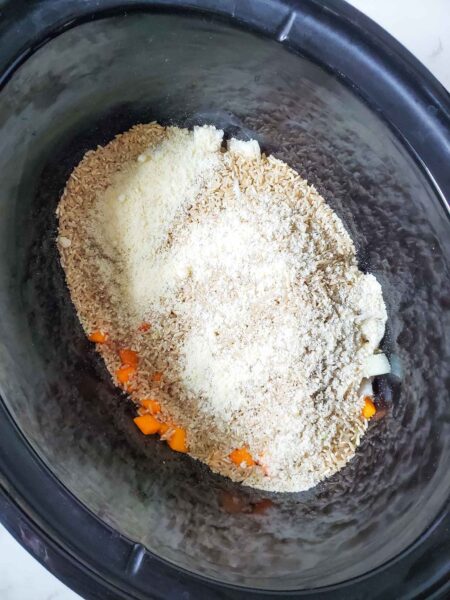 Finally, butternut squash gives not only a lovely color but also a natural sweetness that complements the savory notes of the risotto. It's the perfect recipe for those who love great food but don't have the time for complex meal prep.
What are the ingredients you need for this easy slow cooker risotto?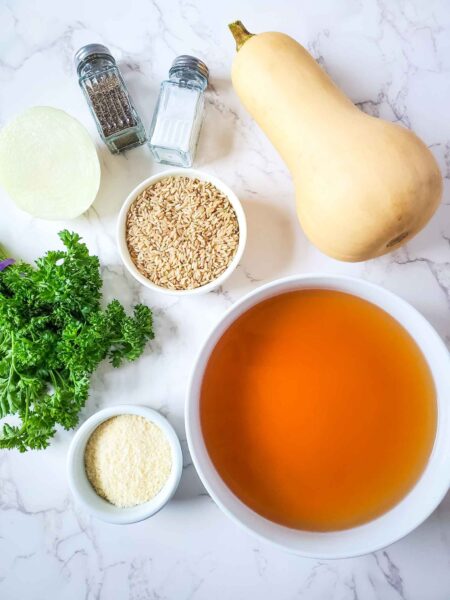 Butternut Squash
The star of the show, butternut squash lends this risotto its rich color, natural sweetness, and a boost of essential nutrients like vitamin A. The cubes of butternut squash also give the dish its distinctive fall flavor and make for a hearty, satisfying meal.
Brown Rice
While traditional risotto uses arborio rice, brown rice provides extra fiber, a nutty taste, and a chewier texture. The grain's ability to absorb flavors makes it an excellent base for the rich broth and butternut squash flavors.
Vegetable Broth
The vegetable broth acts as the liquid that cooks the rice and provides a flavorful foundation for the dish. The quality of your broth can make or break the risotto, influencing its overall flavor profile.
Parmesan Cheese
The grated parmesan cheese adds a salty, umami kick. It helps to bind the other ingredients together, achieving that creamy texture we all look for in a good risotto. For a dairy-free version, you can use nutritional yeast as a substitute.
Yellow Onion
Onions are a classic base in many dishes for a reason: they offer a depth of flavor that complements both the squash and the rice. Sautéing the onions first is crucial for unlocking their full flavor potential.
Salt and Pepper
These basic seasonings are crucial for enhancing the flavors of the individual ingredients. A pinch of salt can go a long way in bringing out the natural sweetness of the butternut squash, and freshly ground pepper adds a subtle heat.
Fresh Parsley
This herb garnish may seem optional, but it adds a fresh contrast to the dish's rich and creamy flavors, while also adding a pop of color for presentation.
What are some more delicious slow cooker recipes to try?
If you are looking for more fun dinner recipes be sure to check out this comprehensive list! Easy and Tasty Dinner Ideas For The Whole Family!
Yield:

4
Easy Butternut Squash Crockpot Risotto
Cook Time:
2 hours
30 minutes
Total Time:
2 hours
45 minutes
This butternut squash risotto crockpot dish is simple to make, delicious, and gluten free! The blend of flavors is perfect for a fall comfort meal.
Ingredients
3 cups butternut squash, cut into ½ inch cubes
1 cup brown rice
3 cups vegetable broth
1/4 cup grated parmesan cheese
1/2 yellow onion
Salt and Pepper, to taste
chopped fresh parsley to garnish
Instructions
Cut the squash into ½ inch cubes, and chop the onion.
Add the squash, rice, onion, and parmesan to the crockpot, then pour into the broth, and season with salt and pepper.
Cover and let cook on high for 2.5 hours, stirring at the halfway point. If rice is not tender enough, cook for an additional 30 minutes.
Garnish with chopped parsley to serve.
Nutrition Information
Yield
4
Serving Size
1
Amount Per Serving
Calories

158
Total Fat

2g
Saturated Fat

1g
Trans Fat

0g
Unsaturated Fat

1g
Cholesterol

5mg
Sodium

694mg
Carbohydrates

31g
Fiber

6g
Sugar

5g
Protein

5g
If you enjoyed this recipe be sure to check out my Instagram Page for the latest posts!
Before you go, check out these great posts!
The Best Crockpot Sirloin Steak and Gravy Recipe
Easy Slow Cooker Deep Dish Pizza Recipe
Hi! I'm Nellie. I am a busy mama of three, wife to my high school sweetheart who loves to cook, workout and stay organized! I love to share helpful printables, the best recipes and fitness tips for the modern mom. I strongly believe that every mom can feed their family well, take proper care of themselves and have fun along the way! Read my story.
Get comfortable and be sure to come hang out with me on social. Don't grab your free fitness journal before you go!