Roasted Pumpkin Soup
Fall is right around the corner and I am so excited about that. In honor of fall quickly approaching, I want to introduce everyone to a new recipe. Roasted Pumpkin Soup is the perfect soup for a chilly fall day.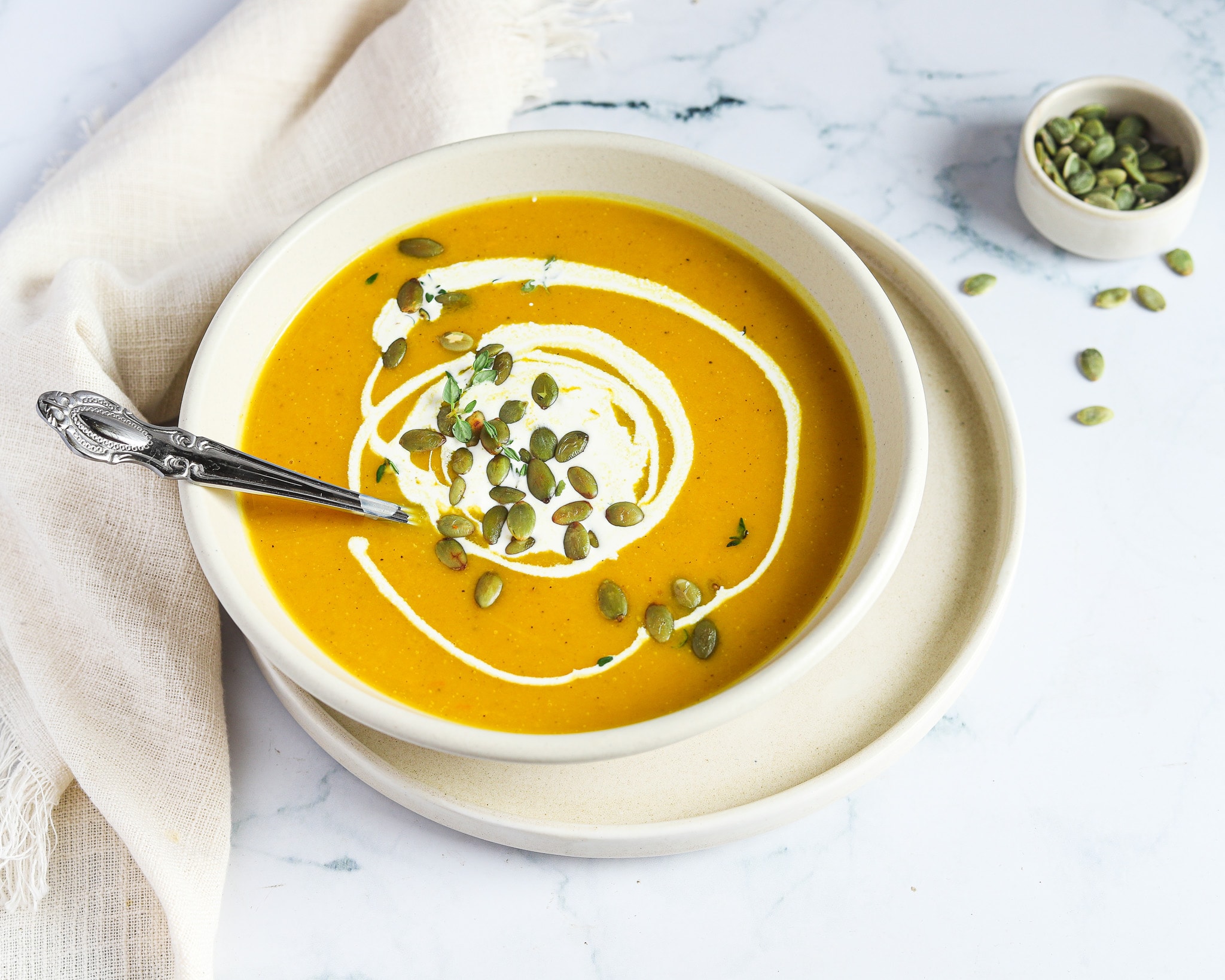 If you are craving soup and want something warm and delicious for dinner, this recipe is for you!
Roasted Pumpkin Soup
If you have never tried Pumpkin Soup, then now is your chance. When I first started learning how to cook with pumpkin, I wasn't sure about it.
However, pumpkins are good for a lot more than carving. This soup has so much flavor, your family will be asking for it at least once a week. Even for non-soup loving families, this is a soup worth trying and putting into your dinner rotations.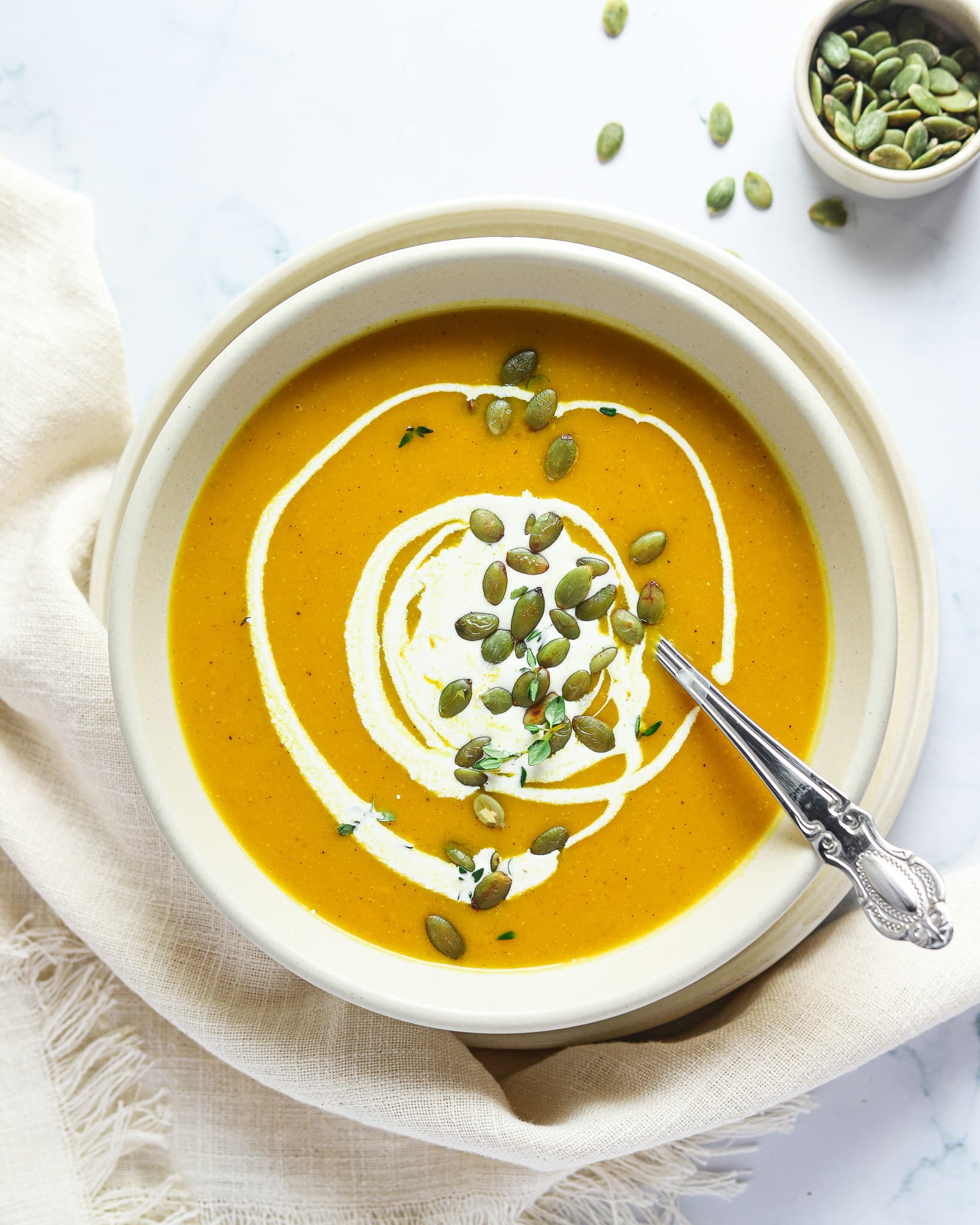 The first time I tried pumpkin soup, I was in at a really fancy restaurant for an event. Pumpkin soup was one of the (many appetizers) and although I had never had it before I was super open to trying it because it simply looked amazing (and no other dish had disappointed me).
It was perfect. I didn't know pumpkin could be so savory and amazing. I wanted to ask for a second bowl, but I decided to have a bit of decorum and pretend I was full. 🙂
Ingredients for Pumpkin Soup
Deciding to make this soup is a good idea, but you may be wondering what's inside of it. Well, this has the best ingredients ever! You can check out the recipe card for a full list, but I am going to talk about the main ingredients for a second.
Peeled and Diced Pumpkin – If you have never peeled and diced pumpkin, now is your chance. You are going to love the complete flavor that pumpkin has to offer! After I tried pumpkin soup, I went on to try many other pumpkin recipes. So good!
Coconut Milk – If you're new to the coconut milk scene, you need to give it a try. If you have milk allergies or are watching your calories, you may find this is a better and healthier alternative than traditional milk. I usually use coconut milk to make my world famous Jamaican Rice and Peas, so I was already super familiar with this ingredient.
Vegetable Stock – You can make your own vegetable stock for this meal or you can buy some from the store. This is a great way to get veggies and nutrition to your family that they need.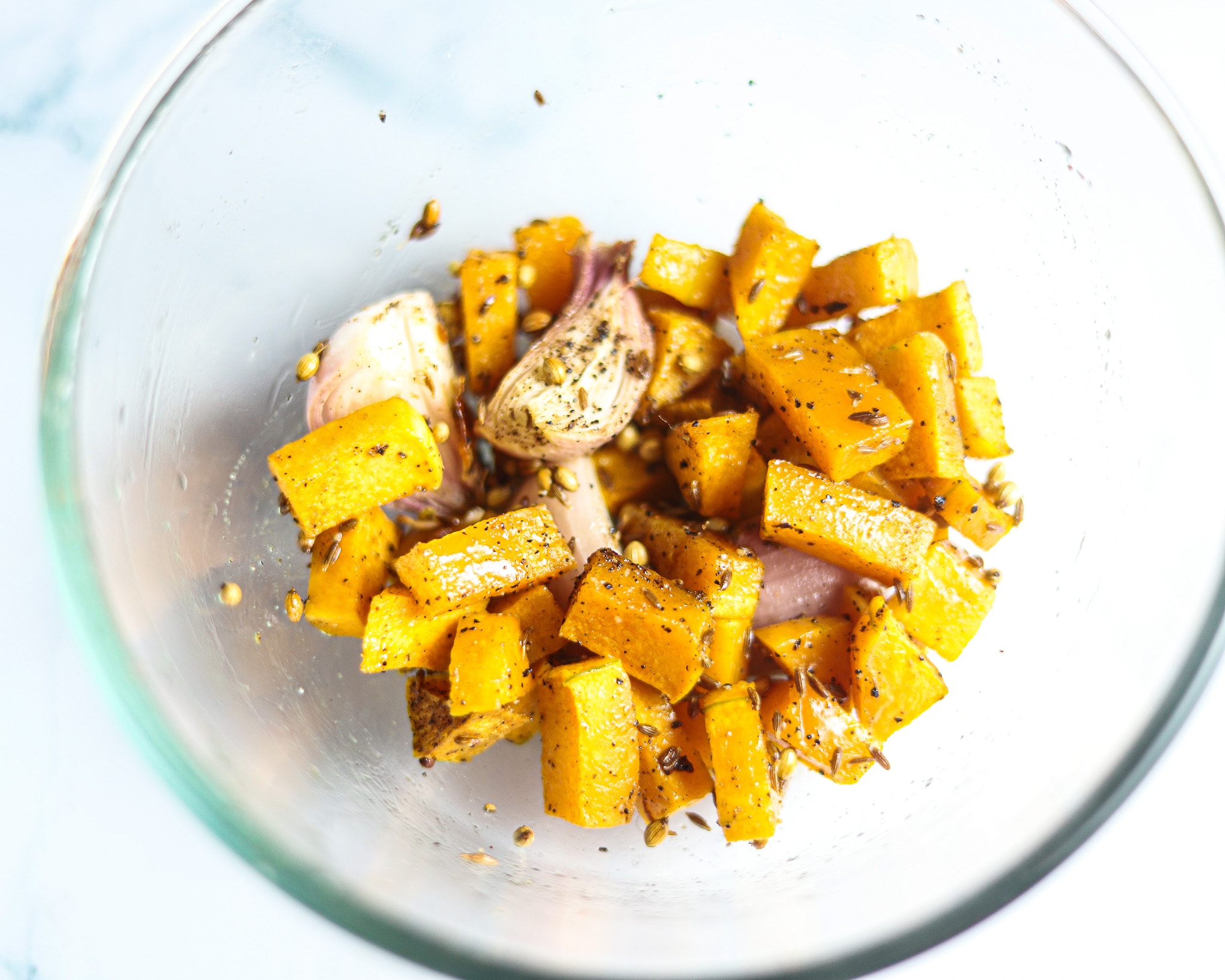 The next time you are craving something fall-themed, I hope you give this Roasted Pumpkin Soup a try. It's thick and perfect for fall.
Enjoy!
Yield: 2-4 servings
The Most Amazing Pumpkin Soup Ever
Prep Time: 20 minutes

Cook Time: 40 minutes

Total Time: 1 hour

Looking for a delicious soup that the whole family will love? Look no further! This roasted pumpkin soup is a perfect choice for cooler fall evenings.
Ingredients
2 and 1/4 cups - Peeled and diced pumpkin
1 Onion
1 tbsp - Olive oil
½ tsp - Cumin powder
½ tsp - Coriander powder
¼ tsp - Crushed black pepper
1 tsp - Salt
1 tsp - Sugar
4 cups - Water or vegetable stock
¼ cup - Cream or Coconut milk
Instructions
Take the diced pumpkin and quartered onion into a bowl.
Add the olive oil, cumin, coriander, black pepper and salt into the bowl and toss until it is evenly mixed.
Place the pumpkin and onions into a baking tray and bake in a preheated oven at 180degrees Celsius for around 20-30 minutes until the pumpkin starts to darken.
Take the tray out of the oven and let it cool slightly.
Now add the roasted pumpkin and onion into a food processor or blender jar with 1 cup water.
Process it until it is smooth.
Take it out in a pan and add the remaining water or stock into the pan.
Let it simmer on low flame for about 10-15mins.
Add in the cream or coconut milk and let it simmer for few more minutes.
Serve it warm.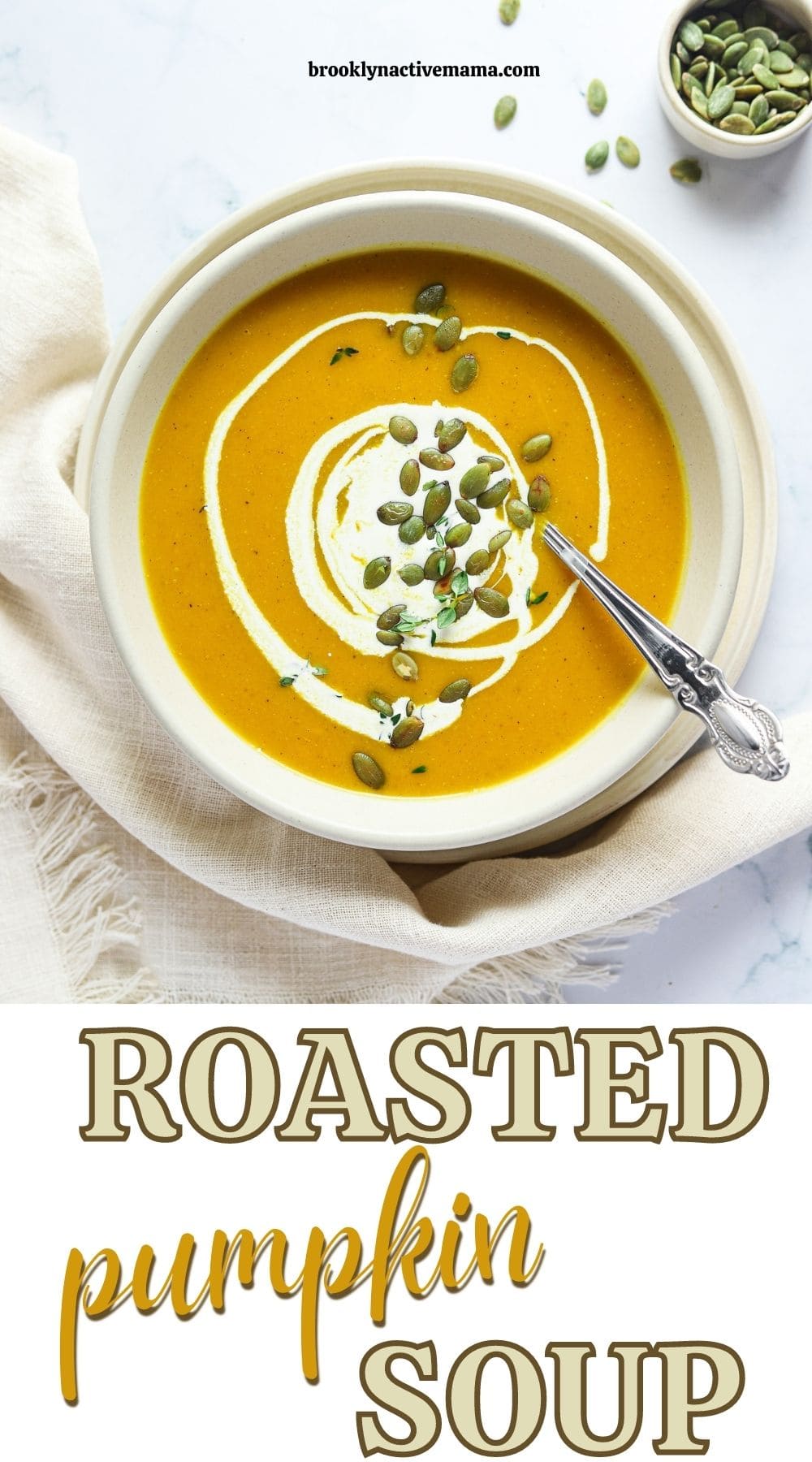 Hi! I'm Nellie. I am a busy mama of three, wife to my high school sweetheart who loves to cook, workout and stay organized! I love to share helpful printables, the best recipes and fitness tips for the modern mom. I strongly believe that every mom can feed their family well, take proper care of themselves and have fun along the way! Read my story.
Get comfortable and be sure to come hang out with me on social. Don't grab your free fitness journal before you go!