These cinnamon rolls are going to knock your socks off! If you are looking for a yummy breakfast check out these pumpkin spice cinnamon rolls.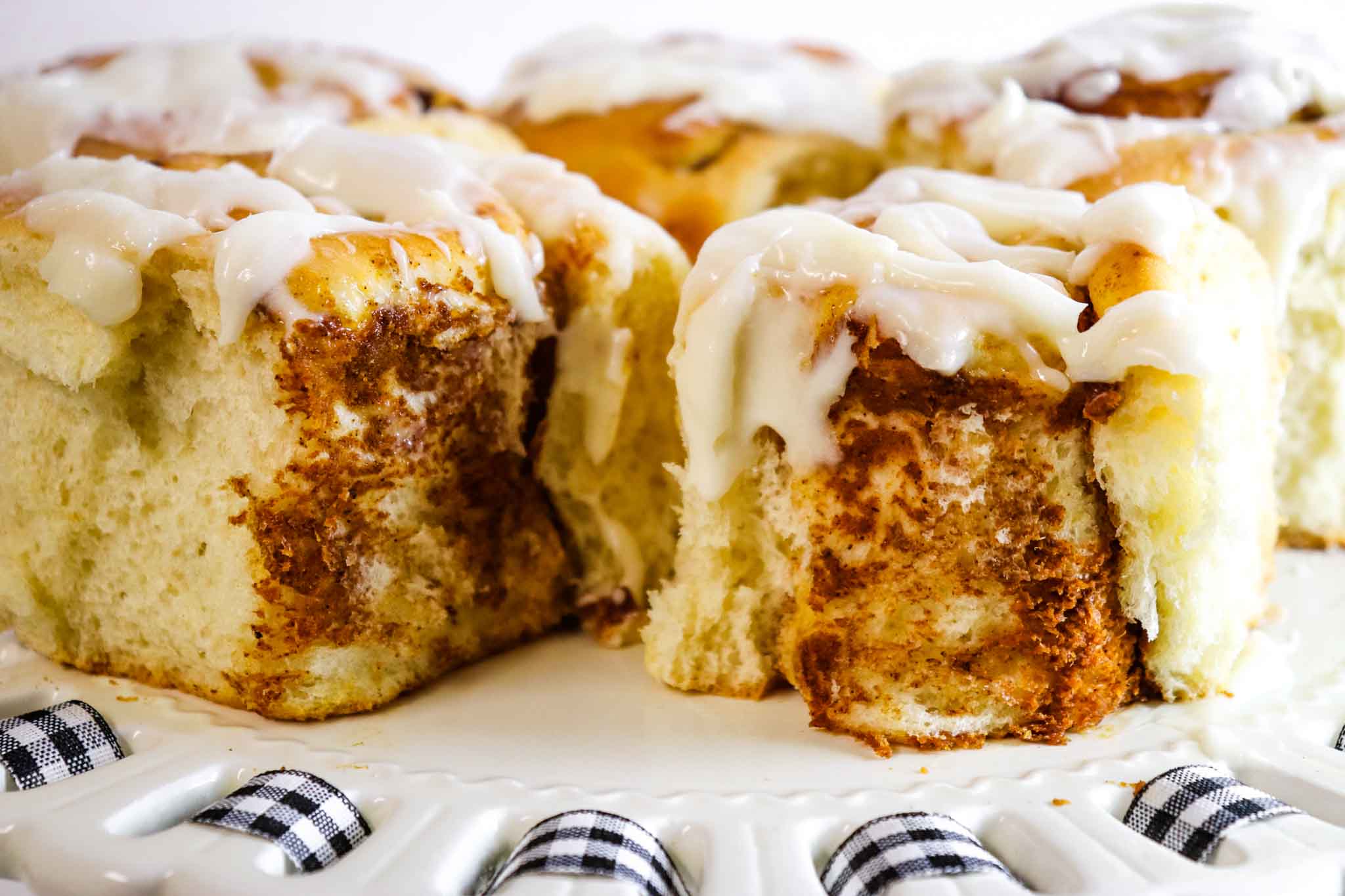 You will love these amazing flavorful cinnamon rolls. They are so awesome for breakfast or even brunch.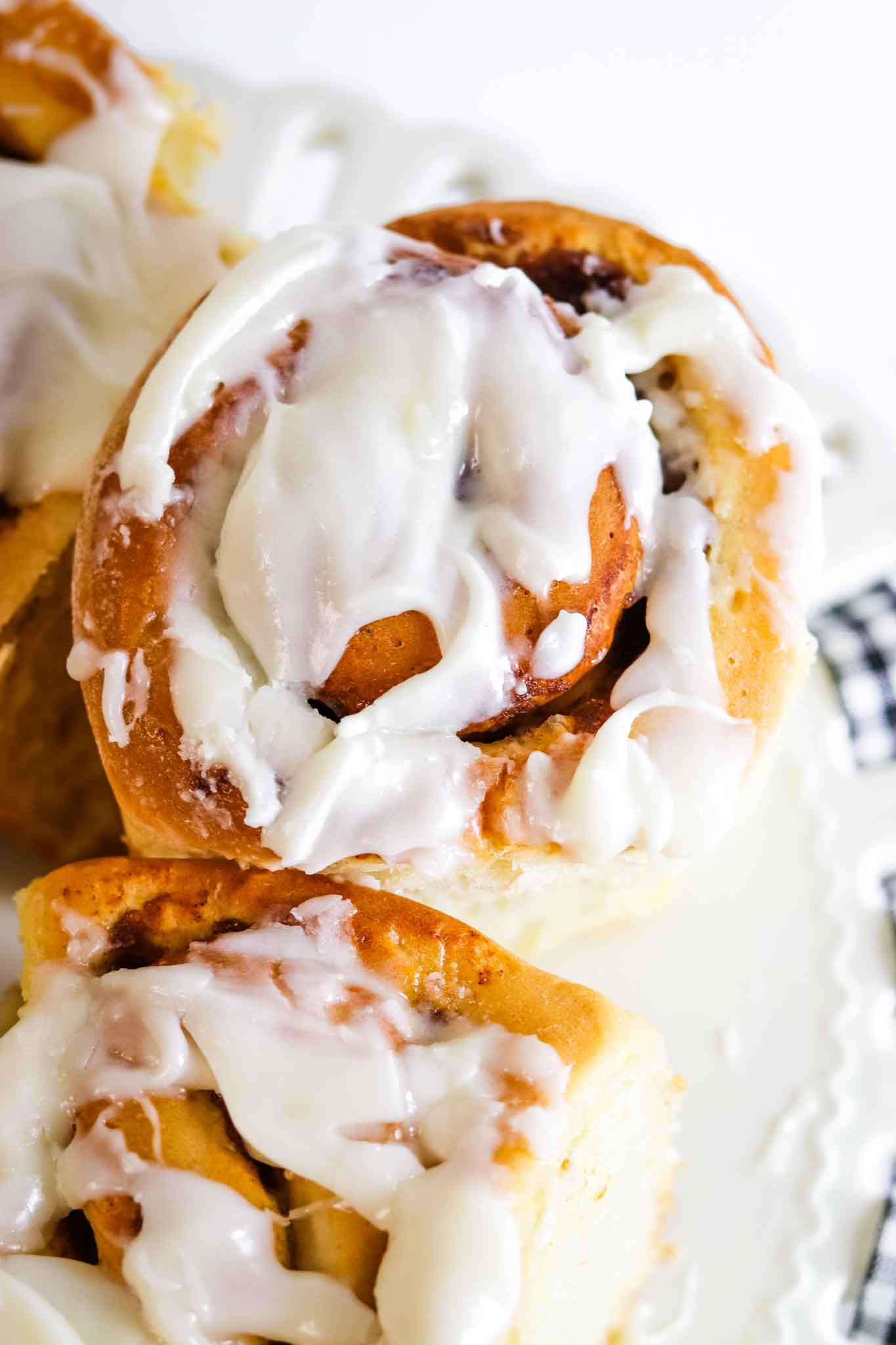 These fluffy cinnamon rolls are everything you need and they make the house smell so great!
What ingredients do you need for the bes pumpkin cinnamon rolls?
Dough Ingredients:
All-Purpose Flour: The primary structure builder in the dough, it provides the essential gluten network that captures the gases released by the yeast, allowing the rolls to rise and have a soft crumb.

Water: It hydrates the flour, initiating the gluten formation process. Water also dissolves the sugar and salt, allowing even distribution throughout the dough and facilitating yeast activation.

Sugar: Aside from imparting sweetness, sugar provides food for the yeast, enhancing its fermentation activity. This results in a better rise and a softer crumb.

Butter, Unsalted: Butter contributes to the rich flavor of the rolls. Its fat content tenderizes the dough, resulting in soft, flavorful cinnamon rolls. Using unsalted butter lets you control the salt content.

Egg: It adds moisture, fat, and proteins to the dough. Eggs enrich the dough, lending to its soft texture and golden color when baked.

Yeast: A leavening agent, yeast ferments the sugars in the dough, producing carbon dioxide, which causes the dough to rise. This results in fluffy and light rolls.

Salt: Enhances the overall flavor of the rolls and regulates yeast activity, ensuring it doesn't ferment too quickly.
Filling Ingredients:
White Sugar: Melts when baked, creating a sweet and gooey filling inside the rolls. It also crisps up the bottom of the rolls, providing a delightful contrast in texture.

Pure Pumpkin Puree: Brings moisture and a distinct autumnal flavor to the filling. It complements the spices, enhancing the overall taste.

Cinnamon: A warming spice, it offers a sweet and woody aroma that's central to the flavor profile of cinnamon rolls.

Ground Ginger: Adds a spicy kick, complementing the sweetness of the pumpkin and sugar.

Nutmeg: With its sweet and nutty aroma, it boosts the warmth and depth of the filling.

Allspice: Resembling a combination of cloves, nutmeg, and cinnamon, allspice rounds out the spice blend, adding complexity.
Frosting:
Cream Cheese, Softened: Lends a tangy richness, which contrasts beautifully with the sweet rolls, making the frosting creamy and luscious.

Powdered Sugar, Sifted: Adds sweetness to the frosting and, when sifted, ensures a smooth, lump-free texture.

Softened Butter, Unsalted: Introduces a rich, buttery flavor and aids in the spreadable consistency of the frosting.

Whole Milk: Adjusts the consistency of the frosting, making it smoother and easier to spread.

Vanilla Extract: Infuses the frosting with a delicate aroma, elevating the overall taste and complementing the tanginess of the cream cheese.
You will absolutely love these warm rolls with amazing pumpkin flavor! You won't be using any pumpkin pie spice, brown sugar or instant yeast for these pumpkin rolls.
Tips and Tricks
Dough Consistency: The dough should be slightly tacky but not sticky. Adjust with a tablespoon of flour or water as needed.
Spice It Up: Feel free to adjust the pumpkin spice according to your taste.
Room Temperature Ingredients: Ensure ingredients like eggs and cream cheese are at room temperature for better incorporation.
Variations
Vegan Pumpkin Spice Rolls: Use plant-based milk, vegan butter, and a vegan cream cheese alternative.
Nutty Addition: Add chopped pecans or walnuts to the filling for an added crunch.
Chocolate Chip: Sprinkle some chocolate chips over the filling before rolling for a chocolatey twist.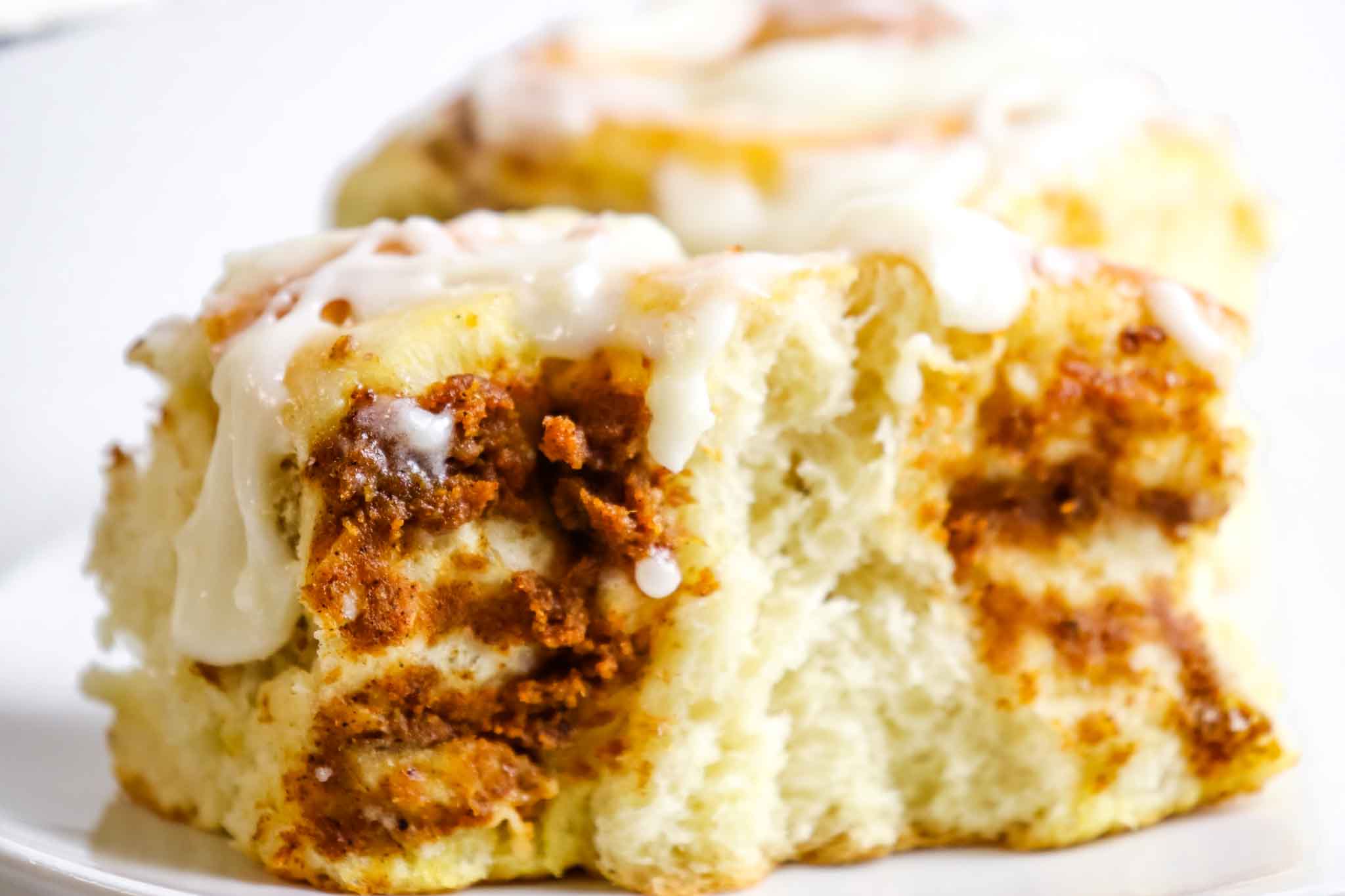 What to Serve with These Cinnamon Rolls
Hot Beverages: A cup of hot coffee, tea, or cocoa complements the richness of the rolls.
Fruit Salad: A fresh fruit salad can cut through the sweetness and add a refreshing note.
Storage
Store in an airtight container at room temperature for up to 2 days or refrigerate for up to 5 days. Warm them slightly before serving.
Common Problems and How to Avoid Them
Dry Dough: Caused by too much flour. Add water gradually.
Rolls Not Rising: Could be due to expired yeast or a cold environment. Always proof your yeast and keep the dough in a warm place.
Filling Leakage: Ensure the rolls are sealed properly and not over-stuffed.
Adding the pumpkin purée to the cinnamon buns really elevates the flavor of regular cinnamon rolls. It's a great fall recipe with a yummy cream cheese glaze.
Where do you serve the best pumpkin cinnamon rolls?
Holidays are a great place to start, especially when you have loads of family and guests over. Homemade cinnamon rolls are always a great bet, because everyone loves them! Is there anything better than cinnamon sugar bread with and amazing cream cheese icing? Nope!
Tips for Making This Recipe with Kids
Dough Fun: Kids can help with kneading the dough – it's like playdough!
Decorate Away: Let them drizzle the glaze or sprinkle toppings.
Safety First: Ensure adult supervision, especially when using the oven or handling hot dishes.
Topping Options
Cream Cheese Glaze: A classic that adds creaminess.
Maple Glaze: For a hint of woodsy sweetness.
Powdered Sugar: For a simple, snowy finish.
Why This Recipe Works
These Pumpkin Spice Cinnamon Rolls capture the warm, aromatic flavors of fall, combining the classic softness of cinnamon rolls with the unique flavor profile of pumpkin spice. The cream cheese glaze adds a tangy counterpoint, making every bite perfectly balanced. The addition of pumpkin not only brings flavor but also moisture, ensuring that these rolls remain soft and delectable.
Just the simple smell of these warm cinnamon rolls being baked in the over is heavenly! The pumpkin filling adds to this amazing traditional cinnamon roll recipe. You can even serve these rolls with a little bit of maple syrup if you want to get fancy!
What are some other cinnamon roll recipes to try?
Enjoy!
Yield:

12 large rolls
Homemade Pumpkin Spice Cinnamon Rolls With Cream Cheese Frosting
Additional Time:
10 minutes
These pumpkin spice cinnamon rolls are so great for breakfast and so tasty! Great for the holidays or even a brunch!
Ingredients
Dough Ingredients:
• 5 – 5 1⁄2 cups all purpose flour
• 1 1⁄2 cup water
• 1/3 cup sugar
• 6 tbsp butter, unsalted
• 1 egg
• 4 1⁄2 tsp yeast
• 1 tsp salt
Filling Ingredients:
• 1/3 cup sugar
• 1⁄2 cup pure pumpkin puree
• 1⁄2 tbsp cinnamon
• 1⁄2 tsp ground ginger
• 1⁄2 tsp nutmeg
• 1⁄2 tsp allspice
Frosting:
• 4 oz cream cheese, softened
• 2 cup powder sugar, sifte
• 2 tbsp butter, unsalted, softened
• 2 tbsp milk
• 1⁄2 tsp vanilla
Instructions
Combine 2 cups flour, sugar, yeast, and salt in large mixer bowl and mix on low.
Warm water to 120°. Add butter to water. Add to mixer bowl.
Add egg to mixer bowl.
Beat 2 minutes at medium speed, scraping bowl occasionally.
Add 1 cup of flour. Beat 2 minutes at high speed. Stir in remaining flour until dough forms into a ball.
On a lightly floured board, knead dough 5 minutes, until smooth and elastic. *Tip: with two
fingers press lightly into the dough and it should spring back, this is when it's ready. Cover with
towel and rest for 10 minutes.
Prepare filling: Combine sugar and spices in a small bowl. Mix in pumpkin pure. Set aside.
Roll dough into 15x10 inch rectangle.
Spread filling evenly stopping 1/2" from the edges o the long sides.
Roll the rectangle tightly, along the long edge.
Cut into 12 equal pieces. *Tip, you can use unflavored dental floss or an non serrated knife to
cut the pieces.
Place pieces into greased 9x13 pan. Cover with a towel and let rise until doubled in size,
approximately 1 hour.
Bake at 350°F for 25-30 minutes or until golden brown. Let set for 10 minutes and remove rolls
to a wire rack. Cool for 20 minutes.
Prep frosting: beat cream cheese, butter, vanilla. Add 1 cup of powdered sugar and at time and
beat until creamy. Add 2 tbsp milk and mix until creamy and smooth.
Frost rolls liberally.
Enjoy!
Refrigerate leftovers.
Nutrition Information
Yield
24
Serving Size
1
Amount Per Serving
Calories

850
Total Fat

71g
Saturated Fat

41g
Trans Fat

2g
Unsaturated Fat

24g
Cholesterol

231mg
Sodium

726mg
Carbohydrates

49g
Fiber

2g
Sugar

10g
Protein

8g
Before you go check these fun recipes out!
Strawberry Cheesecake Stuffed Waffles
Funfetti Birthday Waffles – Celebrate With This Fun Waffle Recipe!
Easy Sausage Egg and Cheese Biscuits – Breakfast To Go Recipes
Amazing Chocolate Chip French Toast Bake Recipe
Pawaffle Toast – French Toast Waffle Pancakes
Hi! I'm Nellie. I am a busy mama of three, wife to my high school sweetheart who loves to cook, workout and stay organized! I love to share helpful printables, the best recipes and fitness tips for the modern mom. I strongly believe that every mom can feed their family well, take proper care of themselves and have fun along the way! Read my story.
Get comfortable and be sure to come hang out with me on social. Don't grab your free fitness journal before you go!