Christmas is such a fun time to get crafty with your Cricut! Here is a fun template for Rae Dunn Inspired Christmas Ornaments that will look awesome on your tree!
How many of you have grown jealous of all of your friend's Rae Dunn ornaments? This year I decided to put my creativity to the test and do something different.
Here is a fun Cricut craft and they are Rae Dunn Inspired Christmas Ornaments. I love her stuff and I decided to put my own spin on them. If you are on a budget or want to create gifts on a budget, then go ahead and follow along for my tutorial.
Rae Dunn Inspired Ornaments
One year I was looking at my tree and I thought how much I'd like to change up the ornaments, but also how expensive it can be to do that.
I've added a few Rae Dunn items to my collection, but I wanted to go big this year. I was able to create these Rae Dunn Inspired Ornaments for my home and yours!
The Rise of Rae Dunn Christmas Ornaments
The Rae Dunn brand has garnered a dedicated following over the years, and nowhere is this more apparent than in the arena of Christmas ornaments. Known for its minimalist, rustic, and elegantly simple designs, Rae Dunn products seem to encapsulate a sort of everyday charm that resonates with a wide audience. Rae Dunn Christmas ornaments, in particular, have seen a surge in popularity, which could be attributed to several factors including brand loyalty, aesthetic appeal, and the impact of social media.
Brand Loyalty and Cult Following
When talking about Rae Dunn, one can't overlook the immense brand loyalty it has cultivated. Starting with simple pottery and expanding into various household items, each product has a sort of intentional imperfection that feels both relatable and aspirational. Many of those who initially fell in love with Rae Dunn mugs or bowls naturally transition to the brand's holiday decor, seeking to bring that same cozy, welcoming atmosphere into their seasonal celebrations. The Christmas ornaments often serve as an extension of the owner's existing style or collection, allowing for a cohesive look during the holiday season.
Aesthetic Appeal of Simplicity
Rae Dunn's aesthetic is often described as rustic chic or modern farmhouse. The ornaments usually feature soft, neutral colors and minimalist designs that can complement almost any home decor style. This universality allows for Rae Dunn Christmas ornaments to appeal to a broad demographic. The simplicity also taps into a growing trend toward minimalism and 'less is more' in home decorating. Given that Christmas is often associated with extravagance and lavish decorations, the simple elegance of these ornaments offers a refreshing contrast, making them highly sought-after.
Impact of Social Media
In the age of Instagram and Pinterest, Rae Dunn Christmas ornaments frequently make appearances in tastefully curated posts. Social media platforms serve as both a marketplace and a showcase for these items, contributing to their popularity. Influencers who align with the brand's aesthetic showcase how these ornaments can fit into various design themes, providing ideas and inspiration for potential buyers. The Rae Dunn community is strong online, with dedicated hashtags and fan pages where people share their finds, trade items, and even tip each other off about restocks.
The Emotional Connection
Christmas is a holiday steeped in tradition and emotion. Many people seek out ornaments that will not just decorate their tree but also become keepsakes to be passed down through generations. The Rae Dunn brand has successfully tapped into this emotional aspect. Given the handmade nature of Rae Dunn products, each ornament is unique, and this imperfection adds to its sentimental value. Owners often feel like they aren't just buying a mass-produced item but are instead acquiring something personal and special.
The Economics of Popularity
Given their popularity, Rae Dunn Christmas ornaments often sell out quickly and can even be found listed at inflated prices on secondary markets. This sense of scarcity adds an element of excitement and urgency, further increasing their desirability. Even though they are not the cheapest on the market, their reasonable price point relative to their perceived value makes them accessible for many.
The popularity of Rae Dunn Christmas ornaments can be considered a confluence of successful branding, aesthetic versatility, social media influence, emotional resonance, and savvy pricing. As people continue to seek authenticity and meaning in their holiday decorations, it's likely that the appeal of Rae Dunn Christmas ornaments will endure, making them a staple in festive celebrations for years to come.
Can I Make These For Gifts?
Yes! One year, a friend of mine was talking about how she loved the ornaments I had created. I said, well I can make you a few for the holidays.
She was so excited and so was I because they truly do make the perfect gift. If you enjoy making Cricut gifts and crafts, then yes this can be an excellent choice for making as gifts.
How to Store These Ornaments
Once you make these ornaments and the holidays have passed, how do you store them without them breaking? I always invest in hard plastic containers to store my ornaments in.
I also double wrap them, so that they don't stand a chance of breaking. You'll want to do this so that you don't break all of the ornaments you spent so much time making this year.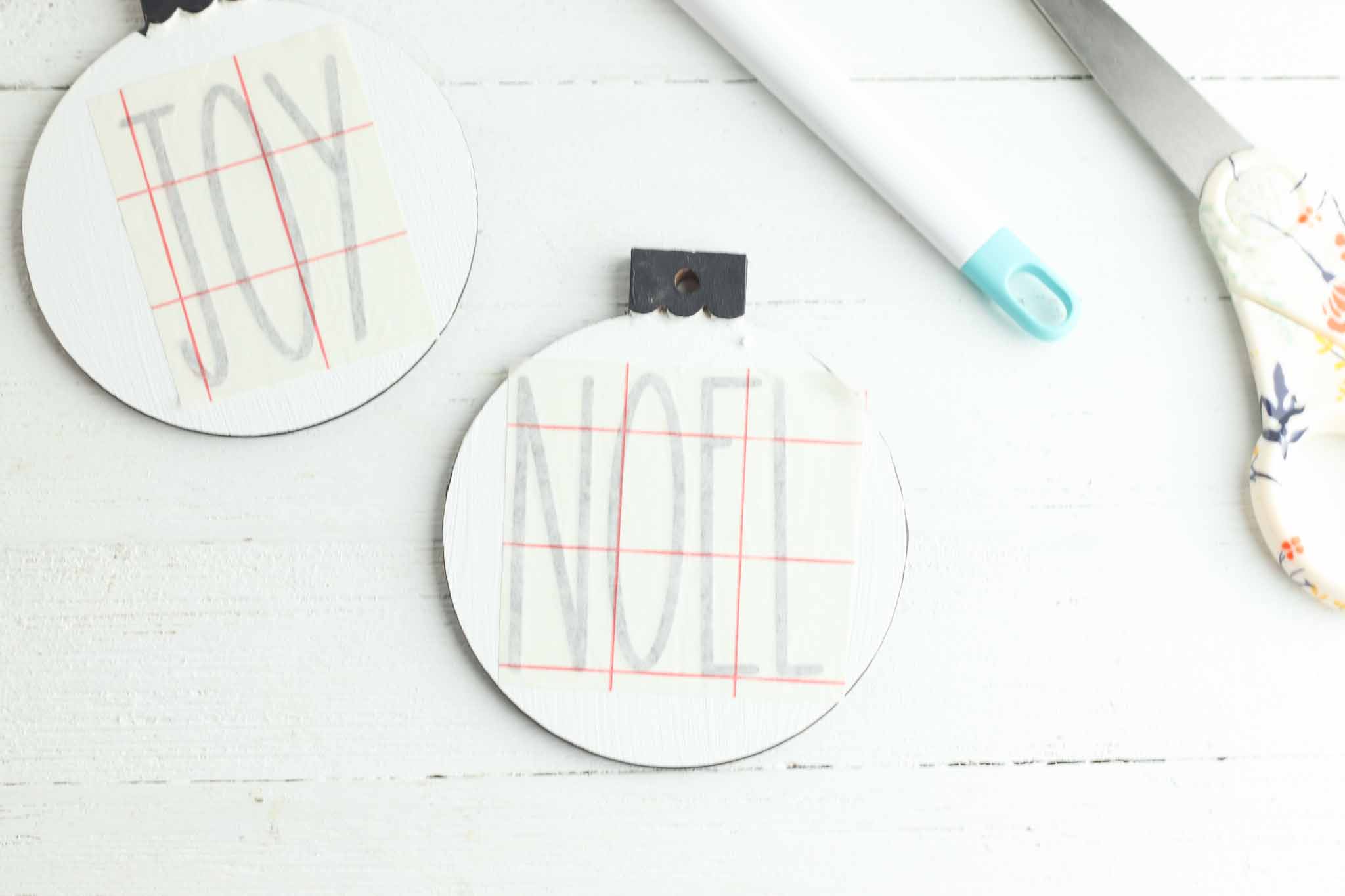 What is your favorite craft to make with your Cricut? There are so many more that I want to make, especially for the holidays. Share your ideas in the comment section.
Grab your Rae Dunn Ornaments downloads:
What are some other fun Christmas Crafts to try?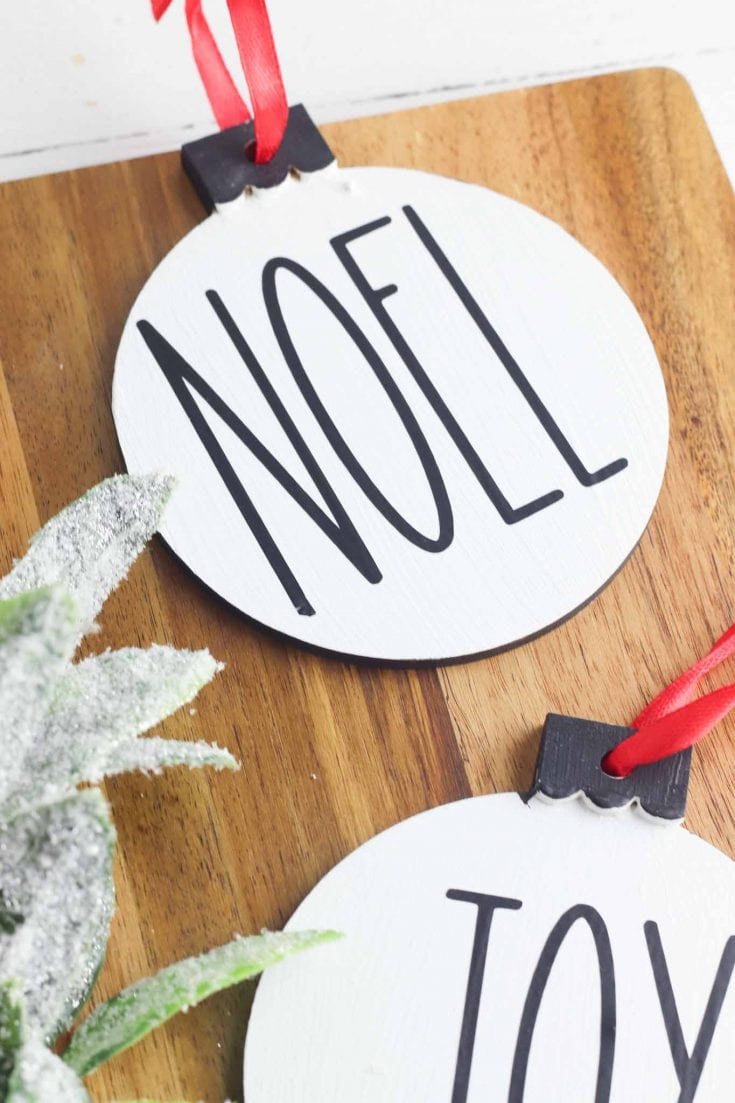 Yield:

many ornaments
Rae Dunn Inspired Christmas Ornaments - Cricut Craft
A fun cricut craft inspired by Rae Dunn! These ornaments look great on the tree!
Materials
Wood ornaments
White paint
Black paint
Black vinyl
Cut file
Transfer tape
Red ribbon
Instructions
Paint the wood ornaments white and accent the top and
sides with black paint.
Upload the cut file into Design Space and ungroup the
words. Delete the words you won't be cutting.
Select each word and group the letters together, then
weld the word. Continue until all the words are welded.
Resize each word to fit on the ornament.
Cut the files on black vinyl.
Use transfer tape to transfer the words to each ornament.
Tie a piece of red ribbon to the top of the ornament to
hang it on the tree.
If you liked these fun Rae Dunn Inspired Christmas Ornaments be sure to check out these Free Cricut Christmas Gift Tags Templates!
Hi! I'm Nellie. I am a busy mama of three, wife to my high school sweetheart who loves to cook, workout and stay organized! I love to share helpful printables, the best recipes and fitness tips for the modern mom. I strongly believe that every mom can feed their family well, take proper care of themselves and have fun along the way! Read my story.
Get comfortable and be sure to come hang out with me on social. Don't grab your free fitness journal before you go!