A recap of the prospect park turkey trot race in Prospect park Brooklyn. Read my review of this fun Thanksgiving race!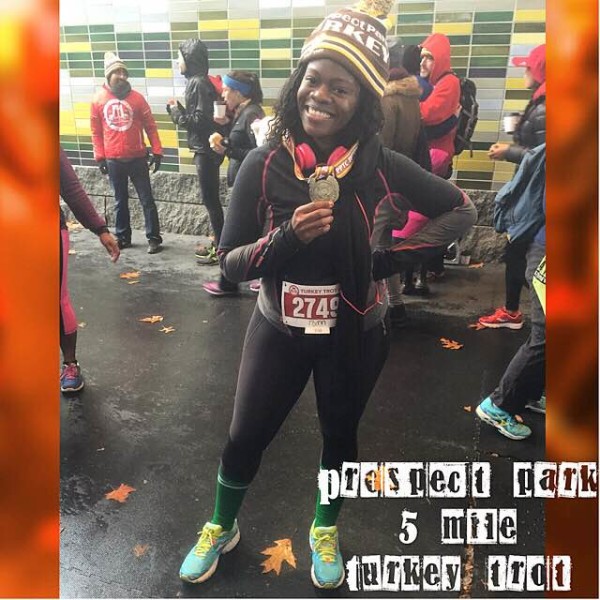 My first time running a turkey trot! After so many races this fall I still can't believe that I beginning to love running so much. I spent so many years believing that it wasn't for me or my knees can't handle it and now I just plain love it.
To be honest: this turkey trot wasn't even going to happen. After the Philadelphia Half Marathon just 3 days prior, my body didn't even want to think about running much less run 5 miles. I didn't decide until The morning before (when my body actually started feeling remotely normal) that I would run the race. But this final race of the season was the most dramatic and eventful of them all.
The day before thanksgiving I decided to be a good little runner and pick up my race packet early. What I didn't plan for was the snow, sleet, rainy wintery mix that would take over the NorthEast! Despite the gross weather I got the bibs (for myself and my friend) rather quickly, bought some last minute ingredients and even treated myself to some books from Barnes and Noble.
After a very long commute home, I cooked and began to get ready for the race the next day. As I went to grab the bibs, I realized that the bag that they were in was gone. I knew in the pit of my stomach that they had been left on a bus–I knew something was missing but I couldn't put my finger on it at the time. I called my girlfriend and begged for her forgiveness. She said we would leave earlier and hopefully they would have replacement bibs.
As a result of my worry over the bibs, I forgot so many things at home before I left including:
My gloves
Extra pair of pants
Extra jacket
Hand warmers
The correct scarf
A proper breakfast
Flipbelt
Phone charger
And most importantly…MY GARMIN FORERUNNER
When we arrived at Prospect Park we randomly ran into Santa spreading goodwill. This had to be a good sign right?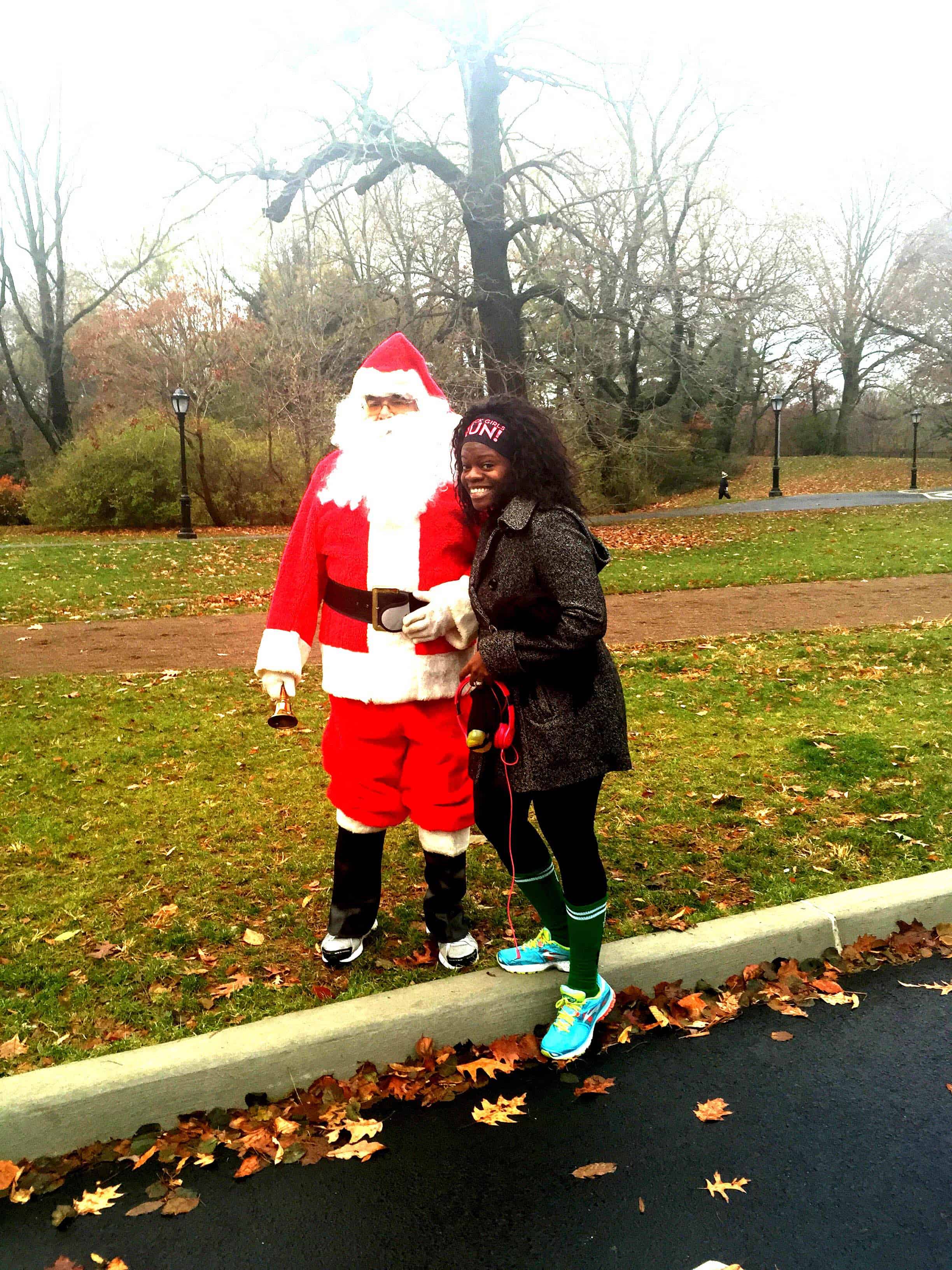 We proceeded to the bib pick up area where I explained my stupidity absentmindedness and they were so accommodating to give us a new bib (and new hats!) right on the spot. Thank you NYCRUNS!!
We met up with the rest of BLACK GIRLS RUN! NYC and took pics and chatted and it wasn't until all the bib stress was over did I realize that I was missing all of the things I mentioned above. Ugh.
It certainly was not my best race. Turns out my legs were still tired from the half and my hands were sooooo cold that I couldn't think or concentrate on anything else. I was warm everywhere else thanks to my Under Armour coldgear but goodness by the time I finished the race my hands turned into permanent bear claws. It was so painful!
One thing about Prospect Park is that the hills are REAL! We made it through though and frankly I was happy we did. In addition to our adorkable turkey trot hats we got a pretty cool medal! I think it might be time for me to order a medal rack, this was my 7th medal of the year! 🙂
I know I say I don't repeat races but I will DEFINITELY be doing the prospect park turkey trot again, properly prepared, with a turkey tutu. 🙂
For more fun race recaps be sure to check out:
How was your thanksgiving? Have you ever run a turkey trot? Ever lose something super important and not realize it until hours later??
Hi! I'm Nellie. I am a busy mama of three, wife to my high school sweetheart who loves to cook, workout and stay organized! I love to share helpful printables, the best recipes and fitness tips for the modern mom. I strongly believe that every mom can feed their family well, take proper care of themselves and have fun along the way! Read my story.
Get comfortable and be sure to come hang out with me on social. Don't grab your free fitness journal before you go!