I completed my first half marathon, The Bay Ridge Half Marathon on October 4th, 2014. Months and months of training led up to this moment and I couldn't have predicted what kind of crazy was in store for me! I didn't blog that I was going to do it, because I wasn't sure I would make it over the finish line, but I did, and here is how I did it.
PRE Race Jitters
All week long I had been watching the weather forecast and the consistent report was that Saturday was going to be a soaker. I didn't really start fretting until 2 days before. I had never run in the rain before, not even a little drizzle. In times of rain or extreme heat I usually escape to my trusty treadmill. I was freaking out in the worst way!
One of the many resources that I depend on is the BLACK GIRLS RUN! NYC Facebook group. I stalk the group daily because these girls are hardcore and all levels from rookie to absolute professional. I asked them for any tips they had for running in the rain and they gave me a couple great tips:
Cover the front of your sneakers with duct tape to slow the soak in your feet
Wear a garbage bag or disposable poncho while waiting
Body glide, everywhere, (Allie gave me that tip too when I reached out to her in a haze of freaking out)
Wrap your iPhone, iPod in a zip lock bag which would prove to be a painful decision later.
Race Day
When I woke up, the rain was light and forgiving. It took me about an hour+ to get across town and even after bib pick up the rain was light and super manageable.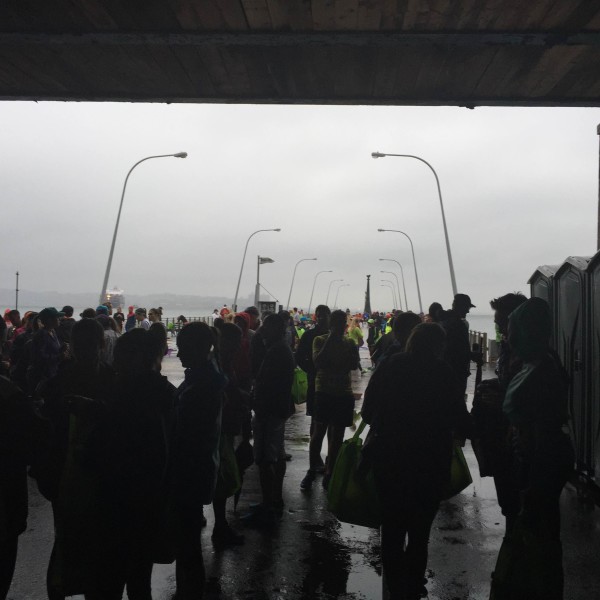 I met a BGR sista while I was waiting (she identified me by the duct tape on my sneakers!) and she was the sweetest. We talked about upcoming races and she helped calm down me a million. And just like that, I had a new running friend.
Running in the (torrential) rain
As we lined up to get started the winds picked up dramatically and the rain began coming sideways. It was so bad. My adrenaline got me to mile four before I was broken by the stinging (hail?) rain beating me into submission. It was about mile 7 that I felt my underwear soak. It was the craziest feeling. Everything else had already been soaked through but for some reason I wasn't ready for that area to be cold and damp, too.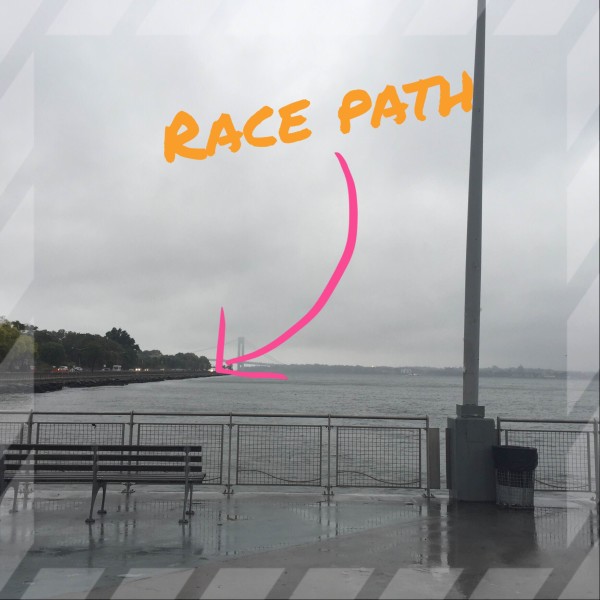 Despite the soaked everything, I still gave it all I had to run my best race. What I didn't realize was that I was running with a very speedy group. It wasn't long before the distances between the runners and I got wider and wider. Since it was a course that we had to repeat 2x, it was super obvious how far behind I was. Oy vey. But I heard a little voice say, your race, your pace.
Finally I got to mile ten. I was feeling okay, tired, but not defeated. I just wanted the relentless rain to end so I could finish the race in peace! There were recesses in some of the areas on the course so that meant running through very deep puddles and absolutely no way to avoid them unless I jumped in the river, which was a thought that crossed my mind more than once.
With 10 miles left I finally found my groove. It was great, the rain was not so bad and my body had just enough left to get me to the end. Except my trust iPhone did not. My music faded so quickly I didn't know what was happening. When I pulled it out to check it, (I was praying it wasn't water logged!) it was safe and dry just dead. I always run with music. I always run with the Nike app. Both gone. With 3 miles left and practically nobody on the course. It was at that moment I knew I had to dig all the way in and make it happen. I started singing to myself (it totally didn't matter, no one was around!) and counting to myself. Most of all I said over and over, "finish under 3". I had a hard goal of finishing under 3 hours. I was determined.
When my waterlogged feet crossed that finish line and I got my first medal and I was tempted to cry, lots. I mean, I no one would know anyway right? I didn't. I took my medal, walked around a lot and absorbed what I just did. 4months ago I decided to start running. I am now a half marathoner. It is the sweetest feeling.
When I finally located my husband and boys, I changed my clothes and felt a stinging pain on my left side. Apparently the plastic from the zip lock bag that I stuck in my pants had rubbed off a few patches of skin. I felt none of this while running. This comes from the person that never chafes, ever. It healed pretty quickly though thank goodness.
Thank you for reading this amazingly long recap of my first half marathon. I have 2 more halfs, one 10k this Sunday, and a 5mile turkey trot for the rest of the season and I can't wait to run all of them!
Have you ever run in really inclement weather? What was the last goal you worked really hard towards and completed it?
Hi! I'm Nellie. I am a busy mama of three, wife to my high school sweetheart who loves to cook, workout and stay organized! I love to share helpful printables, the best recipes and fitness tips for the modern mom. I strongly believe that every mom can feed their family well, take proper care of themselves and have fun along the way! Read my story.
Get comfortable and be sure to come hang out with me on social. Don't grab your free fitness journal before you go!