I completed my third TCS NYC Marathon on Sunday. I didn't want to. I quit almost every single day of training. I told no one because honestly I didn't even believe I could do it myself.
I hadn't run much since I had my daughter in 2018. My last race was when I was pregnant for the NYC Half.
I ran outside maybe once during the pandemic. In March, I got my Peloton Tread but even then I still wasn't taking running seriously. So how did I end up at the finish line of the greatest marathon in the world?
Glad you asked.
TCS NYC Marathon Lottery Results
Even though I haven't been on the running "scene" since 2018, I still get New York Road Runner emails. When I got the marathon lottery open email, I signed up because why not. I've signed up 2-3 times before and NEVER got in.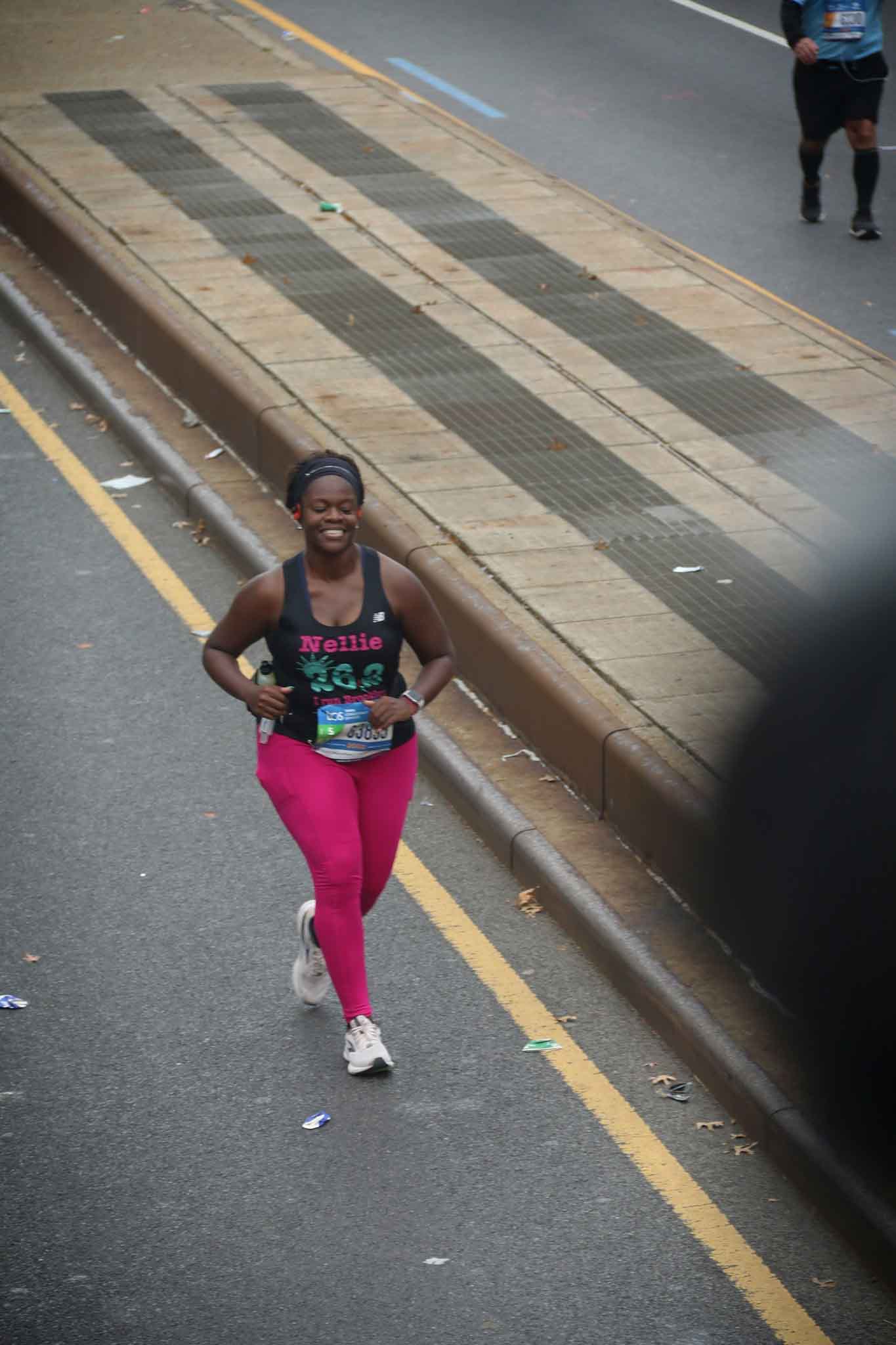 The lottery comes and goes. I looked at my email midday and I didn't get in and eventually I forgot about it. Fast forward to me logging into my NYRR account to see if there were any Brooklyn Half volunteer opportunities available and before I could click around, I get hit with a pop up that says CONGRATULATIONS ON BEING ACCEPTED INTO THE 2022 NYC MARATHON.
I'm sorry … what? I might have sat there with my mouth agape for 30 minutes. After the shock wore off I checked my email and apparently I got accepted into the lottery 8:33 pm that night and the email was in my promotions folder. I immediately put it on a shelf in my brain knowing that I could always defer to next year.
Deciding to Run The Marathon
I volunteered medal distribution at the Brooklyn Half and got that old feeling back. The runners were so inspirational and I realized immediately that I missed the pavement. I immediately went home and signed up for a 4 Mile Race and a 10k.
At this time, I was still extremely undecided — both of my marathons in 2015 and 2016 had years of consistent running leading up to it–this time I'd have a really clean slate and starting from scratch. It's a big deal to go from nothing to 26.2 in a matter of months.
When July came around and it was finally time to choose whether or not I'd be training for 18 weeks, I choose to train–conditionally. If it got too hard I reserved the right to myself to quit.
Training In the Summer Heat
Two words: HATED IT. I realized that I was also re-learning all of the running rules that I had simply forgotten. I got chafed really badly several times, wore the wrong workout gear (hello? why did I wear too big winter tights in July?!), hydration mistakes, nutrition blunders, eating too little, leaving the house too late–so many DETAILS that had simply left my brain.
I did 15, 17 and finally I did 19 in Central Park and Harlem. My hardest day was a training run in the heat that was scheduled for 12 miles and I walked out of the park at 10.5. I was so zapped.
Getting to the start line
Once I completely the 19 miles 3 weeks prior to the race I decided to do it. I knew I'd be slow, I knew I'd walk a lot, but NYC is a marathon built for Back of The Packers.
The expo was fun, I bought a jacket and a singlet.
Running The Race
My race day outfit was simple, the shirt that I wore in 2016 and a pair of victoria secret tights that I have worn a million times. Getting to the start line took about 5 hours, between the train, the ferry, the disorganized bus lines, then the bus to the villages it was a LOT.
Finally the canon boomed and we were off. The weather was extremely hot a humid. It was a high of 74 degrees and when we started it was 70 degrees. HOT.
I took it easy in the beginning, but I was happy with my pace. It was a lot slower than previous years, and that was okay.
The Crowds at the NYC Marathon
I don't have enough words to describe how amazing the crowds are. Wearing a singlet with your name on it is the cheat code for this race. Brooklyn was a huge long 10 mile party and I got so much motivation from Fort Greene and Williamsburg (bedford side) especially.
The real magic was in the crowds that stayed after dark to cheer us on. I just kept saying thank you thank you thank you to all of them because they were there when I needed them the most in the latter miles.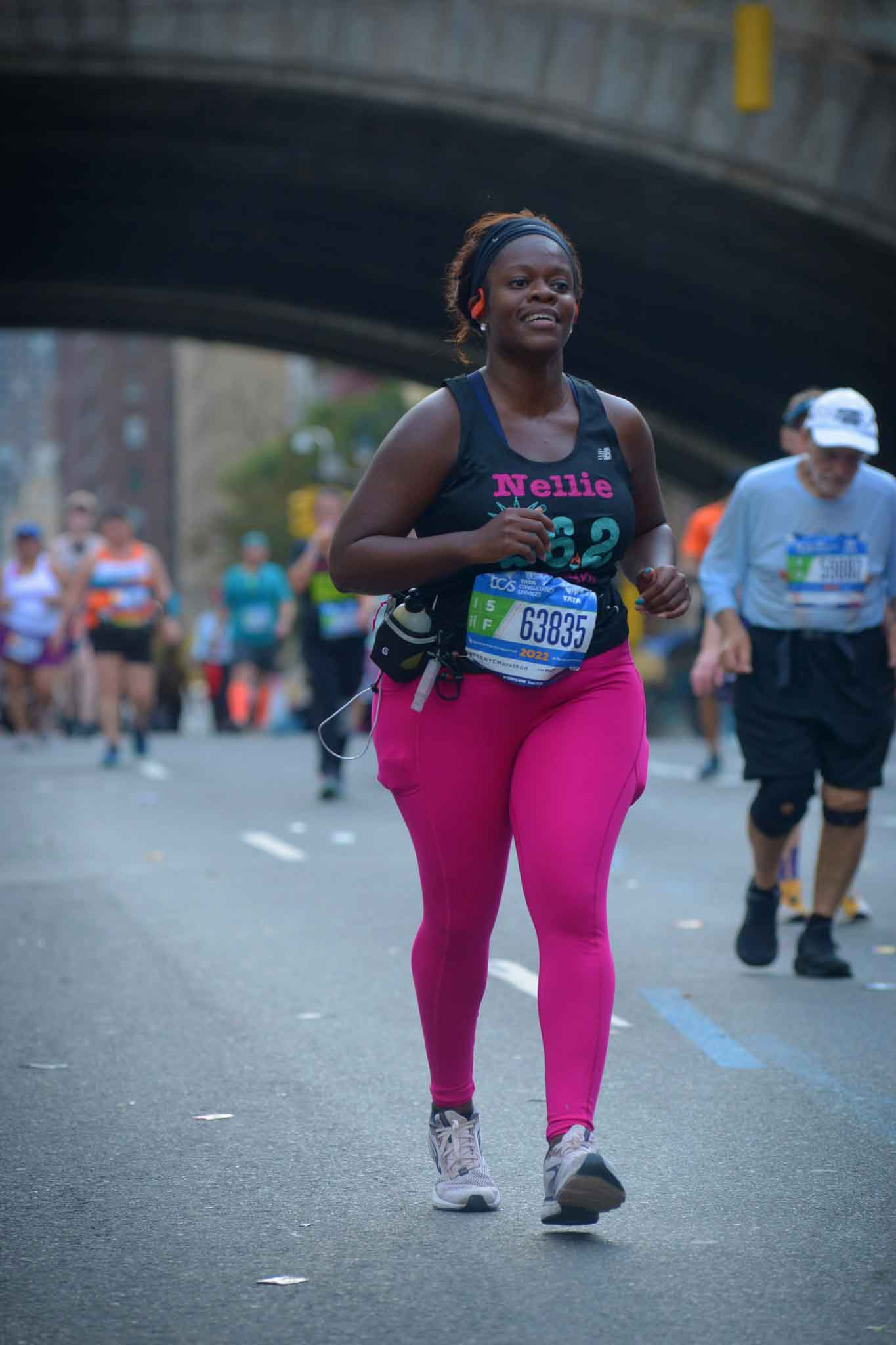 Crossing the finish line
I bawled buckets starting at Mile 25. I don't even know where all the emotion came from but the tears were flowing. The more the people cheered the more I cried. I cried because I didn't quit on myself even though I gave myself the option.
I cried because here I was doing this for a THIRD time. I cried because I was upright and not hurting badly like my first time around. I could even say that I ran a smart race with a consistent pace.
My favorite part?
In both of my previous marathons I hit that wall pretty badly in mile 20/21. I was able to still run/walk every mile to the end. That's a BIG deal for me.
Would I run the TCS NYC Marathon again?
Maybe. Never say never.
If you enjoyed this recipe be sure to check out my Instagram Page for the latest posts!
Before you go, check out these great posts!
Why I Am Relieved To Not Be Running The Marathon This Year
Why I Am Relieved To Not Be Running The Marathon This Year
7 Simple Tips To Prepare For A Half Marathon
3 Effective Low Impact Cross Training Exercises For Marathon Training
Hi! I'm Nellie. I am a busy mama of three, wife to my high school sweetheart who loves to cook, workout and stay organized! I love to share helpful printables, the best recipes and fitness tips for the modern mom. I strongly believe that every mom can feed their family well, take proper care of themselves and have fun along the way! Read my story.
Get comfortable and be sure to come hang out with me on social. Don't grab your free fitness journal before you go!